The best wireless charger to buy right now
Wireless charging pads aren't a new invention, but with more and more phone manufacturers jumping on the bandwagon, they're an increasingly convenient way to top off your phone without hunting for a cable. Plus, they're universal: whether you've got an iPhone, Pixel, Galaxy, or nearly any wirelessly charging accessory, they all work with the same pads.
Sure, your phone will work just fine with the wired charger it comes with, but a wireless charger makes charging your phone as simple as putting it down on a surface — perfect for a desk or nightstand. It's a small change, but one that makes keeping your phone juiced up an unconscious part of your life.
We went through and tested over a dozen wireless Qi charging pads, ranging from well-known charging companies like Anker and Mophie to relative newcomers, like RavPower. Even Samsung makes its own branded wireless chargers. The good news is that pretty much any Qi charger, new or old, cheap or expensive, will more or less do the job when it comes to charging your phone. But not all chargers are made equal, and things like form factor, materials, size, and of course, how fast it can actually charge your phone are all things to consider, especially for a product that's looking to take up permanent residence on your desk or nightstand.
This article will be continually updated as new devices are released — so be sure to check back if you're not buying a wireless charger right now.
RavPower is one of the more popular charging accessory companies around, competing with the likes of Anker on products like battery packs, wall chargers, and cables. The company proved to be adept at making wireless chargers and RavPower's Fast Charge Wireless Charging Pad and the RavPower 2 Coils Wireless Charging Stand are still the best chargers out there you can buy.
In terms of performance, both RavPower chargers output up to 10W of power — enough for regular speed charging (typically 5W), Samsung's 9W quick-charging, and Apple's own 7.5W iteration. And while quick charging doesn't offer quite as significant of an advantage as it does with wired charging, it'll still cut down on your charging time, assuming your device supports it. And given the universal nature of wireless charging tech, making sure you're future-proofed is just common sense.
We've included both RavPower models here since the designs differ depending on what your specific needs for a charger are — but whether you want a standing option or a flat pad, these are your best bets.
The RavPower Fast Charge is a flat pad, which makes it more versatile since you can charge both phones and accessories like smartwatches or wireless headphones (including Apple's recently released AirPod case). And in terms of hardware, it's still one of the nicest chargers in terms of design, with a solid metal case that won't slide around your desk or nightstand, while also just looking like a more premium product than some of the cheaper, plastic-y options out there. It does only feature a single coil, though, so you'll want to make sure you place your device precisely when charging.
The RavPower 2 Coils Wireless Charging Stand is a little cheaper-looking with a plastic-y design, but it's perfect for use by a desk — especially if you've got a phone with a face unlock system (particularly Apple's iPhones, which won't show notifications until they're unlocked). But it's still stable enough to support heavier phones, and the two-coil design makes it practically impossible to mess up placement.
Both charge equally fast, though, and are still among the fastest chargers around for both Apple and Android devices. Both models also include a 24W power brick, which generally tends to cost an additional $15 on its own. Given that's something you'll need to pick up anyway if you're planning on taking advantage of the fastest charging speeds, the fact that it's included is a definite plus — and even then, the RavPower chargers are still among the most affordable options.
But what if you're the platonic Apple owner, and you really, truly had your heart set on an AirPower? Well, reputable multidevice wireless chargers are still rare, and throw an Apple Watch in the mix (with its proprietary, Apple-exclusive charging standard) and things get complicated.
But if you must be able to charge two devices (call it an iPhone and an AirPods case) and an Apple Watch, your best bet is the Hard Cider Labs SliceCharge Pro. It's not an AirPower, but it looks a whole lot like Apple's charger, and with six charging coils designed to wirelessly charge up to two devices without regard for orientation or placement, it's as close as you can get right now.
The Apple Watch part of the equation is a literal Apple Watch USB charger that props up next to the wireless charging pad, but the design makes it easy to charge your watch regardless of what kind of band you have on it. The whole thing also charges off a single USB-C cable (with an included 30W brick to power it), which is a much better solution than the proprietary cables on other options.
There are issues: in our tests, the SliceCharge Pro didn't output enough power to fast charge Android devices, but if the Apple Watch charger prominently built into the device didn't tip you off, this is more designed for Apple users anyway (iPhones, with their slower 7.5W speed did just fine).
It's also not the cheapest option around — buying two regular wireless chargers and just using the Apple Watch cable that came with your device is definitely more cost effective — but if you want the "one device to charge them all" dream that Apple promised, this is your best bet.
There is one catch, though, which is that the SliceCharge Pro is still not yet widely available — the company is finishing a crowdfunding campaign on Kickstarter and Indiegogo, and will be opening sales to the general public in June.
So, if you need to buy something today, the other best option is Nomad's Base Station Apple Watch Edition. It's very pricey (albeit with a nice aluminum and leather design), uses a proprietary barrel plug, has just three coils, and was generally far trickier to get devices placed correctly (it also maxes out at 7.5W for charging, so it's not great for Android users).
The advantage to Qi wireless chargers is that ultimately, they all pretty much do the same thing at roughly the same speed, so assuming you've got something that's specced to support the level of fast charging your device uses and a wall plug that can power it, it's hard to go wrong.
With things like aesthetics, form factor, and personal preference playing a big part in this, there are plenty of good options whether you decide to pay more, pay less, or just get something in a different style than our primary picks.
Update May 17th, 9:30AM ET: Overhauled guide to revise top selection, add new AirPower alternative section, and add multiple new chargers to the guide.
Good Stuff
Supports USB-C connector
Physical button to turn off LED light
Aluminum case
Bad Stuff
Occasionally unreliable when recognizing devices
Doesn't include wall plug
Buy for $29.99 from Amazon
Good Stuff
Can charge two devices at once
Leather and aluminum design
Bad Stuff
Tough to get devices aligned
Proprietary barrel charger
More expensive than two chargers seperately
Buy for $99.95 from Nomad
Good Stuff
Quick charging speeds
Convertible between flat and angled modes
Bad Stuff
Adjustable coil makes finding charging location tricky
Proprietary connector
Extremely chunky
Reports of unreliable power supply with extended use
Buy for $29.99 from AmazonBuy for $59.99 from Tylt
Vox Media has affiliate partnerships. These do not influence editorial content, though Vox Media may earn commissions for products purchased via affiliate links. For more information, see our ethics policy.
Sours: https://www.theverge.com/this-is-my-next/2017/10/27/16554680/best-wireless-charger-qi-ravpower-samsung-anker-mophie
Wireless charging is set to become more popular with the adoption of Qi wireless charging in Apple's iPhone 8, iPhone 8 Plus, and iPhone X. It's also found on some Android phones, like Samsung's Galaxy Note 8, Galaxy S8, and Galaxy S7.
Most wireless chargers use magnetic induction and magnetic resonance. They offer the promise of being able to place a device on a surface and have it charge automatically—no fiddling with cables required.
How Wireless Charging Works
RELATED:Is It Worth Upgrading to the iPhone 8 or iPhone X?
Wireless charging isn't truly wireless, of course. Your phone, smart watch, tablet, wireless headphones, or other device doesn't need to be plugged into the charger with a wire, but the wireless charger itself still has to be plugged into a wall outlet to function. When the iPhone 5 was released without the wireless charging feature found in competing Android and Windows phones at the time, Apple's Phil Schiller argued that "having to create another device you have to plug into the wall is actually, for most situations, more complicated".
Five years later, Apple has changed its mind. With the iPhone 8, iPhone 8 Plus, and iPhone X, Apple is including support for wireless charging using the Qi open standard. (It's pronounced "chee" as it's a Chinese word that refers to the "life energy" in living things.)
Wireless chargers typically use magnetic induction. The short explanation is that they use magnetism to transmit energy. First, you place the device–like a smartphone—on the wireless charger. The current coming from the wall power outlet moves through the wire in the wireless charger, creating a magnetic field. The magnetic field creates a current in the coil inside the device sitting on the wireless charger. This magnetic energy is converted to electrical energy, which is used to charge the battery. Devices must have the appropriate hardware in them to support wireless charging—a device without the necessary coil can't charge wirelessly.
While the Qi standard was originally limited to magnetic induction, it now also supports magnetic resonance. This works similarly, but the device can be up to 45mm away from the wireless charger's surface rather than touching it directly. This is less efficient than magnetic induction, but there are some advantages—for example, a wireless charger could be mounted under a table's surface and you could place a device on the table to charge it. It also allows you to place multiple devices on a single charging pad, and have all of them charge at once.
When not actively charging, the Qi charger doesn't consume the maximum amount of power. Instead, it uses a smaller amount of power and, when it detects a device is placed on the charger, it increases the energy output.
Competing Standards: Qi vs. Powermat vs. Rezence
Wireless charging is becoming more and more common, and even more standardized. And for once, Apple didn't create its own wireless standard. Instead, it chose to support the existing Qi standard, which many other devices also support.
However, Qi isn't the only standard around. The Qi standard, which is owned by the Wireless Power Consortium, is ahead, but it's not alone. In second place is the Power Matters Alliance's Powermat, or PMA, standard. It uses magnetic induction, like Qi. The two are incompatible, though. An iPhone can't charge with a PMA wireless charger.
Some devices are compatible with both, however. Modern Samsung devices like the Galaxy Note 8, Galaxy S8, and Galaxy S7 actually support both the Qi and PMA standards, and can charge with either. Starbucks bet on PMA, but they may rethink things now that the iPhone only supports Qi. Apple is betting that airports, hotels, and other public locations will also choose to bet on Qi.
The Alliance for Wireless Power (A4WP)'s Rezence uses magnetic resonance instead, a feature Qi added later. This allows for greater freedom of positioning. You can have multiple devices on a single charger, move devices around, and even charge devices through an object like a book between the device and the charger. Rezence requires Bluetooth to communicate with the device.
As the second and third place companies here, the Power Matters Alliance and Alliance for Wireless Power have since rebranded themselves the AirFuel Alliance and are cooperating in an attempt to take on Qi.
How You Can Use Wireless Charging Today
All the technology aside, getting started with wireless charging is pretty simple. If you want to charge your smartphone wirelessly, you'll need a smartphone that supports wireless charging and a compatible wireless charging mat to place your phone on. You can also purchase adapters to add wireless charging support to phones that don't include it.
Popular smartphones that support wireless charging include:
Apple iPhone 8, iPhone 8 Plus, and iPhone X
Samsung Galaxy Note 8 and Galaxy Note 5
Samsung Galaxy S8, S8+, S8 Active, S7, S7 Edge, S7 Active
LG G6 (US and Canada versions only) and LG V30
Motorola Moto Z, Moto Z Play, Moto Z2 Force, Moto Z2 Play (with wireless charging mod only)
Android manufacturers have increasingly been abandoning wireless charging in recent years. Only Samsung has kept it on its recent high-end phones. For example, Google does not offer wireless charging in its Pixel smartphone, although earlier Nexus phones included this feature. With Apple giving the Qi standard a vote of confidence, wireless charging could become more common on Android devices once again.
RELATED:How to Add Wireless Charging to Almost Any Phone
If your phone doesn't support wireless charging, you can add support for wireless charging with a special phone case or wireless charging adapter that you stick on the back of your phone and plug into its power port.
Once you have a phone or adapter that supports wireless charging, pick up a wireless charger that's compatible with it. For most phones, you'll want a Qi charger. Any Qi certified wireless charger should work with any Qi certified device. You can find them online on websites like Amazon.com or in electronics stores. Plug the charging pad into the wall and place your phone (or other Qi-enabled device) on it to charge. As long as your device and the charger support the same standard, it will just work.
In the future, wireless chargers will hopefully be more common in public locations, allowing you to just place your smartphone on a table to charge it.
Sours: https://www.howtogeek.com/162483/no-more-cables-how-wireless-charging-works-and-how-you-can-use-it-today/
Wireless charging – power transfer
Please choose a subcategory
Safe and efficient wireless charging solutions for inductive and resonant topologies
Our portfolio comprises a broad selection of leading semiconductor products that address application requirements for wireless charging, ranging from just a few watts up to kilowatts. These products include:
Backed by our end-to-end application expertise, we offer safe and efficient wireless charging solutions for inductive and resonant topologies.
Experience the endless opportunities of wireless charging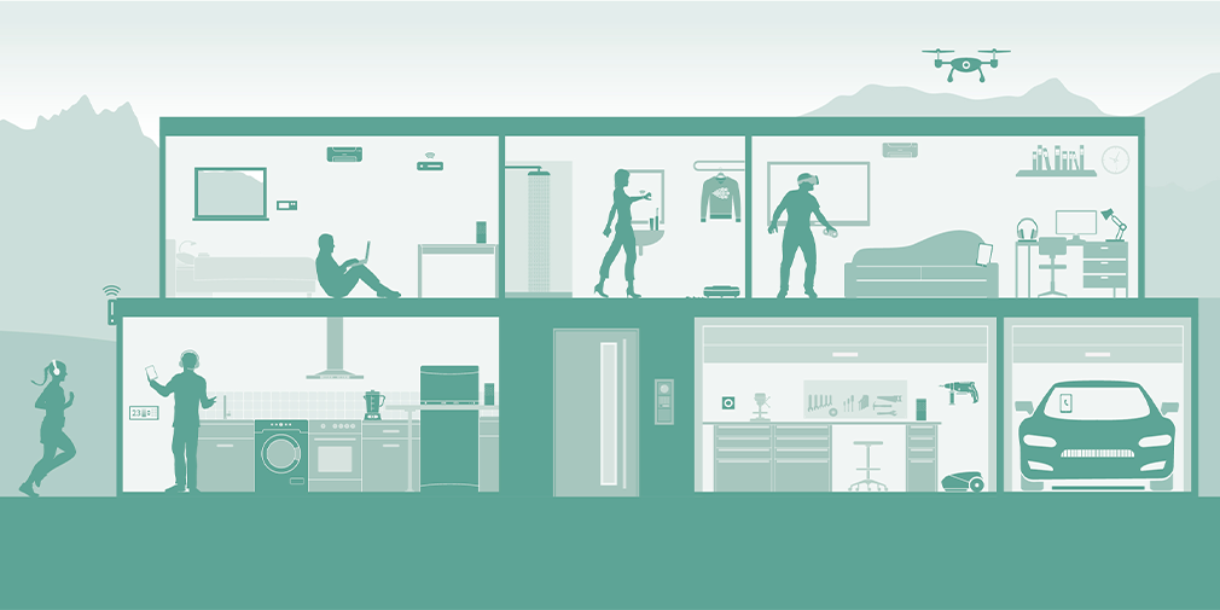 The endless opportunities of wireless charging
The endless opportunities of wireless charging

Notebook and tablet

At Infineon, we've got the solutions you need for your notebook and tablet applications. Our products provide the power, flexibility, efficiency and easy integration required to charge the thinner, portable, more powerful devices.

The endless opportunities of wireless charging

Power Tools

The power tools industry is a highly innovative and competitive sector. Manufacturers are facing increasing pressure to offer the latest technologies at a fair price. Wireless charging will be an innovative leap forward in this segment.

The endless opportunities of wireless charging

Service robot and drones

Infineon is having the right products to serve the highly promising emerging markets of drones and service robots. As a leading semiconductor provider, we offer full wireless charging solutions that includes every essential semiconductor component.

The endless opportunities of wireless charging

Small kitchen appliances

Energy-efficient, modern-looking, wipe-clean and hermetically sealed surfaces are just some of the characteristics that design engineers have to pack into single, small home appliances. Infineon offers solutions for a range of applications.

The endless opportunities of wireless charging

Smartphone charging (in-cabin/table-top)

Wireless smartphone charging has become hugely popular in recent years. Infineon has developed two 15 W Qi transmitter solutions (WPC Qi v1.2.4 certified) to charge your phone at home, in the office, in public spaces or even in the car.

The endless opportunities of wireless charging

Telecom infrastructure and security applications

Wireless charging can even pass through solid surfaces, making it the perfect solution for reducing overall deployment costs and simplifying the installation of 5G routers, security cameras, telecom infrastructures and factory automation products.

The endless opportunities of wireless charging

Wearables

Wearables are electronic devices that are comfortably worn on the body. Infineon's 2 W inductive and 2.5 W resonant solutions enable wearables to be easily charged without any physical connections to a power source.
Wireless charging automotive
Wireless charging automotive

In-car charging

Driver comfort, convenience, and safety are advancing the growing presence of wireless in-car charging in the latest generation of cars. In fact, it's predicted that most cars will have the feature in the very near future.
For application requirements, ranging from just a few watts up to kilowatts
There are many reasons why you should include wireless charging into your application. There are, of course, the obvious ones – you no longer have to plug in your device or worry about plug compatibility issues. But wireless charging is also safer since there is no contact with exposed electrical connectors. What's more, wireless charging is more reliable in harsh environments such as industrial and outdoor locations because it enables completely sealed system designs. And with wireless charging technology becoming more widespread in public spaces and in private and public transportation, you can quickly and easily charge your devices on the go. You can also charge multiple devices without having to untangle charging cables.
Mastering today's wireless charging circuit designs
Wireless charging is a complex subject that requires in-depth system knowledge and expertise. Designers have to understand antennas and how they interact with surrounding structures. To successfully transfer power wirelessly, the power delivery has to be precisely controlled. By working closely with our experienced partners, we can help customers master all design challenges, including:
Compatibility issues
Safety issues
Smart heat management
Increasing efficiency and reducing charging times
Preventing device and battery damage
Sours: https://www.infineon.com/cms/en/applications/solutions/adapters-and-chargers/wireless-charging/
I made a wireless charger for Iphone \u0026 Apple Watch. Saved $150!
The Gadgeteer is supported by readers like you! If you buy something through links on our site, we may earn an affiliate commission. Thank you! Learn more.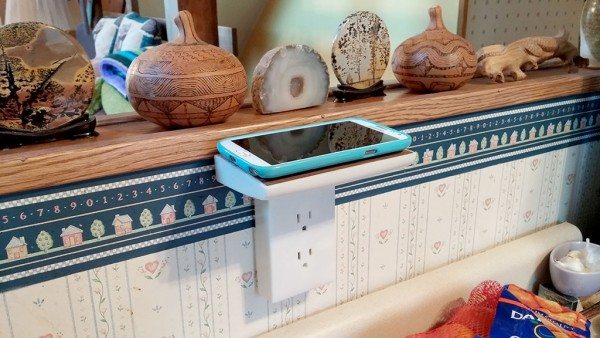 Whenever I proclaim my love for wireless charging, there are people who make fun of me asking if I am too weak or lazy to plug in a USB cable like the rest of the world. I know that using a cable isn't difficult or a huge hardship, but once you start using wireless chargers you quickly come to understand that easy is better. It's much easier to set your phone on a charger than it is to fiddle with a cable. All of the wireless chargers that I've reviewed in the past few years require an AC adapter and some space on a flat surface for the dock. The WallJax EZ which is currently a project seeking $125,000 funding on Indiegogo, doesn't require either because you plug it directly into an outlet on your wall, which makes it almost perfect.
Note: Images can be clicked to view a larger size.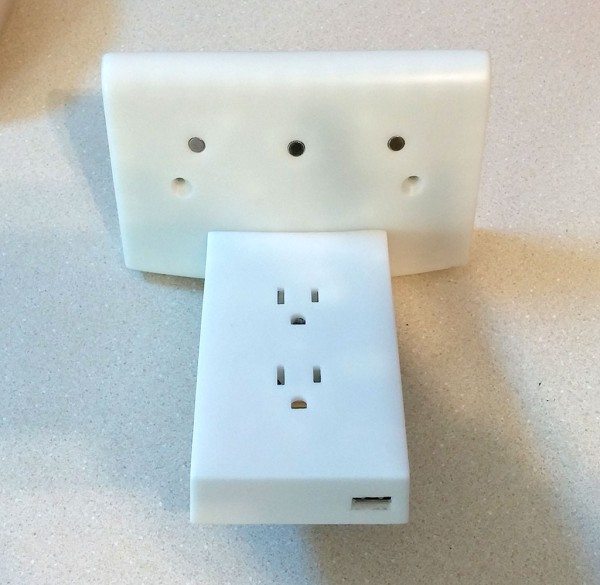 The WallJax will be available in two different versions. There's the WallJax Float and the WallJax EZ. The Float can be positioned on a wall and requires some wiring work. The WallJax EZ just requires an existing 3-prong wall outlet. I was sent a prototype of the WallJax EZ. I don't know how much different the final product will be, but this review should give you an idea of what the product will be like as far as installation and usage.
The WallJax EZ is made of white plastic with a flat charging surface, three magnets for keys and two 3-prong US power receptacles. There's also a USB connector on the bottom edge that can be used to power non-wireless charging capable devices.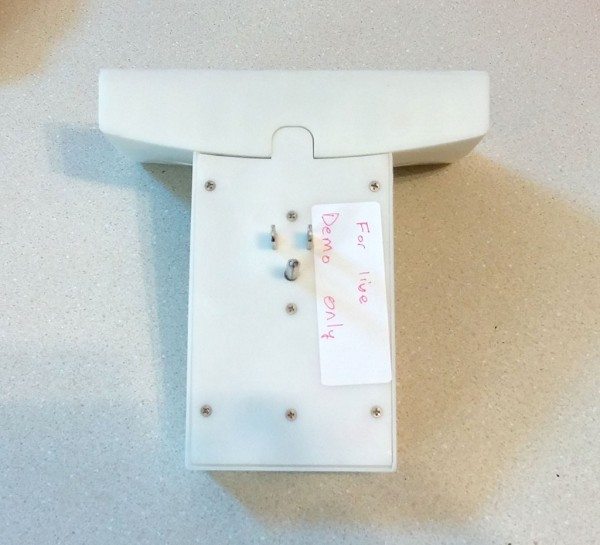 The WallJax EZ easily plugs into one of your existing wall outlets (it must have 3-prongs) and will sit flush with the wall.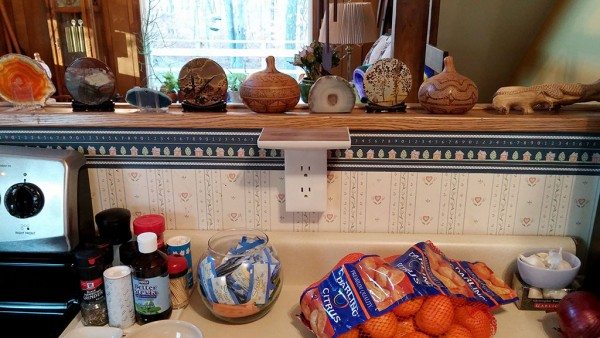 Although you can plug the WallJax EZ into any of your existing outlets, you will probably agree that using an outlet that is higher on a wall will be much more convenient that one at floor level. My kitchen has several mid-wall height outlets, so I chose one of them for my testing.
Notice the surface of the charger. It's real wood, and not just a decal. If you don't like that style, you can also choose a plain white plastic version of the EZ charger.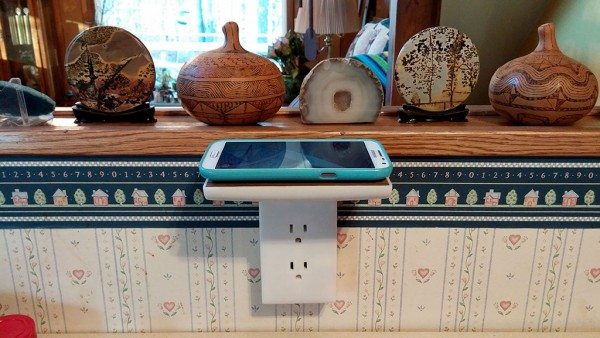 Plugging in the charger is simple. The flat charging surface is sized large enough to accommodate a Samsung Galaxy Note 2 (with a Qi compatible receiver patch installed). I also tested the EZ with my LG G3 (also with a Qi-capable charging patch installed between the battery and back cover).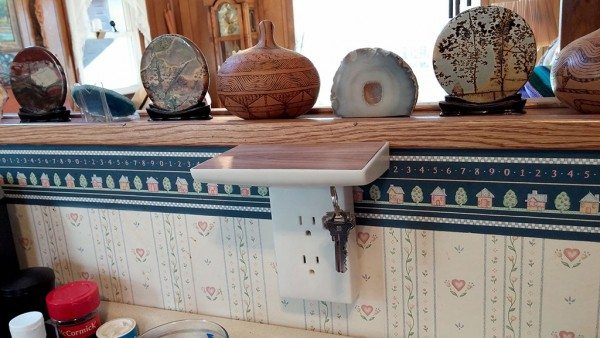 The three magnets on the bottom of the charging ledge can be used to hold key rings. The magnets are quite strong which will allow them to hold a keygring with multiple keys securely.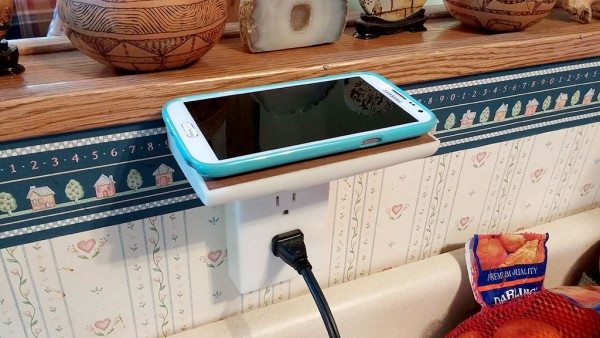 In addition to charging wireless capable devices (see compatibility list on the WallJax site), the WallJax EZ's outlets can be used normally.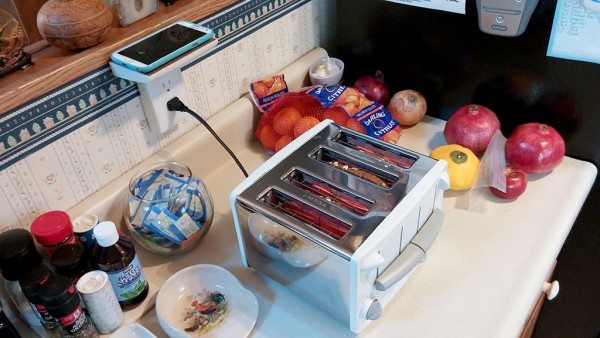 My toaster worked fine while also charging the phone.
There's only one issue I ran into while testing the WallJax EZ. Plugging in a power cord into one of the two sockets and then removing the cable will pull the charger out of the outlet as well. You have to remember to hold the charger as you are removing the plug. It would be nice if the prongs on the back of the WallJax EZ could be a little wider.
The WallJax Indiegogo campaign ends in 11 days. They are seeking $125,000 and their current totals don't look good for them to reach their goal. I hope they do though because I like this charger and the Float version become available. I wish I had more outlets in my home that are higher on the wall because I'd want several of these throughout my house for easy charging everywhere.
Source: The sample for this review was provided by WallJax. Please visit their site for more info or pre-order through Indiegogo.
SHARE ON
TwitterFacebookPin It
Support The Gadgeteer: The Gadgeteer is supported by readers like you! If you buy something through the links on our site, we may earn a small affiliate commission. Thank you! Learn more.
Product Information
Price:
$69
Manufacturer:
WallJax
Retailer:
Indiegogo
Pros:

Easy to use
Works with existing outlets
Allows use of outlets
Adds a USB port and key holders

Cons:

Pulling out a power cord will also pull the WallJax out of the wall outlet
Sours: https://the-gadgeteer.com/2015/11/08/walljax-ez-wireless-charger-review/
Charger ez collection wireless
.
Wireless Charger - Theory \u0026 Homemade Circuit
.
Similar news:
.
80
81
82
83
84