Just when you were starting to think about upgrading to a Wi-Fi 6 router, Wi-Fi 6E is here. And it's expensive. Netgear announced its newest entry into the 6E foray today, the Orbi Quad-B and Mesh WiFi 6E RBKE960 series. This is the first quad-band Wi-Fi 6E mesh offering, but not the first Wi-Fi 6E mesh router (the $1,200 Linksys Atlas Max 6E took that honor earlier this year). Featuring a 2.4 GHz band, two 5GHz, and a brand spanking new 6GHz band, this $1,500 system also supports four different networks out of the box, including one designed exclusively for your insecure smart home devices. And if that doesn't get you excited, they're also releasing a limited-edition color… black.
This incredibly expensive setup ($500 more than Orbi's already pricey tri-band Wi-Fi 6 option) supports multi-gigabit internet. Netgear claims that even if your home doesn't have many Wi-Fi 6E clients (which it won't), you'll see increased speeds of up to 30 percent due to the significant number of radios crammed in (each band has 4 x 4 MIMO support and the system is rated AXE11000), plus the upgraded antenna designs. This thing is stacked. It's also large.
"It's a complex product and therefore challenging to get all this technology into a smaller form factor," Ravindra Bhilave, director of product management at Netgear, told me during a briefing ahead of the announcement. Where its competitors such as Nest and Eero have more discreet, compact designs, Netgear is sticking with Orbi's loud and proud look. At one stage, Netgear even decided to step backward in the design evolution process of the router by releasing a black version. I have clearly wasted countless hours complaining that black (and, to be fair, white) plastic boxes do not look good in most homes.
But hey — if this thing can do all it says it can and keep my son's Xbox online while I Zoom, my husband watches Squid Game on Netflix, and my daughter hits Rec Room on the Oculus, it could be neon purple for all I'd care. Wi-Fi is the backbone of the smarthome and any upgrade to it is generally appreciated.
The ability to set up a separate smart home network on this Orbi system is also an intriguing proposition, although how it will actually be executed remains to be seen. Netgear tells me the transition between networks will be "seamless." So, if your phone is on the regular network and you're trying to control devices on the smart home network, there won't be any issues. That's a problem people run into when trying to use a Guest Network as a smart home network as guest networks are designed to be sealed off from everything else, which can cause communication issues. Netgear also pointed out that smart home devices are often "not friendly with band-steering," and this dedicated network can make sure devices stay on one band.
Orbi is consistently highly rated for reliability and performance, even if it doesn't blend in with the home decor as well as a Plume or offer double duty as a smart speaker like Nest or a smart home hub as Eero can. But do you need Wi-Fi 6E? Do you need to spend $1,500 for better Wi-Fi? Not now, no. But in a couple of years you might wish you had. So, if you're in the market for a new router, it could be worth considering.
The reason is that Wi-Fi 6E brings with it a whole new band — 6GHz. This delivers more spectrum to handle multi-gigabit speeds on compatible phones and laptops (a handful of which currently support it). There's lots more to love about Wi-Fi 6 (read our in-depth explainer for all the details), and the Orbi system even has its own 6E network, which you can set up just for those devices. Netgear opted not to use 6GHz as the dedicated backhaul, as Linksys did with limited success based on our early testing. Instead, it uses the second 5GHz band. Bhilave says the team made this choice as 5GHz has better range than 6.
Other specs include an upgraded WAN port (for your incoming internet connection) that now supports up to 10 gigabits, an additional 2.5-gigabit port on the router, plus three other ethernet ports on each device, so you can hardwire all your TVs. The satellites also support wired backhaul, like other Orbi systems. Netgear says its three-pack covers up to 9,000 square feet, and you can expand it further for $599 per satellite. The Orbi Quad-Band Mesh WiFi 6E System RBKE963 can be preordered today in the US and UK on Netgear.com and comes to other regions as WiFi 6E is approved.
Sours: https://www.theverge.com/2021/10/12/22716979/netgear-orbi-quad-band-wi-fi-6e-mesh-router-release-date-specs-price
Netgear's quad-band WiFi 6E mesh router will set you back $1,500
How much would you pay for one of the fastest home wireless networks possible? More than you paid for your computer or phone? If so, Netgear has your solution. The company has introduced what it says is the first quad-band WiFi 6E mesh networking system, the Orbi Quad-band Mesh WiFi 6E. Pay a staggering $1,500 for a three-pack and you'll get 10.8Gbps of total bandwidth across the 2.4GHz, 5GHz and now 6GHz bands, plus the backhaul band (at 'just' WiFi 6 speeds) to keep the main frequencies clear. Your home network could easily outpace your internet connection, even if you have multi-gigabit service.
There are some improvements beyond pure speed. The three-unit bundle offers about 9,000 square feet of maximum coverage (up from 7,500sq. ft. for WiFi 6 models), and the WAN Ethernet port now supports up to 10Gbps. Accordingly, there are more 2.5Gbps Ethernet ports on the router and satellites to improve bandwidth for wired devices. You can create up to four distinct WiFi networks, including a 6E-only network to ensure newer devices run at full speed.
The Orbi Quad-band router is available for pre-order now, with shipping expected "in time for the holidays" (Netgear's store quotes an October 29th ship date). You can also buy additional satellites for $599 each. That's a massive amount to spend on your home network, but Netgear is clearly counting on at least some customers who'll pay whatever it takes to get no-compromise WiFi. Just know there are some good-enough alternatives. Linksys' AXE8400 doesn't have the backhaul band, but its one- and two-node options (plus lower overall pricing) could make it a better pick if you're more interested in WiFi 6E compatibility than raw throughput.
All products recommended by Engadget are selected by our editorial team, independent of our parent company. Some of our stories include affiliate links. If you buy something through one of these links, we may earn an affiliate commission.
Sours: https://www.engadget.com/netgear-orbi-wifi-6e-quad-band-mesh-router-142948379.html
Netgear Updates Orbi Lineup with RBKE960 Wi-Fi 6E Quad-Band Mesh System
Mesh networking kits / Wi-Fi systems have become quite popular over the last few years. Despite competition from startups such as eero (now part of Amazon) and Plume (with forced subscriptions), as well as big companies like Google (Google Wi-Fi and Nest Wi-Fi), Netgear's Orbi continues to enjoy popularity in the market. Orbi's use of a dedicated backhaul provides tangible benefit over other Wi-Fi systems using shared backhauls. However, the costs associated with the additional radio have meant that the Orbi Wi-Fi systems have always carried a premium compared to the average market offerings in the space.
Netgear introduced their first Wi-Fi 6E router - the Nighthawk RAXE500 - at the 2021 CES. Priced at $600, the router utilized a Broadcom platform (BCM4908 network processing SoC + BCM46384 4-stream 802.11an/ac/ax radio). Today, the company is updating the Orbi lineup with a Wi-Fi 6E offering belonging to the AXE11000 class. Based on Qualcomm's Hawkeye (IPQ8074) / Pine (QCN9074) platform, the company is touting their RBKE960 Orbi series to be the world's first quad-band Wi-Fi 6E mesh system.
Netgear's high-end Orbi kits have traditionally been tri-band solutions, with a second 5 GHz channel as a dedicated backhaul. With Wi-Fi 6E, a tri-band solution is mandated - 2.4 GHz, 5 GHz, and 6 GHz support are all needed for certification. The 6 GHz channel, as discussed previously, opens up multiple 160 MHz channels that are free of interference. The RBKE960 series supports the three mandated bands, and also retains a dedicated 5 GHz backhaul, making it a quad-band solution with combined Wi-Fi speeds of up to 10.8 Gbps across all four considered together.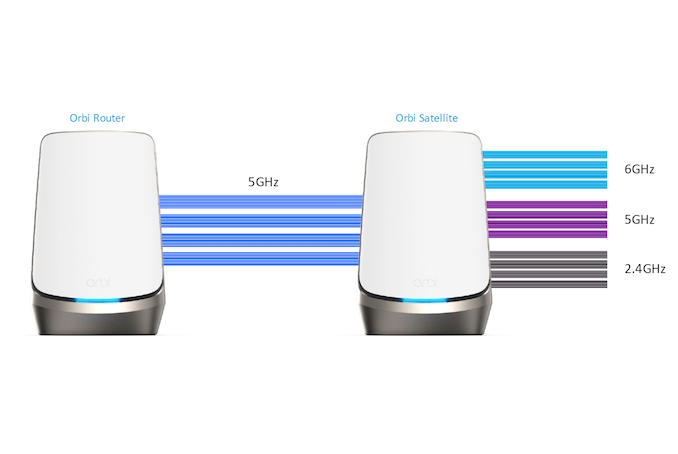 Netgear has opted to retain 5 GHz for the backhaul in order to maximize range. While the 6 GHz band is interference-free, the power restrictions prevent the communication in those channels from having as much range as the existing 5 GHz ones. Having a dedicated backhaul ensures that all the 'fronthaul' channels are available for client devices (shared backhauls result in a 50% reduction in speeds available for client devices for each additional node / satellite). The benefits of Wi-Fi 6E and what consumers can expect from the 6GHz band have already been covered in detail in our Nighthawk RAXE500 launch piece. The Orbi RBKE960 series supports up to seven 160 MHz channels, allowing for interference-free operation even in dense apartments with multiple neighbors.
The RBKE960 supports 16 Wi-Fi streams, making for an extremely complex antenna design. Netgear has made improvements based on past experience to the extent that the new Orbi RBKE960 performs better than the Orbi RBK850 even for 5GHz communication (the larger size of the unit also plays a part in this).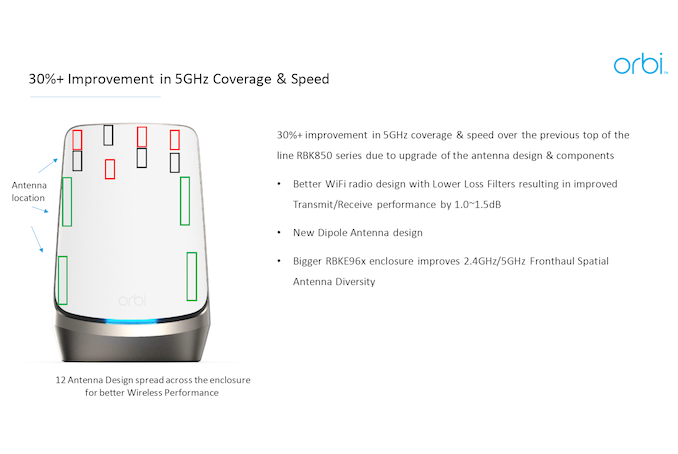 In terms of hardware features, the router sports a 10G WAN port, 3x 1GbE, and 1x 2.5GBASE-T ports. The satellite doesn't have the WAN port, but retains the other three. The 2.5GBASE-T port can be used to create an Ethernet backhaul between the router and the satellite. On the software side, the new Orbi creates four separate Wi-Fi networks for different use-cases.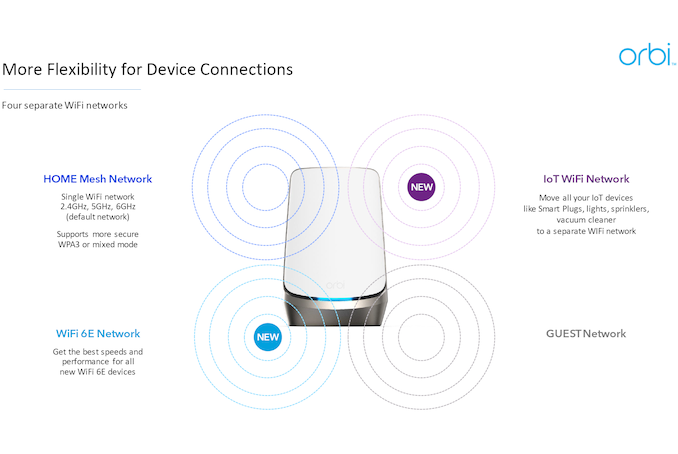 The reduced range in the 6GHz band means that large homes might require multiple satellites to blanket the whole area with 6GHz coverage.
Installation and management is via the Orbi app. Netgear also includes the NETGEAR Armor cyber-security suite with integrated parental controls - some features in Armor are subscription-based.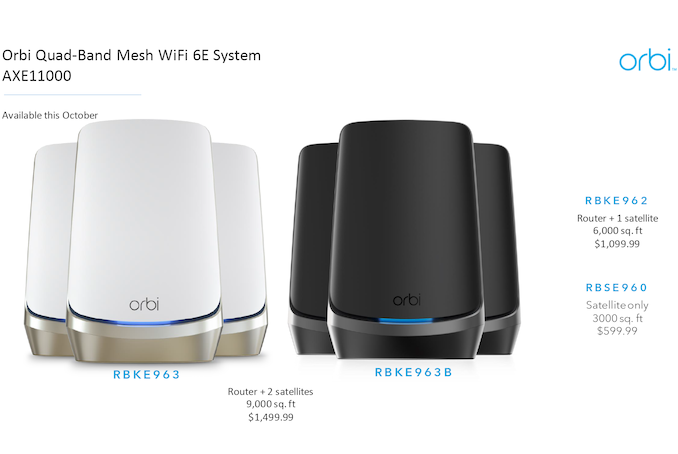 Netgear is also introducing an 'Orbi Black Edition' available exclusively on Netgear's own website. With the RAXE500 setting the stage with its $600 price point, it is no surprise that the RBSE960 satellite costs the same (trading the WAN port and other features for an extra 4x4 radio). A kit with a router and a single satellite (RBKE962) is priced at $1100, while the RBKE963 (an additional satellite) bumps up the price tag to $1500. With home Wi-Fi becoming indispensable thanks to the work-from-home trend among other things, Netgear believes consumers will be ready to fork out what is essentially the price of a high-end smartphone or notebook for a reliable and future-proof Wi-Fi solution.
Sours: https://www.anandtech.com/show/17005/netgear-updates-orbi-lineup-with-wifi-6e-quadband-mesh-system
ASUS ET8 Unboxing and Full Review - WiFi 6E - Speed and Range Tests
For months now, you sure have been bombarded with rosy things promised by the new Wi-Fi 6E — the extension of the Wi-Fi 6 standard. Rest assured that most of what you've heard is marketing hypes.
Indeed, Wi-Fi 6E sure is not all it's been cracked up to be. Don't get me wrong! It's still an excellent and valuable addition to existing Wi-Fi bands, just not the way you might think.
With that out of the way, let's get real. (And keep those hard-earned dollars in your pocket, for now.)
Dong's note: I first published this piece on May 22, 2020, and updated it on April 6, 2021, to add additional relevant information after months of real-world testing.
What is Wi-Fi 6E, exactly? It's a new freeway!
In a nutshell, Wi-Fi 6E is an extension of Wi-Fi 6. What makes it a novelty is that it operates in the all-new 6GHz frequency band, while existing Wi-Fi uses the traditional 2.4GHz or 5GHz band that's been around for more than a decade.
Other than that, Wi-Fi 6E has all the characteristics of Wi-Fi 6, including orthogonal frequency-division multiple access (OFDMA) and Target Wake Time (TWT).
(OFDMA and TWT help improve overall Wi-Fi efficiency and mobile clients' battery life, respectively, over the previous Wi-Fi 5 standards.)
In terms of speed, Wi-Fi 6E is the same as Wi-Fi 6. Generally, you'll get 600Mbps per stream via an 80MHz channel or 1200Mbps via a 160MHz channel.
So then why do we even need Wi-Fi 6E, you might wonder.
The upside of 6E: It's all about the channel width
We don't need Wi-Fi 6E. We want it. But let's back up a bit. To understand Wi-Fi 6E, we first need to know why the existing 5GHz band of Wi-Fi 6 just doesn't cut it.
The pain of DFS and mixed clients
Wi-Fi transmits data via channels, measured in Megahertz (MHz). If a Wi-Fi band (5GHz, 2.4GHz, or 6GHz) is a freeway, channels are lanes. Wider means more space needed and potentially faster speed.
And to deliver the top performance, Wi-Fi 6 needs to operate in the 160MHz channel width, currently the widest.
And just like a freeway, to get a wider lane, you put two narrow ones together. Generally, a 40MHz channel consists of two contiguous 20MHz ones, 80MHz equal two contiguous 40MHz, and two adjacent 80MHz channels combine into a single 160MHz one.
(Consequently, a 160MHz channel gobbles up eight contiguous 20MHz channels. By the way, if you replace "MHz" with "meter," you'll get a better idea of the road analogy we use here.)
As you can imagine, space runs out fast, and on the 5GHz band, we can get about two 160MHz channels. And here's the most significant issue: Not all 5GHz channels are exclusively used for Wi-Fi. (It's like a road is not only for cars but also bikes and other types of vehicles.)
Indeed, some channels are reserved for other more consequential applications, including radars, which get the first dibs. A Wi-Fi broadcaster automatically changes to another available, possibly narrower, channel if radar signals are present. (This is like how a car needs to get off a bike lane when a cyclist gets on it.)
For this reason, these shared channels are called Dynamic Frequency Selection or DFS. When the DFS channel switching occurs, clients will be briefly disconnected from the Wi-Fi network.
And here's the fact: On the 5GHz band, you can not have a 160MHz channel without using DFS — there are just not enough contiguous non-DFS sub-channels to form the 160MHz width.
(To put things in perspective, if you want to pull an Airbus 380 on a freeway, you'll have to use all of the lanes and even the shoulder to make a single "lane" for the job. The point is don't count on the space availability at all times — something likely will have to give.)
In other words, 5GHz 160MHz channels are either fully or partially DFS, as you can see in the diagram below.
Consequently, when you live within tens of miles of an airport or weather radar station, your Wi-Fi 6 router likely appears not as "reliable" as you'd like — you'll get brief disconnections now and then. That is especially painful when you play online games or use video conferencing often.
Even if that doesn't bother you, keep in mind that many existing Wi-Fi clients only use 40MHz or 20MHz channels. So, all home Wi-Fi networks have to struggle between compatibility and performance.
Extra: Wi-Fi 6E vs. other Wi-Fi standards
Common Name
Standard
Availability
Top Speed per Stream
Operating
Channels
Security Protocol
Frequency Bands
Status
N/A
802.11b
1999
11Mbps
20MHz
Open
WEP
2.4GHz
Obsolete
N/A
802.11a
2000
54Mbps
20MHz
Open
WEP

5GHz
Obsolete
N/A
802.11g
2003
54Mbps
20 MHz
Open
WEP
2.4GHz
Obsolete
Wi-Fi 4
802.11n
or Wireless N
2009
150Mbps
20MHz
40MHz
Open
WEP
WPA
2.4GHz
5GHz
Legacy
Wi-Fi 5
802.11ac
2012
433Mbps
20MHz
40MHz
80MHz
Open
WPA
WPA2
5GHz
Mainstream
N/A
802.11ad
2015
Multi-Gig
2.16GHz
Open
WPA
WPA2
60 GHz
Limited Use
Obsolete
Wi-Fi 6
802.11ax
2019
1200Mbps
20MHz
40MHz
80MHz
160MHz
Open
WPA
WPA2
WPA3
2.4GHz
5GHz
Mainstream
Wi-Fi 6E
802.11axe
on 6GHz
2021
1200Mbps
20MHz
40MHz
80MHz
160MHz
OWE
WPA3
6GHz
Latest
6GHz band to the rescue
Wi-Fi 6E deals with this spectrum shortage and problem by using an entirely new frequency band — the 6GHz with 1200MHz wireless spectrum. That opens hardware up to large Wi-Fi-exclusive airspace, including seven 160MHz orfourteen 80MHz channels.
As a result, Wi-Fi 6E devices will operate freely without the need to accommodate older Wi-Fi standards or spectrum regulations.
In other words, with Wi-Fi 6E, your devices don't need to bother with 20MHz, 40MHz, or even 80MHz anymore. (It's like a brand-new freeway with special lanes optimized for speed.)
On top of that, you won't have to be concerned about the potential sporadic, brief disconnections caused by radar signals.
(And in my experience, so far, Wi-Fi 6E clients — there are currently just a couple of them — indeed can connect at top negotiated speeds and deliver impressive sustained throughput rates. You can read more about this on my reviews of Wi-Fi 6E routers.)
---
So to recap, if a Wi-Fi band is a freeway, then channels are lanes, and we have this crude analogy:
The 2.4GHz is like a road that includes only small lanes for bikes.
The 5GHz is a freeway with lanes for bikes, cars, buses, and trucks.
The 6GHz (Wi-Fi 6E) only has special tracks for a high-speed rail system.
And that brings us to the main shortcomings of Wi-Fi 6E.
Wi-Fi 6E's shortcomings
Yes, this is the "get real" part. Wi-Fi 6E has a fair share of drawbacks. It's not the end-all-be-all of Wi-Fi.
Wi-Fi 6E vs. Wi-Fi 6: New hardware required
To use the new 6GHz band, you'll need a broadcaster, like a router, and a client that supports it, such as a phone, laptop, or desktop adapter card. No existing Wi-Fi equipment, including the latest Wi-Fi 6 routers, works with this band. (This is like you can't drive a car or ride a bike on rail tracks.)
(Initially, it was rumored that some new Wi-Fi 6 routers already have Wi-Fi 6E-ready hardware to be activated later via firmware updates. However, by the end of 2020, this proved to be completely false.)
This shortcoming is the same as the move from the single-band (2.4GHz) to dual-band (2.4GHz + 5GHz) that took place back when Wi-Fi 4 debuted in 2009.
---
Extra: Wi-Fi 6E brings in a new type of tri-band equipment
Like the dual-band case, for backward compatibility, you can expect any Wi-Fi 6E-capable router to have a 5GHz band, and likely a 2.4GHz band, built-in. In other words, it will be a tri-band router.
Yes, we have existing tri-band broadcasters — like the Asus GT-AX11000, Netgear RAX200, or TP-Link AX11000 — but they all have one 2.4GHz band and two 5GHz bands, primarily to address the bandwidth issue.
In other words, traditional tri-band broadcasters of Wi-Fi 5 or Wi-Fi 6 standards have an additional 5Ghz band. Each of the 5GHz bands occupies half of the band's spectrum, called upper and lower channels.
On the other hand, a Wi-Fi 6E broadcaster needs all three bands — 2.4Ghz +5GHz +6GHz, each occupying the band's entire spectrum — to be compatible with all existing and future devices.
(Come to think about it. We might find quad-band routers in the future — those supporting Wi-Fi 6E with an additional 5GHz or 6GHz band.)
Since a Wi-Fi connection always takes place in a single band at a time, up to late 2020, we only needed dual-band clients (2.4GHz + 5GHz). With the 6GHz band's availability, new and upcoming Wi-Fi receivers will likely also be tri-band (2.4GHz + 5GHz + 6GHz).
(Indeed, all Wi-Fi 6E clients — more below — I've been working with indeed have this tri-band configuration.)
The reason is for the 6GHz band to be successfully adopted, networking vendors need to keep devices compatible, regardless of the Wi-Fi frequencies being available at any given time. And incorporating multiple bands within the hardware is the only way to achieve that.
---
Wi-Fi 6E's second major shortcoming: Much shorter range
Higher frequencies always mean shorter radio broadcasting ranges: FM and AM radio stations broadcast much lower frequencies than Wi-Fi.
The 5GHz band has a shorter range than that of the 2.4GHz one. So, naturally, the 6GHz band is likely behind the former.
Of course, this assumes that the 6GHz will use the same power level (dBm) as existing bands since more power can compensate for the higher frequency.
For now, the power level of Wi-Fi 6E is still somewhat hush-hush, but similar to the 5GHz case, you can expect the 6GHz band to be regulated — it won't get the spectrum or power freedom vendors and consumers would like. (And that's a good thing!)
In my real-world experience, Wi-Fi 6E has nothing to call mom so far in terms of coverage.
Indeed, I used two Samsung S21 Ultras — the only fully working Wi-Fi 6E device on the market right now — to test the Netgear RAXE500 and Asus GT-AXE11000. And the result was quite interesting.
The photos above and below were taken when I placed the two phones precisely 45 feet (14 m) away from the RAXE500 within the line of sight. You'll note how the 5GHz band has much better signal strength — the bars — and negotiated speed than the 6GHz. (They were the same when I used the Asus GT-AXE11000, by the way.)
This band will evolve, but for now, I'd say that the 6GHz has about 70 percent of the 5GHz range in an open space. If you place the receiver behind a wall, that number now reduces to 60 percent or even just half.
Indeed, the 6GHz can't penetrate thick objects very well. And for that, we'll never see the 2.4GHz band, which has the best range, go away any time soon, if at all.
This short-range is not a big deal if you live in a small and open house. However, it will make the 6GHz a terrible choice as the backhaul band for a large-area mesh system. I'd be concerned if I were TP-Link, who seemed to have invested heavily in Wi-Fi 6E for its upcoming mesh sets.
High cost
And finally, another obvious shortcoming of Wi-Fi 6E is the cost.
Tri-band and quad-band hardware require more materials and sure will be more expensive. Again, remember that you need both broadcasters and clients of the same standard to enjoy Wi-Fi 6E.
(Those new Wi-Fi 6E routers I mentioned in this post are among the most expensive single Wi-Fi broadcasters, starting at $550 apiece.)
When can I see real Wi-Fi 6E hardware?
Right now, if you want. But it's just not worth the cost. Not yet.
Indeed, the move to Wi-Fi 6E has been impressive. The Wi-Fi Alliance first introduced Wi-Fi 6E in early 2020. By April of the same year, FCC approved the use of the 6GHz spectrum for Wi-Fi.
Early 2021, the Wi-Fi Alliance launched the Wi-Fi 6E certification program. That doesn't mean all hardware variants are immediately certified, however, and they sure are not. But you can find them now. The certification is just a matter of firmware.
So far, there are just a few, and they all proved in my testing to be excellent routers, even with non-6GHz clients. Soon enough, you'll see more routers from different networking vendors.
On the side of clients, again, the Samsung S21 Ultra is the only official choice. The phone uses the BCM4389 mobile chip from Broadcom and has worked very well in my testing.
On top of that, you can upgrade a Windows computer using the Intel AX210 chip. In this case, the Wi-Fi 6E adapter has been hit or miss.
---
Extra: The curious case of the Intel AX210 Wi-Fi 6E chip's Windows driver
Both Intel and Microsoft haven't decided to support the 6GHz band fully — they are expected to do so by the end of 2021 –, so the tri-band AX210 Wi-Fi 6E chip does not have the official software drivers yet. Consequently, it'd work like the dual-band AX200.
There are "tricks" to make Wi-Fi 6E works in Windows 10 via registry hacks, but I'd recommend against doing that sort of thing.
Update: Check out this post where I posted the supported driver software and detailed instructions on installing it on your Windows 10 (or 11) computer.
---
At this rate, though, Wi-Fi 6E will soon be adopted and certified by the end of 2021 by major parties involved. And only then you'll see more clients.
That said, you'll be able to experience Wi-Fi 6E sometime in 2021. How that experience turns out depends on many things, including firmware and software drivers on both sides (broadcasters and clients).
The takeaway
In a sentence, Wi-Fi 6E equals consistently fast Wi-Fi 6 speeds at a close range via an all-new 6GHz frequency band.
Wi-Fi 6E is not entirely better (or worse) than Wi-Fi 6. It's just an additional option, applicable to certain situations.
And the new wireless standard is here in limited options. Realistically, 2022 is the likely earliest time when Wi-Fi 6E indeed plays a meaningful role in daily life.
When it comes to Wi-Fi, it's always getting connected at the time of need and not having the latest and greatest that matters. And for the former, the existing 2.4GHz and 5GHz bands will do for a long time.
Think about it, 5GHz has been out for more than a decade, and the 2.4GHz has never come even close to disappearing — it might never will. The 6GHz will be the same. It's an additional band that's not meant to replace anything. There's no need to rush to upgrade.
(It's like we'll never ditch the traditional bicycle when EVs are the new trend today. All will remains as options for different needs, albeit at different usage levels.)
Here's something interesting: As more devices support the new 6GHz bands, the other two (2.4Ghz and 5GHz) will be less congested. So the addition of Wi-Fi 6E is a win-win for both new and old equipment alike.
That said, don't hold your breath and wait for Wi-Fi 6E. Go ahead and get the equipment that serves your needs today.
It's always a good idea to give a new standard some time to fully mature before upgrading to it anyway. That's it if you ever need to upgrade at all proactively.
Categories Explainers, Dong's TakeTags Networking Explained, Top Picks, Wi-Fi 6, Wi-Fi 6ESours: https://dongknows.com/wi-fi-6e-explained/
Wifi 6e orbi
.
Wi-Fi 6 vs Wi-Fi 6E: Here's the difference
.
Similar news:
.
73
74
75
76
77