36 Brilliant YouTube Banner Ideas & Templates
YouTube Channel Banner Ideas
If you are looking for fresh and current YouTube Banner Ideas, we have curated categories of engaging designs that are sure to attract a viewer's close attention. Before you start designing, it is important to know the basics. What exactly is a banner template? Where can it be found? What size is it?
YouTube is a popular video-sharing platform, where users upload, share, and like other content. A YouTube Banner is found on the homepage of your channel. Here, a user can browse the videos you have uploaded and created. This is similar to Facebook and Twitter cover images that are found on a person's profile page. You can add creativity to your channel with our YouTube banner examples.
The Benefits of Creating an Engaging Banner
A visually appealing YouTube channel is an important part of attracting subscribers to the platform. If viewers click into your channel and like what they see, they're more likely to stick around. YouTube banners play a crucial role in how your channel is perceived. If you've got attractive channel art, it sets the tone for the rest of your channel's appearance.
YouTube Banner Dimensions: A Rundown
Dimensions: 2560 x 1440 pixels 
Image File Size: 6 MB or less
Aspect Ratio: 16:9
YouTube Banners will display differently on desktop screens than they will on mobile screens. Therefore, it is important to be wary of this and what you can do to avoid any unnecessary cropping that will affect your design. The Safe Area of your design is where your important text and visuals should be placed so they don't get cut off on mobile screens. This area is 1546 x 423 pixels. Many of our YouTube designs feature a safe area layer that will help you to adapt to various screen sizes and keep an effective design. This ensures your banner size is correct, having an effective design.
36 YouTube Banner Ideas For Your Channel
Our Youtube banner ideas are divided into 12 categories, ranging from gaming to business, gardening, photography, fitness, health, and more!
Each section has a number of ideas and templates that can help visualize your channel. Each banner in this blog is 100% customizable, so, if you see a banner you like, simply click on the template to edit & download.
Entertaining Gaming Channel Art
In breakdown statistics, they discovered that 350 gaming creators reached over 10 million subscribers throughout the year. If you are a dedicated gamer, why not join this huge community, and you could be one of the lucky ones. We have a collection of. If you need Thumbnail creation advice or engaging designs, check out our How to Make a Thumbnail Blog for inspiration.
A Blocky Minecraft Inspired Banner
Minecraft is one of the most popular games that is discussed on YouTube, along with Fortnite. If you have a favorite game or have geared your channel towards a certain game, why not take inspiration from their design elements and make it your own. Minecraft's prime colors are brown and green, which creates an earthy yet appealing design. Combine with a blocky white font such as 'Sigmar One' to add contrast to your design and further illustrate the direction of your channel.
A Bright and Engaging YouTube Banner Designs
Utilizing bright colors in your design will create an optimistic outlook towards your YouTube Channel. Optimism will be equated with these bright colors due to powerful Color Symbolism. Colors used here such as blue and green are both some of the most engaging colors and work well together. You can create Mario-inspired designs like this example by using the Design Wizard shape tool. As you can save your template easily, you could re-edit seasonally to catch your viewer's interest, so they await your next brilliant design.
Icons to Add a Dynamic Effect to Your Banner 
In the images tools panel, you can search for an icon of your choice. Here, you can filter what formats are visible such as icons. Some of our icons offer an 'editable' option, where you can change the color of certain layers. You can choose a particular color from the color wheel, insert a hex value or use the color picker tool. You should also make when you will post content clear to a viewer. A short sentence like 'New Videos Every week' in our example is to the point.
Tasty Food YouTube Banners
Food content has always been popular whether that be experienced chef tv shows or quick video tips. Home cooking videos are a more personalized way to engage with viewers. Showing off your fridge, counter, and most importantly recipes is of general interest. If you have food worth sharing, why not increase your viewer's appetite with these mouth-watering designs. Remember that the design of your template will depend on what cuisine you work with, and the detail within that design will depend on which demographic you hope to target.
Colorful Designs Attract Viewers
Brighten up your health food channel with this tasty-looking food design. If you specialize in creating meal plans and delicious recipes for your viewers, this could be the banner for you. Grab attention with a sleek overlay like this example. Images can often take on a more professional appearance when the right overlay is used. To create this effect, use the shape tool in Design Wizard and alter the transparency to fit your vision. Adding a text layer over an overlay like this will help your message stand out. An image like this will overshadow the text without one.
Use Beautiful Food Imagery in Your Design
A food banner for YouTube will look a lot more appealing if the food you're displaying looks good. Think about what kind of food has a variety of layers and textures. For example, a pineapple can be a fantastic centerpiece for your channel art design. The information you display on your design will depend on the imagery you choose. Here, the central element is the cutting of the pineapple. Therefore, any additional content such as text or icons should be positioned elsewhere.
Grow Your Food and Grow Your Channel
For strictly organic YouTube food channels, you might wish to opt for a neutral, more grounded design. This channel cover is perfect for displaying on an organic-themed food channel that strives towards sustainability. Like this example, a light, white sans serif font may be the best choice to illustrate the organic direction of your channel. Center the name of your channel with Design Wizard tools so that it will not be cut off once uploaded to YouTube.
Create Trendy Beauty & Fashion Banner Art
Beauty & Fashion channels are some of the most impressionable on YouTube with a chance for further opportunities and making money. MUA's share tutorials and feature makeup products that act as advertising. You can become an influencer pretty quickly. Other videos focus on seasonal trends or how to get a certain look, influenced by a famous person. It is clear that there is a wide range of options, but if you don't have an appealing design, it may affect your numbers. By using some of our banner examples, that should be no problem.
Highlight Your Hairdressing Talents
When creating YouTube channel art for your hairdressing-themed channel, you should showcase some of your best hairstyles. This design places the model's hair front and center. If you have a larger image, you can crop that within Design Wizard to focus on the main aspect, the hair. Make sure to create a hierarchy with your text, which helps your viewers distinguish the most important words. For example, 'Hair & Beauty' is larger than 'Style Tips' due to its importance. Try changing the size and styling of the font with the text tool.
Exude Your Personality with Your YouTube Channel Art
Personality and relatability are proved to be more engaging. It's a good idea to simply use your own face on your banner, especially if it's for a beauty channel. Featuring your face will be more engaging for viewers and they can connect your face with the channel or your business identity. Design Wizard templates can be personalized to display your own images by using the 'upload' button.Feature an expressive headshot image to make your banner art something that looks professional and engaging.
Don't Overshadow with Design Elements
Give your fashion and beauty YouTube channel an elegant look with a cover that encapsulates what your videos are about. Now that you know to focus your banner art on what you are selling and include your own imagery. It is important to not overshadow other design elements. This simplistic design features a light serif font that is white in color, in the center of the composition. The color matches the white background color which creates cohesion. Sometimes the simple design is the most successful.
Visually Stunning Graphic Design YouTube Banners
Graphic Design YouTube channels explore common mistakes, creating effects, the best tips for aspiring designers, and more recently, a closer look at certain processes with additional behind-the-scenes content. These videos commonly feature quick and effective tutorials for certain programs or tools. Keep in mind that these designs below don't necessarily have to be used for design-based YouTube channels. Design Wizard offers the canvas for you to create easy templates that look great. You can explore different layouts by saving various YouTube banner examples. Compare these YouTube banners and decide which one works best for your channel.
Create a Cohesive Design with Color Shades
Design an interesting YouTube banner for your channel by utilizing a few shades of the same color. Complementary colors create an eye-catching effect while not being jarring at the same time. Design Wizard has a color wheel, which you can use to find the perfect color for your banner template. Along with this, our color picker can help you create cohesion by using a color from your selected image or a chosen icon. Use this color or a similar shade for your font choice.
Use Eye-Catching Geometric Patterns
A geometric pattern can look superb as a YouTube banner. In this design, the strong white text stands out against the azure background. Designs like this example are more visually engaging to the eye, but it is important not to confuse the viewer on the purpose of your channel. This placeholder text can be edited in minutes. You can change this font size and color to personalize the template. Once you have made your changes, save your design and upload it to YouTube.
Experiment with a Polka Dot Banner Template
Polka dot patterns are a versatile design feature that will create a perfect YouTube banner. Once infused with color they can be playful and whimsical or create a modern sophistication. When designing your banner, keep in mind what you are trying to sell to your viewers. Mixing moods will not make sense and you need to create an effective brand identity. Design Wizard features a shape tool, where you can create a powerful polka dot effect similar to this example in minutes.
Health & Fitness Banner Ideas
Fitness has always had an important place in the YouTube library. There are many misconceptions about workouts, and people may not be in a position to pay for a personal trainer or a gym membership. COVID-19 showed an increase in home workout videos, as gyms were shut. The term Fitness is a broad spectrum with YouTube featuring video workouts from aerobics, pilates to core workouts related to certain sports activities. This is your chance to allow viewers a glimpse of your unique skills and processes, with a YouTube banner that reflects what you have in store.
Helpful YouTube Fitness Templates to Guide
A channel that focuses on documenting weight loss or providing diet tips is a great fit for this design. It's a simple, engaging image that will look great on your YouTube channel. Using a clear image like this leaves no room for questions on your channel and its videos. This template is ready to save and download. However, you should try to add your own personal flair, which should also be found within your channel's content. Create consistency by using similar font, colors, and imagery.
Excite Your Viewers with a Pop of Color
YouTube's red and white UI (user interface) should inspire you to try and use different colors to give your content the chance to stand out. A vibrant color like this pure pink is a perfect choice for the needed contrast against both the darker image and plain-colored YouTube design. Experiment with a variety of colors for your text as practice makes perfect. Space is an important design element to keep in mind. Use the grid and safe area to help craft a design that utilizes space to the highest extent.
Get Your Channel in Shape
Make your YouTube yoga channel look amazing with a customized fitness banner like our example. Add text to your image that gives your viewers an insight into who you are and what content you will be posting. Design Wizard has a range of yoga imagery that will look great as a channel banner. Our editable icons can also be added to elevate your design to the next level. Use toned-down colors to create a relaxing atmospheric YouTube banner for your viewers.
Photography Channel Ideas
Photography is another level of expertise that is greatly appreciated by the YouTube community. From the brand new iPhone to a complex Canon Camera, there are certain aspects that an aspiring photographer needs to learn. Sometimes it is easier to understand visuals rather than reading a manual. Certain videos are geared towards a specific audience. On YouTube, there are thousands of videos ranging from beginner, intermediate to advanced photography tips. Here are some visually pleasing ideas with YouTube-friendly dimensions to get you started.
Be Creative With Your Image Selection
If photography is your area of expertise, you'll want to make it very clear to viewers on YouTube. The best way to do this on your channel is with a striking photography-themed design like our example to the left. If you have your own photography selection to choose from, choose your best one and upload it to a blank YouTube Banner template. You can resize, crop, and add filters to your image. Add font, shapes, and icons to create a further enticing design.
Minimalistic Design for Effect
Being creative with your design will illustrate to your visitors that you care and have content that is well thought out and worth staying for. For example, this design replicates the closing of a camera shutter. Correct text placement within a design is an important concept. Firstly, having your channel name in the center looks good as there was space. Secondly, this placement can have the symbolism of your channel as the focus. This should encourage you to have fun with your design but be aware of key design elements.
Know Your Target Audience
Different demographics may not respond in the same way towards a certain design. Certain target audiences may want content that is more accessible, easy to understand, possibly featuring beginner language. Whereas, an advanced subscriber may want more serious content where they already know the basics. Therefore, it is important to visually represent who you are targeting with your YouTube banner art. This example clearly states that the channel is directed towards beginners. The design is also minimal to not overwhelm these viewers.
YouTube Music channels offer a large range of demographics to target. These types of channel layouts may change more than others. We are currently witnessing a fast-faced streaming climate. New music comes out more often than ever. It is essential to keep your YouTube channel as well as your social media channels up to date, adding links to promote your latest releases. However, music channels could be tutorial-based, where the design is more simplistic, as you are trying to convince a viewer to trust you. Start editing these YouTube banner ideas to stand out and be heard.
It's important to hit the right note when coming up with music YouTube banner design ideas. This piano design is placed diagonally which creates an interesting dynamic. An instrument like this that has differential layers and a variety of colors can be used mostly alone for channel art. It is interesting enough alone, as is the majority of musical instruments. You may want to feature the type of music or musical instrument that you will teach or provide tutorials for.
Match the Design With Your Sound
A simplistic design like this example is perfect for a tutorial-based channel. Center your text with the move and resizing tools on Design Wizard to guarantee that it will not be cut off once uploaded to YouTube. A white, simple, and easily-read font is a humble design choice that will clearly state your message and service for the world to see. A viewer will need to trust you in order to watch your video to improve or learn a skill. Therefore, using this design will create the feeling of trust which is required.
Add Glitz and Glamour to Your YouTube Banner Template
Stand out from the crowd with a bright, sparkling design that catches the eye. Purple is a color of exclusivity and is perfect for YouTube banner designs. This example features a range of Design Wizard tools being used. When adding layers, you can create groups by merging particular ones. Lock these layers into place so new changes don't affect your existing design. Play around with your layout until you find the right balance of elements. This may take a few tries, so don't worry!
YouTube Sports Banners for Inspiration
Sports channels on YouTube mostly feature compilations from famous events, reactions, or commentary and now there are live-streamed events that are particularly engaging. 2021 has so far been a busy year for sports-related content with the rescheduled tennis tournaments, the Euros, and the Olympics. High-intensity sports performances deserve an equal amount of work to enhance the eyes of your viewers. With your banner templates, you should aim to sell a sports fantasy to them. Feature a dramatic and engaging image while pairing it with an impactful font to create amazing YouTube banner design ideas.
You can save your design in Design Wizard and can regularly update it with new content. It is important to note that these templates should be updated to reflect your current look or content. This way you can inform your fans of what's coming next. With these Youtube banner templates, you can create great designs that will positively impact your sports channel. Our layers panel allows you the freedom to move them in different positions, delete, lock in place or change the transparency.
A court-inspired design like this example will make your channel irresistible to viewers. While keeping in mind how your banner art will look once uploaded to YouTube, it is important to be aware of the placement of social media icons. They are found on a gray overlay to the right forefront of your channel banner design. Therefore, be light on the design in this area as your contact information should stand out. Users want to interact with you, don't make it hard for them.
Create a Striking Visual Contrast
When you pair three or four distinct colors that are completely different from each other, it is called 'color blocking'. This principle creates a distinct contrast that still remains a pleasant view to the eye. It is a popular trend in both interior design and fashion. Combining these blocks of color can positively impact your YouTube channel, forming an appealing piece of design. Using shape tools means that you can work with actual blocks of color, making this process even easier.
Travel videos can consist of any content from packing tips to a popular trend 'Vlogging'. Vlogging is the process in which a YouTuber films a certain day or week. It adds a personal element and forms a connection with their viewers. YouTube is about sharing. Travel content can range from worldwide destinations to domestic trips. Now those travel restrictions have relaxed and the numbers going somewhere have started to increase, there will certainly be a rise in travel-related YouTube content. Browse these YouTube banner ideas to reach new heights.
Feature Exciting and Adventurous Landscapes
Share your love for travel and exploration with this adventurous YouTube travel banner. This design could really complement your channel if you like traveling to unique or obscure destinations. On the other hand, this template could also be used for a channel steered towards mountaineering travel activities. You can use more than one image in your design. Utilize the grid to add symmetry or, a purposeful lack of symmetry to your art. Show your viewers how daring you are by adding strong visual imagery to your banner art.
Use Relaxing Imagery for Your Banner
Welcome visitors with relaxing YouTube banner imagery that will convince them to subscribe to your channel. You could add text to brand the image in line with other channel art. Use this aesthetic on other social platforms to further define your brand. This will create design harmony which will make your channel more identifiable to a viewer or potential subscriber. The small addition of a teal-colored font creates an intriguing contrast without affecting the overall atmosphere the image has created.
Take Your Viewers on an Adventure
If you like to showcase your exploration of interesting locations on your YouTube channel, this template example could be a good addition. With the Design Wizard upload tool, you can swap out the background image to add your own destination. Use the shape tool in conjunction with the grid to make sure everything is in line with your template. Pops of orange for both font and shapes work well against scenic background imagery like this example. To use similar colors, you can use our color picker tool. 
Topical and Informative Business Channel Art
If your YouTube content is strictly business, discussing topics such as politics, the latest legalizations, or conferences, it is important to create a design that includes these elements. Designs for these channels should be more formal, with fewer design elements, as more serious content is produced. Recently, there has been an increase in business channels, where professionals are giving their advice to their viewers. They comment on current events, and even busting myths within tv and movies. Take your stance and make sure your channel art matches.
Images of the Earth from space are uniquely captivating for YouTube. It's amazing to see what our planet looks like from up above. Imagery like this example can be found in business, science, and travel channels. Using a globe as a background design visually represents your channel as one that is up-to-date with current trends, worldwide. News and finance-related content almost always feature globe-like designs. Like this design to the left, use your banner art to state what type of news you will be updating your channel with.
Aim for Professionalism With a Clean Design
Impress your viewers with a finance template that's a match for your economic insights. This text can be easily edited and used to display the most important information you want your viewers to know. It is common to add information that details when your videos will be released, whether that's daily or weekly. You can also add a tagline. A three-dimensional design like these coins can also add to the impact of your banner art and how it's viewed. A clean, white font will add professionalism to your banner ideas.
Creative Business Banners for Your Brand
Get creative with your business's YouTube channel art and add a banner that will encourage views. If you think your image is too bright and are having a difficult time incorporating font, add an overlay. Use the shape tool to add a layer over your image, add a color and change the transparency. You could use bold, white text over your background image to help emphasize your message. If text by itself isn't enough, choose a different shape to add something new without creating a problem.
Banner Ideas For Technology Channels
Technology is ever-evolving and that is clear on YouTube. How people interact with a channel, what type of content is created, and how creators promote their channel have all changed. Now that YouTube is increasingly used on mobile devices, it is easier to view and create content. People are more interested in these ideas, and what exactly they need to know in order to stay on top of constantly changing trends. Content-wise, these channels feature the latest reviews, tips on algorithm updates to applications, and expert opinions on future technological advances. Using these YouTube banners will be a step in the right direction for your channel.
Experiment With Light in Your Design
This tech guide banner shows an interesting use of light in its design. The flashes of light permeate the composition and make it instantly more noticeable. This design shows the impact of connecting the content of a channel with the banner image. VR has been around for a while, but how it's used is something that changes yearly. Guide your viewers through the good and the bad, giving insightful information that they may not know they needed. Otherwise, change the image for something more general.
Wow your audience of tech fans with an impressive personalized design. Templates like this example will provide you with some great banner design ideas. Our library features up-to-date technology imagery, backgrounds, and icons. To create your ideal composition, you can flip, rotate, and resize layers as you see fit. Add the types of reviews you specialize in or when viewers can expect new content. As this is for a technology channel, you can be more creative with your font styling than other categories discussed.
Create A Matching YouTube Logo
Consistency is key to the design. It will impact how your product or service is interacted with. If you would like help with your channel icon, there is no need to stray further. Design Wizard's YouTube logo maker features a wide range of designs that you can match with your banner. Create cohesion by using the same background or color of the font for your YouTube art. This will visually represent you as a serious brand or company. Banner art with a primary color like this example is perfect to connect all of your channel designs.
Gardening YouTube Banners
Through the pandemic, the majority of people found that they had more time to spend taking care of their garden, as there was nowhere else to go but their own home. The time away offered a chance for reflection and encouraged us to connect with nature. A Garden could simply be a selection of pots on a windowsill, it doesn't make that time any less special. If you have some tips and tricks, why not share them with others? It has become one of the most popular, and now profitable channels on YouTube due to our recent outdoor way of living. Strive for greatness with these easy to edit YouTube banners.
Create A Natural and Simplistic Design
A bright and colorful template like the one on the left is a clear visual representation of your channel, encompassing what it should for your viewers. There is a range of garden imagery and icons in Design Wizard. Gardening is natural and full of light, therefore the imagery should be light, airy, and not dull. This sentiment is important when pairing with fonts, light-weight serif fonts are excellent choices for that reason. If your background is green, add a splash of color to your YouTube banner. The addition of this white font creates a simplistic contrast.
Use Symbolism to Connect With Viewers
Symbolism can be very powerful in how a viewer interacts with your channel and its content. Certain imagery, colors, and font choices will resonate with your subscribers. Without it being obvious, this symbolism has the impact to increase channel views. Green represents renewal, growth, and freshness. Some of these symbols overlap with the symbolism of white, which makes it a perfect color to use against a green background. The color also stands out, which is important for legibility purposes.
Realize the Synergy Between Image and Text
Positive and bright imagery help create feelings of optimism and nostalgia. The same thing applies to certain font choices. When the image and text in your template work well together, this will result in a superior design layout. Align your text so that it is not cut off. Make sure it is legible over your background image or design. Our Creative Ideas to Increase Sales eBook features actionable information that will help educate you or your company on the power of combining an image with text.
Use These YouTube Banner Ideas to Create Your Own
Now that you've got some inspiration, you can start creating your very own YouTube channel art. A YouTube Banner idea may be hard to think of off the top of your head. Now, you have free templates for your brand. Think hard about the way you want to represent your channel in the design. Then use these ideas to make it happen.
All of these YouTube banner examples are easy to customize in Design Wizard, so you don't have to be an expert to create a design. Explore theYouTube Library. Search what channel art other creators in your niche have created. Then, get creative!
YouTubeyoutube banner ideasyoutube channel artyoutube marketing
Michael Cole
Editor
Michael Cole is a content writer at Design Wizard. He has completed a BA in English and History and an MA in Journalism, and is hopefully finished with college at this stage!
Michael has extensive experience writing for both print and web and can turn his hand to any subject. From wedding dresses to football matches, Michael has written about it all.
One day he hopes to write his own novel and hopes even more that people will actually read it.
Sours: https://www.designwizard.com/blog/video-marketing/youtube-banner-ideas
When someone sends me a really great YouTube video, I always want to know who's behind it. Was it an ad agency? A small or medium business? A B2B tech company? No matter who it was, if I'm impressed, I want to see more from the content creator.
So once the video is done, I click the link to visit their profiles.
And from there, if the brand is really on top of its game, I'll see its channel art -- the horizontal banner displayed across the top of the user's YouTube channel that, hopefully, shows a combination of good design and brand presence.
But how do they do it?
We've all seen design work that inspires us, but can have a bad habit of not taking it any further than that. What makes something like strong YouTube banners so great? And how can you create your own gorgeous artwork? To answer those questions, we found three excellent resources for YouTube banner templates, as well as seven creative channel banners -- both old and new -- that inspire us as marketers.
What Makes a Good YouTube Banner?
Responsive Dimensions
A YouTube channel banner will take on different dimensions depending on what platform is being used to view it. For example, a banner might have different dimensions when viewed on a TV, desktop, or mobile device.
Google's suggested YouTube banner dimensions are:
Recommended: 2560 x 1440 px
Minimum for upload: 2048 x 1152 px
Minimum "safe area" where text and logos are ensured not to be cut off: 1546 x 423 px
Maximum width: 2560 x 423 px
File size: 4MB or smaller
The recommended resolution seems like an exorbitantly large file size. But think about how YouTube banners would appear on a 30" smart TV or higher. With a growing number of options to view YouTube videos in this way, you'll want to make sure your channel art is large enough to display with quality on larger screens.
Here's a helpful visual representation of those dimensions:
Source: Google
Balanced Design
Take note of the "safe area" we alluded to in the first section. Your banner is essentially the biggest branding opportunity for when people land on your channel, so you'll want to make sure your logo and supporting text is well-represented in the channel art. That's why it might be best to place your company name and logo in that center space -- this prevents viewer confusion if the name of the company behind the YouTube account is accidentally cut off.
If you're not sure how to take up the entirety of a 2560 x 1440 frame, video production company MiniMatters suggests "build[ing] the image from the middle out," putting the most important assets in the center, and going from there.
Finally, as to what to put in your banner, we like to follow a few basic rules:
Use a high-resolution image. A pixelated or blurry banner doesn't exactly signal that there's high-quality video to follow.
Keep it on-brand. While your channel art doesn't have to be a carbon copy of your logo or tagline, it should incorporate visual elements that you want associated with your brand, like certain colors, fonts, or keywords.
Your banner should represent what your company does in a timely fashion. For example, if you run a bakery and you're gearing up for summer, an eye-catching banner might be a high-res photo of a brightly-colored work surface covered with flour and a rolling pin, along with accompanying text like, "April showers bring May flours."
How to Make a YouTube Banner
"That's just great, Amanda," you might be thinking about these tips. "But where the heck am I supposed to get these beautiful design assets?"
You're in luck -- there are dozens of free resources for creating a great YouTube banner. Here are a few of our favorites:
Google: Why not start with the hosting platform itself? Google has its very own channel art templates to help you get started with your banner design. (Note: Clicking this link will prompt an automatic download of the zip file containing these templates.)
Canva: One of our go-to destinations for DIY design, Canva offers several free YouTube channel art templates that allow you to use your own art, or its library of stock photography.
Fotor: Similar to Canva, Fotor also offers a selection of free YouTube banner templates that allow you to use both your own visual assets or its own library of images.
Download Now: Free YouTube Banner Templates
Download the Templates
8 Cool YouTube Channel Art Examples
1. Death Wish Coffee Company
In 2016, Death Wish Coffee was named the winner of a small business marketing competition held by software company Intuit. The reward? A free 30-second commercial during Super Bowl 50. Since then, the self-proclaimed maker of "the world's strongest coffee" has capitalized on that momentum by making sure its branding stays just as robust.
Its former YouTube banner banner is no exception. It's straightforward, but also, bold. The company's logo is displayed as the channel icon, as well as a tiled watermark that doesn't interfere with the text display. And that message doesn't leave any doubt about what the brand does. "World's strongest coffee?" Okay, I'm watching.
2. Adobe Creative Cloud
Seeing as turquoise is my all-time favorite color, there might be a touch of aesthetic bias in our selection of Adobe Creative Cloud's YouTube banner. But color can have quite an impact in marketing -- shades of blue, for example, have been found to invoke feelings of trust.
This banner doesn't just make great use of color, though. In a single photo, it connotes creativity and visual quality -- two things that the Adobe Creative Cloud promises with its suite products. The person depicted seems to be creating something remarkable -- an ocean inside of a balloon -- with accompanying text to confirm it: "Make wow." Plus, to learn more, social buttons are right there within the image.
3. Bon Appétit
Is anyone else hungry? It only seems right that the channel art for a food magazine like Bon Appétit should be, well, appetizing. And with a phrase that's used as frequently as "bon appétit" -- before a meal or as the title of a pop song -- it's important that folks who land on this YouTube channel know what they're getting into.
That's one thing that makes this banner so great. The branding is clear, from the logo icon to the iconic title text in the center of the image. Plus, the photo itself sends a signal of the type of content visitors can expect to consume -- no pun intended -- when they start watching the channel's videos: All things food.
4. TauliaInc
One great thing about YouTube banners is that they can be swapped out or modified whenever you want, time permitting. That makes them especially conducive to temporary promotions or campaigns. That's what tech company Taulia did for "P2P Superheroes": a campaign that shows how its software can eliminate difficult, time-consuming tasks, helping everyday professionals focus more on the work that matters and turn them into superheroes.
The banner communicates two things: 1. That Taulia is in the business of P2P ("procure to pay"), and 2. the brand really celebrates procurement specialists. And by using original, cartoon-like art, Taulia is turning what could be a dry topic into something fun and engaging.
5. Refinery29
We're big fans of showcasing the people that make your brand great. That's one thing that Refinery29 does well, by frequently featuring its writers, editors, and content producers in its videos. As it turns out, they've all become quite popular personalities -- which is why the brand put them front-and-center in its channel art.
Creating a banner of this nature is two-fold. First, you have to find a way to incorporate your company's talent into video content in a way that's engaging and appealing to your target audience. Here at HubSpot, we have our blog writers, for example, recount important information from blog posts in video and audio summaries. Then, once you've produced enough of that media consistently -- and if it's gaining the right kind of attention -- you can use those personalities to promote your channels.
6. TripAdvisor B2B
TripAdvisor is a resource used by millions of travelers to discover and rate lodgings, restaurants, and much more information about endless destinations. But did you know it also offers B2B services for hotel and other property owners to make the most of their presence on the site?
We like to think of it as a B2B hybrid of review site Yelp and vacation rental site Airbnb. On the one hand, TripAdvisor B2B helps business owners create a profile with photos, descriptions, and other information that's going to be helpful to travelers. But, like Yelp, it also allows them to monitor and respond to the reviews their businesses receive.
That's represented in the YouTube banner by portraying what the site is all about -- travel -- but also depicts the act of visitors giving feedback on their experiences by way of rating symbols.
7. Nuvolari Lenard
The thing that stands out to us the most about this banner is its simplicity. It represents a Italian yacht design company Nuvolari Lenard, which is known for work that emulates a luxury and chic lifestyle. And while the channel art itself doesn't portray anything specifically nautical, the use of capital letters and tiered monochrome does connote a brand that's high-end.
Those kinds of digital aesthetics create what's often known as aspirational marketing -- the kind that symbolizes something that's unattainable by most, but still has a vast following of people "who covet the look and feel of the brand," as Mediaboom puts it. Can I afford a yacht? Of course not. But seeing something like this makes me want one anyway, and makes me want to consume the video content pertaining to it.
Channel Your Creativity
It's important to note that really cool YouTube channel art is just one part of a comprehensive video content strategy. It doesn't matter how beautiful your banner is, for example, if your channel lacks in quality video, or hasn't added anything new in several weeks.
So, along with great design must come consistency. And as you begin to create both, you can turn to these examples for inspiration.
What are some of your favorite YouTube banners? Let us know in the comments.
Sours: https://blog.hubspot.com/marketing/best-youtube-banners
20+ YouTube Banner Templates & YouTube Branding Tips
Think of your favorite YouTube channels. What do they all have in common?
(Well, aside from a ton of subscribers.)
I'll give you a hint: they probably all have a custom, well-designed YouTube banner on their profiles. One look and you have a sense of what their channels will offer you. Not to mention, it gives their profiles a professional finish.
Consistent and recognizable visual branding is essential for growing your YouTube following. It's an important first step in marketing your YouTube channel. And it's one of the ways you'll get more eyes on your videos, like this popular Venngage anime YouTube banner template.
How to make a YouTube banner with Venngage
If you don't have much design experience, the idea of designing your own YouTube banner from scratch might seem a bit daunting.
That's why, before we dive into tips for how you can create your own creative YouTube banner, I want to suggest a shortcut:
Save yourself the stress by using a YouTube banner template from Venngage as the foundation for your design.
A template will guide your design, while also ensuring that your banner uses the correct dimensions. The recommended YouTube banner size is 2560 x 1440 pixels. So you need to use your space wisely.
Stay on top of social media image sizes requirements you should stick to if you want to get the most from your banner.
Not sure where to start? Don't worry.
This guide will offer you some helpful tips for designing your own YouTube banner, starting with a YouTube banner template, like the example below.
Here are our top tips for YouTube banner design:
Pick a YouTube banner layout that fits your vision
Offer a window into what viewers can expect from your channel
Include your brand tagline or slogan
Keep your YouTube banner design simple
Use a font that reflects the mood of your channel
If you use a photo, make sure it's high quality
Include a Call-To-Action in your Youtube banner
Coordinate your YouTube banner with your channel icon
Be mindful of design trends in your niche
Create your own custom YouTube banner template that you can repurpose
Include a subtle border around your YouTube banner
Use banner background image that reflects the theme of your channel
Position your channel title in the corner of your YouTube banner
Include a personalized call to action
Use simple icons and illustrations
Add a color filter to your YouTube banner image
Create a collage of images
Use drop shadows to give your banner design depth
Use a big, easy to read font
Include a brief channel summary in your YouTube banner
So let's get started with our YouTube banner tips!
1. Pick a YouTube banner layout that fits your vision
When it comes to selecting a YouTube banner template, look for a layout that works for you. Think about where you want the focus of your banner to be, and the effect that you want it to have.
There are a few basic YouTube banner layouts you can start with.
Centered title layout
Placing your title in the center of your YouTube banner puts the emphasis on the font. The symmetrical layout will make your title look bold and focused, drawing the audience's attention to your central message.
Asymmetrical layout
An asymmetrical layout can look more casual and playful. Typically, you would place your title to one side of the banner and balance it out with a picture on the other side, like in this baking YouTube banner template.
Sectioned layout
If you want to incorporate multiple images into your banner, you can do so by dividing your banner into sections. To prevent your banner from looking cluttered, make sure that the sections are even widths. Remember the ideal YouTube banner size for templates for this layout.
Return to Table of Contents
2. Offer a window into what viewers can expect from your channel
Odds are, someone has landed on your channel one of two ways: they either watched a video of your and wanted more, or someone linked them to your channel.
Your banner can indicate to visitors whether or not your channel will offer them more of what they're interested in. That means that the style, tagline and images you include should give people a bite-sized view of what your channel is all about.
For example, say you're a travel vlogger. Your YouTube banner should indicate to visitors that they can expect more adventures from you, like in this template:
Return to Table of Contents
3. Include your brand tagline or slogan in your YouTube banner
What's your channel's elevator pitch? What's your core value proposition? Include your catchy tagline in your YouTube banner.
Typically, YouTubers will put their tagline along the top or bottom of their banners. For example, this YouTube banner template for a gaming channel includes their taglines on the left of the banner, just above the profile image:
To avoid cluttering up your banner design, keep your tagline to one sentence.
Another option is to simply include your website URL in your banner. That will also help spread awareness about your brand.
If you aren't sure what your brand tagline is, it's worth spending some time doing some YouTube brand development. Work out what your brand is and how you want to be perceived.
This video has more information on how to develop a brand:
We also have in-depth branding guides on our blog!
Related: How to pick brand colors
Return to Table of Contents
4. Keep your YouTube banner design simple
There isn't a lot of space to pack too many design elements into your YouTube banner. That's why it's good practice to keep your YouTube banner design simple.
For example, simply use a photo as the background of your YouTube banner, with your title and nothing else. Like in this YouTube banner template that is simple but effective:
You can make the text pop from the background by creating a transparent overlay. Place your text on top of a square icon and then adjust the icon's opacity so that the background image shows through.
Now you can read the text without obscuring the background image, like in the YouTube banner below!
If you want, you can put even more focus on the title in your YouTube banner design. For example, take a look at how the popular travel channel High On Life uses a simple background image, allowing the big, bold font to stand out:
Related: How to pick brand fonts
Return to Table of Contents
5. Use a font that reflects the mood of your channel
The fonts you use can communicate what the tone, style and even the topic of your channel are. That's because people tend to associate different personalities with different fonts.
For example, which font looks happier to you?
Probably the bouncy second font, right?
We associate different fonts with different industries. For example, serif fonts are typical of more traditional industries like publishing and insurance. Meanwhile, sans serif fonts are more commonly found in branding for tech companies.
While certain fonts look more reliable and traditional, other fonts look more casual and playful. For example, take a look at the font that the comedy duo of Good Mythical Morning uses in the YouTube banner for their channel:
The font is a bit quirky and not too serious.
Or take this YouTube banner template that uses a decorative font to give it a creative feel:
Now, look at the more serious and reputable serif fonts used in Veritasium's YouTube banner. Their videos teach science and engineering concepts, and they've gone for a look that is in line with more traditional education industry branding:
See how fonts affect the overall tone of a channel?
Read our Netflix font psychology study to learn more about font personalities.
Return to Table of Contents
6. If you use a photo, make sure it's high-quality
A blurry image can ruin an otherwise amazing design. The images you use in your banner should have a minimum resolution of 100-150 dpi to adhere to the YouTube banner size for templates while still being crisp and visible.
Most stock photo sites like Unsplash or Pexels will provide images in high-quality. (Venngage also has a stock photo image library with high-quality photos!)
But if you're using your own original images, make sure they are high resolution when you upload them to use for your YouTube banner.
If you're looking for inspiration for your YouTube banner and want to see how you can use photography, check out our YouTube banner templates for some examples of cool Twitch and YouTube banners.
The same principles of banner design apply to your Twitch banners too, if you're a streamer. Make sure your offline banner uses high-quality stock photography. Using great stock photography helps your stream seem more professional.
Return to Table of Contents
7. Include a call-to-action in your YouTube banner
Your banner is prime real estate on your YouTube profile. If there's an action you want visitors to take (like, say, slamming that subscribe button), why not include it in your banner?
A call-to-action (or CTA) is a phrase or button that asks readers to do a specific thing, like following you on Twitter or signing up for your newsletter. (Psst – we've also got newsletter templates).
Content marketing guru Neil Patel is never afraid to throw a CTA at you, so why should you be?
If you are selling merchandise or promoting an upcoming event that you want your audience to know about, your YouTube banner is also a great place to mention it.
You can even add a link to your online store directly in your Youtube banner. That's just one of the handful of ways you can effectively sell on YouTube, according to Sellfy.
In fact, if you're a YouTuber who makes videos and also sells a digital product, you can make 4x more than just the YouTube ad income.
In this YouTube photography channel banner, the creator has included handles of their other social accounts so that their subscribers know where to see more of their work.
Return to Table of Contents
8. Coordinate your YouTube banner with your channel icon
If you want your YouTube profile page to look professional, every design element should blend seamlessly together.
The first thing viewers will probably look at when they land on your profile is your banner. The second thing will probably be your channel icon.
The template below fits the YouTube banner size perfectly and contrasts the bright gradient of the background to make the YouTuber's image stand out.
It can also be a good idea to use the same color scheme and visual style in both images. Typically, you should use your brand colors.
For example, take a look at how well the POPSUGAR Fitness YouTube banner and channel icon go together:
Venngage's My Brand Kit makes it easy to add your brand color palettes to a YouTube header in just a click. Find out more about My Brand Kit.
If you're a streamer, your Twitch offline banner can be a great place to showcase your logo. The Twitch banner is much larger than a YouTube banner, so you have more room to be creative with text, photos, icons, and your logo.
Related: How to design a logo
Return to Table of Contents
9. Be mindful of design trends in your niche
Take a look at this beauty channel YouTube banner template. The image, the fonts and the background color combination all serve a purpose: to reflect the beauty industry.
The pastel color scheme, personal font style, and whimsical image are what viewers would expect of a beauty channel. Designing a YouTube banner that speaks to the audience is crucial in industries as popular as beauty, gaming, and baking.
For example, popular baking YouTuber CupcakeJemma uses a script font and sprinkle-inspired background for her YouTube banner, which speaks to her niche and audience:
Also, note how she's expertly used the YouTube banner size in her template to her advantage. She's centered her channel name and tagline to draw the audience's eye to the key information.
If you want to keep up to date with the hottest design trends, we've got a video that tells you everything you need to know:
Return to Table of Contents
10. Create your own custom YouTube banner template that you can repurpose
Once you've created a YouTube banner that you're excited to use, why not make it into a template that you can repurpose again and again?
A custom YouTube banner template will come in handy if you want to switch up your banner design periodically. For example, you could simply swap out the background image based on what you're currently promoting on your channel.
Here's a YouTube banner with a background image and purple hues that has more of a hip-hip vibe:
By using the same template, you can keep your channel design fresh while maintaining your recognizable visual branding. You can use the same template again and again to create a whole bunch of cool YouTube banners. Here's the same banner, now with a live music vibe.
You can use a standard Twitch banner template to update your offline look too. By using a simple gradient like in the example below, you can change the colors up periodically to keep your audience engaged – even when you aren't streaming.
Related: How to use "My Brand Kit" on your Venngage designs
Return to Table of Contents
11. Include a subtle border around your YouTube banner
Minimalistic design projects are very popular lately because they feel so simple and effortless. Designers use exactly what they need to get their message across effectively. No more, and no less.
A simple border will give your minimalist YouTube banner a definable edge and direct the viewer's eye to the center of your banner.
This approach can also be used to push people towards a call to action, like in the YouTube channel banner template below, or to other social media accounts.
Return to Table of Contents
12. Use a banner background image that reflects the theme of your channel
There are literally millions of stock photos out there that you can use. The problem is that these images tend to be vague.
That's fine for some projects, but not for your YouTube banner.
In fact, a vague image may actually turn off potential viewers. You want to engage them with your YouTube banner, not bore them.
A random sunset or landscape is not going to get someone pumped to check out your videos.
In this example, the background image is perfectly selected for this channel. It's interesting enough to catch your eye and inform the viewer about the channel. But it doesn't distract from the channel's tagline either. The contents adhere to the YouTube banner size restrictions for templates, as well.
Return to Table of Contents
13. Position your channel title in the corner of your YouTube banner
As you have probably noticed in this article, many YouTube banners center their text.
But if you want to use a slightly more unconventional layout, try placing your title text in one of the corners of your banner.
Take the Youtube banner example below. The designers used a compelling image that's hard to miss. The image pulls your eyes, and then you see the title text. This is one way to stand out in a crowded space like YouTube.
Return to Table of Contents
14. Include a personalized call to action
People love YouTube because it allows them to connect with their favorite influencers.
These creators also make viewers feel connected by building a community of like-minded fans. So if you have a name for your community or a channel-specific term, include that in your banner call to action.
For example in this YouTube banner template, the viewers are referred to as a "crew." That sounds a lot more inclusive and personal than just calling them subscribers.
Twitch streamers have the opportunity to use their streamer offline banner to advertise social media handles as well as the time of the next stream. Making this information clear on your Twitch offline banner is a great way to ensure your fans never miss a stream.
Return to Table of Contents
15. Use simple icons and illustrations
Struggling to find a good idea for your YouTube banner? Try using some icons or illustrations that are related to your topic!
The creators of the YouTube channel art below used icons to quickly tell viewers what their channel is all about.
Even if there was no text in this YouTube banner, you probably could guess the topic. Because humans process images a lot faster than text, you can use YouTube icons to quickly get your message across.
Return to Table of Contents
16. Add a color filter to your YouTube banner image
Have you ever found an image with the perfect subject matter for your design, but the color scheme didn't fit your theme or company branding?
A quick and easy way to solve this problem is to use a color filter, like in the YouTube banner example below. This can personalize the image to fit the mood of your channel, or to match your brand colors.
A color filter can also help your text pop from the background, like in this YouTube banner template.
Return to Table of Contents
17. Create a collage of images
Similar to how you can create a banner design using icons, you can also create a collage of images that offer a preview of what to expect on your channel. An easy way to do this is to use stills from your videos.
In order for your design to be cohesive, make sure the images have a similar style, color scheme, and tone. This will make your YouTube banner look more professional, and will also reinforce your channel's brand, like in this channel banner template.
Return to Table of Contents
18. Use drop shadows to give your YouTube banner design depth 
"Drop shadow" is a design term used to describe the effect of giving objects in your design shadows. This gives the impression that the objects are raised above the backgrounds.
I know creating a shadow may sound a little daunting to a new designer. But don't worry, it's actually very easy with Venngage.
All you really have to do is duplicate the shape, choose a darker color and then position it behind the original one. And this effect can give your YouTube banner design a ton of depth.
19. Use a big, easy to read font
It's important to remember that a large chunk of YouTube viewers use mobile devices. That means that small text is going to be nearly impossible to read.
That's why I would recommend using a large or bold font on your YouTube banner. This will ensure that your viewers see your channel name or call to action on any screen.
Big, bold fonts are also one of this year's graphic design trends!
Return to Table of Contents
20. Include a brief channel summary in your YouTube banner
Let's face it, we're all lazy on social media. We barely read things before moving on.
You can make skimming easy for new viewers by offering a brief description of your channel, like in the YouTube banner template below.
A simple, one-sentence tagline works. Try to make it as direct and compelling as possible, to inspire them to want more, like in this YouTube banner example.
Have a YouTube banner but missing everything else? Our social media graphics tool is at your service.
Get those subs!
With a quality YouTube banner, you're one step closer to growing your audience. Remember, creating a strong brand requires a multi-faceted approach, beyond just the videos you put out. Now if you want to grow your channel even faster, check out this beginner's guide to YouTube ads!
Looking for more design tips? Check out Venngage's YouTube channel for tons of helpful design guides.
Ready to get started?
Return to Table of Contents
YouTube banners FAQ
What is the correct YouTube banner size?
The recommended YouTube banner size for templates is 2560 x 1440 pixels.
How do I make a banner for my YouTube channel?
You can create a banner for your YouTube channel on Venngage. Venngage is an online design tool with loads of professionally designed templates for YouTube banners. You can easily add your text, icons, photos, or brand colors to your YouTube banner.
How do you make a YouTube banner without Photoshop?
You can easily design a YouTube banner using Venngage's templates. Create an account in a few simple steps, choose a YouTube banner template and start designing for free.
You can add images from our stock photo gallery, choose from over 40,000+ icons, including diverse people icons, upload your own images, change colors and font styles. Add your branding to the design with Venngage's My Brand Kit feature to create a cohesive brand presence online.
What is a Youtube banner used for?
A YouTube banner is the first thing your audience sees when they enter your YouTube channel. This image needs to include your logo, channel name, tagline, and social icons. The YouTube banner also needs to reflect your brand and personality to entice viewers to subscribe.
How do I make a banner for my Twitch channel?
If you're a streamer looking to create a banner for your Twitch channel, the same principles of YouTube banner design apply. Make your banner eye-catching, use a predesigned Twitch banner template, use your personal branding to help your banner stand out.
You might also like:
Boost Your Organic Search Presence With Thumbnails
What Is a Marketing Plan and How to Make One
About Sara McGuire
Sara McGuire is the former Content Marketing Manager at Venngage. She believes that growth by content doesn't require a big budget if you're scrappy. Her writing has been published on Marketing Profs, HubSpot, and Content Marketing Institute. Follow her on Twitter @sara_mcguire
Sours: https://venngage.com/blog/youtube-banner-template/
Examples of Great YouTube Channel Art Banners For Inspiration
25 Cool YouTube Banner Ideas for 2021 (Free Templates)
Get Inspired with 25 YouTube Banner Ideas from the Most Popular Channels
Before you set out to create your own unique banner, enjoy browsing these cool YouTube banners, which we call out for their creativity and ingenuity.
We've included banners from top brands and channels that are thriving on YouTube.
1. Dude Perfect
At 25 million subscribers, this channel is one of the most followed on YouTube. We love the playfulness of their banner.
2. The Ellen Show
At 22 million subscribers, this is another very popular channel. They do a great job of capturing the lively feel of the TV show in a collage style of images.
3. GoPro
The makers of GoPro are arguably also one of the best video content creators. Their banners reflect the seasons/video trends on their channel, which we really like.
4. Around The World 4K
This is one of the best channels for HD travel videos. The use of the sharp clean image as a banner for Youtube, perfectly complements their content.
5. The Craft Beer Channel
We love how they have used bold colors and typography to include multiple CTAs and put across their USP through their Youtube banners.
6. Tasty
One of the most followed food channels, "Tasty" shows us how to be eye catching without being OTT. Their channel art is always on point !
7. Versace
Versace is one of the few fashion brands that have managed to get some traction on YouTube in a domain that is completely dominated by vloggers.
8. Airbnb
Using multiple images in a very small space can be quite tricky. Popular travel brand Airbnb, however, does a good job of nailing it.
9. NYX Professional Makeup
Makeup is another popular YouTube category that is heavily dominated by individual content creators making it really difficult for brands to survive. NYX is one of the few brands that have made their mark.
The Definitive Guide to Digital Ad Design
Get industry best practices and case studies for advertising on: Facebook, Pinterest, Instagram, YouTube, Amazon, Google Display and some key emerging channels.
Get the guide
10. BMW
We love the sleek and sharp look of popular automobile brand BMW's banner for YouTube.
11. Lego
At 4 million subscribers, Lego is doing a pretty good job at creating content for kids. Their banner matches the kid-friendly nature of their content.
12. Star Wars
The extremely popular all-American series "Star Wars" definitely has a banner to get inspired from.
13. Google
When it comes to design that perfectly combines brand, appeal, and simplicity, who better than Google to look up to? As expected they've perfectly nailed their design.
14. The Fumble
This popular sports channel banner is definitely giving us some great design ideas.
15. Target
We found it really interesting how retail brand "Target" has incorporated their logo so creatively in the design of their banner.
16. Big Think
This channel banner shows us how it's not always about the design. Text combined with a powerful image can sometimes be equally impactful if not more.
17. Ebay
How can you not love this colorful piece of art by Ebay?
18. Sprint
The telecom giant Sprint has definitely put some thought into their YouTube design. A very interesting take!
19. ESPN
We love how the images on ESPN's banner represent the passion behind their content. Very clever, we must say!
Join our Gather & Grow webinar
It's a live, interactive series on the intersection of design and company growth, where we talk about topics like this! Each session features advice from creative and marketing experts, with live Q&A at the end.
Learn more
20. Ubisoft
This popular video game maker definitely knows their audience. They also keep refreshing their Youtube channel to reflect their latest games.
21. Linkedin
This one-liner on Linkedin's YouTube banner had to get them in our top 25 list.
22. Coca-Cola
Coca-Cola has dominated the advertising world for decades and their YouTube banner design definitely shows that!
23. Wendy's
We think popular restaurant chain Wendy's banner art is really unique and enticing.
24. VISA
Another design with a one-liner that really strikes a chord with the audience.
25. ASUS
We thought it was a really cool idea for Asus to have a holiday-themed banner. A subliminal message pushing their product as the ideal holiday gift.
Explore the Best Free YouTube Banner Makers
With a myriad of YouTube banner creators online, it can be challenging to sort through all of them to decide which is best for you.
In general, you want a service that provides premade YouTube banner templates, gives you access to stock photos and other graphic elements and allows you to edit photos.
We've compiled 10 of the top YouTube channel art template makers, listed in no specific order, with our thoughts about why you should check them out:
Fotor

This free all-in-one photo editing toolkit tops or makes most "best of" lists. With editable templates or the option to start from scratch, users can easily create complete professional-looking banners. Fotor Banner Maker offers a host of advanced features, including a huge number of effects and filters. Fotor was named one of the Android Excellence Apps of 2017 by the Google Play Store.

BeFunky

A free photo collage maker, BeFunky uses a simple drag-and-drop interface. You can create banners in a four-step process. BeFunky provides photos or you can use your own. Some features require payment.

iPiccy

The powerful, easy-to-use photo editor's features, such as the ability to add text, allow for highly customizable designs. However, it has some limits, such as not permitting images to be edited within a collage. iPiccy is free.

Visme

Visme is an intuitive and simple interface, backed by templates that can be customized in three steps. Fifty YouTube banner backgrounds are presented with step-by-step instructions. Free and paid subscription versions.

Canva

Canva boasts real simplicity, which accounts for its popularity. Its templates are attractive and professional, for eye-catching looks. Canva is free, but some high-quality images and graphic components must be paid for, starting at $1.

Fotojet

FotoJet is super accessible and free, requiring almost no technical expertise. This option is ideal for beginner do-it-yourself designers. It offers plenty of stock photos and templates to choose from, and also allows photo editing.

iKomee

With a step-by-step tutorial, iKomee is designed for those who are new to banner design. The drag-and-drop interface creates customizable banners across all social media platforms. iKomee is free.

PicMonkey

PicMonkey is an online photo editor with free basic and paid premium services. PicMonkey appeals to creative design tinkerers, with hundreds of filter and editing options.

Adobe Spark

Spark consolidates Adobe's Post, Voice and Slate apps for the non-professional designer. It's relatively easy to use and has an automation feature that updates the design when themes, fonts or layouts are changed. Adobe Spark is free with an additional paid component designed to help small businesses create branded media content.

Crello

Crello offers 10,000 ready-to-use templates in an appealing interface. The free graphic design editor boasts real ease of use for basic designs. Images must be purchased for 99 cents each and are reusable.
Find Free YouTube Banner Templates Here
We've done some searching to help you find free YouTube banner ideas and templates. Check out this list:
Canva

Canva's marketplace offers 50,000 templates for all kinds of graphics, including YouTube channel art templates. Easy to search and edit.

FotoJet

FotoJet provides dozens of YouTube channel art templates to unleash user creativity, and also allows editing, for customized stunning designs.

Mybannermaker

Easy instructions make Mybannermaker appealing for first-time banner designers. Many of the templates have a whimsical touch.

Visme

Simple step-by-step instructions guide users on using one of Visme's 50 banner templates. Suggested uses such as business marketing and blog promotion (or posting pictures of cute dogs!) are noted.

Adobe Spark

Adobe Spark offers a range of free design templates, including designs for YouTube banners. Check out their list of 17 banners that you can edit directly in their app.

Template.net

Template.net is a no-frills catalog of 25+ YouTube banners to download. Some of the downloads require a fee.

Snappa

Snappa promises speed, boasting banner creation in an easy 60 seconds, giving users access to thousands of high-res, 100% royalty-free stock photos, along with customizable graphics, shapes and text.

Bannersnack

A quick guide steers users to a somewhat limited selection of YouTube banner templates. Users can also create a template from scratch.

Crello

Users can choose from thousands of free templates made by professionals and customize them. The simple interface appeals to both pros and beginners.

PicMonkey

PicMonkey has a modern, hip touch in its professionally-designed templates, which tend to feature strong photography. All are customizable, after a slight learning curve.

Photovisi

Photovisi's focus is collage banners, and its simple interface provides templates and easy photo uploads. Terrific for personal use.
How to Make a YouTube Banner?
Just how easy is it to create a banner? We visited YouTube (naturally!) to learn. Here's a quick video that will walk you through the process of simply creating Youtube banners without using Photoshop:
What's the YouTube Banner Size?
Before you start thinking about how your YouTube banner will look, you should first understand how it needs to work. You need a banner that displays properly across different platforms, including mobile phones, tablets, desktop computers, and televisions.
To ensure display consistency, use these guidelines for YouTube banner dimensions from Google:

Size for YouTube banner: 2560 x 1440 pixels
Minimum dimension for upload: 2048 x 1152 pixels
Minimum "safe area" that ensures text and logos will not be cut off: 1546 x 423 pixels
Maximum width that ensures the "safe area" is visible, regardless of screen size: 2560 x 423 pixels
File size: 4MB or smaller
We'll explain more about how important these dimensions are later, but keep them in mind as you start considering content for the center of your YouTube banner template, which is the sweet spot for a terrific banner.
Tips for Impressive Youtube Banner Design
Remember these tips as you get started on your eye-catching YouTube banner art.
Graphics should include your company logo or slogan, combined with an image from behind the scenes at your company or another visually-appealing shot. This is your first impression and you want to make it count.
Remember to include social media links in your account. They show up in the banner's lower right-hand area.
Find a perfect image that can scale to accommodate all platforms. Use the YouTube preview function to see how the banner looks on each device.
If you don't have a perfect larger image, build one by combining multiple images. Many of the sites we've mentioned permit doing so.
Make sure the cropped portion of your banner stands alone. This is the space that will always be displayed, regardless of monitor or device size.
This is marketing. Include a call to action so that your viewers know what to do next, such as "Subscribe to our channel," or "Visit our website." After all, sales and conversions are the point.
Don't neglect your channel. Refresh your channel banner regularly to keep your brand look and feel dynamic.
Get Frictionless, Delightful Design
From ad creative, to email and landing page design, Superside works with brands like Facebook, Amazon and GroupM to help them scale design better, faster and cheaper.
Get started
30 Million Reasons to Pay Attention to Your YouTube Banner
You can't afford to not be on the interactive marketing bandwagon. YouTube rules that particular world, with nearly 30 million visitors who watch nearly five billion videos each day. YouTube has made videos mainstream and they boast almost one-third of all total internet usage. On mobile alone, YouTube reaches more 18-34 year olds than any cable network in the United States.
Take some time to create YouTube channel art that represents your business. Use it to reinforce your video content strategy and present your brand, maintaining good design principles and clear messaging.
Tap Superside Banner Design Services
As you can see, you have plenty of online options to create an effective banner. But if you are looking for that extra design boost, we can help.
Superside banner design services can custom design a YouTube banner that best fits your brand and makes your channel stand out. We're just a click away 24/7, ready to get started.
Sours: https://www.superside.com/blog/youtube-banners
Banner ideas youtube
69 YouTube banner ideas to make your channel look super-awesome
Has an apple ever fallen on your head? Unless you're an 18th-century English physicist, chances are it hasn't.
Or, has anything ever fallen on your head? A pebble, a ball, a paper missile, an egg?
If you've ever experienced it, you'd have noticed it comes along with a sense of "Oh, yeah!" moments.
"Oh yeah, that paper missile was fired by my reckless cousin."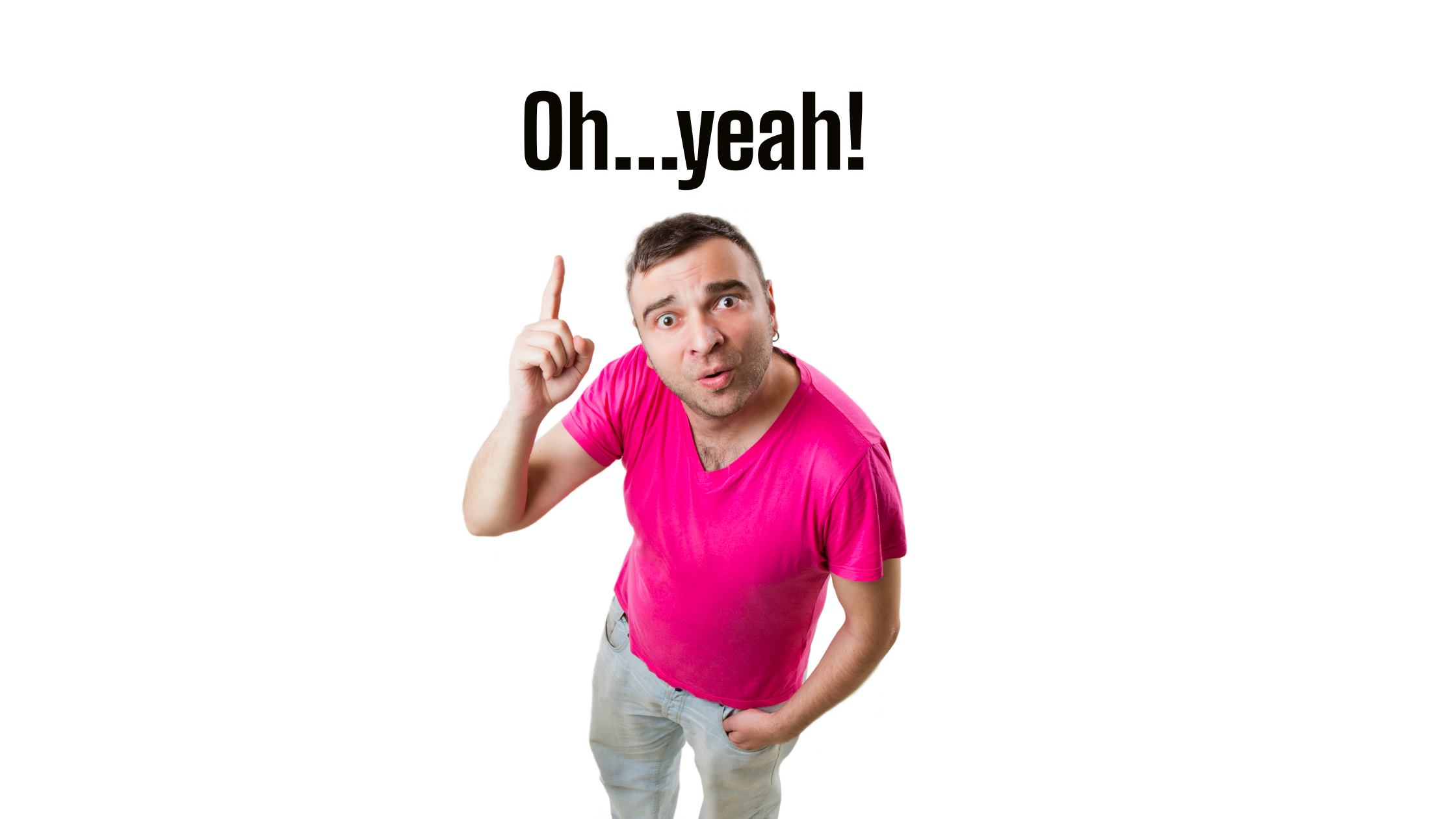 Creating an awesome YouTube banner in 2560 x 1440 pixels that works for you is one of those "Oh...yeah!" moments.
You can also check out this video to create your YouTube banner in less than 10 minutes.
That's why we've examined 69 YouTube banner examples to give you an idea of how you could design yours.
Let us jump into them right away!

What is a YouTube banner?
A YouTube banner is the graphic or the picture on your YouTube channel's dashboard. Here's the YouTube banner of Picmaker's YouTube page.
A YouTube banner fills the area above the name of your channel. You can add links to your social media profiles and websites on top of your YouTube banner.
What is the recommended size of a YouTube banner?
Here's a small infographic to help you use the right dimensions for your YouTube banner. Use the dimensions in this infographic to create your own custom YouTube banner.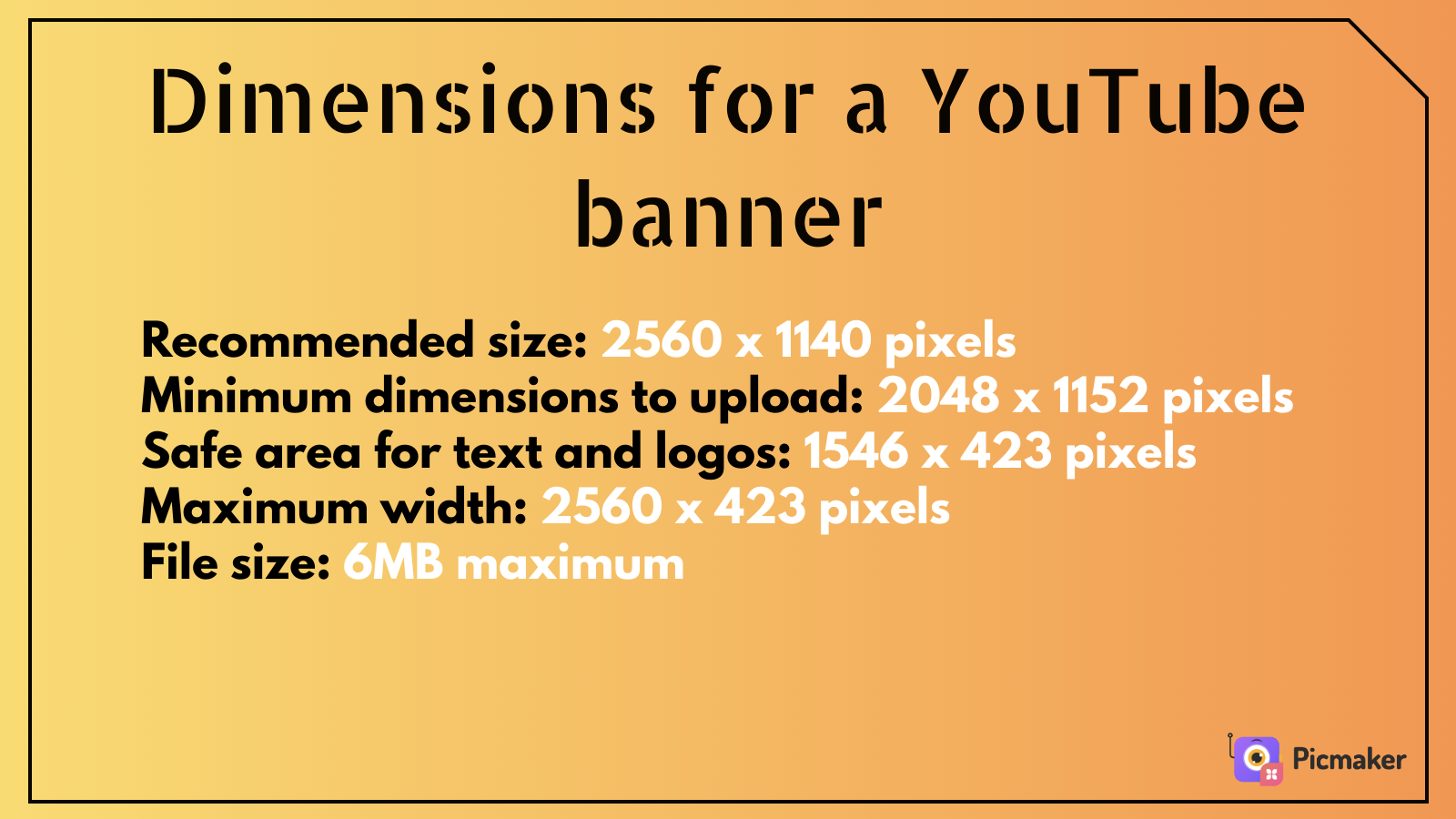 Here are 69 of the best YouTube banner ideas and examples
We know your YouTube channel belongs to a niche such as gaming, yoga, fashion, marketing etc. And, that is how it should be.
That's why we've given you a basic list of categories of YouTube banner ideas. All you need to do is click on a category and you will land on the examples (works like magic!).
1. YouTube banner ideas for marketing
2. YouTube banner ideas for entrepreneurship
3. YouTube banner ideas for gaming
4. YouTube banner ideas for tech
5. YouTube banner ideas for fashion
6. YouTube banner ideas for travel
7. YouTube banner ideas for sales
8. YouTube banner ideas for cooking
9. YouTube banner ideas for music
10. YouTube banner ideas for vlogging
11. YouTube banner ideas for beauty and makeup
12. YouTube banner ideas for review
13. YouTube banner ideas for unboxing
14. YouTube banner ideas for yoga
15. YouTube banner ideas for educational
16. YouTube banner ideas for history
17. YouTube banner ideas for kids
18. YouTube banner ideas for automobile
19. YouTube banner ideas for finance
20. YouTube banner ideas for DIY
21. YouTube banner ideas for real estate
22. YouTube banner ideas for design
1. YouTube banner ideas for marketing
Ahrefs's YouTube channel art
Ahrefs is a fantastic SaaS tool for digital marketers. Their YouTube banner suits their theme with its very unique font. Ahrefs calls their YouTube channel 'Ahrefstv' along with a short description - "grow your search traffic".
It also includes links to their website and social media. This allows them to get YouTube visitors from their channel to other platforms.
Brian Dean's YouTube channel art
Brian Dean is a guru in SEO and digital marketing. He speaks extensively about the skyscraper writing technique and long-form quality content.
He calls his YouTube channel 'Brian Dean.' On his YouTube banner, he includes his channel name and a short description, "higher rankings and more traffic".
Similar to Ahrefs, Brian also has links to his social media profiles. But his primary link includes a 'Subscribe' button to his channel. When you click on it, you will receive a subscribe notification.
That's a pretty neat trick to grow your subscriber base!
Neil Patel's YouTube channel art
Neil Patel is quite easily the all-knowing god-like figure in digital marketing. Similar to Brian Dean, Neil Patel's channel relies on his personal brand. Neil includes his photo in the middle, with the video schedule on the left and a short description on the right.
He ensures his YouTube banner matches the color theme of his brand and links to his website and other social media channels. Full marks to him for showing us how it is done.
Related read for YouTube banners:
2. YouTube banner ideas for entrepreneurship channels
Gary Vaynerchuk's YouTube channel art
Gary Vaynerchuk is an entrepreneur and social media legend. He pays close attention to all marketing assets that he displays on the internet.
His YouTube banner features his picture of himself along with small details that will miss the common man's eye. It has a description, "Garyvee audio experience". He also lists his weekly schedule that states "New videos every Mon, Wed, and Fri".
All these are little details that go a long way in building trust and credibility among your audience.
Tai Lopez's YouTube channel art
Tai Lopez is another self-made millionaire. His custom YouTube banner says everything you need to know about him in a minute. He is an entrepreneur, investor, and author. He greets his YouTube channel visitors with his headshot. On a scale of 1 to 10, I'd give this banner a solid 10.
Startup Grind's YouTube channel art
This YouTube banner sponsored by the tech giant, Oracle, is pretty simple on design and copy. It has all the basic links to its social media channels and website.
3. YouTube banner ideas for gaming channels
Ninja's YouTube channel art
Ninja is the brainchild of Tyler Blevin and features his photo and the name of his channel in the middle. It is a simple banner but looks professional and fun. It holds his brand colors (blue and yellow) while also showing a bit of his personality.
VanossGaming's YouTube channel art:
VanossGaming's banner has just its logo in golden color right at the center. It shows how you could have a simple YouTube banner, yet get 25 million subscribers with awesome content.
Jacksepticeye's YouTube channel art:
Jacksepticeye's YouTube banner is quite complex and hard to understand at first glance. But, as you peer at it, you get the pun here. It's an eyeball that is septic. Yuck!
That's exactly what you want to do with your YouTube banner if you're a gamer. Show off that personality and yuckiness.
4. YouTube banner ideas for tech channels
Mrwhosetheboss's YouTube channel art
Mrwhosetheboss is a tech review channel run by Arun Maini, a 25-year-old economics student. He focuses on reviewing smartphones and even quit his job to review smartphones full time.
His YouTube banner focuses on him juggling two or three more phones in the air. Small elements of craziness like this add a ton of personality to your YouTube channel.
Justin Tse's YouTube channel art
Justin Tse is a tech YouTuber who focuses on more than just smartphones. His list includes reviews of tech in living rooms, tech in the workspace, smart televisions, and much more.
Much like Mrwhosetheboss, Justin Tse also started very young and became a mainstream YouTuber at just 23.
He keeps his YouTube banner simple with nothing but a name and an extremely short description - tech videos. He adds links to all his social media channels on his banner.
Future Tech's YouTube channel art
Unlike the above two tech channels, future tech is a brand without a face. All of its videos are a compilation of videos with a voiceover. There is no primary host at play on this channel.
However, it does not stop them from designing a Youtube banner for their channel. It shows its channel name in the middle and links to their social media handles.
5. YouTube banner ideas for fashion channels
Coolirpa's YouTube channel art
Coolirpa is April's brainchild. Through her videos, she explains how you can transform everyday apparel into fascinating fashion. April is creative and you can see that creativity creeping into all her ideas.
April's YouTube banner has her photo and her channel name in stylish fonts.
Olivia Jade's YouTube channel art
Olivia Jade's channel focuses on everything from makeup and fashion to lifestyle. Apart from the fashion-themed videos, she also posts videos on her daily routines and life.
She uses her banner links to drive visitors onto a second YouTube channel. This channel named "Olivia Jade vlogs" focuses on vlogs by Olivia.
Both YouTube banners are quite simple and have the name of the channel in a stylish, identical font. Looking at it reminds us of thousands of beautiful fonts for YouTubers in Picmaker.
Tess Christine's YouTube channel art:
Tess Christine is a fashion influencer whose videos focus on her life, as she shops and tries on new things. She mentions in her bio that she's just a normal girl with a love for makeup and shopping.
Tess may not be a professional YouTuber, but her consistency and storytelling abilities have garnered a huge following for her.
Her YouTube banner is quite different from all others in this list. It is a collage of pictures including Tess and her husband. Such custom pictures like these make your YouTube channel stand out from the rest.
It reminds us of how you could create beautiful collages with Picmaker's collage maker.
6. YouTube banner ideas for travel channels
Fearless and Far's YouTube channel art
Mike Corey, a frequent traveler showcases his solo adventures on his YouTube channel, 'Fearless and Far'. He travels around the world and explores various cultures.
Similar to his YouTube videos, his channel art is also raw and to the point. It includes his YouTube channel's name and a short description of all his experiences.
He explains his posting frequency as well below the short description.
Brooke Saward's YouTube channel art
Brooke is also a solo travel vlogger who lives her life out of a suitcase (quite literally). She is a creative soul determined to travel the whole world with nothing more than a suitcase.
Much like her videos, Brooke's YouTube channel art is simple. It has a different version of her name in a light shade of brown. This colour theme and font match her website's tone, thereby keeping them consistent.
The Planet D's YouTube channel art
Planet D is the brainchild of the husband and wife duo, Dave and Deb. Forbes lists them as a Top 10 travel influencer in the world. This adventure-ready couple has traveled to almost all the continents on earth.
Their YouTube banner is a culmination of several factors, making it quite unique. It has a photo of the couple, along with their names and the name of their YouTube channel. On both ends, they have a collage of their pictures from their travels.
This YouTube banner is a solid example to take inspiration from.
7. YouTube banner ideas for sales channels
Jeb Blount's Sales Gravy YouTube channel art
This YouTube banner is interesting - it shows Jeb Blount, a sales guru, sitting on a sofa and looking at the 4 sales books he has written over the years. Above those books, you have Jeb Blount's name in capital letters.
Besides, he also maintains his color theme on his banner. On a creative scale of 1 to 10, we'd give this banner an 8.
Sales Hacker's YouTube channel art
SalesHacker's YouTube banner is on point. It reads "The smartest community for B2B sales professionals on the planet". Indeed, going by their videos, SalesHacker's content is for the smartest B2B sales professionals on earth.
Grant Cardone's YouTube channel art
It's a sin to introduce Grant Cardone's Youtube banner in this list.
Why?
Because he's more than just a salesman. His YouTube channel focuses on more sales, money, real estate, marketing, sales, entrepreneurship, and much more.
Besides, this YouTube banner states all that and also includes a photo of Grant Cardone along with his signature on the right side. It shows a picture of Grant holding a microphone and speaking to an audience - enough to show new visitors that he's an authority in his chosen areas.
Creativity wise, we'd give this channel a solid 10!

8. YouTube banner ideas for cooking channels
Laura in the Kitchen's YouTube channel art
Laura's Youtube banner is a combination of 3 photos placed one after the other. It starts with a knife that's placed on a board etched with her website. Then, we observe her photo and a photo of one of her signature dishes.
In fact, this banner is not complex, and it conveys to a casual visitor that this YouTube channel is all about cooking. That's more than enough for a YouTube banner.
Serious Eats's YouTube channel art
Serious Eats has a simple picture on its Youtube banner. We don't know why they chose this picture, but it looks good.
NOTE: If you're going to choose a photo for your YouTube banner, please make sure that it is of high quality.
Babish Culinary Universe's YouTube channel art
Binging with Babish has one of the hardest YouTube banners to recreate and we'll tell you why. The 'I' in Babish is an egg beater, a random kitchen tool.
The photographer will have to focus the camera so that his face and everything apart from the utensil will be blurred. He then adds his name, video frequency, and name of his website up there.
On a creative scale of 1 to 10, we'd give this one a 11!
9. YouTube banner ideas for music channels
TheSoundYouNeed's YouTube channel art
This is a simple YouTube banner with their logo and a short description in the middle. It has a color gradient to keep it consistent.
Stay See's YouTube channel art
Yet another simple YouTube banner with nothing more than the name of the channel and a short description. It is accompanied by a simple picture of a rocky beach in the background. This picture symbolizes peace and tranquility.
Majestic Casual's YouTube channel art
Majestic casual's Youtube banner is a combination of four images arranged in a carousel format. It also has their name and a callout that says, 'Experience music in a new way.' Nothing complex about this one too!
10. YouTube banner ideas for vlogging channels
Casey Neistat's YouTube channel art
Casey Neistat is a self-made filmmaker and vlogger. He is an out-of-the-box thinker and his Youtube banner bears testimony to it.
Vagabrother's Youtube channel art
Vagabrothers, as the name suggests, is run by two brothers. They travel the world and vlog about their adventure. Their YouTube channel conveys their message in a flawless manner.
Hey Nadine's YouTube channel art
The next YouTube banner example is 'Hey Nadine' by Nadine, a vlogger and an ardent traveller. She doesn't just vlog about travel, but also puts out a ton of practical advice for travelling the world. Her channel says all this information in a seamless way.
11. YouTube banner ideas for beauty and makeup channels
Nikkie Tutorials YouTube channel art
Nikkie has a YouTube banner that stands out in a sea of boring banners. It features her in the middle with six hands reaching out to her with makeup materials. On a creative scale, we'd give this banner 9 out of 10.
Jaclyn Hill's YouTube channel art
Jaclyn Hill's channel features her face with a beautiful color combination. Its high quality and professionalism make it awesome.
Lauren Curtis's YouTube channel art:
Lauren Curtis features her own name on her YouTube banner. She has also displayed the names of all her social media handles on her banner.
Laura Lee's YouTube channel art:
Laura Lee's YouTube banner is a combination of five photos, arranged in series. Apart from this, we did not get any hidden message or special features to point out in this.
12. YouTube banner ideas for review channels
Ryan's World YouTube channel art
All the videos on this channel feature Ryan interviewing toys and kid's play items. The YouTube banner stands true to the theme and content produced on this channel.
Austin Evan's YouTube channel art
Austin Evans's YouTube banner is simple and to the point. It says "Hey guys, this is Austin Evans" - that's it! He has a blurred-out picture in the background, which we cannot figure what it's about.
Dope or Nope's YouTube channel art
Dope or Nope's YouTube banner consists of the original channel logo with the two theme colors on either side. They also have a link to one of their products on Amazon, which is a smart move.
13. YouTube banner ideas for unboxing channels
Unbox Therapy's YouTube channel art
All the Youtube banners in this category are simple and just focus on the name of the channel. This means that the 'unboxers' would have to build their brand from scratch, so that their names become familiar.
Unbox Therapy have their channel name written over a black, crushed background.
Tech Unboxing's YouTube channel art:
Like we mentioned above, Tech Unboxing also has a simple YouTube banner. It has the original logo on a black background.
Unboxing SVE's YouTube channel art:
Unboxing Sve is a bit different from the first two YouTube banners in this category. Apart from the name of the channel, it also includes the various categories on the channel. That includes tech, gadgets, fashion, and how-to.
Related read for YouTube banners:
14. YouTube banner ideas for Yoga channels
Body Positive Yoga's YouTube channel art
This Youtube banner is totally different from everything you will see on this list. It breaks all the rules of designing your YouTube banner. It includes a photo of Amber Karnes (founder of Body Positive Yoga) hanging out with her friends against a brick wall.
Yoga by Candace's YouTube channel art:
Candace takes the chance to advertise her membership platform on her YouTube banner. Below that she also includes details about the content on this channel. She sets the expectation for what you can expect on this channel in the right way.
Fightmaster Yoga's YouTube channel art:
Fightmaster Yoga's channel features the owner doing a signature Yoga pose in a beachside background. In her YouTube banner picture, she displays the message "Practice Yoga, Feel better." Trust this short description and do yoga, it makes you feel better.
15. YouTube banner ideas for educational channels
Ted Ed's YouTube channel art:
Take a look at Ted-Ed's YouTube banner. We identified many cool things that would have easily missed the common man's eye. It features cartoons of famous personalities and lessons we can learn from their lives.
CrashCourse's YouTube channel art:
Just like Ted-Ed's banner, CrashCourse also has a very detailed and fun YouTube banner. Zoom in on this banner and peer through it to see the finer details.
Khan Academy's YouTube channel art:
Khan Academy takes a totally different route for their Youtube banner. It displays their core goal and motivation, which is "learning never stops."
16. YouTube banner ideas for history channels
History Buff's Youtube channel art:
History Buffs has a simple banner, which displays the name of their channel against a brownish background. Their logo's bold and large fonts match their core theme - history lessons for the history buffs.
Historia Civilis's YouTube channel art
Historia Civilis also has a very similar theme on their Youtube banner. It includes only their name, with a dotted underline.
Feature History's YouTube channel art
Feature History's YouTube banner has the name of their channel, along with cartoon figures of the most notable characters in history.
17. YouTube banners ideas for kids channels
TheBrainScoop's YouTube channel art
thebrainscoop's YouTube banner is unique and funny. It has a picture of a raccoon with horns, and its face is mounted on a wall. Its YouTube channel name is described on both sides of the raccoon's face.
Smithsonian's YouTube channel art
Smithsonian's YouTube banner has a collage of photos from different themes and shows on it's channel. The choice of images on the left side of the banner is very fascinating.
Sesame Street's YouTube channel art
Sesame Street's Youtube banner focuses on the top cartoon characters from various shows. This banner brings on a sense of nostalgia from the yesteryear show for children.

18. YouTube banner ideas for automobile-based channels
EVO India's YouTube channel art:
Evo India keeps their YouTube banner on point with simple images. It has the photo of a car and bike in red. It also has their brand name and the quote "DO EPIC SHIT". All of this is displayed on their signature red background.
Jay Leno's Garage YouTube channel art
Jay Leno's Garage has its well-known logo/name displayed at the center of its banner. This logo is displayed on top of the picture collage which includes a speedometer, a tire, and the engine block of an automobile.
Hoonigan's YouTube channel art
Hooningan has an interesting YouTube banner in the form of a collage. The picture collage consists of various moments from their journey along with their name in the middle.
19. YouTube banner ideas for finance and investing
Ryan Scribner's YouTube channel art
Ryan Scribner has been creating videos on finance and entrepreneurship for a long time now. His YouTube banner includes his photo, name, and all the categories he focuses his videos on. If your channel is based on a personal brand, we recommend you add your headshot on the YouTube banner.
Bigger Pockets's YouTube channel art
Bigger Pockets focuses on real estate investing. Their Youtube banner is quite simple with their name and logo on a top-cut picture of a house. Their logo also shows that they have registered their name, thereby making it more authentic.
Dan Lok's YouTube channel art
Dan Lok is a guru on entrepreneurship and online marketing. His banner focuses on one concept - driving people to his website. With that focus in mind, he includes the URL of his website in the middle along with a short description below it.
20. YouTube banner ideas for DIY channels
Mad Stuff with Rob's YouTube channel art
Rob's Youtube banner shows off his artistic skills. It also portrays the information that this channel now has 2 million subscribers. The paint button, along with the small quote above it, shows his personality. He has also included a 'Follow me' text at the right corner, asking visitors to check out all his social media channels.
On a personal likability scale, we would happily give this banner a 10.
Pretty Little Things's YouTube channel art:
Pretty Little Things is the brainchild of Aakriti and Shaurya, who are best friends (kudos if you also thought that they are sisters). Their banner holds their channel name and their individual name on a photo of themselves.
One look at this banner is all you need to figure that this channel is a whole lot of fun.
KipKay's YouTube channel art:
KipKay is a DIY channel that focuses on the restoration of gadgets. His banner is good at explaining exactly what his channel is about.
21. YouTube banner ideas for real estate channels
Max Maxwell's YouTube channel art:
Max Maxwell keeps it pretty simple by adding his photo and name on his YouTube banner. Below that is Max's signature etched on a cityscape picture.
Kevin Ward's YouTube channel art:
Kevin Ward uses his YouTube banner to display a ton of information. It includes his social media handles, date of live workshops, and other details. He also has a picture of himself on his banner, giving it a 9 out of 10 on our scale.
Phil Pustejovsky's YouTube channel art:
Phil Pustejovsky uses his YouTube banner to make a claim that not many will. He goes on to say that this is "the #1 YouTube Channel Worldwide for Real Estate Investing". We took a look at some of his videos and we have to admit, that his claims are true.
22. YouTube banner ideas for design channels
Femke.Design's YouTube channel art
femke.design is Femke's brainchild. Femke is a product designer at Uber. She creates videos on product design, UX design, user research, and other related topics. Her YouTube banner is simple with her channel name on a dual-tone background.
Will Paterson's YouTube channel art:
Will Paterson is also a designer who creates videos around design. His YouTube banner has a mysterious feel to the viewer. It states his name, his video frequency, and his design niche. Will focuses on logo design and hand lettering apart from all other topics on his channel.
Hello, I'm Alexa's YouTube channel art:
We know a great banner when we see one and Alexa's banner ranks up there. Alexa is a product designer who creates YouTube videos around design. Her YouTube banner has her photo and the name of her channel. Below this, she adds a short description "Design your design career" along with names of her social media handles.
She places only one outbound link, one to her Instagram channel. Well done, Alexa!

In summary: How can you design and create your YouTube banner idea?
All the above examples are of no use if you cannot create your own custom YouTube banner using these steps.
Check out this blog to understand the fundamentals of the perfect YouTube banner.
You can also check out this blog to design your custom 2048 x 1152 YouTube banner from scratch.
We hope you enjoyed going through the 69 YouTube banners in this list. If you have any doubts, feel free to leave them in the comments.
We'll get back to you ASAP.
Sours: https://www.picmaker.com/blog/69-youtube-banner-ideas-to-create-your-cool-channel-art/
How To Make A YouTube Channel Banner Quickly - Step-By-Step Tutorial
.
Similar news:
.
586
587
588
589
590