GoFundMe Charity is permanently shutting down later this year. Here's what this means for nonprofits, and how GoFundMe Charity users can regain what they're losing.
On February 10, 2021, GoFundMe announced that they are shuttering their nonprofit-specific fundraising platform. GoFundMe Charity was launched November 2019, and will permanently close on September 30, 2021. Understandably, that has left many nonprofits who had chosen GoFundMe Charity as their platform concerned about their future fundraising efforts. One consultant told The Nonprofit Times that the end of GoFundMe Charity "makes us question whether GoFundMe will be a reliable home for nonprofits moving forward."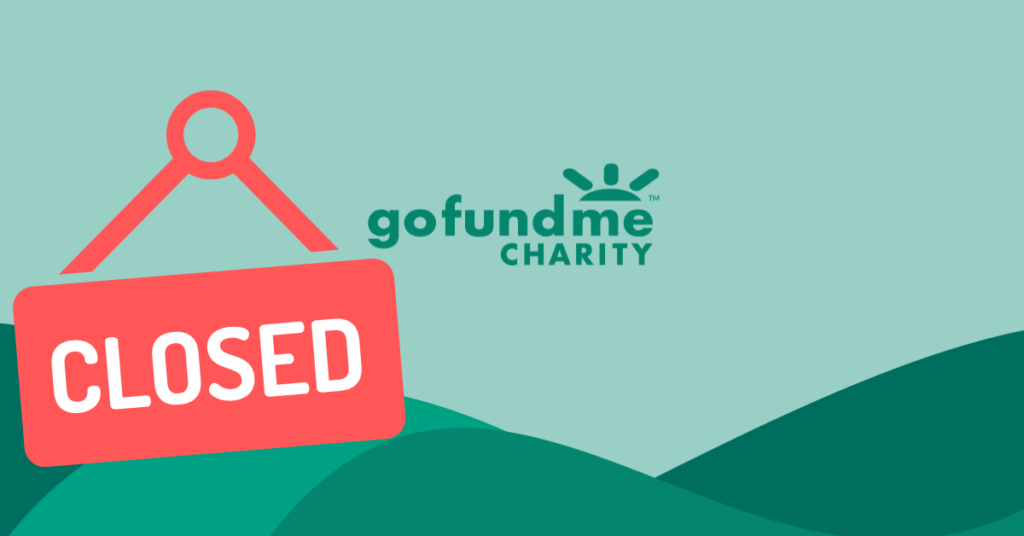 Here's the rundown on GoFundMe Charity's shutdown. And Mightycause is offering a special promotion, help moving data into our platform, and a one-on-one demo to any GoFundMe Charity customers looking to move quickly to minimize the disruption to their fundraising.
Sign Up for a Demo
GoFundMe Charity's Shutdown
On September 30, 2021, GoFundMe Charity will shutter its operations and cease fundraising. Nonprofits are instead encouraged to use GoFundMe's general platform, which has largely consisted of personal fundraisers. Some important functions on the charity platform will cease as early as March, leaving many nonprofits in the lurch.
When the nonprofit fundraising platform was launched, they promised to "give charities of all sizes access to enterprise-level fundraising software and new features, powered by the social fundraising expertise of GoFundMe." This announcement means that nonprofits will simply be able to sign to use the same fundraising tools that individuals have been using for years to find help with medical and living expenses.
The company will not be offering to help nonprofits migrate to the GoFundMe platform, according to its release.
Switch to Mightycause
Timeline
Changes are coming very soon. Here are the dates you need to know if you're a GoFundMe Charity user:
March 31, 2021: The platform will end all third-party integrations, such as Salesforce and MailChimp.
June 30, 2021: Final day to create a fundraiser on the nonprofit platform.
September 30, 2021: Last day for any donation activity, all recurring donations will cease after this point, buttons will no longer function.
December 31, 2021: Last day for nonprofits to access their donor data. Donor data after this point will be gone permanently.
Transition Process for Nonprofits
There is no migration help for nonprofit organizations using GoFundMe Charity. GoFundMe will simply shut down their operations and limit access to its features. Nonprofits currently using the platform will need to proactively move their fundraising over to GoFundMe (or find another platform to use.)
GoFundMe will not move any fundraising campaigns over to the general GoFundMe platform. And they won't help them migrate data over, either. A global pandemic and recession have already upended nonprofit fundraising. And now, nonprofits will have to manage this change on their own.
What Nonprofits Will Lose
Technology can be an unstable landscape, and sometimes these things happen. But for the nonprofit sector, taking the time to settle into a new platform, set up integrations, and start using a set of fundraising tools to manage donor data is a big commitment. So, the biggest concern for us at Mightycause and the nonprofits affected by this announcement is: What are we losing?
Well, as it turns out, nonprofits using GoFundMe Charity are losing a lot.
They're Canceling Recurring Donations
The biggest blow to nonprofits using the GoFundMe Charity platform is that their recurring donations will stop processing after September 30th. And that means that all of the hard work those organizations did to cultivate those donors and inspire them to set up a monthly donation will be undone. Nonprofits will have to do that work again. And this time they'll have to ask each of their recurring donors to set up a new donation on a different platform.
They're Ending Third-Party Integrations
The biggest selling point of GoFundMe Charity were its integrations. They offered integrations with Salesforce and MailChimp. And in just over a month, those integrations will no longer be supported. So, even though organizations theoretically have months to continue fundraising on the platform, the reality is that their data management will be upended and their platform will become less usable in short order.
Donor Data Will No Longer Be Accessible or Downloadable
For nonprofits, donor information is precious. Each piece of donor data is an opportunity to cultivate a lasting, fruitful relationship with someone who cares about their cause. GoFundMe Charity will stop processing donations on September 30, 2021. Then, nonprofits will then have a few months to export their donor data and manually migrate it elsewhere.
No New Campaigns
After June 30, 2021, nonprofits on GoFundMe Charity won't be able to start any new campaigns. And because of that, nonprofits have just a few months to find a new fundraising solution, when they should be concentrating on their spring campaign. Technically, everyone has until September 30th to fundraise, but because they're ending third-party integrations and the creation of new campaigns well before then, it forces nonprofits to make a decision about where to fundraise soon.
The Mightycause Difference
The good news is that there is a fundraising option that is ready to welcome castaways from GoFundMe Charity with open arms (and a special promotion).
Mightycause was built for nonprofit fundraising from they very beginning, unlike GoFundMe. Serving the nonprofit sector is the core of our company. It is what we did first, and it's what we continue to do best. And nonprofits can invest the time and effort in using Mightycause without worrying about us jumping ship. Mightycause is privately held, and not beholden to venture capitalists, so we're able to focus on providing the best products and service possible for nonprofits. We have been around, and dedicated to helping nonprofits, since 2006.
We aren't going anywhere. And we're here for your nonprofit. We've got the features your nonprofit needs, as well as a special offer.
What Mightycause Has to Offer
Mightycause has everything nonprofits need to fundraise, manage donors, and grow their organizations. We're an all-in-one fundraising suite with plans to suit every nonprofit and every budget.
Donation buttons, widgets, and forms
We've got donation solutions for every purpose, so your nonprofit never misses a donation. On Mightycause, you can choose from a donation button, an embeddable donation widget that allows users to complete donation without ever leaving your website, full donation forms, and Text-to-Give. Donors can set up recurring donations, and you have the flexibility to collect the data you need from your donors.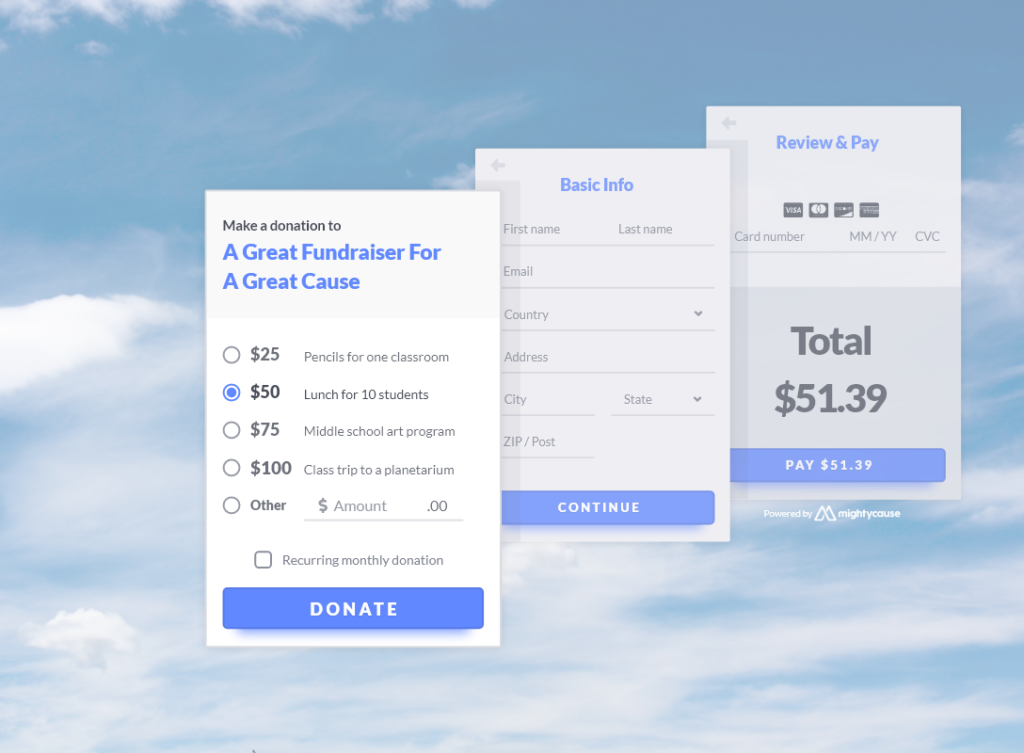 Recurring donation management 
Recurring donations are what make nonprofits sustainable. So, at Mightycause, our goal is to facilitate bringing recurring donors in and making it easy to manage their donation.
Donors can easily set up recurring donations that withdraw automatically from the account they choose. Donors can change the date, change the amount of their donation, and easily change or update their card through their Mightycause account. And your nonprofit has access to recurring donation reports, full ownership of your donor data, and full donor management with our CRM. Never lose donations because of a technical issue – we let you both know if there's an issue with processing the payment because of credit card expiration, etc.
Integrations to streamline your workflow
Some of GoFundMe Charity's most important offerings were its MailChimp, Salesforce, and Eventbrite integrations. "Closing the API so quickly in March also slams the door on some key integrations with Salesforce, Eventbrite and MailChimp to name a few that could hurt nonprofits using these tools even sooner than expected," a nonprofit consultant told The Nonprofit Times.
Well, good news! Mightycause has integrations with MailChimp, Salesforce, and Eventbrite. And thousands of other apps through our Zapier partnership, too.
NEW: Fundraising Software Integrations on Mightycause
Unlimited campaigns & year-round fundraising 
We've created a suite of products for nonprofits to support fundraising year-round. With a subscription to Advanced, your nonprofit has access to unlimited campaigns. That means you can run as many fundraising campaigns, peer-to-peer fundraisers, team fundraisers, and events (with our Eventbrite integration) as you want.
And we also give nonprofits access to an organization profile that acts as a hub for your fundraising activities. Highlight campaigns, tell your organization's story, collect donations, get your biggest supporters to start peer-to-peer fundraisers, and more!
Robust reporting and analytics
Mightycause believes that your donor data is yours. As part of that, we've built tools that will help you manage, track, and interpret your data to monitor your fundraising health. You can customize and access key performance indicators on your Overview screen. We've got donation reports, a donor retention report, a recurring donation report, disbursement reports, and more. It's all accessible right from your easy-to-use organization dashboard.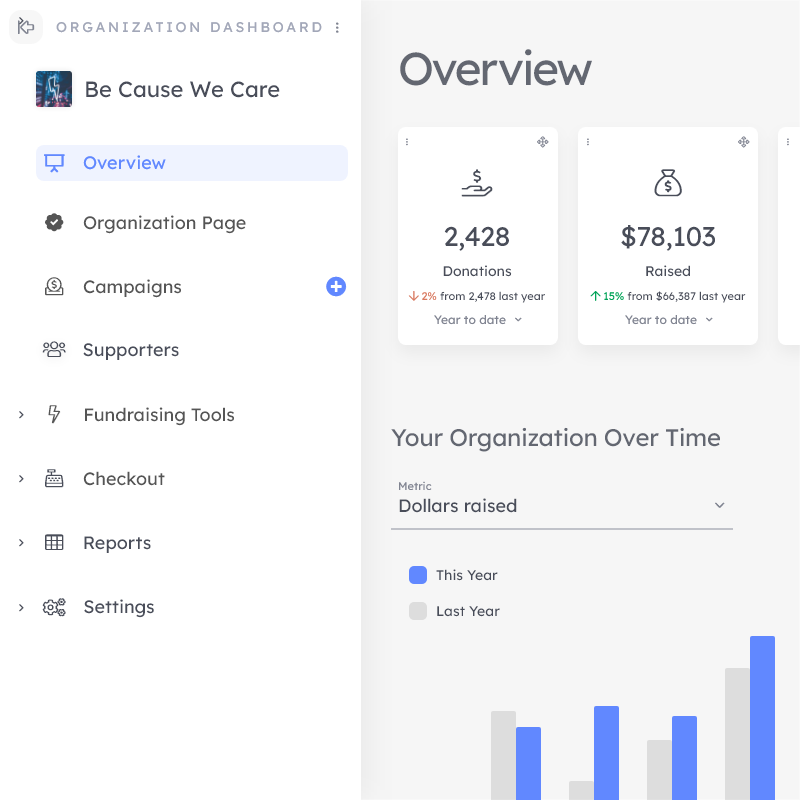 A Special Offer for GoFundMe Charity Customers
Look, we know 2020 was hard. Nonprofits worked hard to adapt, overcome, and continue their vital work. We want to make fundraising easier, especially while so much right now is hard. And so we're offering a special offer to nonprofits impacted by the GoFundMe Charity shutdown.
Get in touch with us, and we'll help make your unwanted transition to a new platform easier. We'll walk you through our platform, show you all the tools built specifically for organizations like yours. And we're offering a special promotion to help you get you up and running quickly.
Contact Us
Sours: https://blog.mightycause.com/gofundme-charity-shutdown/
Is Gofundme.com up or down today?
What to do if the site GOFUNDME.COM is unavailable?
If GOFUNDME.COM works, but you cannot access the site or its individual page, try one of the possible solutions:
Browser cache.
To delete the cache and get the current version of the page, refresh the page in the browser using the key combination Ctrl + F5.
Access to the site is blocked.
Clear your browser cookies and change the IP address of the computer.
Antivirus and firewall. Check that anti-virus programs (McAfee, Kaspersky Antivirus or an analogue) or a firewall installed on your computer do not block access to GOFUNDME.COM.
DNS cache.
Clear the DNS cache on your computer and try to access the site again.
Watch how-to video ↓
VPN and alternative DNS services.
VPN: for example, NordVPN;
Alternative DNS: OpenDNS or Google Public DNS.
Browser Plugins.
For example, the AdBlock extension, along with ads, can block the content of a site. Find and disable similar plugins for your site.
Gofundme.com forum
Tips? Frustrations? Share them with other site visitors:
Join discussion
Reddit users are very welcome here!
no identification required, limitations apply for "2 cents" commentsSours: https://updownradar.com/status/gofundme.com
GoFundMe Charity is being merged into GoFundMe.com, shutting down the fundraising-dedicated site on Sept. 30. Campaigns will not be able to be transferred to GoFundMe.com and recurring gift arrangements will be cancelled on that date.
GoFundMe Charity will end support for third-party integrations and the public Application Programming Interface (API) after March 31, according to an announcement from the firm.
GoFundMe declined to provide a spokesperson for interview but provided a statement to The NonProfit Times. It read, in part: "To best serve our charity customers, GoFundMe Charity is uniting with GoFundMe.com to bring personal and charity fundraising together under one platform. This investment in a unified experience will make it easier for donors and fundraisers to discover and support charities, while allowing charities to engage and connect with GoFundMe's global community."
GoFundMe Charity launched in November 2019.
There will be more information from the firm "in coming months," according to the statement.
There are several important dates for GoFundMe Charity users:
March 31: Last day that GoFundMe Charity supports third-party integrations
June 1: This is the deadline for adding new fundraising minimums, which will be extended to Sept. 30
June 30: Last day to create a new campaign on GoFundMe Charity
September 30: Last day to accept donations online via GoFundMe Charity campaigns and donate buttons. Last day for recurring donations to process
Dec. 31: Last day to view and export GoFundMe Charity donor and fundraiser data and content. 
GoFundMe Charity campaigns will not be transferred automatically to GoFundMe.com. Fundraisers must recreate any ongoing fundraisers to continue raising money on GoFundMe.com, according to the announcement.
All active recurring gift plans will be canceled after Sept. 30. Payments scheduled to process on Sept. 30 will be charged, but payments scheduled for Oct. 1 and beyond will be canceled automatically, according to the firm.
"Ending recurring donations, ending campaigns, especially at a time when nonprofits are working to collect donations from anywhere that they can as thousands of organizations face closing down amidst the hardships of the pandemic is going to hurt all of the organizations using that platform now," said Amy Sample Ward, CEO at NTEN in Portland, Ore.
"This feels like another example of platforms expecting nonprofits to fit into platforms that aren't made for them. GoFundMe Charity was celebrated when it launched as it provided a way for nonprofits to use a recognized platform but with the kind of functionality that they needed," said Sample Ward. "It also provided clear context and reassurance to donors that the campaign they were giving to was an organization, often fundraising for existing programs and services with the infrastructure and staffing to make them successful." 
The shuttering of GoFundMe Charity is concerning for many nonprofits, said Megan Anhalt, chief strategy officer at consultancy WholeWhale. The move "makes us question whether GoFundMe will be a reliable home for nonprofits moving forward," she said.
The worst part is the potential impact on recurring donors, a critical audience for many nonprofits. "Closing the API so quickly in March also slams the door on some key integrations with Salesforce, Eventbrite and MailChimp to name a few that could hurt nonprofits using these tools even sooner than expected," said Anhalt.
Sours: https://www.thenonprofittimes.com/technology/gofundme-charity-being-shut-down/
How GoFundMe Works
.
Down is gofundme
.
GoFundMe for Keese Love Found And Taken Down. Riot Review 8/20/2020
.
Now discussing:
.
568
569
570
571
572