33 Premium Farmhouse Fonts that are as Beautiful as they are Handy
Last Updated on July 19, 2021
Who doesn't have lovely memories of living or growing up in a farm? The fresh air, wide open spaces, the stars at night, fresh fruits and vegetables, and the sound of animals in the morning…all that is missing is Mom and Pop.
Even if farms nowadays have also stepped up, there's still that nostalgic, laidback atmosphere that we all love. The kind that makes you want to sit on the porch with a cup of tea. Not to mention all the fresh produce you can eat!
You don't need to visit the Farmer's Market in order to get that rural fix. This collection of awesome farmhouse fonts has the nostalgic vibe you can always revisit, year in and year out. All you need is to get them out of your toolkit.
Adorable Farmhouse Fonts
1. Bikarosta
Bikarosta is a farmhouse font family duo that includes two fonts with extra illustrations, ligatures, and swashes. Ideal for typography art, mockups, templates, memes, and more.
Download Bikarosta
2. Jackazz
Jackazz is a 4 weight display farmhouse font with a randomization feature to offer a large range of layout solutions for each word. With added ligatures and a selection of number styles, this typeface is a funky solution that will constantly surprise!
Download Jackazz
3. Olive
Olive is a hand lettering toll kit for the farmhouse font set included. Containing 6 fonts and 100 hand-drawn illustrations, this product will provide everything you need for the perfect typography art.
Download Olive
4. Le French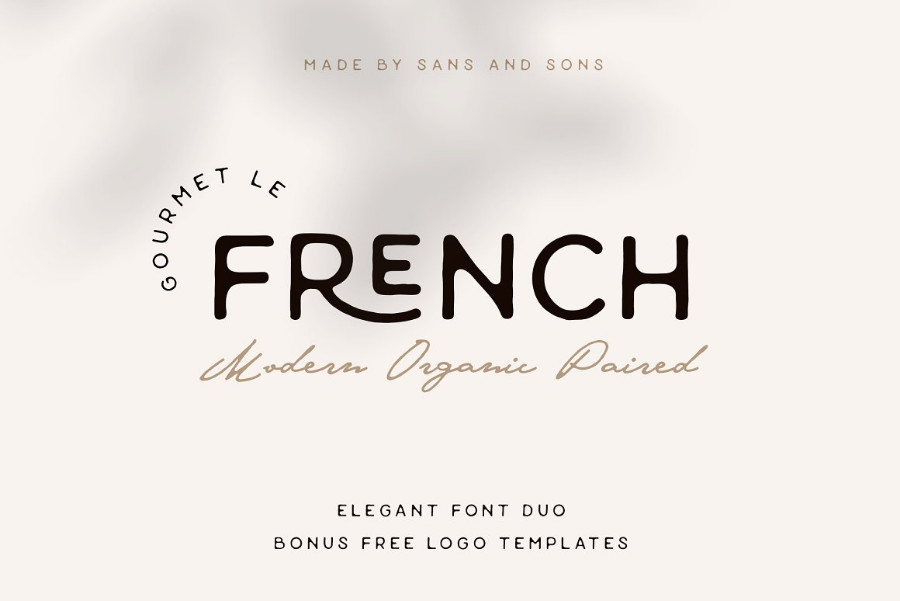 From Sans and Sons, get an elegant but loud duo consisting of an all-caps and a handwritten style, plus bonus free logo templates that will help make creating presentations easier.
Download Le French
5. Hawkes Handmade Collection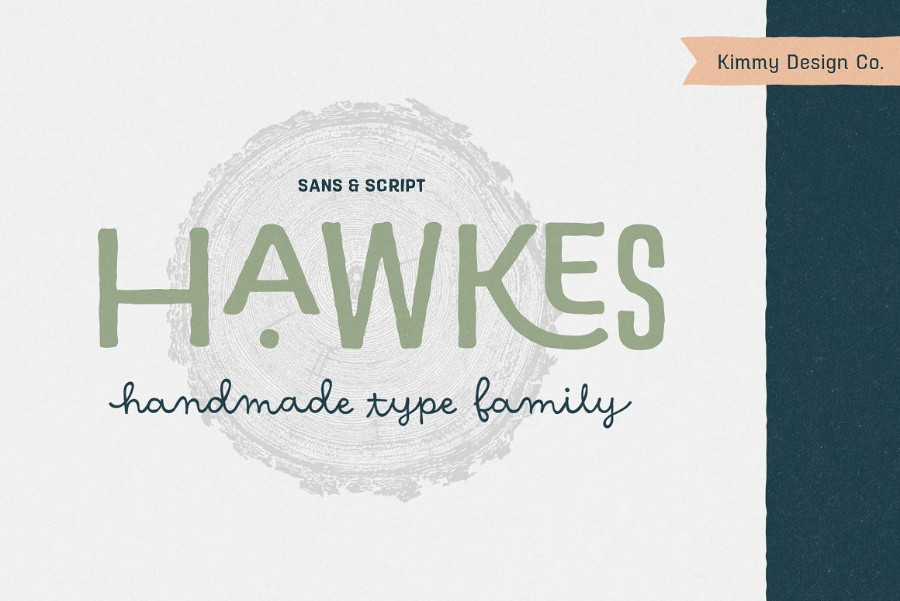 Get the following fonts from this Kimmy Design package: a stylistic sans-serif, a funky and variable sans-serif and, a script font that blends seamlessly with the others.
Download Hawkes Handmade Collection
6. Hannik Font
Swatch Supply presents this all-caps in normal and italic styles – and a miscellany of markings to help you in designing your projects.
Download Hannik Font
7. Tomatino
Cosmic Store presents to you a natural-looking typeface with irregular thickness and detail to add an "organic look" to labels, cards, posters, and presentations.
Download Tomatino
8. Wilkeson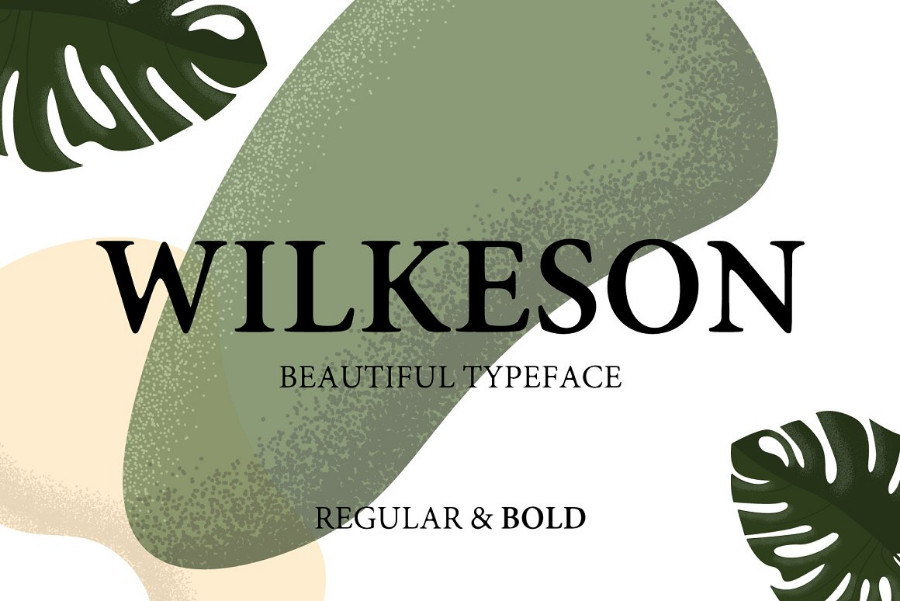 Get a modern serif that is subtle, round, and clean that is great for logos, branding, headers, and more.
Download Wilkeson
9. Dropslide
Inspired by classic posters, this font from Graptail also comes with Laskar Script, a handwriting font that adds more of a vintage flair to your projects.
Download Dropslide
10. Magnolia Plantation Rustic Font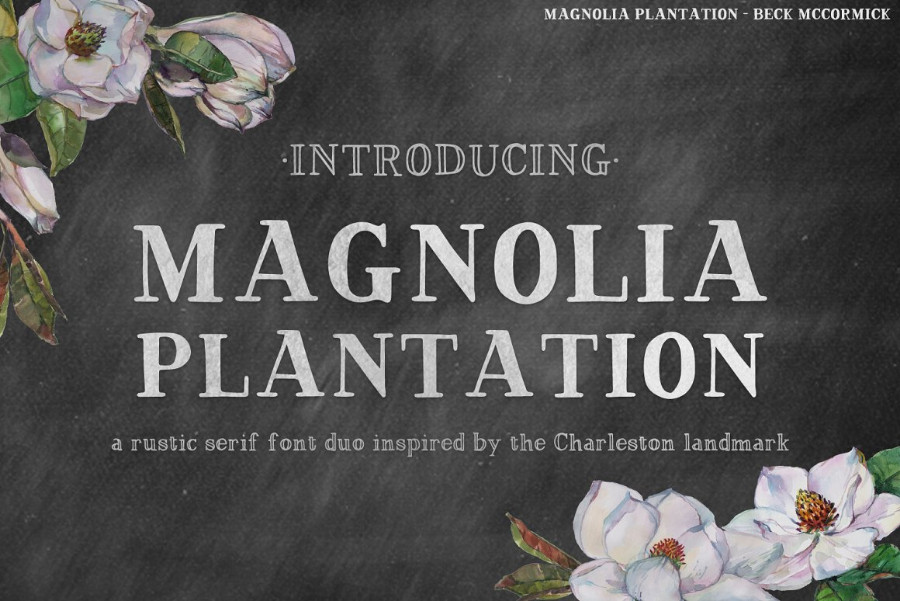 Available in Regular and Inline versions, this hand-lettered serif set from Beck McCormick also lets you access future versions of the product for a long-term investment.
Download Magnolia Plantation Rustic Font
11. Fine Art Font Duo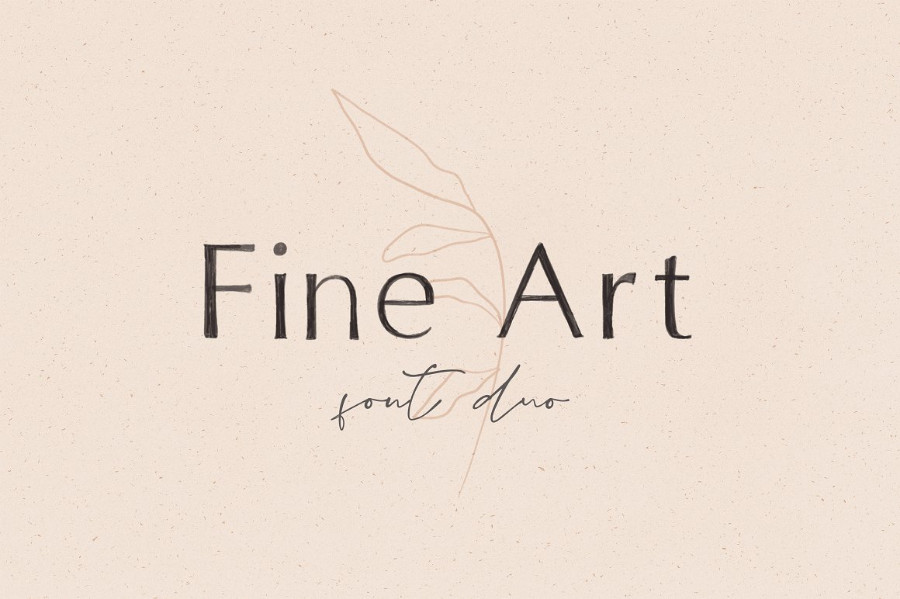 ElviNova's combination of a display typeface and a script font lets you make perfectly hand-made and elegant logos, signatures, branding and, many more.
Download Fine Art Font Duo
12. Woolen
This Magpie Paper Works product is a nature-inspired font combined with a type used in texts of the Imprimerie Royale in 1641 for a one-of-a-kind fusion of natural and classic styles.
Download Woolen
13. Honey Butter
You can surely do a lot with this package from Lettersiro: get a script, serif, and sans font along with 260 vectors and 49 editable logos to help you with presentation choices.
Download Honey Butter
14. Fresh Farm
This product from Ivan Kopylov will get you the Chalkboard font, high-quality fruit and vegetable vectors, organic logos and, a fresh leafs alphabet to get you going with presentation ideas.
Download Fresh Farm
15. The Farmer Font
NEWFLIX.Bro provides this ultra-condensed all-caps type family with Regular, Rounded and, Vintage versions along with textured alternates for the strong and mature design motif.
Download The Farmer Font
16. On The Farm
This farm-themed typeface from Salt and Pepper Designs brings out the farmhouse feel with idyllic art as designs on its characters – without losing readability.
Download On The Farm
17. Farm to Market
This rustic all-caps serif font family from Brittney Murphy Design features, Regular, Bold and, Fancy versions that works best with crafts and designs that need a country house feel.
Download Farm to Market
18. Farmhouse
This bold and tall font from KA designs appeals to childlike eyes and works great with t-shirts, mugs, posters and, many more!
Download Farmhouse
19. Farmer's Market
If your project needs a tall, rural-looking yet handwritten appeal but needs to get along with other texts, this Dixie Type Co. product can help you achieve that effortlessly.
Download Farmer's Market
20. The Rustic Barnyard
Add a vintage twist to your projects by taking advantage of this OkayAnnie Designs package that includes the Serif Barnyard font and the Rustic Script font.
Download The Rustic Barnyard
21. Service Station
Haynie Design Co. brings to us the designs of yesteryear's gas stations and repair shops with modern looks that fits vintage or contemporary presentation choices.
Download Service Station
22. Chaitea
This cutesy, imperfect font of Wilde Mae Studio brings the natural touch to your projects available in Regular and in several degrees of Bold.
Download Chaitea
23. Apricot
Download this sweet-looking font from Minna May Design that provides a slightly imperfect look as it attempts to give your projects a handwritten vibe.
Download Apricot
24. Cottage & Farmhouse Font
Denise Chandler gives us a charming, simple, and sweet sans that comes with alternates and a bunch of doodles to add the fun factor to your works.
Download Cottage & Farmhouse Font
25. Buttermilk Farmhouse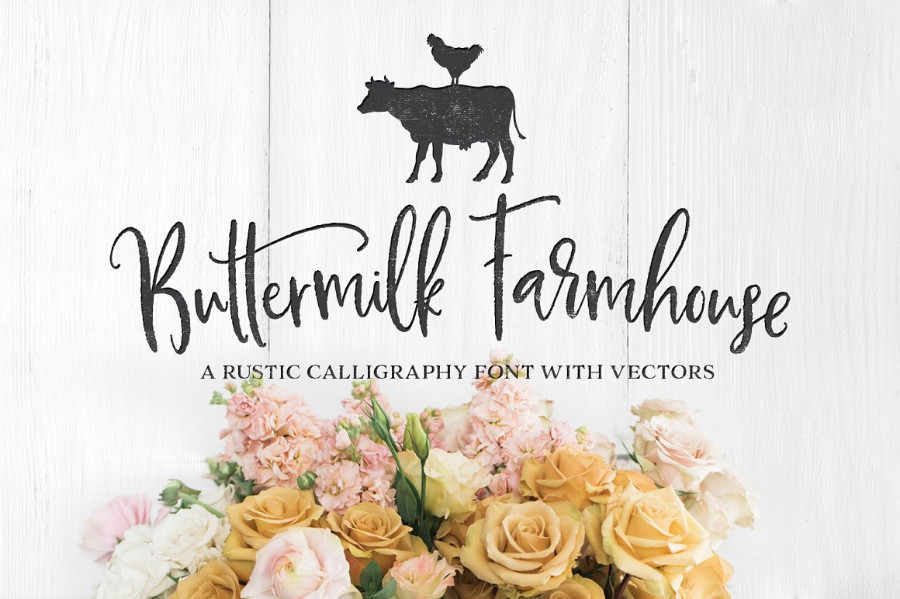 If you're big into farm-themed projects like Callie Rian and Co., you'd surely pick up this font package that includes Regular and Italic versions, a bonus sans serif font, 8 hand-illustrated farmhouse vectors and, 14 ready-made logos.
Download Buttermilk Farmhouse
26. Farmhouse Lemonade
Sabrina Schleiger brings you a bouncy and energetic handwritten font that is the best choice for crafters with cutting machines.
Download Farmhouse Lemonade
27. Farmhouse
This hand-made typeface from New Tropical Design is a typewriter style mixed with modern serifs that are best for natural-looking logos and other presentations.
Download Farmhouse
28. Hayfield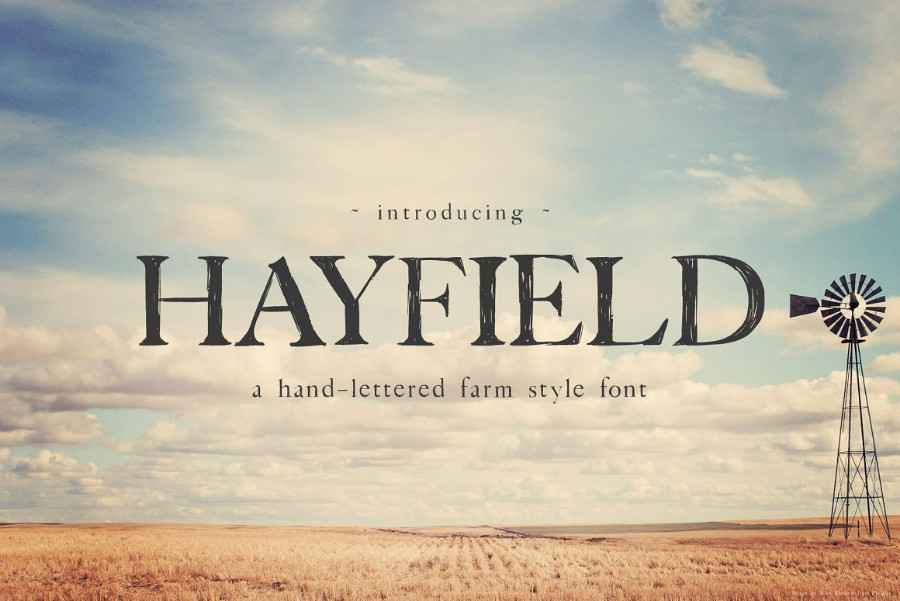 Classic styling combined with rustic texture makes this Eclectic Anthology typeface great for invitations, journals, logos, signage, and more.
Download Hayfield
29. Neville Font
Runsell Studio's display font is inspired by beautiful lettering found in old labels. It works for almost any project that will benefit from a vintage sense.
Download Neville Font
30. Farm House Typeface
From Vazzy Vintage Fonts, this package includes five styles for the Clean version and another five for the Rough version, letting your vintage look customization options expand by leaps and bounds.
Download Farm House Typeface
31. Orange Tangerine
From Affinity Grove, this layered font can be used for lively presentations along with a neat trick of allowing lowercase to fill uppercase letters for a unique effect.
Download Orange Tangerine
32. Mondresh Rough
What you get from this 24Design Studios product is a 5-styled font and an assortment of vector hand-drawn illustrations to accentuate that vintage and rugged look in your visuals.
Download Mondresh Rough
33. Yellove Duo
Available in this Ian Irwanwismoyo design is a two-styled handwriting font to add a truly personal and natural-looking aesthetic to your projects.
Download Yellove Duo
Tags: best calligraphy farmhouse fontsbest cricut farmhouse fontsbest cricut font for farmhouse signsbest farmhouse font in wordbest farmhouse fontsbest farmhouse fonts in wordbest farmhouse fonts on cricutbest farmhouse google fontsbest farmhouse script fontbest farmhouse sign fontsbest farmhouse style fontsbest font for farmhouse style printbest fonts for country farmhouse decorbest fonts for farmhouse signsbest fonts for vintage and farmhousebest script font for farmhouse signsbest script fonts for farmhouse signsbest tall skinny farmhouse fontbuttermilk farmhouse fontbuttermilk farmhouse font downloadbuttermilk farmhouse font generatorcarpenter farmhouse fontscottage and farmhouse fontcricut farmhouse fontscursive farmhouse fontfarmhouse calligraphy fontfarmhouse chic fontfarmhouse christmas fontfarmhouse country fontfarmhouse cricut fontsfarmhouse cursive fontfarmhouse dreams fontfarmhouse embroidery fontfarmhouse fontfarmhouse font alphabetfarmhouse font alphabet stencilsfarmhouse font cricutfarmhouse font downloadfarmhouse font generatorfarmhouse font lettersfarmhouse font microsoft wordfarmhouse font numbersfarmhouse font stencilsfarmhouse font stylesfarmhouse font svgfarmhouse fontsfarmhouse fonts for cricutfarmhouse fonts for signsfarmhouse fonts in wordfarmhouse fonts on cricutfarmhouse fonts on cricut design spacefarmhouse fonts on dafontfarmhouse lemonade embroidery fontfarmhouse lemonade fontfarmhouse lemonade font downloadfarmhouse letters fontfarmhouse number fontfarmhouse print fontfarmhouse script fontfarmhouse sign fontsfarmhouse stencil fontfarmhouse style fontsfarmhouse style fonts cricutfarmhouse writing fontfont farmhousefonts for farmhouse signsfonts similar to buttermilk farmhousefonts similar to farmhouse lemonadefree farmhouse fonts for cricutfree farmhouse script fontsfree farmhouse style fontshand lettering farmhouse fontmodern farmhouse fontmodern farmhouse fontspopular farmhouse fontsroyalty free fontsrustic farmhouse fontrustic farmhouse fontsskinny farmhouse fontss farmhouse lemonade fontstrong farmhouse fonttall skinny farmhouse fontthe farmhouse fontwhat font is used for farmhouse signswhat is the farmhouse font called
Sours: https://hipfonts.com/farmhouse-fonts/
Farmhouse Font Fun
Please note that the Market Fresh font has many different versions available (all are so neat). The above is the first option: Market Fresh All Caps (which is a nice bold font with lots of uses). Plus, I love a good all caps font.
Jenna Sue
Moon Flower
Shorelines
Octin Spray Paint
Southern Jannie
Southern Jannie is such an ideal font for weddings and events with its loopy "dips" and overcrossed lines. I really love this one.
Pack'In
The Skinny
Stuttgart
A Little Sunshine
Traveling Typewriter
Sugar & Spice
Top Secret Stamp
Sunrise International
Tox Typewriter
Farmhouse Font Pairing Ideas
While all of the above farmhouse fonts look great on their own, some are even better together (aren't we all better together, y'all?). Below, I've included some font pairing ideas for you to put into practice on your own creations. The best piece of advice I can give? Have fun with your fonts! But, there are a few rules of thumb for font pairing:
Pair a bold, thicker font with a skinny, more delicate font.
Pair a script font with a print font (combine this with the thicker/skinny from above idea and you're golden).
I also like to do all caps with one font and pair it with a script font in all lowercase, but that's just my own preference.

When I do the above pairing, I often do the script font on "top", allowing it to kind of sit on the all-caps font. The all-caps font acts as a nice "base". You can see how I did that in the first font combination illustrated below.
The above combinations are the following farmhouse fonts:
Looking for More Free Fonts?
Sours: https://www.ishouldbemoppingthefloor.com/2019/02/25-free-farmhouse-font-downloads.html
Free Farmhouse Fonts
A collection of free farmhouse fonts that you can download and use in Cricut design
space. In just a few simple steps you can use these fonts for free.

Have you gotten your fill of all things farmhouse? No, not me either. So sad to see Chip and Jo to end their show, but the show must go on.
So many people are creating home décor with the farmhouse feel using their Cricut. Whether it's for themselves or a gift for others.
I put together a collection of my favorite farmhouse themed fonts that you don't have to pay for to use.
If you are using these fonts for design space and don't know how to download and get them in design space go to this post Free Fonts in Cricut to learn how quick and easy.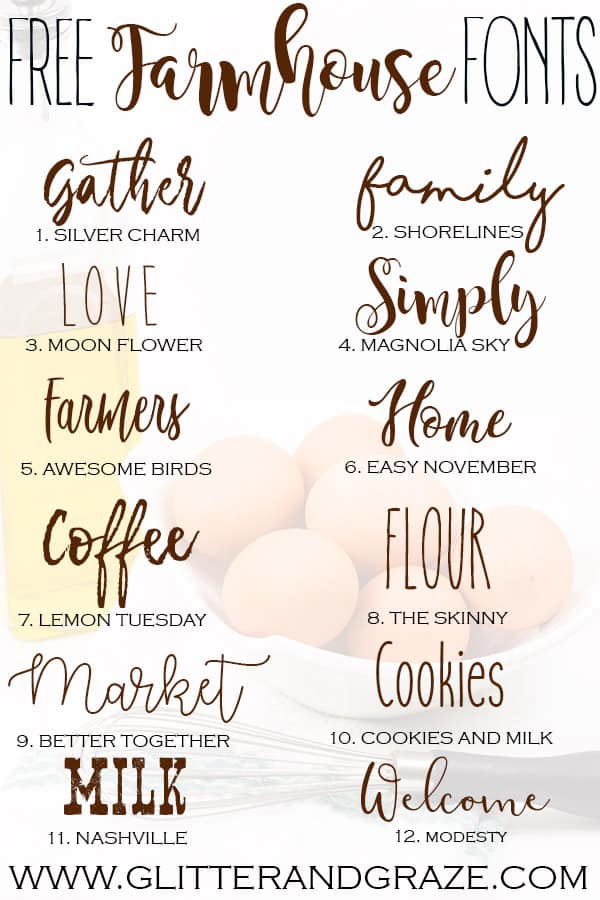 1. SILVER CHARM 2. SHORELINES 3. MOON FLOWER 4. MAGNOLIA SKY
5. AWESOME BIRDS 6. EASY NOVEMBER 7. LEMON TUESDAY 8. THE SKINNY
9. BETTER TOGETHER 10. COOKIES AND MILK 11. NASHVILLE 12. MODESTY
If you liked this post check out these
Free Signature Fonts
Free Pretty Fonts for Cricut
Cricut Explore Air- Free Fonts
Gifts for the Cricut Crafter
Did you make something using one of these fonts? Then post a picture on Instagram and use the tag #glitterandgraze
Filed Under: Crafts, FontsTagged With: Cricut, farmhouse, fonts, free fonts
Sours: https://www.glitterandgraze.com/free-farmhouse-fonts/
18 Favorite Farmhouse Fonts
Other Posts You May Like:
Getting to grips with the fonts is hard enough. It's even harder when you need the typeface for a project to sell. With so many free fonts available it can be confusing to know which one is a safe bet for commercial use. This post will give you an insight into the best free farmhouse fonts that are perfect for the home decor and holiday designs for both personal and commercial use, every time.
Font Links:
1.
Farm Fresh: This July
2.
Kitchen: Magiera Script
3.
Blessed: Saithik Handwritten
4.
Be Our Guest: Rembank
5.
Farmers Market: Ambarella
6.
Welcome: Fair Prosper
7.
Grateful: Mightype
8.
Laundry Today: Reis
9.
Be Kind: Rachella Script
10.
Stay Awhile: Frutilla
11.
Happy Place: Priscilla
12.
Handmade: Flanella

Disclaimer: These fonts are both for personal and commercial use. For more information on the fonts and their proper use, please read the license file that can be found either on the download page or in the font zip folder. The rules of each font are subject to change at any time. It is strictly your own responsibility to make sure that the font is fully licensed for your intended project.


---
---
You may also enjoy:
Free Valentine's Day Fonts for Hopeless Romantics
Free And Charming Fall Fonts
Free Birthday Font Combinations
Free and Decorative Winter Fonts for Every Project
Free and Elegant Fonts for Farmhouse Signs
Fall Head Over Heels For These Free and Lovely Thanksgiving Fonts
---
---
Sours: https://www.designbeginswithl.com/2019/11/12-free-farmhouse-fonts-for-commercial.html
Letters font farmhouse
.
40+ cute fonts - dafont.com (with download link)
.
Similar news:
.
515
516
517
518
519