BMW Z4 Coupe (E86) M

Specs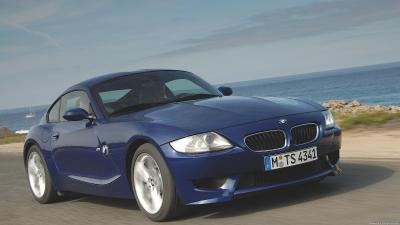 With a fuel consumption of 12.1 litres/100km - 23 mpg UK - 19 mpg US (Average), 0 to 100 km/h (62mph) in 5.0 seconds, a maximum top speed of 155 mph (250 km/h), a curb weight of 3075 lbs (1395 kgs), the Z4 Coupe (E86) M has a naturally-aspirated Inline 6 cylinder engine, Petrol motor.
This engine produces a maximum power of 343 PS (338 bhp - 252 kW) at 7900 rpm and a maximum torque of 365 Nm (269 lb.ft) at 4900 rpm. The power is transmitted to the road by the rear wheel drive (RWD) with a 6 speed Manual gearbox.
On the topic of chassis details responsible for road holding, handling behavior and ride comfort, the Z4 Coupe (E86) has Independent. McPherson. coil springs. anti-roll bar front suspension and Independent transverse arms. coil springs rear suspension. Stock tire sizes are 225 / 45 on 18 inch rims at the front, and 255 / 40 on 18 inch rims at the rear. For stopping power, the Z4 Coupe (E86) M braking system includes Vented Discs at the front and Vented Discs at the rear.
The Z4 Coupe (E86) model is a car manufactured by BMW, sold new from year 2006.
BMW Z4 Coupe (E86) M Engine Technical Data

Engine type - Number of cylinders :
Inline 6
Engine Code :
-
Fuel type :
Petrol
Fuel System :
MPI
Engine Alignment :
Longitudinal
Engine size - Displacement - Engine capacity :
3246 cm3 or 198.1 cu-in
Bore x Stroke :
91.0 x 87.0 mm
3.58 x 3.43 inches
Number of valves :
24 Valves
Aspiration :
N/A
Compression Ratio :
11.5
Maximum power - Output - Horsepower :
343 PS or 338 bhp or 252 kW @ 7900 rpm
Maximum torque :
365 Nm or 269 lb.ft @ 4900 rpm
Drive wheels - Traction - Drivetrain :
RWD
Transmission Gearbox - Number of speeds :
BMW Z4 Coupe (E86) M Fuel Consumption (Economy), Emissions and Range

Fuel Consumption - Economy - Combined:
12.1 L/100km
23 mpg UK / 19 mpg US
Fuel Consumption - Economy - Open road:
8.6 L/100km
33 mpg UK / 27 mpg US
Fuel Consumption - Economy - City:
18.2 L/100km
16 mpg UK / 13 mpg US
Range :
454 Km or 282 miles
Fuel Tank Capacity :
55 L
12.1 UK gallons
14.5 US gallons
CO2 emissions :
292 g/Km (BMW)
BMW Z4 Coupe (E86) M Performance

Top Speed :
250 km/h or 155 Mph
Acceleration 0 to 100 km/h (0 to 62 mph) :
5.0 s
Acceleration 0 to 1000m :
23.7 s
BMW Z4 Coupe (E86) M Size, Dimensions, Aerodynamics and Weight

Num. of Doors :
2
Wheelbase :
250 cm or 98.43 inches
Length :
411 cm or 161.81 inches
Width :
178 cm or 70.08 inches
Height :
129 cm or 50.79 inches
Aerodynamic drag coefficient - Cx :
0.35
Front Brakes - Disc dimensions :
Vented Discs (345 mm)
Rear Brakes - Dics dimensions :
Vented Discs (328 mm)
Front Tyres - Rims dimensions :
225/45 R18
Rear Tyres - Rims dimensions :
255/40 R18
Curb Weight :
1395 kg OR 3075 lbs
Weight-Power Output Ratio :
4.1 kg/hp
Trunk / Boot capacity :
- L
Front Suspension :
Independent. McPherson. coil springs. anti-roll bar
Rear Suspension :
Independent transverse arms. coil springs
What engine is in BMW Z4 Coupe (E86) M?
The BMW Z4 Coupe (E86) M has a Inline 6, Petrol engine with 3246 cm3 / 198.1 cu-in capacity.

How many horsepower (hp) does a 2006 BMW Z4 Coupe (E86) M have?
The 2006 BMW Z4 Coupe (E86) M has 343 PS / 338 bhp / 252 kW.

How much does a BMW Z4 Coupe (E86) M weighs?
The BMW Z4 Coupe (E86) M weighs 1395 Kg / 3075 lbs.

What is the top speed of a BMW Z4 Coupe (E86) M?
The BMW Z4 Coupe (E86) M top speed is 250 Km/h / 155 mph.

Is BMW Z4 Coupe (E86) M All Wheel Drive (AWD)?
No, the BMW Z4 Coupe (E86) M is not All Wheel Drive (AWD). It's Rear Wheel Drive (RWD).


People who like this car also liked...
Popular comparisons with this car
Sours: https://www.ultimatespecs.com/car-specs/BMW/5176/BMW-Z4-Coupe-(E86)-M.html
Overview
Confident handling and a powerful turbocharged engine are expected from a BMW sports car, and the 2022 Z4 convertible delivers just that. But part of its appeal also lies in its upscale cabin, which is comfortable enough to serve as a daily driver. The base engine offered is a peppy turbocharged four-cylinder while a twin-turbo inline-six can be found in the racier M40i model. All Z4s are rear-wheel drive and use an eight-speed automatic transmission that is as well-tuned for sporty driving as it is for highway cruising. Handling isn't Porsche Boxster sharp, but it's close enough and still plenty fun on a twisty road. The Z4 is only offered as a softtop convertible, but if you'd prefer a hardtop coupe, take a look at the mechanically similar Toyota Supra, which was developed alongside the BMW.
What's New for 2022?
The Z4 is much the same as it was last year, but ambient lighting is no longer standard and wireless smartphone charging is no longer an option. The Driving Assistance package has been removed from the Convenience and Premium packages and is now a standalone option package.
Pricing and Which One to Buy
At its base price, the 2022 Z4 Drive30i is an undeniable value. It costs considerably less than its main rival, the Porsche Boxster, and it offers more than enough performance for most buyers. You can also dress it up with the M Sport Kit, which adds an M Sport suspension for better handling and dials up its appearance inside and out with an aerodynamic body kit and M Sport steering wheel. Larger 19-inch wheels and tires are also available, and BMW offers the Dynamic Handling package, which adds larger M Sport brakes and its M Sport differential for additional traction. Your new Z4 still won't accelerate like the much more powerful M40i, but it'll be more than quick enough to satisfy.
Engine, Transmission, and Performance
Every 2022 Z4 has an eight-speed automatic transmission with Sport mode as well as Manual mode. Paddle shifters mounted to the steering wheel are also standard. That's right: For the first time, the BMW Z4 is not available with a traditional manual transmission with a clutch pedal. You won't miss it. The eight-speed is one of the best automatics around with sharp responses, snappy shifts, and smooth operation. The sDrive30i is powered by the brand's excellent turbocharged 2.0-liter four-cylinder that makes plenty of torque and 255 horsepower. In our testing, this model accelerated to 60 mph in 5.1 seconds. That's quick, but it's a bit slower than a Porsche Boxster, which is still available with a manual gearbox. For more grunt, the M40i model gets a 382-hp twin-turbocharged inline-six. It's incredibly smooth and refined, and it turns the Z4 into a superfast sports car with a zero-to-60-mph time of just 3.8 seconds. That's quicker than the 350-hp Porsche Boxster S.
Fuel Economy and Real-World MPG
With its exceptional performance, it may surprise you that the Z4 is one of the most fuel-efficient sports cars in its class. The fuel economy of the Z4 sDrive30i is rated by the EPA to be 25 mpg city and 32 mpg on the highway. With its much higher level of horsepower, the fuel economy of the Z4 M40i is just a single mpg lower, getting 24 mpg city and 31 mpg highway. In our testing, both models recorded 20 mpg in mixed driving. Unfortunately, both engines require more expensive premium gasoline, and the Z4 has a small gas tank, so its fuel range isn't extensive. Expect about 300 miles of highway driving between each fill-up. For more information about the Z4's fuel economy, visit the EPA's website.
Interior, Comfort, and Cargo
As is the case with all current BMWs, the Z4 has a very high-quality interior. In fact, it may have the best interior in this class. It features luxe materials, exceptional panel fitment, and excellent control placement. Its seats are comfortable with sizable bolsters to hold you in place when you're enjoying the Z4's dynamics. There is also more room inside than you might expect, even for those taller than six feet. Thick and insulated, its cloth roof seals tightly. When the top is up, the BMW's interior is impressively quiet, with so little wind or road noise it almost feels like a Grand Touring coupe. With the push of a button, it folds away in a few seconds. A wind blocker is standard to keep wind buffeting to a minimum with the top down, even at high speeds. Interior stowage is also quite generous. There are several storage bins around the Z4's cabin, including one in the center console and a felt-lined cubby to the left of the steering wheel. There's also a netted shelf behind the seats and two big cupholders up front. At 10 cubic feet, the trunk of the Z4 isn't huge, but it'll swallow luggage for two for a quick weekend road trip.
Infotainment and Connectivity
A massive 10.3-inch touchscreen is standard along with navigation and complimentary Apple CarPlay integration; Android Auto capability is not available. The latest iteration of BMW's iDrive system is easy to use, with sharp graphics. The system can also be controlled intuitively with a knob and buttons on the Z4's console or with voice commands. A USB port and Bluetooth streaming audio are also standard, although you have to pay extra for SiriusXM satellite radio.
Safety and Driver-Assistance Features
Forward-collision warning and daytime pedestrian detection with city braking are standard, as is BMW's lane-departure warning system. Other driver-assistance tech is available as options on both Z4 models. That list of available systems includes active cruise control, active blind-spot detection, rear-collision protection, and rear cross-traffic alert. For more information about the Z4's crash-test results, visit the National Highway Traffic Safety Administration (NHTSA) and Insurance Institute for Highway Safety (IIHS) websites. Key safety features include:
Standard forward-collision detection with pedestrian detection
Available active cruise control
Available active blind-spot detection
Warranty and Maintenance Coverage
BMW's warranty is average for the segment; however, its complimentary scheduled maintenance coverage is a standout. Such programs are not offered with its rivals, the Mercedes-Benz SLK-class and the Porsche 718 Boxster.
Limited warranty covers four years or 50,000 miles
Powertrain warranty covers four years or 50,000 miles
Complimentary scheduled maintenance is covered for three years or 36,000 miles
Specifications
Specifications
2020 BMW Z4 M40i
VEHICLE TYPE
front-engine, rear-wheel-drive, 2-passenger, 2-door convertible
PRICE AS TESTED
$73,295 (base price: $64,695)
ENGINE TYPE
turbocharged and intercooled DOHC 24-valve inline-6, aluminum block and head, direct fuel injection
Displacement
183 cu in, 2998 cc
Power
382 hp @ 6500 rpm
Torque
369 lb-ft @ 1600 rpm
TRANSMISSION
8-speed automatic
CHASSIS
Suspension (F/R): struts/multilink
Brakes (F/R): 13.7-in vented disc/13.6-in vented disc
Tires: Michelin Pilot Super Sport, F: 255/35ZR-19 (96Y) ★ R: 275/35ZR-19 (100Y) ★
DIMENSIONS
Wheelbase: 97.2 in
Length: 170.7 in
Width: 73.4 in
Height: 51.4 in
Passenger volume: 52 cu ft
Trunk volume: 10 cu ft
Curb weight: 3535 lb
C/D
TEST RESULTS
Zero to 60 mph: 3.8 sec
Zero to 100 mph: 9.1 sec
Zero to 130 mph: 15.9 sec
Rolling start, 5–60 mph: 4.5 sec
Top gear, 30–50 mph: 2.6 sec
Top gear, 50–70 mph: 2.8 sec
Standing ¼-mile: 12.3 sec @ 116 mph
Top speed (governor limited, C/D est): 165 mph
Braking, 70–0 mph: 148 ft
Roadholding, 300-ft-dia skidpad: 1.02 g
C/D
FUEL ECONOMY
Observed: 20 mpg
EPA FUEL ECONOMY
Combined/city/highway: 26/24/31 mpg
ExpandCollapse
More Features and Specs
Sours: https://www.caranddriver.com/bmw/z4
BMW Z4 (E85)
Motor vehicle
The first generation of the BMW Z4 consists of the BMW E85 (roadster version) and BMW E86 (coupe version) sports cars. The E85/E86 generation was produced from 2002 to 2008.
The E85/E86 replaced the Z3 and is the third model in the BMW Z Series. Initial models were in the roadster (E85) body style, with the coupé (E86) body style being added in 2006.
As per the Z3, the E85/E86 was manufactured solely in Greer, South Carolina.
The M model - the Z4 M - is powered by the S54 straight-six engine.
In February 2009, the BMW Z4 (E89) began production as the successor to the E85/E86.
Development and launch[edit]
The E85 was designed by Danish BMW-designer Anders Warming from mid-1998 to the summer of 1999.[citation needed] The coupe models were designed by Tomasz Sycha.[1] The E85 designs were frozen on March 1, 2000.[2] The Z4 was introduced at the Paris Motor Show in 2002,[3] and North American models went on sale in November of the same year (as the 2003 model year). European sales began in March 2003.[4]
Initial models consisted of the roadster body style powered by a 2.5L or 3.0L 6-cylinder engine.
Body styles[edit]
Roadster (E85)[edit]
The Z4 Roadster was launched in 2002 with the 2.5i and 3.0i six-cylinder models.[5] Transmission choices were a five-speed manual, six-speed manual, five-speed automatic and a six-speed SMG-IIautomated manual transmission.[6]
A four-cylinder model, the Z4 2.0i Roadster, was introduced for the European market in May 2005.
The drag coefficient is maximum of Cd=0.35.[7]
Coupé (E86)[edit]
BMW unveiled a conceptcoupé version of the Z4 at the 2005 Frankfurt Motor Show[8] The design of the Z4 and Z4 coupé has variously been ascribed to Anders Warming, Chris Bangle, the controversial former BMW Head of Design, and Adrian van Hooydonk, former BMW chief designer,[9][10] and BMW designer Tomasz Sycha. The design was approved in Summer of 2004 and frozen in December 2004. The company announced in 2005 that the two-door coupé would be available for production including the return of the M Coupé. The production car was introduced at the New York Auto Show in April 2006 and was available for sale in late May 2006.[11]
Thanks to its hatch design, the Z4 Coupé offers 10.1 cu ft (0.29 m3) of trunk space,[12] compared with 8.5 cu ft (0.24 m3) for the roadster.[13]
The Coupe's fixed roof increases torsional rigidity, resulting in a stiffness of 32,000 N⋅m (24,000 lb⋅ft) per degree of body twist on the coupe (compared to 14,500 N⋅m (10,700 lb⋅ft) per degree on the roadster), which improves turn-in and overall handling response.[14] The roof has a "double-bubble" contour which serves as an aerodynamic aid and offers more headroom than the roadster with the soft top closed. The Coupé has a sleek fastback rear window that slopes down to an integrated spoiler which is shaped to deliver downforce to the rear axle at high-speed.
The model range for the Coupé was more limited than the roadster, and consisted of the six-cylinder 3.0si and Z4 M model only.[15][16] Transmission choices were a 6-speed manual and a 6-speed automatic with shift paddles mounted on the steering column.
Chassis and body[edit]
Convertible (pre-facelift)
Compared with its Z3 predecessor, the Z4 is larger and has a stiffer chassis.[17] As per the Z3, the front suspension is a Macpherson strut design. The rear suspension uses a multi-link design, instead of the semi-trailing design used by the Z3. Some reviewers have criticised the ride quality for being too harsh, and observed excessive bump steer from the rear suspension.[18]
The Z4 used lightweight materials to offset the increased weight over the smaller Z3, such as an aluminum hood and suspension components, magnesium roof frame. Run-flat tires removed the need for a spare tire, which reduces weight and allows for a larger trunk.[19]
Equipment[edit]
The 6-cylinder engines included all-alloy construction, variable valve timing (double-VANOS), and throttle by wire. Safety technology included four-wheel disc brakes and electronic stability control, incorporating ABS and traction control.
An optional "Sport Package" included added stiffer and lower suspension, 18 inch wheels, and sport tuned electronic steering, throttle and shift parameters ("Dynamic Driving Control").[20]
Electric power steering replaced the traditional hydraulic power steering used by the Z3.[21][22] The power assist is speed-sensitive, allowing for easier maneuvering at low speeds. The steering has been criticised for lacking feedback.[23] However, the Z4 M uses hydraulic power steering, and has been judged as having a more direct and communicative feel to the steering.[24]
In 2002 a 6-speed SMG gearbox was offered as an option on the 2.5 and 3.0 roadsters.[25][26]
Transmissions[edit]
The available transmissions were:
Models[edit]
Model
Years
Engine
Power[35]
Torque[35]
Curb Weight
0–100 km/h
(62 mph)
2.0i*
2005–2008
2.0 L N46
4-cyl
110 kW (148 hp)
at 6,200 rpm
200 N⋅m (148 lb⋅ft)
at 3,600 rpm
2,855 lb (1,295 kg)
8.2 seconds
2.2i
2003–2005
2.2 L M54
6-cyl
130 kW (174 hp)
at 6,250 rpm
210 N⋅m (155 lb⋅ft)
at 3,500 rpm
2,932 lb (1,330 kg)
7.7 seconds
2.5i
2003–2005
2.5 L M54
6-cyl
141 kW (189 hp)
at 6,000 rpm
245 N⋅m (181 lb⋅ft)
at 3,500 rpm
2,943 lb (1,335 kg)
7.0 seconds
2006–2008
2.5 L N52
6-cyl
130 kW (174 hp)
at 5,800 rpm
230 N⋅m (170 lb⋅ft)
at 3,500 rpm
2,965 lb (1,345 kg)
7.0 seconds
2.5si
2006–2008
2.5 L N52
6-cyl
160 kW (215 hp)
at 6,500 rpm
250 N⋅m (184 lb⋅ft)
at 2,750 rpm
2,998 lb (1,360 kg)
6.5 seconds
3.0i
2002–2005
3.0 L M54
6-cyl
170 kW (228 hp)
at 5,900 rpm
300 N⋅m (221 lb⋅ft)
at 3,500 rpm
3,009 lb (1,365 kg)
5.9 seconds
2006–2008
3.0 L N52
6-cyl
160 kW (215 hp)
at 6,100 rpm
270 N⋅m (199 lb⋅ft)
at 2,500-4,250 rpm
3,020 lb (1,370 kg)
6.2 seconds
3.0si Roadster
2006–2008
3.0 L N52
6-cyl
195 kW (261 hp)
at 6,600 rpm
315 N⋅m (232 lb⋅ft)
at 2,750 rpm
3,086 lb (1,400 kg)
5.6 seconds
3.0si Coupe
3,075 lb (1,395 kg)
5.6 seconds
M Roadster
2006–2008
3.2 L S54
6-cyl
252 kW (338 hp)
at 7,900 rpm
365 N⋅m (269 lb⋅ft)
at 4,900 rpm
3,197 lb (1,450 kg)
4.8 seconds
M Coupe
3,230 lb (1,465 kg)
4.8 seconds
* The 2.0i was only sold in Europe.[36]
All models are E85 roadsters except as noted. European specifications shown. North American vehicles may have slightly lower power ratings. US models include 2.5i Roadster, 3.0i Roadster, 3.0si Roadster & Coupé, M Roadster & Coupé.[37]
Z4 M versions[edit]
Main article: BMW M Coupé and Roadster
The Z4 M Coupe/Roadster was introduced in 2006 and is powered by the S54 straight-six engine shared with the E46 M3. The S54 was also on the Ward's 10 Best Engines list for 2001 through 2004.[38] The engine in the North American Z4 M models are rated at 330 hp (246 kW) at 7,900 rpm, 3 hp less than the North American M3.[39] In other markets, the power output is the same 252 kW (338 hp) as the M3. The engine had BMW double VANOS system and a compression ratio of 11.5:1. The torque generated by the engine amounted to 355 N⋅m (262 lb⋅ft) at 4,500 rpm. The torque was available from 2,500 rpm.
The Z4 M uses hydraulic power steering, unlike the electric power steering used by the rest of the Z4 range.[39] Other changes include a wider front track, revised front suspension, wider tires (measuring 225/45 at the front, 255/40 at the rear), and steering geometry.[39]
The M coupe's production began at the Spartanburg BMW plant in Greer on 4 April 2006.
Special models[edit]
Alpina Roadster S (2004–2006)[edit]
Main article: Alpina Roadster S
The Alpina Roadster S is a high-performance iteration of the pre-facelift Z4 introduced at the 2003 Frankfurt Motor Show. Manufactured by German automobile manufacturer Alpina, the Roadster S was assembled at the manufacturer's Buchloe plant from body-in-white sent by the Spartanburg BMW factory. The Roadster S was produced for two years (2004 to 2005) before production was halted due to stricter emission regulations stopping engine supplies. The Roadster S was available in two trims, those being Standard and Luxury with the Luxury trim adding more creature comforts and bigger wheels over the Standard trim. The car had a claimed top speed of 272 km/h (169 mph) and accelerated to 97 km/h (60 mph) from a standstill in 5.1 seconds.
Concept Coupé Mille Miglia (2006)[edit]
Concept Coupé Mille Miglia 2006 at the BMW Museumin Munich
The Concept Coupé Mille Miglia is a concept car inspired by the BMW 328 Mille Miglia Touring Coupé. It was unveiled at the 2006 Mille Miglia rally in Italy.[40]
Using the Z4 M Coupé's mechanical components, the concept car is 23 cm (9 in) longer, 14 cm (6 in) wider but 4 cm (2 in) flatter than the Z4 M Coupé. Other features of the concept car include 20-inch alloy wheels with 245/40R20 tyres, permanently integrated sidewalls, swing-up cockpit, an LED headlight panel, silver-coloured carbon-fibre reinforced plastic body and an interior constructed from stainless steel, untreated cowhides and Lycra fabric.[41]
The vehicle was designed by Anders Warming.[42]
Model year changes[edit]
2005[edit]
Four-cylinder model (2.0i) introduced.
2006 facelift[edit]
Convertible (facelift)
Coupe (facelift)
The Z4 facelift (also known as LCI) models were launched at the 2006 North American International Auto Show in Detroit.[43] The major changes were:
Introduction of Coupé models.
Introduction of the M Roadster, powered by the S54 straight-six engine (the M Coupe began production a few months later, in April 2006)
Discontinuation of the 2.2i model.[44]
Six-cylinder engines (aside from the M Roadster) upgraded from the M54 to the N52.
Revised headlights, front bumper and tail lights.[45]
Availability of the six-speed automatic transmission.
Inclusion of the six-speed manual transmission as standard equipment on all models.
Production[edit]
Over the Z4's life cycle, 197,950 vehicles had been produced, with 180,856 roadsters and 17,094 coupés.[46]
The last of the first-generation Z4 (Z4 3.0si Roadster in Space Grey) rolled off the production line on 28 August 2008.[47]
Roadsters[edit]
The Z4M Roadster had a total worldwide production of 5,070, including 3,042 cars for the North American market.[48]
Coupes[edit]
The worldwide model breakdown for the E86 Coupe over its life cycle (2006–2008) is 12,819 Z4 3.0si coupés, and 4,275 Z4M coupés.[49][50] Even from its introduction in 2006, the Coupé was relatively rare: In its first 13 months on the market, the roadster outsold it at a ratio of 7 to 1.[51] For the UK 3.0si coupe model, 1598 cars were produced with an manual transmission and 1998 cars with an automatic transmission.[52]
The North American (United States and Canada) production total for coupe models is 3,919, comprising 1,815 M-Coupes[50] and 2,104 were the 3.0si Coupes. Of the 2,104 3.0si Coupes produced for the North American market, 1,276 were automatics and 828 were manual transmission; the Z4M was only available with a manual transmission.[53]
In North America, the 3.0si coupe was only available for sale in the United States although a number were imported into Canada from the US.
The yearly breakdown of North American market coupe production totals are as follows:[54]
| Year | 3.0si coupes | Z4M Coupes |
| --- | --- | --- |
| 2006 | 348 | 380 |
| 2007 | 1,280 | 1,187 |
| 2008 | 476 | 248 |
Motorsport[edit]
Endurance racing[edit]
BMW Z4 M Coupé of Petronas Syntium team at the 2008 Merdeka Endurance Race
Dieter Quester, Dirk Werner, Jamie Campell-Walter and Tim Mullen won the Silverstone Britcar 24-Hour race with a BMW Z4 M Coupé.[55] The unit of the racing version is a modified version of the S54B32 3.2-litre straight-six engine, producing approximately 294 kW (394 bhp). The car is made by BMW's M Division and called the Z4 M Coupé Motorsport.[56]
In the 2008 Super Taikyu Endurance Series in Japan, the Petronas Syntium Team entered two Z4M cars.[57] The cars dominated the series by taking first and second at every race, finishing the Super Taikyu 1 class in first and second place to win both the championship and drivers title. The Petronas Syntium Team earned 277 points, compared to the next placed team on 98 points.[58] The cars were driven by established and popular drivers such as Fariqe Hairuman, Nobuteru Taniguchi, Masataka Yanagida, Manabu Orido and father and son pairing of Hans-Joachim Stuck and Johannes Stuck.[59]
The team of Bas Leinders secured pole position at the 2011 24 Hours of Spa in their Z4.[60] This team did not finish, however the Z4 of Dirk Werner came 2nd in the race.
Super GT[edit]
In August 2008, a modified Z4 debuted in Round 6 of the Super GT season,[61] marking BMW's return to the series after the M3 was retired from the JGTC series. It was run by the Studie team and participated in the GT300 class. The car was powered by a detuned version of the S62 V8 engine from the E39 M5. The Z4 competed in the 2009 Super GT season (aside from than Sepang Race),[62] and they would replace their H-pattern to a sequential transmission, as well as their S62 Engine with an S65B40 after race 3, after they had suffered an unrepairable engine blow in race 2 at Suzuka.[63] The car was retired at the end of the 2009 season, with its E89 Z4 GT3 successor making its debut in the 2010 season.[64]
References[edit]
Sours: https://en.wikipedia.org/wiki/BMW_Z4_(E85)
BMW Z4M Coupe - Forgotten Gem - Everyday Driver Fast Blast Review
We've been waiting for the M division of BMW to work its magic on the Z4 roadster since the two-seater debuted in '03. We spent 40,000 miles with a 2003 Z4 3.0-liter, and when we weren't exasperated by the dimwitted Sequential Manual Gearbox (SMG) and harsh ride, we imagined what the angular and chiseled droptop might be like with the M3's high-revving 333-hp inline-six. Apparently, the M guys were thinking the same thing but were too busy developing the V-10-powered 500-hp M5 and M6 to have time to perform what essentially turned out to be a sex-change operation on the Z4 roadster. We spent a day with the post-op Z4 M roadster in the south of Spain, and we can report that the surgery has been a success.
When the M5 debuted, we noted the M division had left many of BMW's latest innovations on the shop floor. Fine with us -- we didn't miss any of them. M cars are purged of run-flat tires, active steering, electric power steering, and active anti-roll bars. The Z4 M roadster does the other M cars one better by not even offering SMG. A traditional six-speed manual gearbox borrowed from the M3 is the only way the roadster will be sold. In the Z4, the gearbox benefits from shorter throws and a more direct feel. But it was the improved ride, which could likely be traced to conventional, non-run-flat tires, that we immediately noticed. Over the road the Z4 M roadster is more compliant and composed and less jarring than the base run-flat-equipped Z4 with 18-inch wheels. That and the absence of SMG had us already falling for the M roadster, and we hadn't even zinged the inline-six to its 7900-rpm power peak.
In the move to the Z4's engine bay, three horsepower were lost. However, 330 horses made the move as well as 262 pound-feet of torque. If you're thinking of slipping into something black to mourn the three-horse loss, this would be a good time to point out that the engine has roughly 200 fewer pounds to deal with here than it does in the M3 coupe. We expect the 330-hp roadster will accelerate from 0 to 60 in about 4.5 seconds, 0.3 second faster than the last M3 we tested and more than a half-second faster than a Porsche Boxster S.After sitting all night in the cold, the Z4 M roadster takes a few minutes of driving for the mighty 3.2-liter to gradually awaken. As the engine oil warms, the adaptable redline that is present on all M-tweaked tachometers advances until it reaches 8000 rpm. Despite that high redline and elevated power peak (only 100 rpm shy of the redline), the 3.2-liter is flexible and willing to pull hard from just about any place on the dial and in any gear. A new exhaust system gives the Z4 M roadster a mellower and deeper voice than the M3's metallic and comparatively shrill tone. With the top down, the difference is immediately appreciated. With the top up, the engine sounds a bit grittier, louder -- and, yes, better -- than last year's 3.0-liter inline-six. The M guys must have scoffed at the idea of the silly subwoofer tube that connected the intake manifold to the fire wall to amplify the engine's sound; they have their own ways of making engines talk.
On the racetrack in Jerez, Spain, the M roadster showed itself to be a willing partner. There's more understeer in the chassis than in, say, a Honda S2000, but the M-tuned Z4 is at home on the track. Should you choose to switch off the stability control, the chassis will never surprise or commit any embarrassing faux pas. Huge cross-drilled rotors borrowed from the M3 Competition package measure 13.7 inches up front and 12.9 inches in back. Clamped by large single-piston calipers, the brakes slow the two-seater with alarming force and offer pedal feel that is good if not quite up to Porsche standards.
Acceleration out of a corner is drama-free, thanks to 255/40R-18 rear tires on nine-inch-wide wheels and the M3's beefy limited-slip differential that keeps you from spinning the inside rear tire. Another component shared with the M3 is the machine-shop- accurate hydraulic rack-and-pinion steering system that replaces the standard Z4's lighter-effort electrically assisted unit. Inside, a thick-rimmed leather-wrapped steering wheel does a good job of letting your hands know what the front tires are going through, but again, a Boxster's wheel manages to transmit more information, all of which you'll want to hear.
If you've ever sat in a Z4, the M version will be immediately familiar. In the M roadster, as in the Z4, you sit low and far back in the car behind a long hood and practically atop the rear wheels. This seating position gives the illusion of being in a larger vehicle than, say, a Boxster. In reality, the Boxster is nearly a foot longer than the BMW roadster. Special trim inside distinguishes the M from lesser Z4s. Leather that mimics the weave of carbon fiber graces the dash, and there's also the option of extended leather ($2700) that covers most of the interior in cowhide.
BMW set the $51,995 base price of the Z4 M roadster above that of the $49,595 M3, which will soon be going out of production, to be replaced next year by a 4.0-liter V-8 M3, but the roadster is less pricey than a $55,495 Boxster S. If you look at the specifications of both cars, the BMW with its spectacular engine wins out. However, aside from the BMW's engine, the Porsche still offers a more satisfying and sporting driving experience.
Specifications
VEHICLE TYPE: front-engine, rear-wheel-drive, 2-passenger, 2-door roadster
BASE PRICE: $51,995
ENGINE TYPE: DOHC 24-valve inline-6, aluminum block and head, port fuel injection
Displacement: 198 cu in, 3246cc
Power (SAE net): 330 bhp @ 7900 rpm
Torque (SAE net): 262 lb-ft @ 4900 rpm
TRANSMISSION: 6-speed manual
DIMENSIONS:
Wheelbase: 98.3 in Length: 161.9 in
Width: 70.1 in Height: 51.3 in
Curb weight: 3200
PERFORMANCE RATINGS ( C/D EST):
Zero to 60 mph: 4.5 sec
Standing ¼-mile: 13.3 sec
Top speed (governor limited): 155 mph
PROJECTED FUEL ECONOMY (MFR'S EST):
EPA city driving: 16 mpg
EPA highway driving: 24 mpg
ExpandCollapse
This content is created and maintained by a third party, and imported onto this page to help users provide their email addresses. You may be able to find more information about this and similar content at piano.io
Sours: https://www.caranddriver.com/reviews/a18202024/2006-bmw-z4-m-roadster-first-drive-review/
Coupe specs z4m
BMW Z4 M Roadster review - price, specs and 0-60 time
Can a car be too accomplished for its own good? It's a question that you sense may become more of an issue over the next few years. With tyre technology growing ever more sophisticated, the common use of constantly variable dampers and the massive advances in electronic control systems, you have to wonder if cars are going to be too grippy, too controlled and too efficient at the simple job of getting from A-to-B as quickly as possible to allow us to gain any enjoyment from extracting their full potential. Well, if the worst happens there will always be the new Z4 M Roadster to remind you just what it means when you put 338bhp through the rear wheels of a compact roadster...
Engine, performance and 0-60 time
It's not that the M Roadster isn't sophisticated - it's got all the abbreviations you'd expect of a modern BMW, from ABS to DSC via EBD, ASC and EDR. Thankfully, though, you'd never guess it when you're in the hot seat, metering out the massive performance served up by its searing straight-six.
The numbers are compelling. The 3.2-litre M Power engine produces exactly the same stats as it does in the sublime M3 (in the Z3 M a different exhaust system saw it lose a few bhp), which means 338bhp at a heady 7900rpm and 269lb ft at 4900rpm. Unfortunately, at 1485kg the M Roadster is just 85kg lighter than the four-seat M3. However, the claimed 0-62mph time is still just 5.0sec, enough to see off a Boxster S.
Perhaps more important than the bald performance figures is the lap time set at the Nurburgring. At 8min 15sec, the Z4 M is said to be significantly quicker than the bigger coupe from which it borrows its engine and gearbox, and the M Division engineers state that it's 'completely different from the old Z3 M, much more responsive and consistent'. Its predecessor always felt like a bit of a hot rod. It was great fun, but it wasn't the most polished product ever to leave the hallowed M works. The Z4 M Roadster is a more serious attempt at bringing the M Power ethos into the roadster market.
What's it like to drive?
We're in south-western Spain, home of the fantastic Jerez race circuit and smooth, EU-funded roads that sweep across the varied landscape nearby. Within 100 yards or so of the jagged access road leading to the circuit you can see why BMW chose a route consisting mainly of smooth tarmac. The Z4 M feels very stiff. The front 225/45 ZR18 Continental tyres follow every rut or camber, and sharp ridges not only kick back through the steering, but also knock the car off line.
A Porsche Boxster would sail over similar terrain without so much as a shimmy, but the trade-off means that the Z4 M feels sharp, eager and uncompromisingly steely edged. The structure itself never even hints at a wobble.
The throttle response sends out a similarly extreme vibe: every tiny input is rewarded with soaring revs and a shove in the back. Hit the Sport button and the response is positively hyperactive. I left it alone, finding the Z4 M almost impossible to drive smoothly with Sport selected.
Okay, now for the bit where I moan about the brakes. It's predictable, I know, but it has to be said. The Roadster's set-up is borrowed from the M3 CSL, and despite huge cross-drilled discs (345mm at the front, 328mm at the rear) the initial bite feels a bit hollow, and after just 10 minutes of fast road driving they're squealing horribly. The single-piston callipers don't seem up to the job. To be fair they don't ever fade hugely, but they lack feel, progression and above all reassurance - something you really want on an unfamiliar road and with that straight-six screaming towards the red line.
That engine is, of course, the defining feature of the Z4 M. It has the same trebly, metallic shriek that makes the M3 so satisfying, only the noise is notched up a level and you feel more in touch with the engine's every movement, especially with the neat electric hood stowed away. To be honest some people might find it slightly too intrusive, but its angry cry complements the uncompromising chassis perfectly.
Speaking of which, the few poor surfaces that we encountered really upset the Z4 M's composure. It could turn out to be a handful on Britain's ancient, crumbling tarmac, but on smooth, sweeping roads it feels great. There's plenty of bite on turn-in and you can feel the car's balance shifting as you spot the exit and really get on the throttle, mild understeer bleeding away as you start to smear the rear rubber into the road.
However, it takes a little time to gain the confidence to really grab the Z4 M by the scruff of the neck, simply because the steering, although well-weighted, is essentially lacking in feel. And this despite the M Division ditching the regular Z4's electric power steering system for a more traditional hydraulic set-up.
Out on the fabulous Jerez circuit, the dull steering doesn't really dent your progress, but the Z4 M's quite pronounced understeer does. If you misjudge your entry speed it's not easy to rein it in and exit the corner cleanly. Through the slower corners particularly you have to work hard to keep it neat and tidy. The slick six-speed 'box works brilliantly, though, and the engine feels mighty, although strangely it seems to lack that last degree of fizz and crackle of recent M3s we've driven.
With experience you can negate the push with a big lift as you turn in. That gets the tail moving pretty quickly and you need to be decisive with your steering input to catch it. When you do, though, the six-cylinder's huge rev-range (there's useful power from 3000rpm to the cut-out at 8000rpm) means you can tease out slides for... well, forever. Or until a rear tyre shreds itself to pieces.
So, the Z4 M isn't perfect. You need to work at it to make it really sing, and the stiff ride and aggressive throttle response mean you never forget that you're driving something with a very bad attitude. But that's the appeal I suppose. If a Boxster S is too complete for you, and a TVR or Marcos too big a leap into the unknown, then you should be thinking very seriously about trying a Z4 M.
Price and release date
The BMW Z4 M Roadster is available now from £42,750.
Specifications
| | |
| --- | --- |
| Engine | In-line 6-cyl, 3246cc, 24v |
| Max power | 338bhp @ 7900rpm |
| Max torque | 269lb ft @ 4900rpm |
| 0-60 | 5.0sec (claimed) |
| Top speed | 155mph (limited) |
| On sale | Now |
Share this on TwitterShare this on FacebookEmail
Sours: https://www.evo.co.uk/bmw/z4/6386/bmw-z4-m-roadster-review-price-specs-and-0-60-time
The Best BMW You've Never Heard Of - Slip Angle Spotlight
Back in 1998, BMW Motorsport stuffed a big straight-six into an oddly-shaped coupe and created a legend. In recent years that car, the Z3-based M Coupe, has skyrocketed in value, but its successor Z4 M Coupe hasn't enjoyed the same attention. That's odd because other than looks, the Z4 M Coupe basically employs the same exact formula as the breadvan. It's got a big straight-six up front, two seats, an ultra short wheelbase, a stiff chassis, and a manual gearbox.
That engine, BMW's famous naturally aspirated S54 straight-six, is a legend too. Developed for the much-loved E46 M3, this engine displaces 3.2 liters, makes 333 horsepower and revs to an incredible 8000 rpms. With BMW abandoning naturally aspirated engines entirely, the Z4 M's six is a wonderful throwback.
The guys at Everyday Driver on YouTube also found that the Z4 M Coupe handles beautifully. Credit its increased torsional stiffness over the roadster it's based on, and its short wheelbase. Unfortunately, the same qualities that make the Z4 M good on a mountain road make it a harsh daily driver.
But, if you're looking for a fun weekend toy that's unlike any BMW on sale today, the Z4 M Coupe is worth a gander—especially considering the fact that it's much cheaper than the older M Coupe too.
This content is imported from YouTube. You may be able to find the same content in another format, or you may be able to find more information, at their web site.
This content is created and maintained by a third party, and imported onto this page to help users provide their email addresses. You may be able to find more information about this and similar content at piano.io
Sours: https://www.roadandtrack.com/new-cars/future-cars/a12838837/how-does-the-bmw-z4-m-coupe-hold-up/
Similar news:
BMW Z4 M Coupé (E85) 343 PS (2006-›2009) Technical Specifications and performance figures
Specs BMW Z4 M Coupé 343 PS
Other engine technical information
Torque motor reserve ˜ 20 %
Specific power ˜ 0.53 kW/cm²
Total bore area ˜ 356.7 cm²
Brake mean effective pressure ˜ 14.1 bars
Mean effective pressure ˜ 13 bars
Mean piston speed ˜ 24 m/s
Engine optimisation rating ˜ 96 %

Longitudinal Front Engine 6 cylinders in line 3246 cm³24 valves multiple injection
Power : 343 PS (252 kW / 338 bhp) at 7900 rpm (Max rev 8200 rpm)
BMW Z4 M Coupé 343 PS -> https://zeperfs.com/en/fiche1530-bmw-z4-m-coupe.htm 92.51.5.193
Torque : 365 Nm (37.2 mkg / 269 lb-ft) at 4900 rpm (~ 255 PS)
Ratios : 106 PS/L (78 kW/L) - 112 Nm/L

Torque & power curves

Transmission : Rear Wheel Drive + limited slip differential
Gearbox: manual 6 gear
Tires : 225/45/18 Front - 255/40/18 Rear
Brakes Front : Ventilated drilled discs (345mm) single piston floating calipers
Brakes Rear : Ventilated drilled discs (328mm) single piston floating calipers
Dimensions : 161.9x 70.1x 50.7inches
Wheelbase : 98.3 inches - Track : Front 58.5 inches / Rear 59.7 inches
Weight claimed : 1495 kg / 3296 lb (EU)
Weight (EU) : 1574 kg / 3470 lb
(heaviest verified in running order)
Weight/Power ratio : 4.6 kg/PS = 10.3 lbs/hp = 160 kW/T
Torque/Weight ratio : 232 Nm/T
Fuel consumption: economy 12.1 L/100 (19.4mpg)- sport 18.4 L/100 (12.8mpg)
CO² rejection : 292 g/kmG
Indicative base price : ~59 600 € (~ 69 900 € actuels)
Launching year 2006, 2007, 2008, 2009 end of production
The BMW Z4 M Coupé has a naturally aspirated six cylinders in line longitudinal front engine providing a maximum torque of 365 Nm available from 4900 rpm and a maximum power outpup of 343 PS available at 7900 rpm transmitted to the 18 inch rear wheels by a manual 6 speed gearbox.
if a specification seems to be wrong, please tell us
BMW Z4 M Coupé 343 PS
Performance BMW Z4 M Coupé 343 PS
158 results returned from 11 Sources : Action Auto Moto, Auto, Auto Bild, Auto Motor & Sport, Auto Zeitung, AutoCar, Car & Driver, Le Moniteur Automobile, Revue Automobile Suisse, Road & Track, Sport Auto
Averages of referenced test measurements
Max Real Speed
250 km/h limited
2ƼЗ kph
~284 kph without limiter
7 values

Accelerations
400m
1,1З'6,0.2,1s.
6 values

Km23.7 s. claimed
1,24'З,0.1,1s.
6 values

0 to 40 kph
2,1'6,4.7,2s.
3 values

0 to 50 kph
2,2'1,6.6,2s.
3 values

0 to 60 kph
2,2'Ƽ,0.3,2s.
3 values

0 to 80 kph
2,З'8,0.4,2s.
6 values

0 to 100 kph5 s. claimed
3,Ƽ'2,0.2,3s.
12 values

0 to 120 kph
3,7'0,0.4,3s.
4 values

0 to 130 kph
3,8'2,5,3s.
4 values

0 to 140 kph
3,8'9,0.5,3s.
4 values

0 to 160 kph
3,11'7,0.5,3s.
9 values

0 to 180 kph
3,14'8,0.6,3s.
6 values

0 to 200 kph
3,18'2,0.3,3s.
5 values

0 to 240 kph
3,З4'7,4.2,3s.
1 value

Flexibility
60 to 90 in 2
4,2'0,7.5,4s.
1 value

60 to 90 in 3
4,2'8,0.6,4s.
1 value

60 to 90 in 4
4,4'1,0.7,4s.
1 value

60 to 90 in 5
4,Ƽ'З,0.7,4s.
2 values

60 to 90 in 6
4,7'0,0.8,4s.
2 values

60 to 100 in 4
5,Ƽ'0,4.1,5s.
1 value

80 to 100 in 4
5,2'7,4.3,5s.
2 values

80 to 100 in 5
5,З'4,4.3,5s.
2 values

80 to 100 in 6
5,4'6,4.4,5s.
2 values

80 to 120 in 4
5,Ƽ'2,0.9,5s.
4 values

80 to 120 in 5
5,6'Ƽ,1,5s.
4 values

80 to 120 in 6
5,8'6,1,5s.
5 values

80 to 140 in 4
5,7'9,1.1,5s.
2 values

80 to 140 in 5
5,10'4,1.2,5s.
2 values

80 to 140 in 6
5,14'1,1.2,5s.
2 values

80 to 160 in 4
5,10'7,4.4,5s.
2 values

80 to 160 in 5
5,14'0,4.5,5s.
2 values

80 to 160 in 6
5,19'З,4.5,5s.
2 values

80 to 180 in 4
5,1З'8,6.1,5s.
2 values

80 to 180 in 5
5,17'8,4.6,5s.
2 values

80 to 180 in 6
5,24'8,4.6,5s.
2 values

90 to 120 in 5
5,Ƽ'4,1.6,5s.
1 value

90 to 120 in 6
5,6'6,1.7,5s.
1 value

100 to 130 in 3
6,2'8,5.2,6s.
1 value

100 to 130 in 4
6,З'9,5.2,6s.
1 value

100 to 130 in 5
6,Ƽ'З,5.3,6s.
1 value

100 to 130 in 6
6,7'1,5.3,6s.
1 value

100 to 140 in 4
6,Ƽ'0,3.6,6s.
1 value

100 to 140 in 5
6,6'4,3.7,6s.
1 value

100 to 140 in 6
6,8'Ƽ,3.7,6s.
1 value

130 to 160 in 3
6,З'Ƽ,7.4,6s.
1 value

130 to 160 in 4
6,4'1,5.4,6s.
1 value

130 to 160 in 5
6,Ƽ'З,5.4,6s.
1 value

130 to 160 in 6
6,7'6,5.5,6s.
1 value

160 to 190 in 5
6,Ƽ'9,5.7,6s.
1 value

400m from 40 in 5
7,17'2,2.6,7s.
1 value

400m from 40 in 6
7,19'1,2.7,7s.
1 value

Km from 40 in 5
7,29'8,2.9,7s.
1 value

Km from 40 in 6
7,ЗЗ'4,3,7s.
1 value

Braking
100 to 0
12,ЗƼ'7 m.
9 values

120 to 0
12,Ƽ4'0 m.
1 value

130 to 0
12,66'0 m.
1 value

200 to 0
12,14Ƽ'4 m.
2 values

Kph as default unit
Fastest laps times on tracks
Bedford Autodrome West 1.7 mi
1:27.10113.1 kph
Hockenheim short
1:17.20121.4 kph
Serres Racing
1:36.20119.2 kph
Virginia International Grand West 4.1mi
3:11.70123.9 kph
Real speed measurements implying differences with what can be seen on car's speedometer.
Navigate BMW Z4 M Coupé 343 PS
Sours: https://zeperfs.com/en/fiche1530-bmw-z4-m-coupe.htm
435
436
437
438
439