Fence sizes
What a standard fence dimensions?
Typical height of a fence
Depending on a fence type, design and materials used for building fence actual measurements can vary from less than one foot to 8' – 10' in height and from ½" (12.7 mm) or even thinner to 10 – 15 inches or even thicker in thickness. While accurate specification of fence might be useful for building purposes height is the most important factor affecting the design and fence practical performance.
Standard fence height
Most prefabricated fence panels or boards made of wood, vinyl, aluminum or composite materials come from manufacturers in four different heights: 36" (0.91 meter), 48" (1.2 m.), 72" (1.8 m) and 96" (2.4 m). Other fence sizes including 42", 60" or 84" available on the market as well, but they are not typical and rather rare than standard heights. Custom on-site build fence can be made any height as long as dimensions won't be restricted by local building codes.
Standard distance between fence posts
Most vinyl or wood fence panels are made 8' long and the actual distance between fence posts cannot be greater than 96". Some panels are 72" long in such case maximum space cannot exceed 6'. For chain link fence line posts normally set every 6' to 10' apart depending on the distance between terminal posts. While building a custom made or decorative fence actual sizes of fence materials will determine how far apart to place the posts, but typically most post for residential fences set every 6 – 8 feet. On the slope additional fence line posts might be necessary to install.
How deep fence posts should be in the ground?
Depth of a hole for setting the fence post into the ground will vary and depend on type of a soil, slope and fence type. But normally posts have to be set at 1/3 of their length in the ground. While digging the hole always account additional few inches for gravel at the bottom.
Fence posts dimensions
Pressure treated pine or cedar post for fences normally have 4" x 4" or 6" x 6" nominal dimensions and sold 6' or 8' long. Vinyl posts normally 4" x 4", 5" x 5" and 6" x 6" and length vary from 72" to 102". Line posts for chain link fences made of 16 gauge galvanized metal typically 1 5/8" or 2" in diameter. Round terminal posts are 2 ½" or 3" in diameter and 8' long.
Building codes, city regulations and purpose of a fence
Every city has its own regulation about building free standing structures on privately owned properties. Privacy fences normally restricted to maximum allowed height which typically 6' (1.8 m). But there are might be some exceptions. If the purpose of a fence is to protect the property from animals, serve as a security barrier or help to absorb the noise from a street traffic city can issue a permit for building other than standard size fence unless it will contradict with other city laws.
Dimensions of standard gates
Practical use and homeowner's preferences are the main factors which define the size of a gate. Walk through gates normally 36" in width minimum, but they can be built twice wider. Driveway gates might vary from 7' in width single swing design to 18'wide double gates.
Sours: http://www.rempros.com/dimensions/fence_sizes.html
Fence Material and Post Centers Calculator
To estimate the amount of fence posts, rails, pickets, and hardware you need, enter your fence length, number of rails, and picket dimensions. You'll also get a cost estimate for pressure treated wood, cedar, and redwood.
See below for information on various types of fences to help you and to learn how to calculate wood fence materials.
Material Estimate:
Estimated Material Cost:
*Estimates only - costs vary by location/vendor, selected material, and quantities.
---
---
SaveShareTweet
How to Estimate Privacy Fence Materials
Fences are a great way to add privacy, security, and decor to your property. They can be constructed from a variety of materials including wood, metal, vinyl, and stone.
Interested in installing a vinyl fence? Our vinyl fence calculator can help calculate materials.
The type of material you choose depends on its purpose and the style you prefer. Wood fences are great for adding privacy and security and are commonly preferred for their style and affordability.
Get Free Project Estimates
Find Qualified Fence Professionals in Your Area
When building a wood fence, you'll need to determine what lumber and hardware you need and how much of each. For most wood fences you need posts, rails, pickets, and nails or screws.
You may also need gate hardware, post caps, stain or paint, lighting, or other materials depending on the style you choose.
Some concrete and the tools to mix and pour it will also be needed to set the posts. Use our post concrete calculator to estimate the amount of concrete you need for your fence posts.
How much material you need to build your fence depends on the style you want. Once you've chosen a style, you can enter your total length and rail and picket specs into the wood fence calculator above to get an estimated bill of materials.
The calculator will estimate how much lumber you need to construct your fence, including the number of posts, rails, pickets, concrete, and nails/screws.
Continue reading to learn how to make the calculations yourself.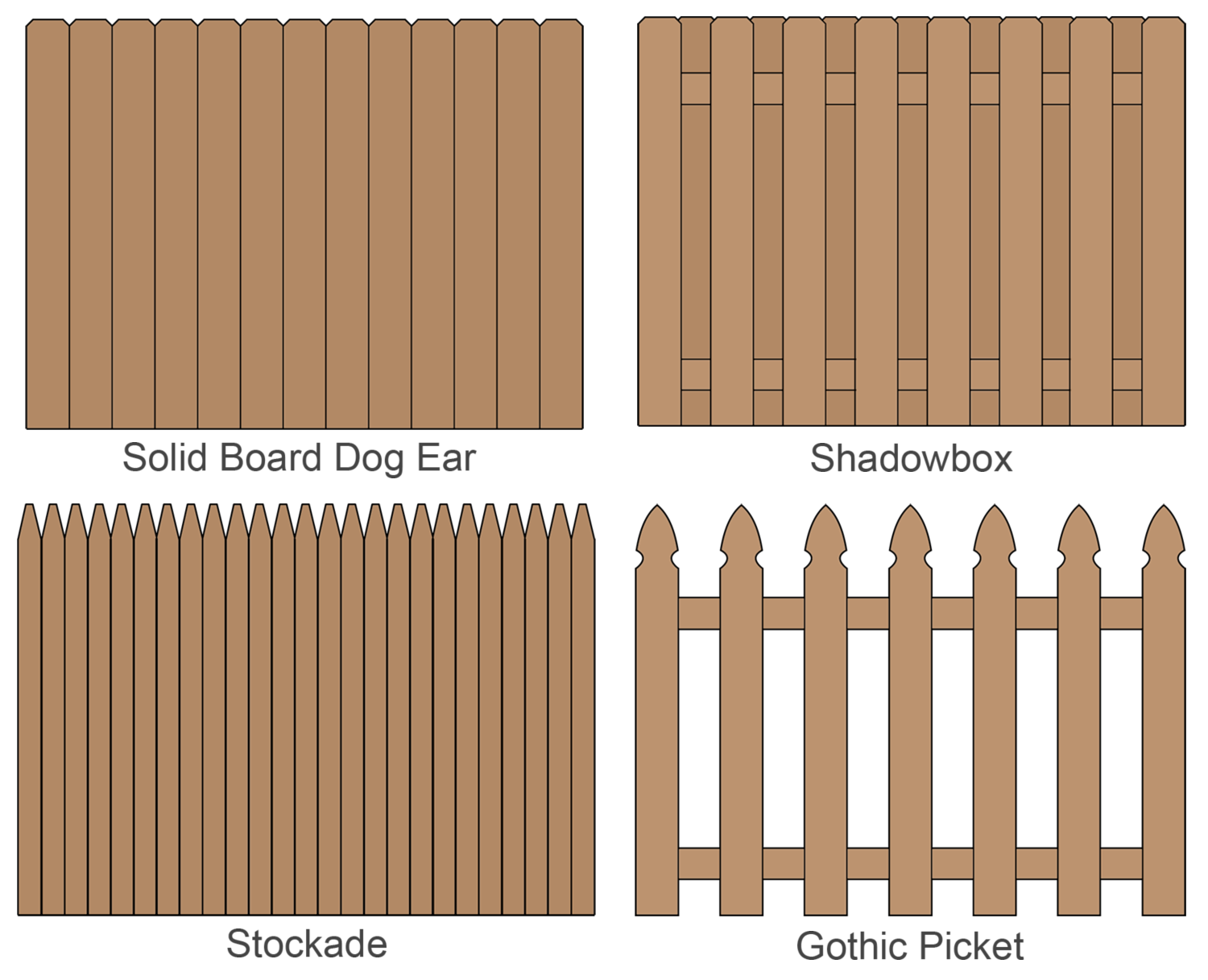 How Many Posts Are Needed to Build A Fence
The first step in figuring out how much wood is needed to build a fence is to measure the length. Given the total length, you can estimate the number of posts you need.
Posts are typically 8 feet apart. So, divide the length by 8′ and round up to get the number of sections. Then, add 1 to account for the last post.
For example, let's find how many posts are needed for a fence with a planned length of 100 feet.
(length in ft. ÷ 8′) + 1 = posts
(100′ ÷ 8′) + 1 = posts
(12.5) + 1 = 13.5 posts
Round up to get 14 posts needed.
How Many Rails Are Needed to Build A Fence
To calculate rails, decide the number of rails you want. This will vary by the style and height of the fence, but there should be at least two. Multiply the number of sections by the number of rails per section to find the total rails needed.
The number of sections can be found by subtracting 1 from the number of posts in the previous step.
For example, let's find how many rails will be needed for a 100′ fence with 14 posts. There will be two rails per section.
14 posts – 1 = 13 sections
13 sections × 2 rails = 26 total rails
How Many Pickets Are Needed to Build A Fence
To calculate pickets, decide the width and spacing of your pickets. Add the width and the spacing together to get the combined width.
Change the length of your fence to inches to match the picket measurements. Divide the fence length by the total picket width to get the number of pickets needed.
For example, let's find the number of pickets needed for a 100′ fence using a 5- ½" picket with a 2″ spacing.
5.5″ picket width + 2″ spacing = 7.5″ combined width
100′ length × 12″ = 1200″ length
1200″ length ÷ 7.5″ combined width = 160 pickets
Tips For Estimating Fence Lumber
We recommend ordering 10% extra lumber to account for cutoffs and waste. Posts are commonly constructed using 4×4 dimensional lumber, and rails are often 2×4.
Plan on ordering lumber to build gates as needed, including additional posts and hardware. Gate posts are usually 4×4 or 6×6 dimensional lumber.
How to Estimate Fence Price
The average fence costs $2000 to $8000 to install, depending on material, style, and length. Wood is often chosen for its durability, aesthetics, and affordability.
To determine a solid price estimate, decide on the fence style and type of wood you want and accurately estimate the amount of material needed. Common wood choices are pressure-treated wood, cedar, or redwood, and they vary in price considerably.
Use the calculator above to estimate quantities and costs for all three materials at once.
A home center or lumberyard can provide you with your local material costs. Ask for prices on 4×4s, 2×4s, and pickets in each wood you are considering. Also, don't forget to check the price of exterior screws and post-setting concrete.
Multiply the prices by the amount of material needed, then add them together to get a total estimated cost. We also suggest finding a local contractor to get a professional estimate for your project to find out precisely what it will cost.
Types of Lumber Needed For a Wood Privacy Fence
The types of lumber needed for a wood privacy fence will vary by its type and style. Some styles have two horizontal rails between the posts and others use 3, 4, 5, or more.
Most involve pickets—or sometimes rails—being placed so that they touch thereby blocking the view through the fence, while some have no pickets at all. Several of these styles are discussed below.
---
Estimate Solid Board Privacy Fence Material
A solid board privacy fence consists of 2 or 3 rails connected to posts with attached pickets that have no gaps between them. Pickets are usually 5-½" wide (thinner pickets are called "stockade" style; see below).
All the pickets are installed on the one side of the rails. So, you can see the rails on one side of the fence but not the other. The rail side is usually installed facing in. The other side is smooth and is usually public facing.
The exception is the framed style where the rails are located at the very top and bottom to "frame" the pickets. These rails are usually public facing. See popular solid board styles.
Use the following values for the form above to estimate:
Length: fence length
Rails per Section: 2 or 3
Picket Spacing: 0
Picket Width: 5.5″
See popular solid board styles.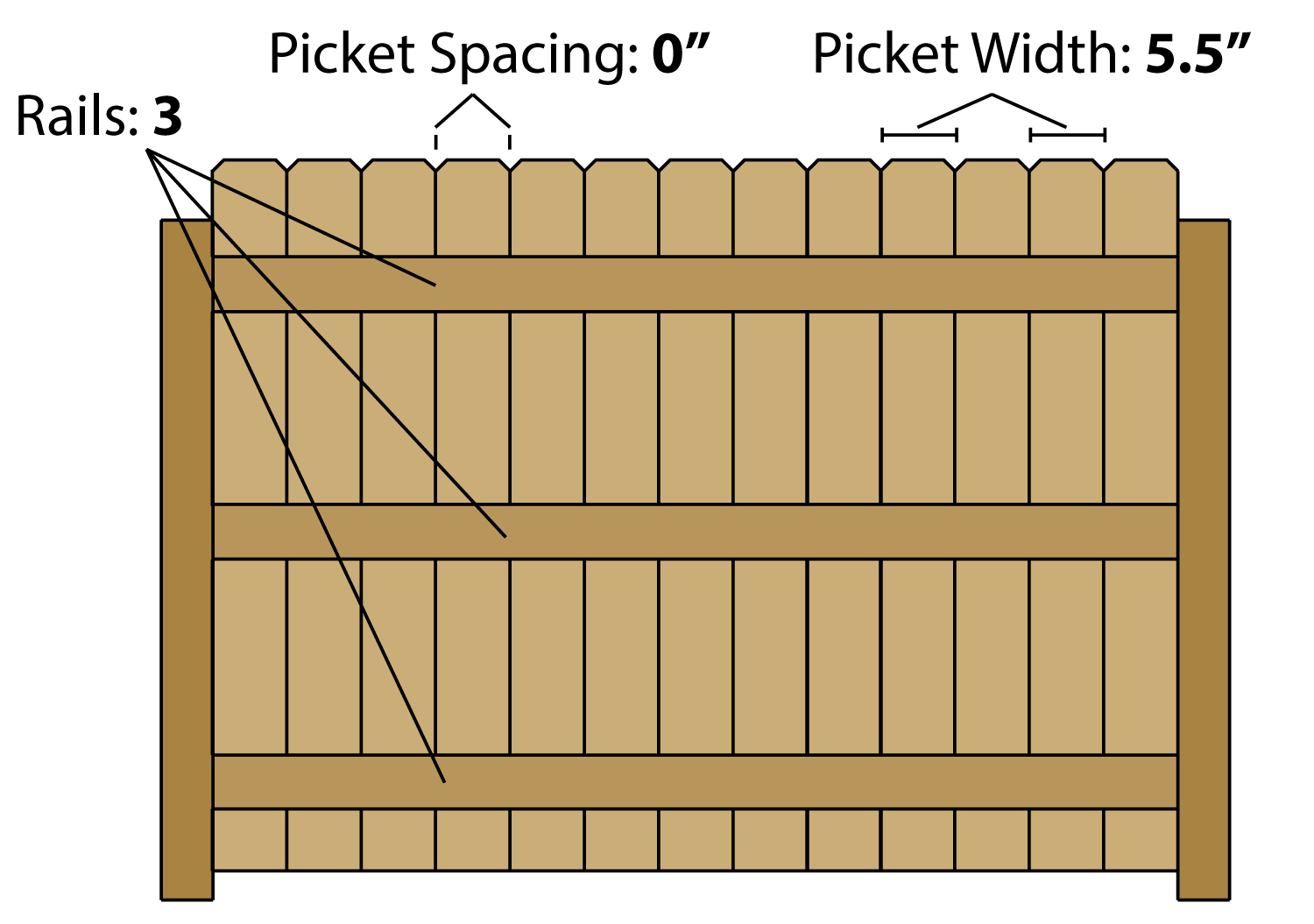 ---
Estimate Shadowbox Fence Material
A shadowbox fence is similar to the solid-board style except the pickets are installed on both sides of the rails with a gap between them. The pickets from one side are spaced so that they cover the space between the pickets from the other side. This creates a solid visual barrier.
Because pickets are mounted on both sides, the shadowbox style looks the same on each side.
Use the following values for the form above to estimate:
Length: fence length
Rails per Section: 2 or 3
Picket Spacing: -1″
Picket Width: 5.5″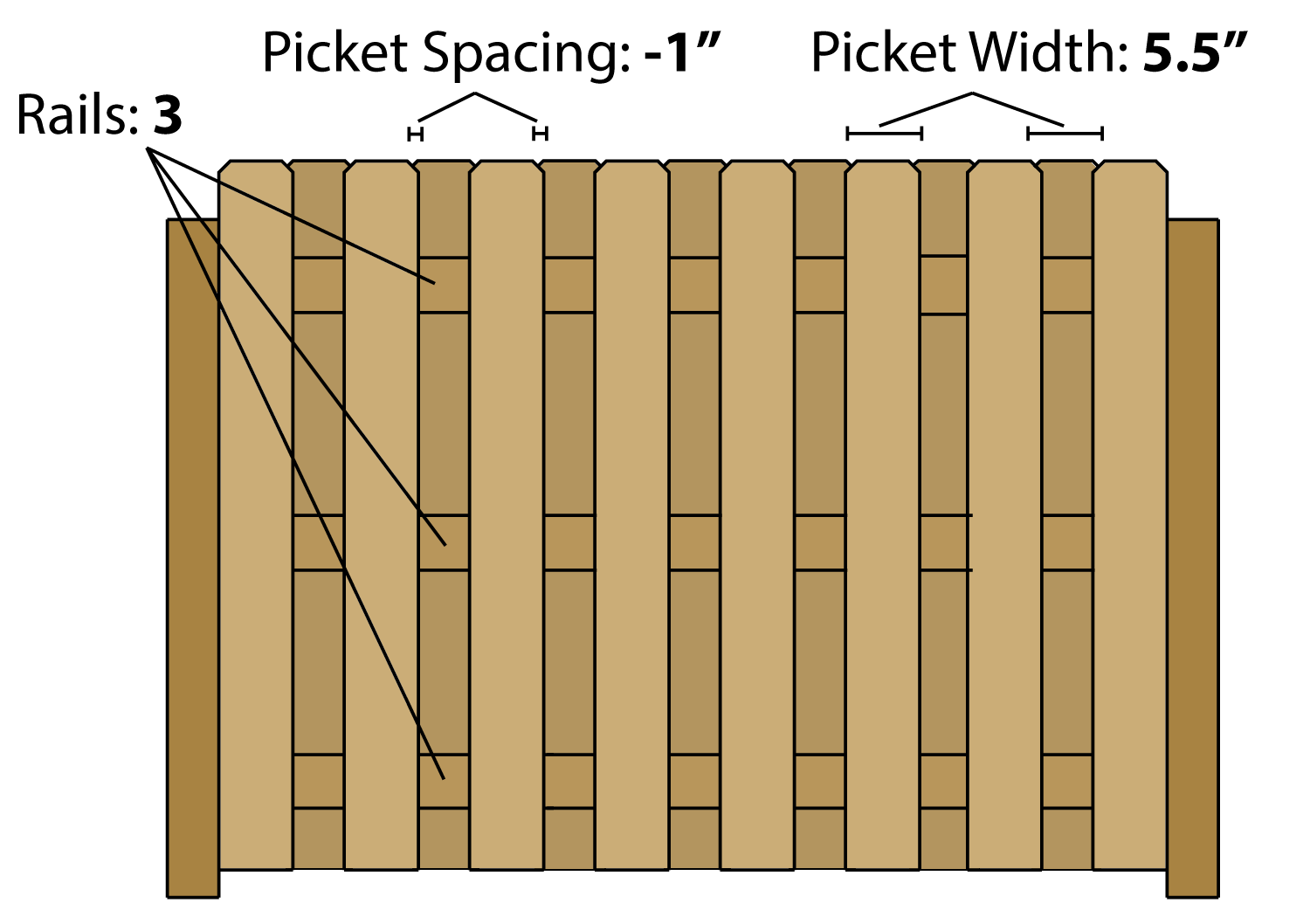 ---
Estimate Stockade Fence Material
A stockade style fence is identical to the solid-board fence except that 2-½" to 3-½" wide pickets are used to achieve the stockade look. Just like a solid-board fence, you will want to consider on which side you want the railings to show.
Use the following values for the form above to estimate:
Length: fence length
Rails per Section: 2 or 3
Picket Spacing: 0
Picket Width: 2.5″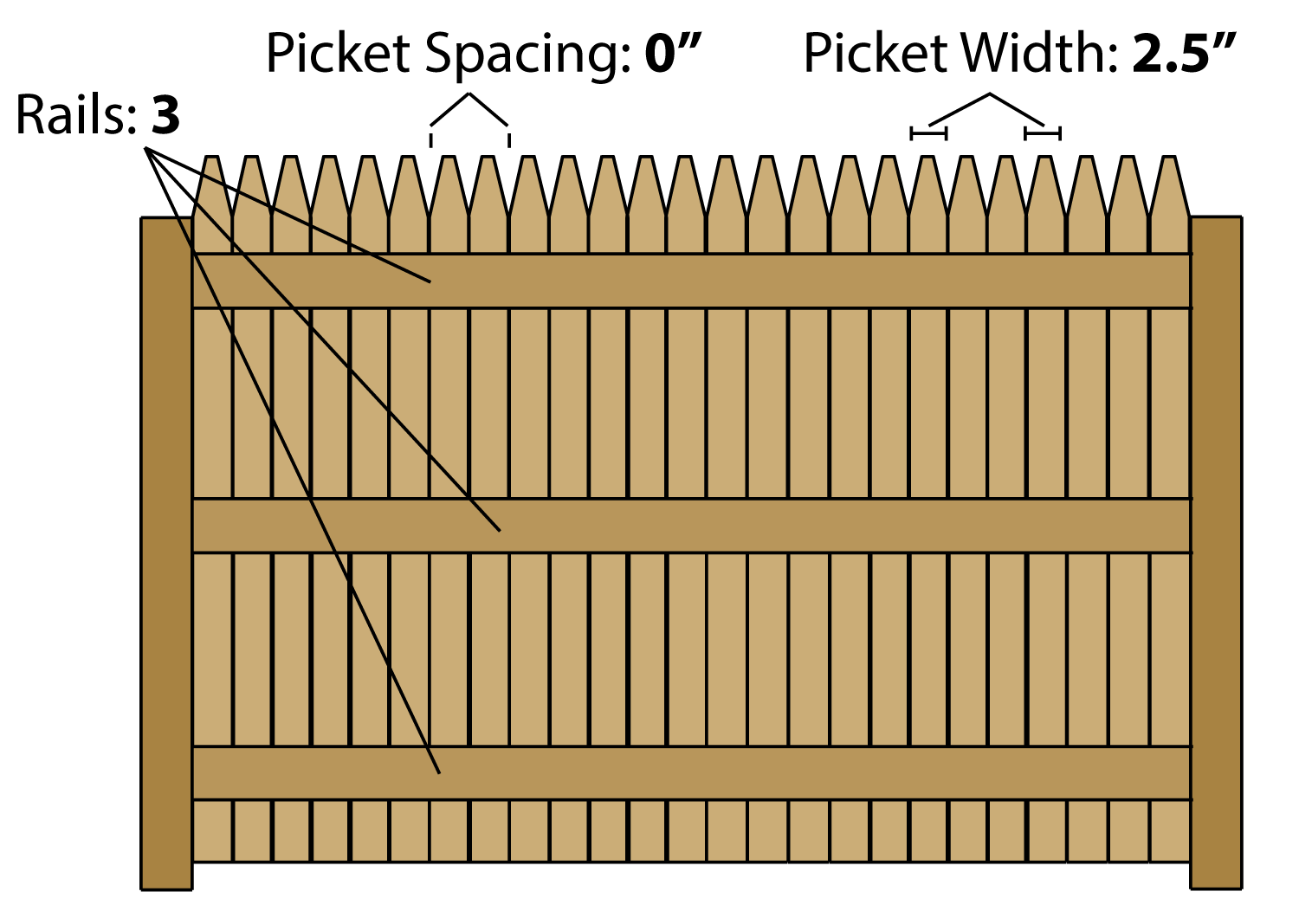 ---
Estimate Picket Fence Material
A spaced picket fence consists of posts with 2 rails and 2-½"-wide pickets that are spaced evenly with a gap. The gap is usually the width of a picket, though this can vary. All pickets are installed on the same side of the rails, typically on the public-facing side. There are many patterns for picket styles and spacing. See popular picket styles.
Use the following values for the form above to estimate:
Length: fence length
Rails per Section: 2 or 3
Picket Spacing: 3.5″
Picket Width: 3.5″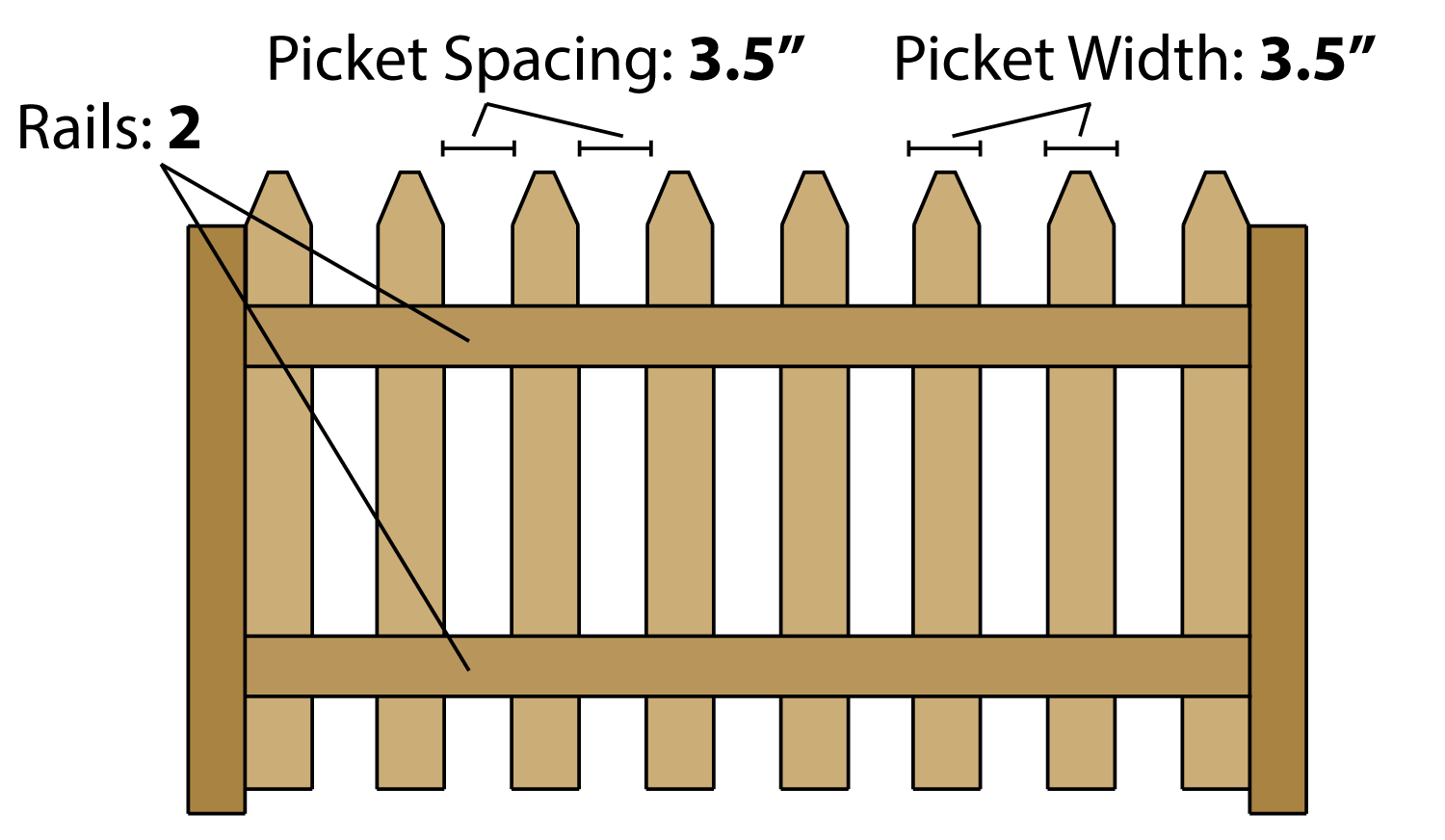 ---
Estimate Slip-Board Fence Material
A slip-board or estate fence consists of posts with 2, 3, 4, or more rails and no pickets. Traditional slip-board fences have three rails and are often constructed of unhewn, natural materials. Slip-board fences can also be built using dimensional lumber like those commonly seen for fencing horses. You may want to consider trying round posts and railings, tree saplings as rails, or using different sized boards to achieve different styles.
Use the following values for the form above to estimate:
Length: fence length
Rails per Section: 3
Picket Spacing (inches): 0
Picket Width (inches): 0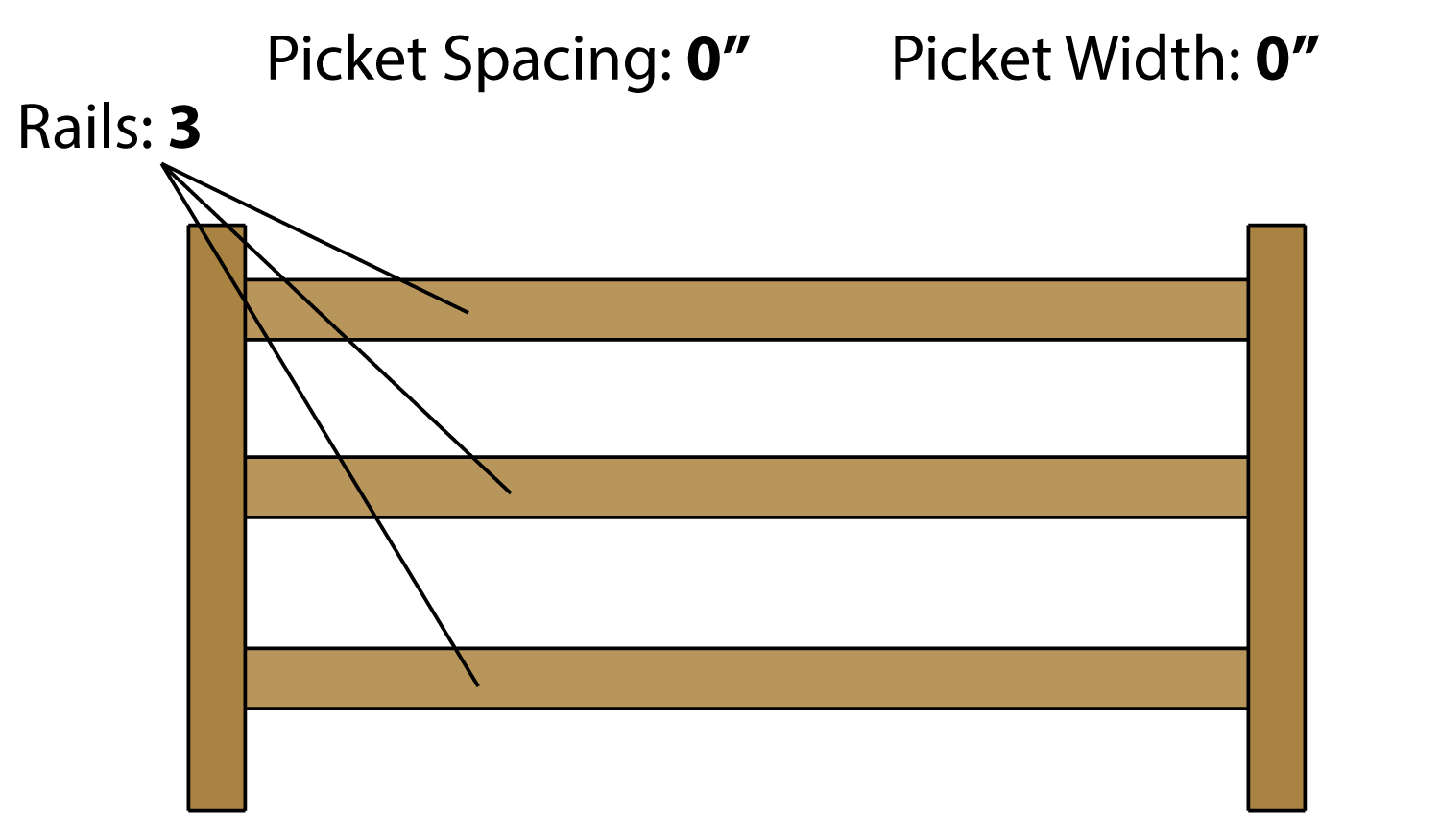 Next Step – After estimating materials, it's time to begin laying things out. Learn how to lay out a fence safely and efficiently, including how to avoid buried utilities, center your posts and panels, and get perfectly square corners.
Fence Construction Calculators
Sours: https://www.inchcalculator.com/fence-calculator/
Wood Fences
When many of us picture the American Dream, a wood fence is surely in the portrait. Beyond adding that sense of privacy we all want in our home, a new fence, no matter the material, increases the value of your home, deters intruders, keeps pets and children nearby and helps eliminate outside noise.
Why you install a fence is easy. How much wood fencing you need is another obstacle all together. Luckily, you've come to the right place. Use our wood fence calculator above to determine exactly how much wood you need for your new fence. Once you enter all your specs, you'll see how many post, rails and boards are required. Of course, these numbers will go a long way in determining your final wood fence installation cost.
Fence Calculation Tips
As you can see above, there are a lot of factors at play. To make it as easy as possible to calculate how much lumber you need for your new wood fence, keep the following fencing basics in mind:
Fence Posts: Posts are generally set 8 feet apart from each other.
Number of Posts = Fence Length/8.
Posts are typically sold in 8-foot or 16-foot sections.
Sections set longer than 8 feet apart will sag.
Rails: If the fence has rails, they should be 8 feet long and set between the posts.
Fence Height: Add 1/3 to the height of the fence because 1/3 of the fence should be buried for stability.
Ends: Unlike a corner, ends only have a single section of the fence leading into it.
Materials: Always buy 10% extra to ensure a single trip to the lumberyard. Of course, this affects your fence cost calculation.
Gates: You can buy gates premade or build one out of wood. Three feet is standard for walkway gates, but 5 feet is recommended.
Calculate How Much Lumber You Need for Your Wood Fence
If you're brand new to a wood fence installation, follow the steps below to ensure you buy the correct quantity of all materials:
1. Preparation: Check with your city so you know exactly where you can and can not install the fence. Also, see if you have to pull permits. Then, call 811 so they can mark your property and utility lines. This ensures you don't cut electricity for the entire block.
2. Sketch the Fence: Lay out your fence with stakes at each corner and string in between. Then, use a long tape measure to determine your total wood fence length.
3. Number of Posts: As we said earlier, posts should be no longer than 8 feet apart from each other. Some homeowners go with 16 feet, but if you do, your fence will not be as sturdy. If you go with 8 feet, divide your fence length by 8 to get the total number of posts. Therefore, a 100-foot fence would require 12 posts. Always round down.
4. Fence/Posts Height: Most fences are 6 or 4 feet tall. However, 1/3 or 33% of the post should be buried into the ground. Therefore, if you're installing a 6-foot fence, make sure your posts are 9 feet high (multiplied by 1.5). If you're installing a 4-foot fence, make sure your posts are 6 feet high. Once you determine your post height, multiple that by the number of posts to get the total linear feet of post material.
5. Railing Material: If you're installing a 6-foot high fence, you need three rails. For a 4-foot fence, two rails will do. To determine how much railing material you need, take your fence length and multiply that by the number of rails required. For example, if you're installing a 100-foot fence that is 4 feet high, you need 200 linear feet of railing.
6. Pickets: If you're installing a wood picket fence, you need to know how many pickets to purchase. First, multiply your fence length by the number of posts. A 100-foot fence with 12 posts would equal 1,200. Then, add the width of picket to your desired gap between pickets. Many pickets are 5.5 inches wide and a common gap is 1/2 an inch. Add them together and you get 6 inches. Finally, dividing 1,200 by 6 gives you 200 total pickets.
100 x 12 = 1,200
5.5 + 0.5 = 6
1,200/6 = 200 pickets
Note: With all calculations, add 10% to account for waste and mistakes. If you end up with additional wood, save it as it will surely decrease your fence repair cost down the road.
Wood Fence Types
There are other options besides picket fences.
Types of Wood
There's one final piece of information you need before you can install your new fence: type of lumber.
Typical wood fences last up to 20 years, but the type of wood you purchase can change that lifespan instantly. Below are the most common types of wood used for fences:
1. Pine: This type of wood is easy to work with and costs less than many other woods.
2. Cedar: Very popular, cedar fences are durable and come in various styles.
3. Cypress: Much pke cedar, cypress is less expensive and is insect-resistant.
4. Redwood: For a vibrant fence, choose redwood fencing. Beware, it does cost more than other fencing options.
5. White Oak: This is one of the strongest woods and is ideal for homes that see a lot of rain or snow.
Find A Fencing Contractor
Installing a fence is a challenging project, but hopefully, with our wood fence calculator above, your fence installation job can move a little bit quicker than most.
Fortunately, if you need help along the way, we can assist. Use ImproveNet to find fencing contractors in your town!
Sours: https://www.improvenet.com/r/wood-fence-calculator
Forest Garden - Choosing The Right Fence Panel
12 Steps to Estimate How Much Board Fencing You'll Need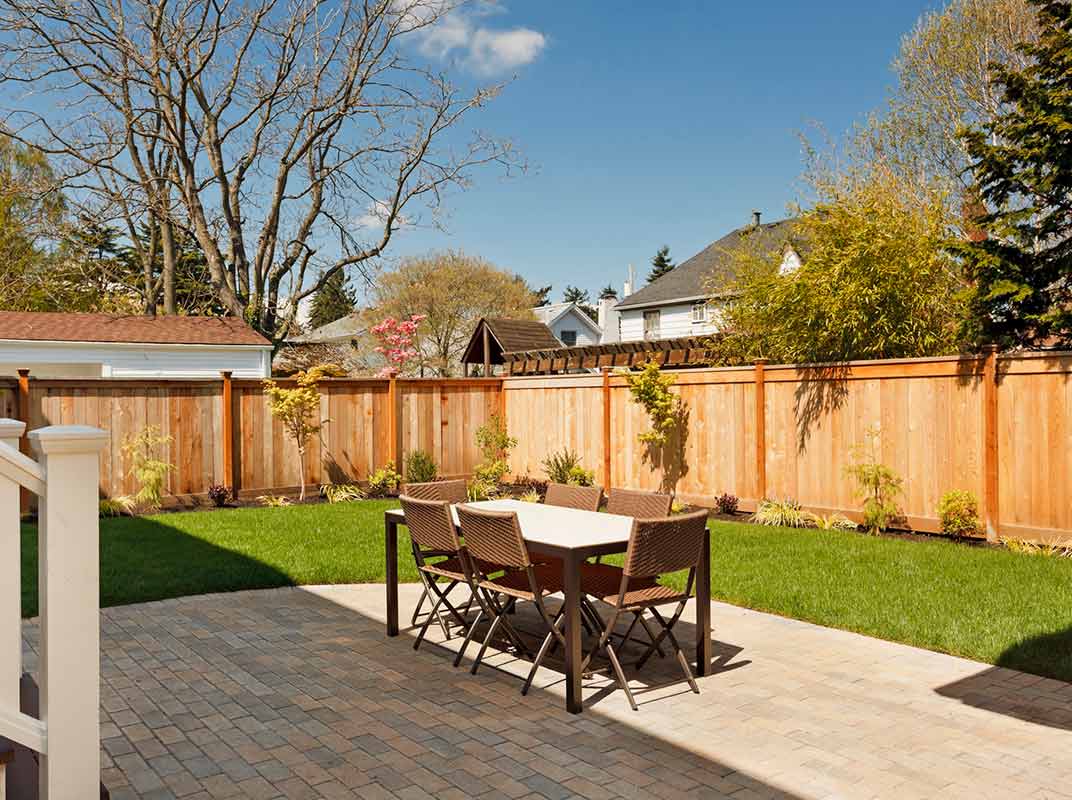 If you're thinking of installing a new fence, you'll need a general idea of how much lumber to order. The difference in quantity – and species – will have a major impact on your budget. Here's a quick and handy guide to determine how much board fencing you'll need, so you don't come up short.
Step 1: Measure length
Break out the tape measure and get a sense of just how many lineal (or "linear") feet comprise the perimeter of your fence. Another option is to take advantage of tech to measure distance. Instead of walking the perimeter of your fence line with a measuring tape, use the Google Maps Distance Tool to view your property in satellite mode and trace the part of the fence you want to replace or install. The map will provide a rough estimate of your lineal footage. This option is especially useful for large properties.
Step 2:  Measure height
Determine if you want a short fence — which has a height of approximately 3 feet —or a tall fence, which can range from 3 to approximately 8 feet. Short fences require less material while tall fences create more privacy.
Step 3: Count the gates and corners
Determine the number of gate openings your fence will need. The number of gates will have an impact on the number of posts in your materials order. Also, decide if you're going to build your gates yourself or install a pre-fab gate kit. Pre-fabricated gates are a fantastic way to include a professionally-crafted focal point without having to hire a contractor. Either way, don't forget to measure the width of the gate opening(s) itself.
Step 4: Draw it out
Make a rough sketch on a piece of paper of the shape of your yard. Don't worry if it's to scale or not. The main thing is to include the number of corners or any unusual angles and write down lengths of each fence section. This will help you determine the final number of posts you'll need.
Step 5: Take note of slopes and hills
Are any areas of your yard higher or lower than the rest? Make a note of this on your drawing, since it may have an impact on the final amount of lumber your project will require.
Step 6: Determine if your fence will be free-standing or attached
Consider whether your fence will be attached to your house or will stand on its own supports. This information will affect how many posts you will need as well as if you'll need specialized hardware to bolt the fence to the exterior of your home.
Step 7: Pick a style
You may have a general idea of the fencing style you're looking for – from short picket fences to tall dog-ear board fencing, or even an attractive horizontal fence. Keep in mind that each of these will require a different amount of materials, depending on your desired length and height. As you drive around town, start paying attention to various fence styles that you like. Bring some reference pictures down to the lumber yard. The team will be able to provide suggestions on the sturdiest and most attractive wood options for your budget. If you're not sure where to start thinking about design, stop by your local lumber yard to see displays and get inspiration.
Step 8: Know your widths
Once you have decided on the final look of your fence, you'll have a better idea of the individual widths of your board fencing planks. Also keep in mind the size of the gap (if any) between boards. This will play an important role in the final amount of lumber you'll need.
Step 9: Do the math
Now that you're equipped with all the important information (lineal feet, height, fencing style, board width, gap between boards), all you need to do is multiply. For example, if your vertical short fence will be 100 lineal feet long and your boards are 6 inches wide with no gaps, this means that you'll need two boards per foot = 200 boards. Examine the length of each plank in relation to the height of your fence. If the planks are 12 feet long and your fence will be 3 feet tall, you'll get 4 usable fencing boards out of each plank. Remember to add an additional 10% onto your final quantity in order to cover the downfall (the occasional plank that is warped, weak, too knotty, or otherwise unusable). This extra wood also comes in handy if you need to repair your fence down the line.
Step 10: Add up the posts
Determine the amount of space you'll need between your posts. Six foot spacing is typical for most state codes but be sure to check city requirements or architectural guidelines if you live in an HOA. We never recommend trying to space out posts wider than 6 feet. Doing so can not only compromise the integrity of the fence, but – especially in the case of horizontal fencing – a too-long span will lead to your fence planks bowing outward over time. To calculate the final number of posts you'll need, divide your lineal feet by 6 (due to a 6-foot distance between posts). Add in any additional posts to outline irregular corners (this is where your drawing comes in handy!) and one final post for the end.
Step 11: Calculate the rails
The final piece in determining the amount of board fencing you'll need is to factor in lumber for rails. Horizonal fences don't require rails since the planks themselves act as structural support. For tall vertical fences, we recommend three rails, although for short (approximately 3 feet) fences, two rails will suffice. To determine the amount of number you'll need for your fence rails, compare the length of your rail board to the amount of posts. If your rails are 12 feet long and your posts are the recommended 6 feet apart, you'll cover two posts with each rail.
Step 12: Share all your calculations with the lumber yard team
Remember that you don't have to figure everything out on your own. Even if you're installing your fence yourself, the specialists at the lumber yard can help you with every step of the process. Talk to them about your ideas. Don't hesitate to ask questions or solicit suggestions. They're experts in calculating materials and can double-check your work or point out things that you may have missed.
Estimating the amount of board fencing you'll need for your project sounds more complicated than it is. It doesn't take geometric wizardry or a detailed CAD drawing for you to get started. With accurate measurements, a rough drawing and a solid idea of your desired fence style, you'll quickly be able to determine the amount and cost of the materials you'll need.
Want to compare materials and costs for your new fence? Our friendly lumber specialists are here to offer the help you need.
Sours: https://www.jwlumber.com/2019/10/16/estimate-how-much-board-fencing/
Length fence section
This fence calculator will calculate the length and number of pickets, posts,  and rails required to build a wood fence.
It will also calculate the post hole size, amount of concrete, gravel and nails required.
To calculate the weight of the lumber, check out the lumber weight calculator.
Just a heads up, this page contains affiliate links. If you buy through them I earn a small commission. If you chose to buy through these links I truly thank you for your support!   – Jake
This calculator assumes the following:
Fence sections (fencing between posts) are all equal in length
Fence height and section length less than 8′
Max fence length for this calculator is 200′
Posts are 4×4's and rails are 2×4's
Grass/topsoil to cover post concrete for more aesthetically pleasing look. For more robust post install method, check out the post hole calculator.
FENCE CALCULATOR
Wood Fence Anatomy
The image below shows some of the common components of a typical wood picket fence: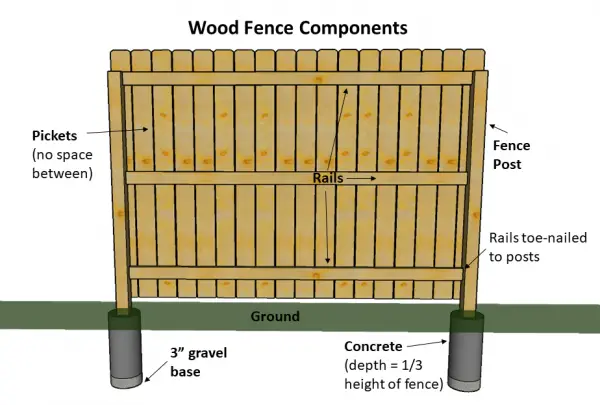 How to Use the Calculator
Fence Dimensions
First figure out how long and tall you want your fence to be. The height of the fence is measure from the ground to the top of the pickets. Standard wood fences are usually anywhere from 4.5′ to 8′ tall.
Next, decide what width pickets you want to use. Wider pickets can give the fence a more modern look, while narrower pickets will make the fence look more detailed.
Picket Spacing
Decide if you want any gap between pickets. This is purely for aesthetics. Less gap equals more privacy but also means less light that can filter through. If you decide to have gaps make sure they are narrow enough to keep wanted things in (i.e. dogs and children) and unwanted things out.
Then, you will want to decide what size gap to have between the ground and the bottom of the fence pickets. It is important to have a gap here to prevent premature rot of the pickets. Common gap under the fence is 1″-2″.
Fence Structure
Next, decide how to attach your fence rails to the fence posts. They can either be face nailed to the posts or toe nailed. A diagram of rails that are toe-nailed can be seen above. Here is what a face nailed wood fence looks like: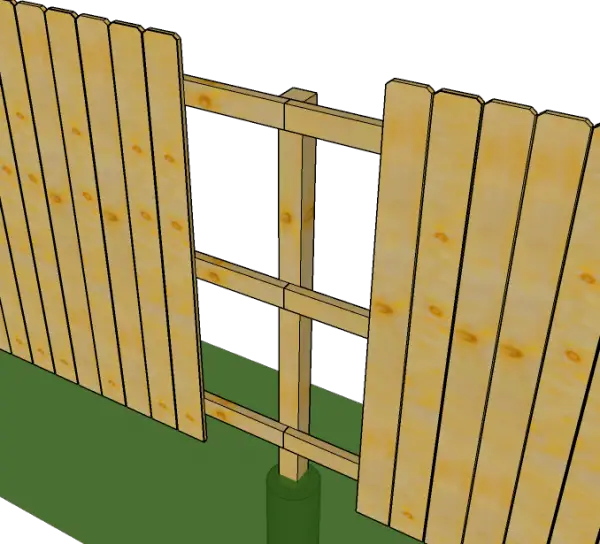 Wood Fence Installation Tips and Tricks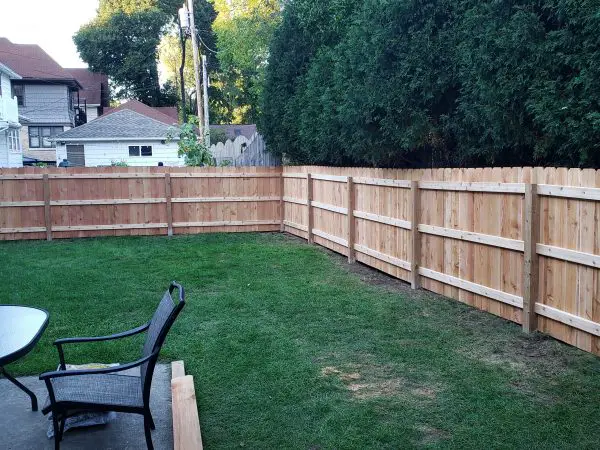 Setting Posts
Use pressure treated lumber for posts since they will be in contact with the ground
An 8″ auger will cut about a 9″ diameter hole which is plenty wide for a 4×4 post and concrete
A 3″ base of gravel underneath each post allows for water to drain away from the base of the post, preventing wood rot
Quikrete concrete for fence posts can be mixed in the hole, making for easier post setting and cleanup
1, 50# bag of concrete per post is plenty adequate for a fence under 5′ and 2 bags is enough for a fence between 5′ and 8′
The amount of post buried in the ground should be equal to 1/3 to 1/2 of the fence height for adequate wind resistance and resistance to freeze/thaw cycles
Cut posts flush with top rail, about 6″ below top of fence
Installing Rails and Pickets
Pressure treated, cedar, and redwood are common wood choices for rails and pickets
When the fence is built on a slope, the rails can either be made parallel to the ground or level and stepped up/down a certain amount from section to section
Space rails so that top rail is about 6″ below top of fence (flush with top of post), bottom rail is about 6″ above bottom of pickets, and middle rail (if applicable) is halfway in between
If there is no gap left between pickets when the fence is installed, an 1/8″-1/4″ gap will eventually appear due to wood shrinkage. This assumes the wood bought for the fence is not kiln dried first
Use a framing nail gun to make things go a lot quicker. I've used this model to build a couple fences and it has performed very well. It's also a steal for less than a hundred bucks:
Use galvanized ring shank nails in conjunction with a nail gun for a quick and efficient way to fasten the pickets to the rails. These are the collated nails I use with the nail gun above:
A wood picket fence is a great way to add privacy to a home or to keep the dogs in the yard. By following a few general rules this can easily be a weekend DIY project. For a step by step tutorial on how to build a wood fence, check out Home Depot's Fence Building How-To.
Sours: https://www.builderscalculator.com/fence-calculator-for-wood-fences/
How to Make 2 Gates Out of 1 Fence Panel - Won't Sag - DIY Woodworking with Minimal Tools
Wood Fence Calculator
Category:Wood Fence


Fence Height
Although you could build a wood fence any height you like, we limit it to standard heights here. Shave the few inches off each picket, if you choose to build a custom height.
<-- Back


Instructions:
This form allows you to enter your fence measurements so our program can calculate quantities of posts, rails and pickets required to construct a wood fence from scratch.

You can change the default measurements as you like, but if you are not sure, leave them as they are. Use decimals where fractions are required. Fractions will be ignored otherwise. For a detailed explanation of each field, "click" on the title of the field.

<-- Return


Maximum Post Spacing
Most wood fence is constructed with post spacing of 8' on centers. The reason is that most dimensional lumber is available in 8' or 16' lengths. Also spacing of more than 8' will likely result in sagging of the rails. You can space posts closer together if desired, but try to use a space that will result in minimum waste of lumber. If you choose 6' spacing for example, you can use 12' rails.
<-- Back


Pickets
Pickets are the vertical members of a wood fence. Pickets can be installed tight to each other or with a space between them. Typically, pickets are 3 1/2" wide, 5 1/2" or as much as 11 1/2" wide, if you are going to use dimensional kiln-dried lumber. This includes most treated pine boards. We use CCA treated or red cedar boards. The red cedar that we use is a full 6" wide. You can custom cut your boards to any width you desire, but that will increase your work and potential waste. When ripping boards to custom widths, you will hit knots and other imperfections that will cause some waste. This calculator will provide you with the number of pickets based on their widths. You will have to figure how many boards you need to purchase to 'rip' your custom pickets.
<-- Back


Space Between Pickets
For a solid fence enter 0" for the picket spacing. You can enter any space you choose in inches. Enter fractions as decimals. Example: .5"
Example Conversion Chart
| | |
| --- | --- |
| 1/4" | .25 |
| 3/8" | .375 |
| 1/2" | .50 |
| 5/8" | .625 |
| 3/4" | .75 |
| 7/8" | .875 |
| 1" | 1.0 |
<-- Back


Number of Rails
It is recommended that you use a minimum of 2 horizontal rails between posts for all fences less than 5' high, 3 rails for fences 5' to 7' high, and 4 rails for 8' high fences. Fences taller than 8' are outside the scope of this calculator due to structural considerations.
<-- Back


Enter Each Line Of Fence:
A line of fence is defined as a continuous stretch of fence unbroken by corner posts, gates or other breaks in the fence line. Use feet and fractions of a foot expressed as a decimal. You could have a single line of fence of say 100 feet with a gate exactly in the center of that line. If the gate is to be 4' wide, that leaves 96' of fence, not counting the gate. The gate divides that 96' in half, so you would enter these figures: Stretch 1 is 48', stretch 2 is 48' and then enter the gate in the gate field. To enter that stretch of fence as 100' or even 96' in one field would be incorrect. The calculator would assume the gate goes on the end and could not compute the proper spacing of posts.
Curving Fence Lines: An oddity would be if you intended to curve your fence using the post spacing you have chosen to change the angle off a true straight line. Using this 'curving' technique, it is possible to create a complete circle eventually, whereby you do not technically have a corner post. In this case, since you will be using full post spacing, enter the entire curved line as one field entry. Calculating curves with post spacing less than the amount you enter as your post spacing choice, is outside the scope of this calculator, since the program will only use one post space entry for calculations.
<-- Back


Single Swing Gate
A single swing gate is a gate that uses hinges and only has one leaf. Generally limit the widths to 8' and if you would like to avoid problems try to limit the widths to 5'. Widths greater than 8' are a structural nightmare that you don't want to deal with and are outside the scope of this calculator. Wide wooden gates are more prone to sagging problems and post sizes need to be enlarged. Other types of gates are outside the scope of this calculator.
<-- Back


Double Swing Gates
A double swing gate is a gate that uses hinges and has two halves that each swing off their own gate post. Generally limit the widths to 16' and if you would like to avoid problems try to limit the widths to 10'. Widths greater than 16' are a structural nightmare that you don't want to deal with and are outside the scope of this calculator. Wide wooden gates are more prone to sagging problems and post sizes need to be enlarged. Other types of gates are outside the scope of this calculator.
<-- Back


Quantity Of Corner Posts
| | |
| --- | --- |
| A corner post is defined as the post needed when two lines of fence meet at an approximate angle of 90 degrees. The angle created by the two lines need not be 90 degrees exactly. The significant factor is that the intersection of the two lines terminate at a single post. | |
<-- Back


Quantity Of End Posts
| | |
| --- | --- |
| End posts are posts that are required to terminate a line of fence. Gate posts are end posts, if a section of fence is also attached to it. The gate is not considered as part of the line. It is a gate, not a section of fence. | |
<-- Back


Quantity Of Free Standing Gate Posts
A free standing post is normally a gate post. It is "free standing" because it has no section of fence attached to it.

Avoid free standing gate posts that have a gate hinged to it. These posts tend to sag from the weight of the gate. Sometimes you have no choice because there may not be enough room to do anything else. It is better to place two end posts and a short section of fence. That way two posts support the heavy gate.
<-- Back
Sours: https://www.hooverfence.com/calculators/wood-fence
Now discussing:
.
396
397
398
399
400