Adult Multivitamin Gummies
75 Gummies
Natures Bounty Adult Multivitamin Gummies 75 is rated 4.7 out of 5 by 108.
Support For Your Daily Nutritional Needs
100% Daily Value of 4 Key B Vitamins
Orange, Cherry & Grape Flavored
Buy Now
DIRECTIONS: For adults, chew two (2) gummies daily, preferably with a meal
Amount Per Serving
% Daily Value
Calories
15
Total Carbohydrate
3 g
1%**
Sugars
2 g
***
Vitamin A (as Retinyl Palmitate)
2,500 IU
50%
Vitamin C (as Ascorbic Acid)
60 mg
100%
Vitamin D (as D3 Cholecalciferol)
800 IU
200%
Vitamin E (as dl-Alpha Tocopheryl Acetate)
15 IU
50%
Niacin (as Niacinamide)
10 mg
50%
Vitamin B-6 (as Pyridoxine Hydrochloride)
2 mg
100%
Folic Acid
400 mcg
100%
Vitamin B-12 (as Cyanocobalamin)
6 mcg
100%
Biotin (as d-Biotin)
300 mcg
100%
Pantothenic Acid (as d-Calcium Pantothenate)
5 mg
50%
Magnesium (as Magnesium Citrate)
2 mg
1%
Zinc (as Zinc Citrate)
5 mg
33%
Choline (as Choline Bitartrate)
40 mcg
***
Inositol
60 mcg
***
Soluble Corn Fiber
280 mg
***
Other Ingredients: Corn Syrup, Sugar, Water, Gelatin. Contains <2% of: Citric Acid, Fractionated Coconut Oil (Contains Carnauba Wax), Maltodextrin, Natural Flavors, Pectin, Silica, Vegetable Juices (color).
WARNING:If you are pregnant, nursing, taking any medications, planning any medical or surgical procedure or have any medical condition, consult your doctor before use. Discontinue use and consult your doctor if any adverse reactions occur. Keep out of reach of children. Store at room temperature. Do not use if seal under cap is broken or missing.
No Artificial Flavor, No Milk, No Lactose, No Gluten, No Wheat, No Yeast, No Fish. Sodium Free.
Carefully Manufactured by NATURE'S BOUNTY, INC.Bohemia NY 11716 U.S.A © 2016 Nature's Bounty, Inc
A delicious way to get the nutrients your body needs. Each serving of Nature's Bounty® Adult Multivitamin
Gummies provides 100% Daily Value or more of 4 key B Vitamins, Vitamin C and Vitamin D to keep you going strong while supporting your immune system and promoting bone health.*
Thank you for submitting your question. Our Customer Service team will begin to review your message and shall reach out to you should there be any questions.
It seems as though your information was not received. Please try again, and if you continue to have problems, contact consumer affairs at 1-800-433-2990 so we can help you.
Rated 5 out of 5by LisaJofrom Mixed review. Great Quality -Can't get the lid offThe quality of these vitamins is 5 star. The accessibility is a 1 star. I am a long time customer of Nature's Bounty products. I purchased two bottles of these multivitamins. The first one was great, everyone in the house really liked them--so happy to have gummies. However the 2nd bottle (white cap) I am not able to open. Neither me or my husband could get the 2nd bottle open. I managed to get part of the cap off only to find another plastic cover that I think I need to remove with a power tool of some sort! I was able to open the first bottle (green cap) easily. I will buy these again, and look for the ones with the green cap only. I will try to get the cap off somehow. I'm think a bandsaw.... Thanks LisaJo
Date published: 2018-04-14
Rated 4 out of 5by atta girlfrom great taste....butFinally, a vitamin I can tolerate. Thank you. Only problem is I can't get the lid off to open it initially. It really is too difficult. How would an elderly person get to their vitamins? But if you can get the lid off the first time, it's a good product.
Date published: 2017-07-20
Rated 5 out of 5by Wolfpupscvcfrom They Taste So GoodI received these from my points that added up to 400 pts. When I received these multivitamins I took them right away the next morning. I really love the fruit taste that the gummies have. I thought that they would not taste good but they really do. I am 66 years old and I really do need this multivitamin to take everyday as they sent me a 3 months supply to take too. So why don't you try out this tasting gummies too from your points or go and buy them.
Date published: 2018-02-27
Rated 3 out of 5by kelseybonvivantfrom Good multivitamin for theGood multivitamin for the price. Tastes good too. Have bought a few times now. It met all expectations.
Date published: 2021-10-17
Rated 5 out of 5by ppopp45from Love the flavors of these vitamins!Love these delicious tasting Natures Bounty Adult Multivitamin Gummies I hate taking vitamins but this made it a lot easier and tastier. Fresh fruit flavors were really good. A lot easier to remember to take now. I look at it as a little treat everyday!
Date published: 2017-11-12
Rated 5 out of 5by Yessefrom Perfect productThank you so much I try this product is my support multivitamin all day I love gummies good flavor is naturally
Date published: 2018-02-07
Rated 5 out of 5by teensiiefrom Use it dailyReally recommend these to take with your breakfast, I feel healthy already.
Date published: 2017-09-21
Rated 5 out of 5by Squeakyfrom I just purchased these a month ago after my doctor insisted I start taking a multi vitamin. I tried a different product first & had difficulty swallowing the large chalky pill. Taking the flavorful gummies makes for a much more pleasant routine.
Date published: 2018-02-07
Sign Up for Emails
Sign up for our email newsletter – so you'll always be first to know about new products, promotions and more!
Sours: https://www.naturesbounty.com/our-products/specialty/diet-supplements/your-life-adult-multivitamin-75-gummies/
Grown Up Gummies-Wine gummie candy-Jacksonville, NC
by Tracy Morgan
(Hubert, NC)
Our business is self-developed. Husband and wife owned. We are approved by the North Carolina Department of Agriculture. We produce candy made from sauvignon blanc wine in a variety of shapes and flavors. Our website is winegummies.net, we can be found on facebook at Grown Up Gummies. Sean Morgan 843-441-1995. [email protected] yahoo. We would travel 150 miles depending on the venue.
Submit your own free listing! Return to North Carolina Vendors.
FacebookTwitterPinterestTumblrRedditWhatsApp
Sours: https://www.festivals-and-shows.com/grown-up-gummieswine-gummie-candyjacksonville-nc.html
Why should kids get all the good stuff! I love Gummy Bears and Jell-o! Grabbing a pack of these little snacks is perfect for my busy lifestyle and it can also be a good rush of sugar whenever needed, however, this is a snack only for those who are21+ but it is by far a favorite at any get-together that I throw. Why wouldn't it be? After all, everyone loves Gummy Bears and Jell-o!
Why wouldn't it be? After all, everyone loves Gummy Bears and Jell-o!
The beauty of this recipe is that you can use any type of wine (or champagne)  that you want! This is perfect for those rare occasions where you have a little bit of leftover wine or you are simply looking for something unique to take to that poolside bbq.
Instead of the typical, mediocre 30-Something-year-old girls-night-in, we can sure lighten up the party with this 'Snack-Tastic little Recipe Hack I found.
We stopped munching on chips, hummus, and grapes a long time ago whenever we have our little get-togethers and really bonded with this idea.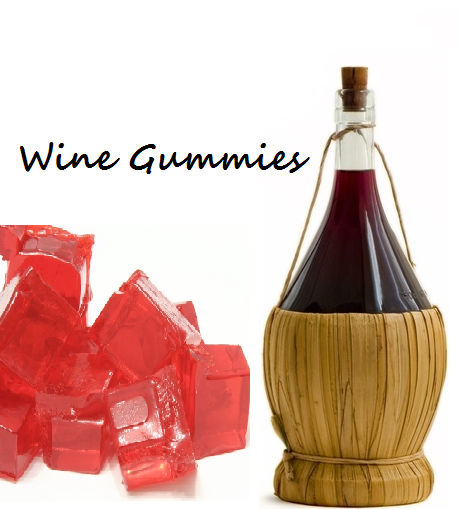 Drinking glasses and glasses of wine can be fun but when you eat it in form of a Jell-o or Gummie Bear it tastes amazing! You can make this Wine and Jell-o Recipe in just an hour. Just be careful and use moderation as this baby packs quite a punch!
Please Keep Reading To See The List Of Ingredients You Need and How To Make This Amazing Grown Up Gummy Snack…
NEXT PAGE »
Sours: http://www.recipestation.com/grown-up-gummies-made-with-wine-21/
You'll Never Eat Gummy Vitamins After Hearing This
.
Up gummies grown
.
The Perfect, Last-Minute Kids' Costumes!
.
Now discussing:
.
380
381
382
383
384