Dremel has come out with 3 new universal oscillating multi-tool cutting blades. Perhaps this is tip of the spear, or it could be that these are the only new oscillating tool accessories that we'll be seeing in some time.
The new blades, which feature flush cutting shapes, are engineered with two separate adapter interfaces. Because of this, they fit Fein, Bosch, Milwaukee, Ridgid, Makita, and Rockwell oscillating tools, and also Dewalt and Porter Cable.
Dewalt and Porter Cable tools have a different quick-change interface that typically requires an adapter to be used for other brands' oscillating tool accessories. Tool-free blade changes are usually not possible if you're using the adapter.
Dremel says that these new universal oscillating tool blades are the first "truly universal" accessories available that don't require an adapter. They also say that the dual interface fits "all competitive oscillating tools."
New Blade Styles
Wood cutting (MM480U)
Wood and metal cutting (MM482U)
Carbide (MM485U)
Dremel says that the wood-cutting blade is their most popular flush-cutting oscillating multi-tool accessory. Their bimetal wood and metal cutting blade is likely popular as well.
And there's the new carbide blade, which I'm actually a little excited about. Last year I conducted extensive comparison testing between Bosch's carbide oscillating multi-tool blade and competitors similarly-priced bimetal blades.
Read About Our Metal-Cutting Oscillating Multi-Tool Blade Comparison!
The results were eye-opening. Bosch's carbide-toothed blades were remarkably better than the other brands non-carbide blades. All of the blades are priced around the same, so it's a wonder why other brands don't follow Bosch's lead.
As an aside, did you know that Bosch came out with a carbide-tooth multi-material blade? It seems to have earned some stellar user reviews.
Dremel is a Bosch company, and so maybe this new carbide-tooth blade will be as good or almost as good as the Bosch.
Prices: $14 for wood cutting, $14 for wood and metal cutting, $20 for carbide
Buy Now(Wood cutting via Amazon)
Buy Now(Wood and metal cutting via Amazon)
Buy Now(Carbide via Amazon)
First Thoughts
This is a surprising move by Dremel, but also good to see them trying something new.
These blades look to be longer than standard single-interface ones, and since there are two interfaces stamped out of the mounting base, that explains the added metal reinforcement to help keep things rigid.
I haven't used Dremel oscillating blades or accessories in some time, but I generally consider them to be okay. They're nowhere as good as Bosch or Fein accessories, but they also typically cost less. Except for these.
You can buy a Bosch OSC114C carbide plunge cutting blade – the same that I tested last year – for a little less than $18 via Amazon. The narrower OSC34C is under $12 via Amazon. Those Bosch accessories are said to be made in Switzerland. The Dremel Carbide blade? Made in China, at least according to the Amazon product description.
If you've got a Dewalt or Porter Cable tool and still want to keep the quick-change functionality, why wouldn't you buy Dewalt oscillating tool blades? They're less expensive than the Dremel blades, and they're also made in the USA.
Maybe the Dremel blades are better than Dewalt's, regardless as to where they're made. But even so, the Dremel blades are still a little more expensive. Maybe that will change once they're in stock and distributed to retailers.
As someone who uses multiple brands of oscillating tool, I appreciate what Dremel was trying to do with these. But from what I see, I don't know if I'd try them out or not. If any or all of these blades were a couple of dollars cheaper, or available in a 3pc set for $25 or so, I would find them to be far more appealing.
Sections: New Tools, Oscillating Tools, Power Tool AccessoriesTags: oscillating multi-tool bladesMore from: Dremel
Sours: https://toolguyd.com/dremel-universal-oscillating-multi-tool-blades/
Dremel MM45 Oscillating Tool Review and Universal Cut Blades
This post is sponsored by The Home Depot. I have been compensated for my time and provided with product. All ideas and opinions are my own. This post contains some affiliate links for your convenience. Click here to read my full disclosure policy.
You might not have an oscillating tool high on your wish list, but with the wide range of capability you may need to rethink that.  This is a great tool for the everyday home improvement DIY'er and carpenter.  After testing this tool out, I really wish I had it while tiling mine and my sisters' houses. It would have made so many jobs like cutting door frames, cement board, etc so much easier.  Dremel Multi Max MM45 Oscillating Tool review.

and Multi-Max Universal Flush Cut Blade variety multi-pack review.
Tool Review: Dremel Multi-Max Oscillating Tool MM45 & Flush Cut Blade Pack
Out of the Box
What you get:
Dremel MM45 Oscillating Tool
Carrying Bag
Operating manual
Accessories

wood flush cut blade
wood/metal flush cut blade
wood/drywall saw blade
drywall jab saw
multi-knife
rigid scraper
grout removal blade
hook and loop sanding pad
12 sheets of wood sandpaper
6 sheets of paint sandpaper (variety of grits)

(3 pack of universal blades sold separate)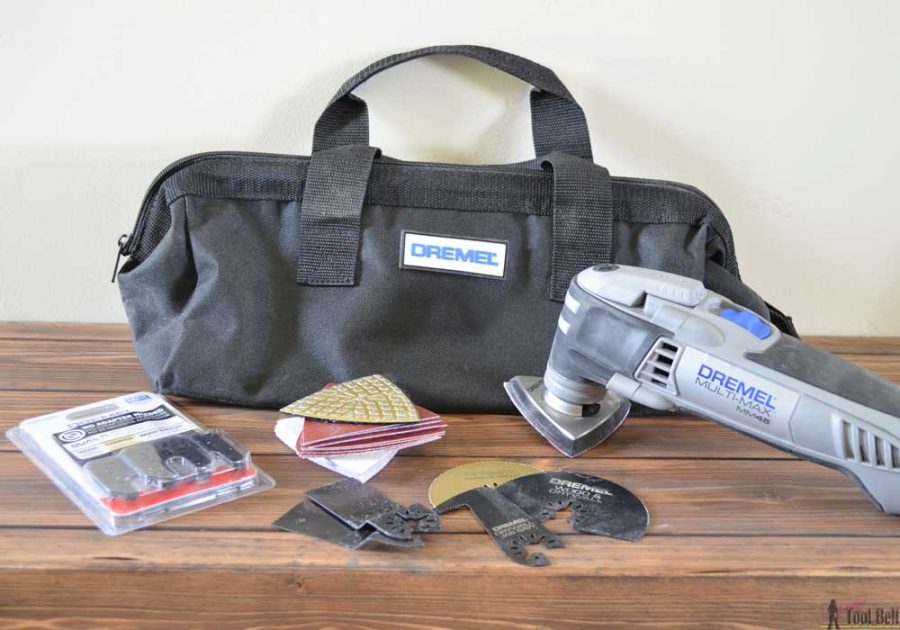 Operation
The Dremel oscillating multi-tool is very easy to use, there is a large on-off switch on the top and a speed dial near the bottom that controls the powerful 3.5 amp motor. One of my favorite features of the MM45 is the Quick-Lock.  If you have used other oscillating tools that require an allen wrench (hex key) to change, you'll really appreciate how easy it is to switch tool accessories.
Rotate the quick-lock lever counter-clockwise to release the attachment, slide the attachment forward and pull it off. Easy as that. No digging around in your pile of allen wrenches looking for the one that fits.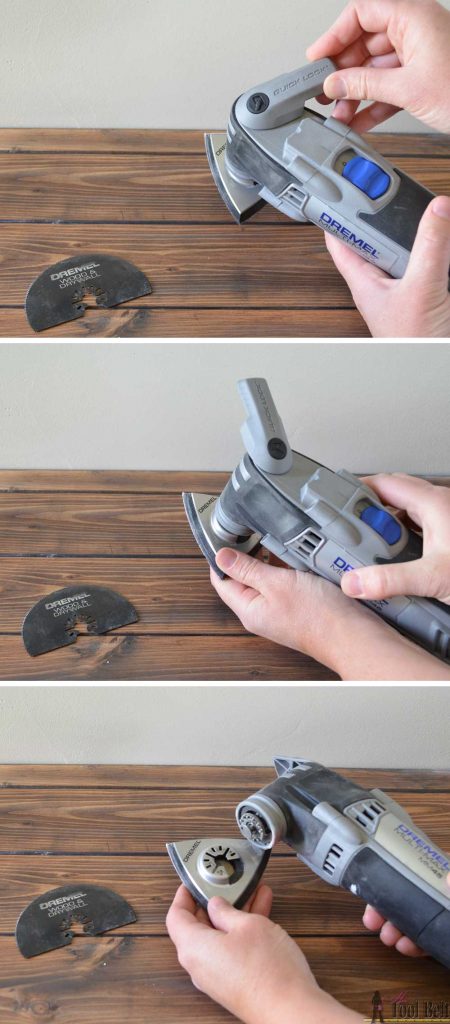 Once you have an accessory tool installed and locked in place you are ready to go. In the MM45 operating manual, there is a table of the possible accessories and suggested tool speeds.
Universal Flush Cut Blades Variety Pack
The flush cut blades pack includes 3 different blades:
wood – for soft and hard wood varieties, drywall and PVC
carbide – for soft wood varieties, drywall, plaster, PVC, cement board and metal varieties
wood/metal – for soft and hard wood varieties, drywall, PVC, sheet metal and copper tubing

These blades are universally designed to fit any oscillating tool/brand.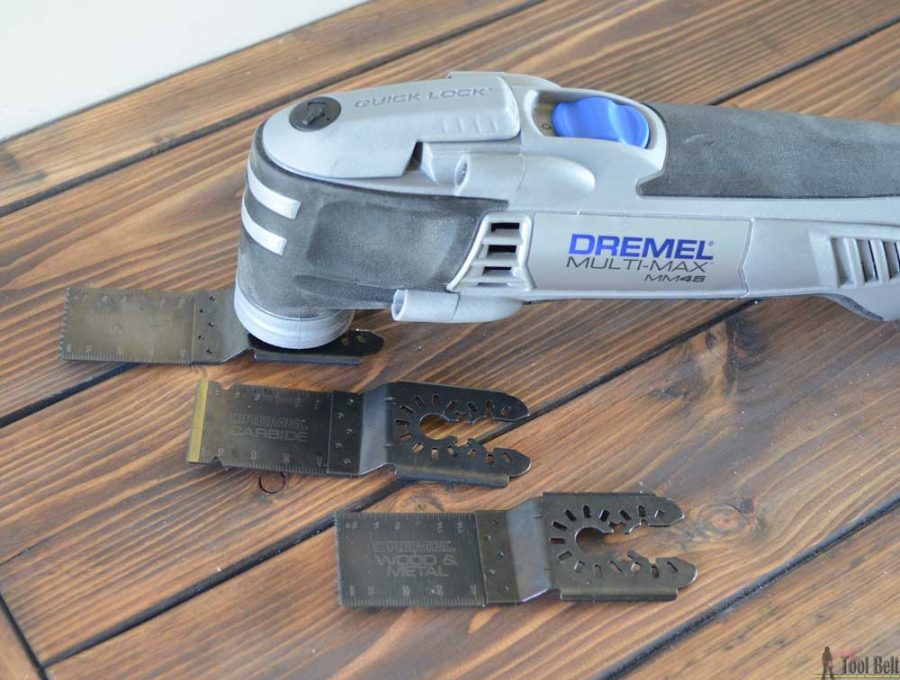 I put the carbide blade to the test on nails in old pallets and it cut through those nails very quickly and easily. I need to run some tests on how long it will last.  It did one whole pallet with no problem at all.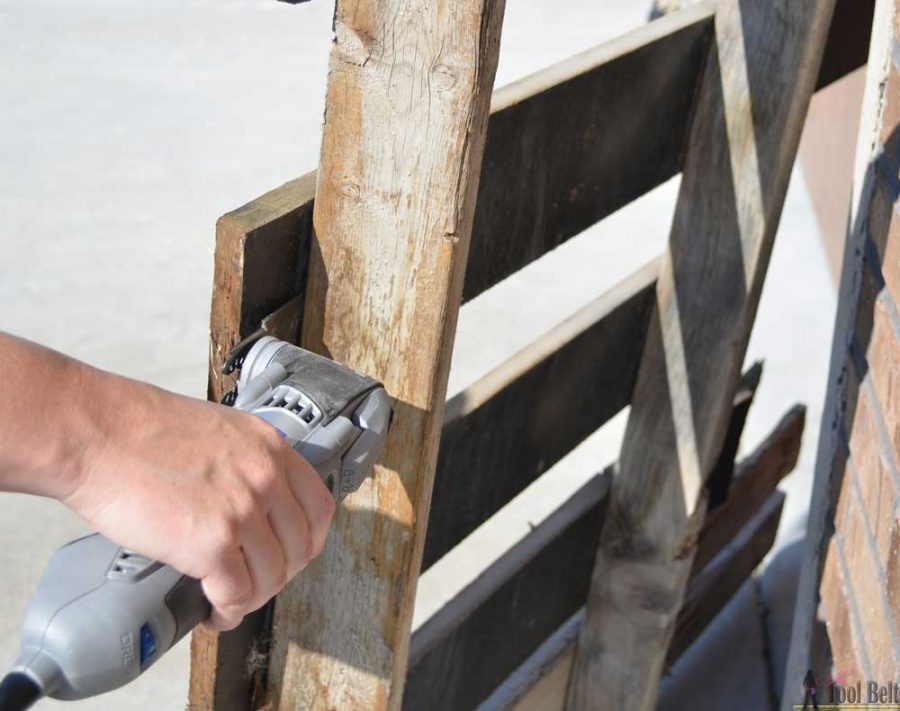 I used the wood flush cut blade to trim some excess wood on a frame and it easily cut right through the wood.  I was worried that there would be tare out at the end, but it cut the wood pretty cleanly.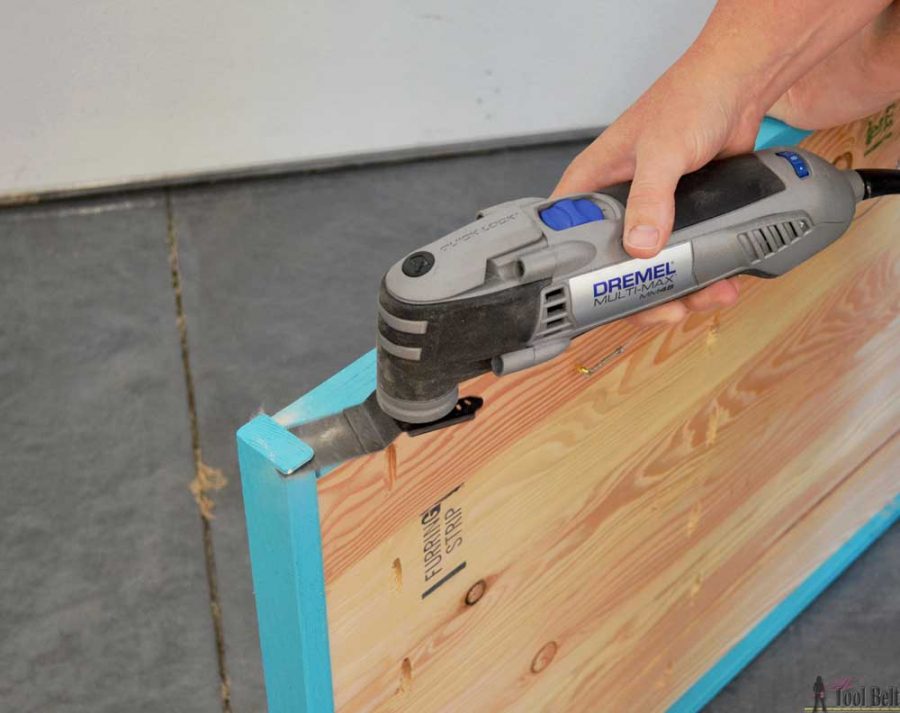 Leaving my frame nice and flush.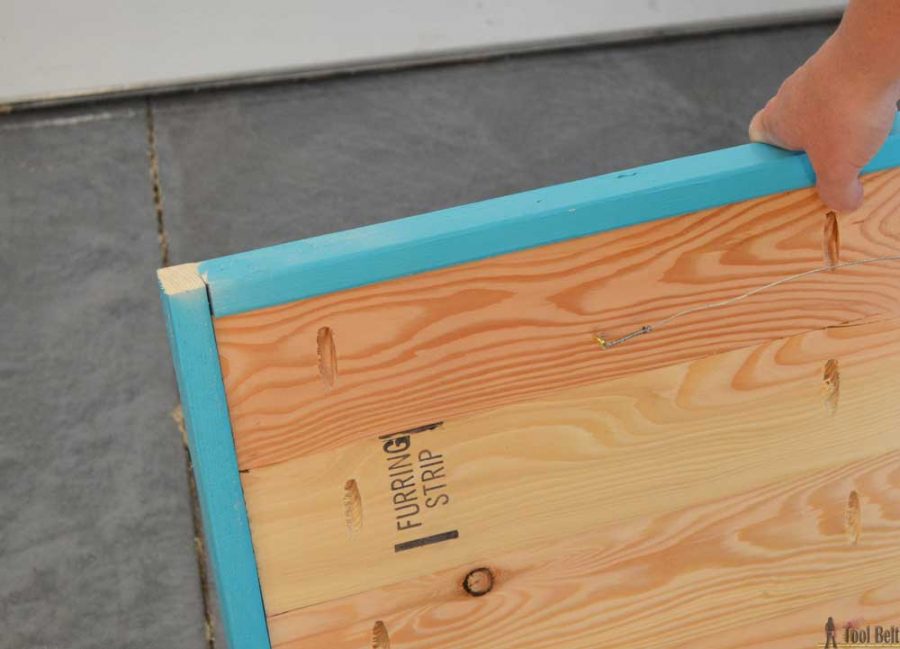 The wood and drywall blade cuts through sheet rock like butter and does a good job on wood too.  This is a great tool for cutting holes for vents, trimming door frames and square or rectangle inside cuts.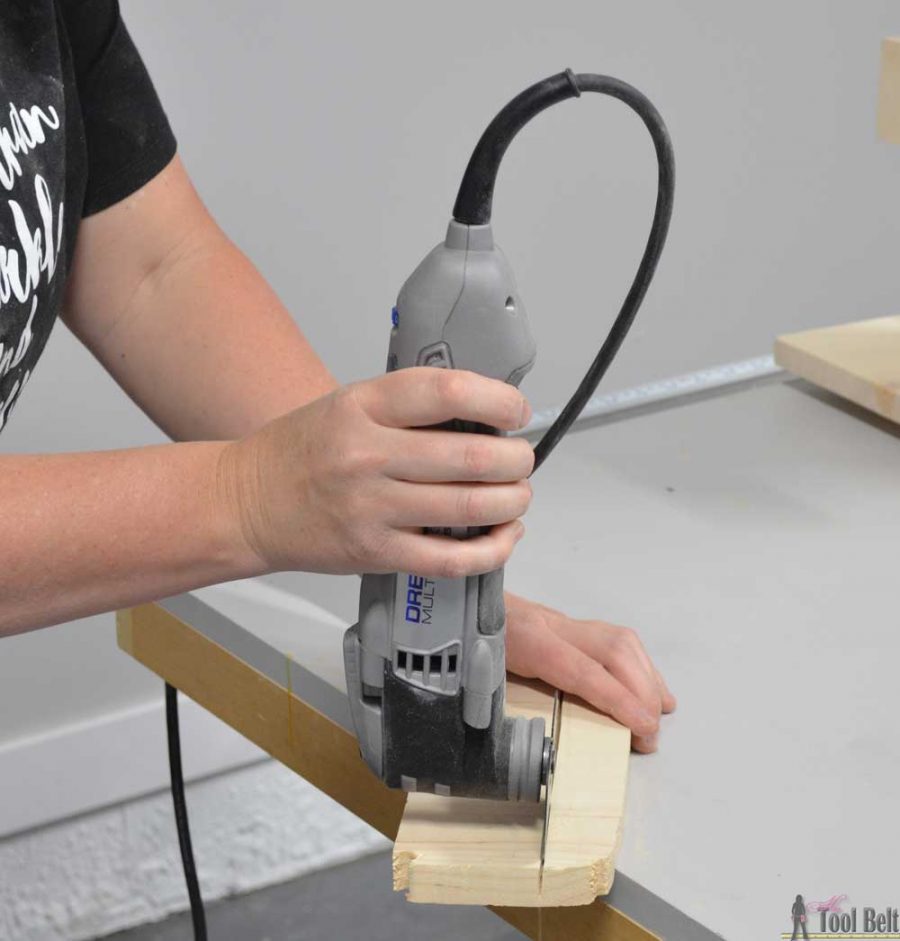 The little sander has more power than you'd think.  It works great in tight spaces and perfect for distressing projects. The sandpaper triangles are hook and loop which makes it simple to change sandpaper grits.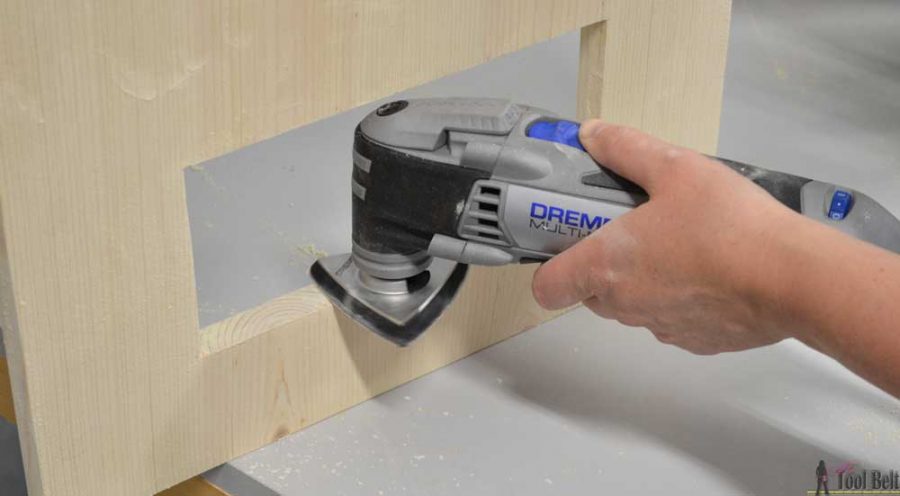 Who Will Benefit From This Tool
If you are a home improvement DIY'er, you will find 100 or more uses for this oscillating multi-tool and wish you had it sooner!
Summary
The Dremel MultiMax MM45 Oscilliting Tool is a power packed multi-tool. The 3.5 amp motor provides plenty of power to handle any home DIY job and the variable speed allows you to harness that power as needed. The multi-max body is easy to handle and operate. Changing the tool accessories is a breeze with the quick-lock lever. The universal flush cut blades are excellent accessory and will cut through a large variety of materials. My only complaint about the tool is on my end, why didn't I get one sooner???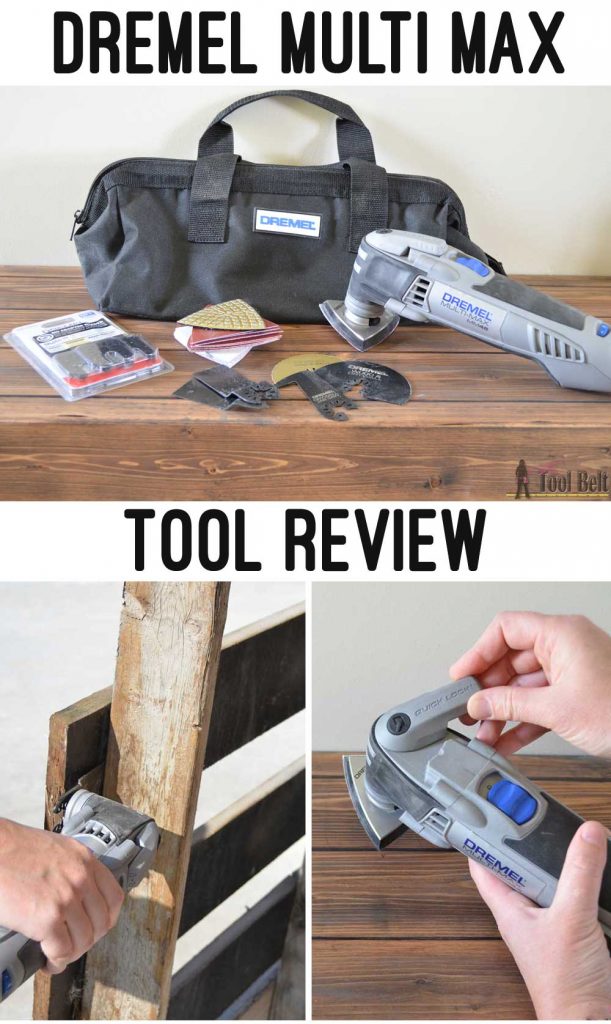 "I acknowledge that The Home Depot is partnering with me to participate in the Tool Review Program. As a part of the Program, I am receiving compensation in the form of products and services, for the purpose of promoting The Home Depot. All expressed opinions and experiences are my own words. My post complies with the Word Of Mouth Marketing Association (WOMMA) Ethics Code and applicable Federal Trade Commission guidelines."
Filed Under: Projects, Tool ReviewTagged With: dremel, home depot, oscillating tool, THDprospective, tool review
Sours: https://www.hertoolbelt.com/dremel-mm45-oscillating-tool-review/
Dremel MM485U Universal Dual Interface Carbide Flush Cutting Oscillating Blade (Single Pack)
X
like 0
facebooktwitterpinterest tumblr
Sure, there are plenty of plant markers available to buy, but it's much more fun to make your own. Whether you have a greenhouse, urban garden, or hanging garden, these copper markers are a great way to keep your plants organized – plus they're stylish, easy to make and last for years. These DIY plant markers are perfect to dress up a balcony garden and the copper brings a cool, industrial vibe. All you need is a copper pipe and some handy Dremel tools, so why not get started on this fun urban garden project?
X
like 0
facebooktwitterpinterest tumblr
Even the tiniest of balconies can be the place to party with this cool and clever balcony bar. Its sturdy tabletop is roomy without taking up too much space and the brilliant built-in plant pots are an awesome addition to your small city garden. This step-by-step guide on how to build a balcony bar is easy to follow and great fun too. Who knew you could tackle impressive DIY tasks like welding and deburring? Let Dremel's Master Maker, Marit Boers, lead the way and you'll be entertaining your friends, working al fresco or having an impromptu balcony breakfast before you know it.
X
like 0
facebooktwitterpinterest tumblr
Take a peek at Dremel's simple DIY tutorial on how to upcycle a few wooden crates into a BBQ side table – perfect for any garden.
X
like 0
facebooktwitterpinterest tumblr
If you want a happy, healthy dog, knowing how to trim your dog's nails is vital. But giving your pet a pedicure can be intimidating at the best of times. Luckily, help is here. This beginner's guide to well-trimmed pet's nails covers all the basics, from how to use Dremel's new PawControl, to paw handling and what angle to work at. You'll learn how short you can go without hurting your pup, giving you some much-needed confidence while grinding. Go on, have a go and discover that perfecting your pet's nails doesn't have to be stressful.
Sours: https://us.dremel.com/en_US/products/-/show-product/tools/mm485u-universal-carbide-flush-cut-blade
Harbour Freight Saw Blade Extremely Dangerous Rotary tool Dremel
.
Universal blades dremel
.
Dremel Blades Falling Off? Make this DIY Dremel MM40 Blade Adapter!
.
Now discussing:
.
365
366
367
368
369