If you are looking for an alternative to gigabyte RGB fusion software, then you are in the right place.
RGB Fusion is a fantastic app to control the lighting of your RGB gaming PC. But this app might not run on your computer for several reasons.
And that leads you to find a suitable gigabyte RGB fusion alternative.
There are many alternatives to gigabyte RGB fusion. But only a few of them are worth using on your valuable gaming PC.
The best gigabyte RGB Fusion alternative is MSI Dragon Center. But there are some limitations with the app, which I'll discuss in this post.
So, let's get to know more about the Gigabyte RGB Fusion alternatives.
5 Best RGB Fusion alternatives
I have used the 15most popular RGB softwares to control the RGB lighting of my PC.
And I found that only 5 of them are usable as they can control various RGB components made by different manufacturers.
This was a back-breaking task to filter out the best RGB fusion alternatives. I had to uninstall each utility app before installing the new one as they won't work properly if all of them are installed on a PC because of interference.
I have highlighted each RGB light controlling utility's pros and cons to make it easy for you to choose the right software.
I hope you will read about my experience with this softwares carefully to achieve the best results. Also check out our review on the best RGB Fusion compatible fans.
So, here are the best RGB Fusion alternatives:
1. JackNet RGB Sync
JackNet is a new RGB software that can control a variety of RGB components. This app is similar to OpenRGB. However, it doesn't support all of the components RGB fusion compatible parts like Aorus Graphics card, monitor, keyboard, mouse and motherboard. But this app can control all the other highly popular RGB components by other manufacturers like Corsair, Asus, Razer, cooler master etc.
This is a great open-source utility app to control most of your RGB components.
I am currently using corsair dominator RGB RAM, Cooler master MlR AIO cooler and Aorus RTX graphics card. And all of these components except my graphics card is easily synced by JackNet RGB sync software.
If you are using components from manufacturers other than Gigabyte, this app will be a great option for you. You can download it from here.
2. iCUE
Corsair iCUE is a hugely popular utility app from corsair. This app can control the RGB lightings and other functionalities of corsair components. But the limitation of this app is this software can only control parts and accessories made by corsair.
If most of your computer's RGB components and accessories are from corsair, please feel free to download corsair iCUE. This will solve all your problems relating to RGB light controlling. Moreover, you will be able to set custom functions to your corsair products like changing DPI, setting custom buttons and so on.
3. Aura sync
Asus aura sync is one of the most hyped RGB utilities right now as Asus has earned a special place in gamer's hearts with their usual and republic of gamers edition components and accessories. This app is simple to use, and its only task is to control your components RGB lighting.
The best thing is that this app is compatible with many RGB components other than Asus products. But keep in mind that this app won't work properly unless you have an Asus aura sync compatible motherboard. So, keep that in mind.
As I am using the Aorus z motherboard, it does not work correctly with my PC. But it will work on your one if your PC is built on an Asus aura compatible motherboard. If you want to check if your motherboard is compatible, you can check your motherboard's box as there will be a label mentioned that it's compatible with aura sync. You can also check Asus's official website for more info.
4. MSI Dragon Center and MSI Mystic Light Sync
Both MSI mystic light sync and MSI dragon Center are great utility apps for a gaming PC. MSI mystic light sync is a lightweight, fast app only used for controlling RGB lighting on your PC.
If you want to keep things simple and your primary target is only to control RGB lighting of your PC components, then MSI Mystic Light Sync will be an excellent app for you.
This app works best with computers having an MSI motherboard in them.
But if you are not using an MSI motherboard, I would recommend you get the MSI dragon center app because it's compatible with every motherboard and PC.
MSI dragon center is an all in one app that can do a lot of stuff like overclocking, software updating, gaming modes and many more besides controlling RGB lighting of your components.
If you want these awesome features in only one app, please feel free to download the MSI Dragon center app.
5. Polychrome Sync
ASRock Polychrome sync is a relatively new utility app for controlling RGB components connected to an ASRock motherboard. This RGB light controlling app is pretty decent.
It has a simple UI, and the option of customizing lighting features for individually lit RGB components is a nice touch. This app supports a wide range of RGB parts and accessories. And the number is increasing gradually. So, choosing this app will be a decent option too.
FAQ
Question: Are Corsair components compatible with RGB Fusion?
Answer: Yes, All the corsair components like RAM, coolers, keyboards and mouse are now compatible with RGB fusion
Question: Does RGB fusion need to be running?
Answer: Yes, RGB fusion needs to be running on your computer to function correctly. But you don't need to open the app manually every time you turn on your PC because it is set to be started with windows startup in default settings.
Question: Do you need a Gigabyte Motherboard to run RGB fusion?
Answer: Although you can use RGB fusion in any computer to control RGB components, you need to install RGB fusion to control Gigabyte motherboards' lighting.
Question: Why is RGB fusion not detecting My Asus/MSI/ASRock motherboard?
Answer: RGB Fusion can only detect and control RGB lighting of Gigabyte motherboards.
Conclusion
If you have gone through the full article, you already have a lot of knowledge about RGB Utility softwares.
I've found from my personal experience that most computers do a great job with the MSI dragon Center app as it's more versatile and supports a vast number of components and accessories from different manufacturers.
You also get many exciting custom tuning features too with this wonderful app.
Almost all of these RGB utility apps have some advantages and drawbacks. Still, the ones listed in this review are the most convenient based on usability and the number of compatible components and accessories. And I can promise you that none of these apps will disappoint you unless your RGB LEDs are broken or damaged.
So, now it's time for you to choose the best app that suits your components list. You can also run each of them to have a live experience of the difference between these apps by yourself.
Sours: https://techartful.com/gigabyte-rgb-fusionalternatives/
[RGB Fusion Software Introduction] Make Your PC a Work of Art
GIGABYTE Introduces RGB Fusion on the new AORUS Gaming Series Motherboards powered by GIGABYTE. RGB Fusion supports RGB around the board allowing users to control various zones and sections with different patterns and lighting effects, giving their system even more personality. Users can also download an APP to control all Basic Mode functions directly on their mobile device. With support for RGBW LED light strips, the AORUS Gaming Motherboards have millions of colors and combinations to choose from, making every system as unique as its owner. Select models even have an Accent LED Overlay that can be swapped based on personal preference.
If you are a first timer using the RGB Fusion software, this tutorial video will make the whole process a lot more pleasant.
What's even better, with a dazzling array of products supported, RGB Fusion is the software that brings it all together, letting your accessories synchronize to the same beat. Customize all your LEDs how you like—have them match, dazzle and impress. Check out RGB Fusion ready website to make your PC shine like a work of art.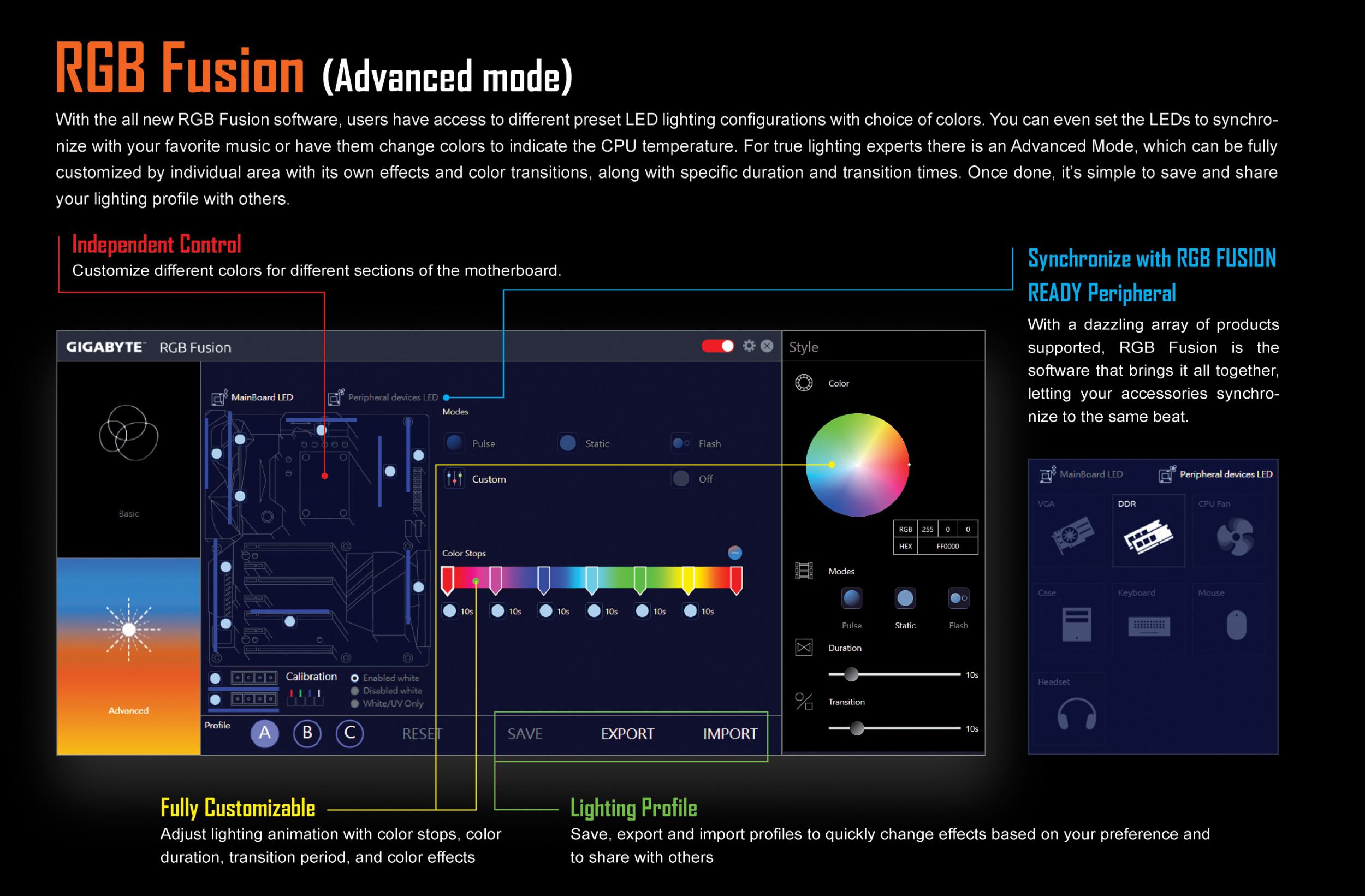 RGB FUSION READY MICROSITE
Link: http://www.gigabyte.com/mb/rgb/
Sours: https://global.aorus.com/blog-detail.php?i=
All Gigabyte motherboard users commonly face issues like RGB fusion not working, lighting colour has stuck, or it's not detecting your RAM or GPU.
If you are facing the same issue, then don't worry.
In this post, you will get to know how to fix all these with a few simple steps.
The Most Common RGB Fusion Problems
There are many problems caused by the RGB fusion app, and that's not the app's fault because it installs with default settings and runs into error for conflicting with other app settings.And here are the most common Gigabyte RGB Fusion Bugs:

LED lighting gets stuck in a specific colour like blue or yellow, which are the default settings.
RGB fusion doesn't detect gigabyte graphics cards with RGB fusion compatibilities.
The RGB Fusion app does not open and shows errors.
The hugely popular Gskill Trident Z series RGB rams face problem syncing with the RGB fusion app.
Your Overclocked RAM does not run at its full Speed due to RGB fusion.
If you have any of these problems, then feel stress-free because you will be able to fix all these issues after going through this post.
Also check out our recommended Best RGB Fusion compatible fans.
Keep in mind that all these problems have separate solutions.
So, be sure to follow the once that you need. Otherwise, you can follow all of the fixes to be stress-free in future.
Fix Gigabyte RGB Fusion Not Working
The first step to start fixing any of these problems is to make sure all your components are RGB fusion compatible; otherwise, they won't sync with the app.
Then you will need the % working version of the app. Once you Download Gigabyte RGB Fusion   we can get started in fixing the issue.
If you already have the app installed then you will need to uninstall it and reinstall the latest version of RGB fusion
If your motherboard isn't compatible with RGB fusion then simply install the latest version of only RGB fusion.
Ok, now you are ready to fix these issues. the following fix will also work for fixing rgb fusion not opening on double-clicking on the app shortcut.
Here are the steps to fix Gigabyte RGB fusion not working:
Uninstall Aura Sync, iCUE and Riot Vanguard if they are on your PC because these apps conflict with RGB Fusion.
Right-click on the RGB fusion app shortcut and click on Open file location.
Delete the AtiTool folder from this directory of your PC(usually C:\Program Files (x86)\Gigabyte\RGB fusion).
Remove the file named GvBiosLib.dll and restart your PC.
Run the RGB fusion app from the desktop short as an administrator, and the app will start normally.
These steps were too easy to fix the problem. But if these steps don't work for you, then you'll need to clear the CMOS of your PC then try these steps. And there are solution to every specific problem given below. Incase you don't want to do all these stuffs then you can check the best RGB fusion alternatives.
Here are some of the most common issues related to RGB Fusion and their fixes:
How to Fix RGB Fusion Not Detecting GPU
I was using an Aorus RTX Ti Extreme which looks gorgeous with those Ring RGB lightings. But the RGB fusion was not working on RTX Ti.
This was awkward.
After changing a few settings, I found an easy solution for this issue which I am going to share with you now.
If your RGB fusion doesn't detect GPU then at firs make sure that it's manufactured by gigabyte then follow the steps provided here.
Again if you find any discord stream no sound error then be sure to disable the discord auto startup feature.
So, here are the steps to fix RGB Fusion not detecting GPU:
Uninstall Geforce Experience for now and set all the settings to default from Nvidia control panel.
Check your graphics card's exact model number and google it.
Open the official website results, and you will see the video card's compatibility.
Install the software that is shown on the official website or the Box of your graphics card.
Run the software RGB fusion or RGB fusion and tweak the settings as your wish to control the RGB lighting of your GPU.
In my case, the RGB fusion app wasn't working on my Aorus RTX Ti Extreme. I found that it supports the newer RGB fusion So, I installed it, and it fixed the issue.
Here's our tutorial on how to overclock monitor to Hz or Hz for a better gaming experience.
How to Fix RGB Fusion Not Detecting RAM
RGB Fusion does not detect ram only if it's not compatible with the app. Many people has asked me about why their RGB Fusion doesn't recognize ram modules like G.skill Trident Z series. I have found out in the official gigabyte website that the hugely popular G.skill Trident Z RGB memory modules aren't compatible with the RGB fusion app. Neither the Trident Z royal series is.
So, these RAMs need to be Synced separately with the Trident Z Lighting Control app.
Now, the problem is:
The Trident Z Lighting Control app conflicts with the RGB fusion app and doesn't work properly as RGB fusion is already installed in the PC.

So, here's how to fix RGB Fusion Not Detecting Trident Z RGB RAM:
Open the directory where you have installed RGB fusion (typically C:\Program Files (x86)\Gigabyte\RGB fusion).
Delete the two files Spddupm and SPD_Dump as these create conflicts between RGB fusion and Trident Z Lighting Control.
Install the latest Trident Z Lighting Control app, and you will be able to sync the RGB lighting of the RAM.
Also check out our review on the best B Motherboards and the best LGA CPUs.
How to Fix Gigabyte RGB Fusion Not Changing Colors
If the RGB fusion app doesn't work properly then or it's stuck to a default color. In my computer, it was stuck to blue.
I tried many fixes and updated the bios, but nothing worked so I did something new which I am going to tell you now.
Here's how to fix RGB Fusion not changing colors:
Restart your computer and press F2 or Del to enter BIOS.
Go to the Peripherals tab and open RGB fusion.
Disable RGB fusion then click on save setting and exit.
Follow the same steps to enable the RGB fusion from BIOS and save the settings and exit.
Now open the RGB fusion app in your computer as an administrator, and you will see that the RGB lighting is changing color for different effects.
Do you want to know how to add colorful text on your discrod chats? Then check out our separate tutorial on how to format text on discord.
When the RGB fusion doesn't work properly it is usually stuck at blue color.
RGB fusion creates problems when you have RGB fusion installed, or it's the remaining file in your computer.
So, to fix this issue, you will need to remove all the files of RGB fusion from your computer and then clear CMOS.
To remove the files you will need to uninstall both RGB fusion and RGB fusion and then go to C:\Program Files (x86)\ and delete the file named Gigabyte.
Now the next steps are to clear CMOS of your computer then reinstall the app to fix this issue.
Incase you face any problem relating to overclocking your GPU with MSI dragon center app then check our separate troubleshooting guide on MSI Dragon Center not working.
How to clear CMOS
The CMOS chip on the motherboard retains different types of data and settings like overclocking boot priorities and RGB profiles. If you clear the CMOS, then the computer will start with all default BIOS settings.
CMOS can be cleared easily by taking out the CMOS battery or by clicking on the CMOS button (usually available on the highest-end motherboards).
If your motherboard doesn't have a CMOS button then here are the steps to reset CMOS of your motherboard:
Turn off the computer and unplug it from the power source.
Switch off the Power Supply for safety.
Remove the side panel of the casing that's covering the computer.
Check where the battery is located on your motherboard.
Take it off by pulling the clip at its side that holds it.
Keep the battery out for 10 minutes and then place it in its place.
Turn on the computer and your CMOS will be cleared.
Fix RGB fusion interfering with RAM overclocking
This is a quite different issue, but it occurs for most people.
You can check your RAM speed from the Task Manager's Performance tab.
If you see that the memory modules are running at MHz, then be sure that RGB fusion app is the reason.
Here's how to fix this issue:
Go to Peripherals tab and open RGB fusion.
Turn off the RGB fusion so, that it doesn't interfere.
Go to Power tab and in your BIOS.
Enable ErP to prevent any RGB lighting when the PC is off (but plugged into a power source)
Save the settings and exit.
Unplug your PC from the power source and plug it again so that the function of ErP can work properly.
FAQ
Question: Why is my RAM not showing the overclocked Speed?
Answer: This simply happens because of other apps interfering with the startup. In most cases, it's the RGB lighting apps that cause this error. You can simply turn off the feature of ErP(that causes lighting when the PC is off but plugged into a power source).
Question: Why does RGB not work on Aorus RTX ?
Answer: The Aorus Series Graphics card's RGB lighting only works with the RGB fusion app. If you have the RGB fusion app installed in your computer, then you will need to uninstall it and get the RGB Fusion to enable RGB light of your Aorus series graphics cards.
Question: Is Trident Z RGB ram compatible with RGB fusion?
Answer: No, the Trident Z RGB RAM and its Royal series aren't compatible with the RGB fusion and RGB fusion app. So, you will need to sync them with the Trident Z lighting control app separately.
Question: Why my AORUS RGB M.2 NVMe SSD does not show up in RGB fusion?
Answer: Aorus RGB M.2 NVMe SSD only shows up in the RGB fusion and RGB fusion app only if you are using a gigabyte motherboard having RGB fusion compatibility. If you are using an Asus, MSI ASRock or any other motherboard then it won't show in the RGB fusion app, and you will not be able to control its light. I have tested this RGB M.2 SSD in both an Asus and a gigabyte motherboard, and it turns out that the RGB only works when it's attached to the Gigabyte motherboard.
Conclusion
I know how much trouble and stress you had to face for Gigabyte RGB Fusion app.
But now that it's all solved you can now enjoy the beauty of RGB lighting of your gaming computer.
It's natural to face computer errors when you are using a custom made PC having windows as operating system.
Hopefully these steps worked for you. Share this post to your friends who are facing similar issues.
And do let us know if you have any inquiry or any suggestion about this errors that will help others too.
Sours: https://techartful.com/rgb-fusion-not-working/
We Have a WINNER! - Best Motherboards For RGB - ASUS vs GIGABYTE vs MSI vs ASROCK
.
Motherboard software aorus rgb
.
How to GET ALL RGB's to SYNC! BEST RGB SOFTWARE!
.
You will also be interested:
.
293
294
295
296
297