We are always on the lookout for new ways that you can add vivacious color, pattern and even textural beauty to every room in your home, and few spaces are as demanding in this regard as the kids' rooms. Whether it is a gorgeous boys' bedroom, a smashing playroom or even a smart study, there is plenty of opportunity to usher in bright hues and fun patterns here without ever feeling like it is all too much! Today, we take a look at a wide array of fascinating shelves that go beyond the mundane as they combine form and functionality effortlessly in the modern kids' room.
Kids' room shelving is often limited to simple, modern units that bring clean design and straight lines to the room with a smidgen of color at times. But that is just the tip of the iceberg, as there are many unique shelves out there that break the mold and give the already fun space a more expressive and exuberant demeanor. The 20 fabulous inspirations on display today will surely tempt you to give the bedroom or playroom of your little one a quick and practical makeover!
Urbane Contemporary Designs
Open shelves in the kids' room allow you to combine the benefits of a handy storage space and a lovely display with ease. Instead of those closed cabinets or those many toy baskets neatly lined up in the kids' bedroom, shelves do demand a bit more organization and a clutter-free environment. But the extra bit of effort is well worth your time, as toys, books and other accessories placed neatly on these shelves become a part of the narrative of the room and usher in both color and visual contrast in refined, contemporary style.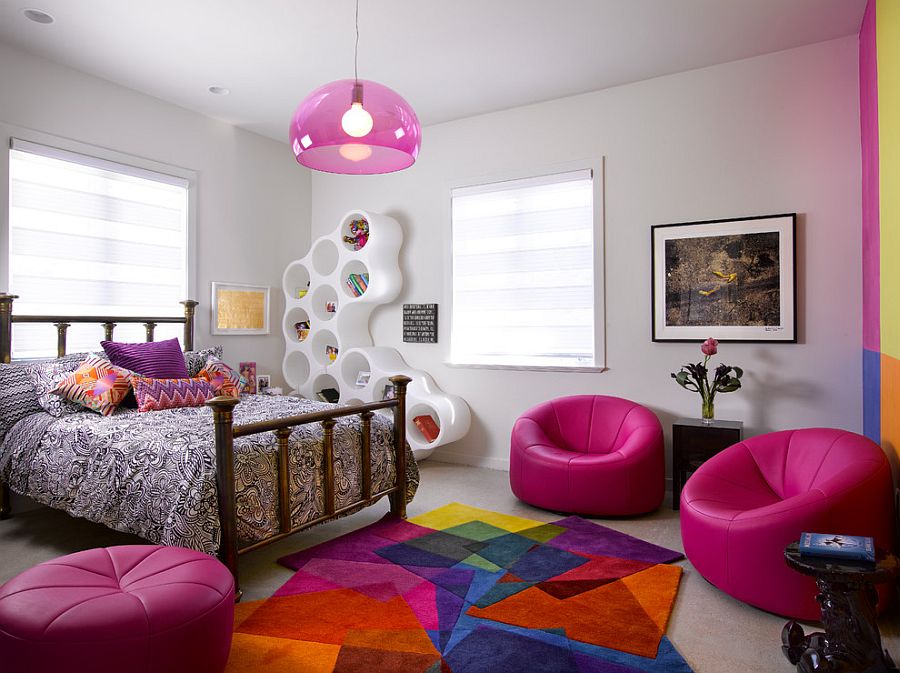 The best part about these classy shelves is that they will serve your kids for years to come, even as they move on to their teens and beyond. You can even use many of these sleek and stylish contemporary shelves in the home office or guest room when needed, and if you wish to design a kids' bedroom that grows along with them, they are a great choice indeed.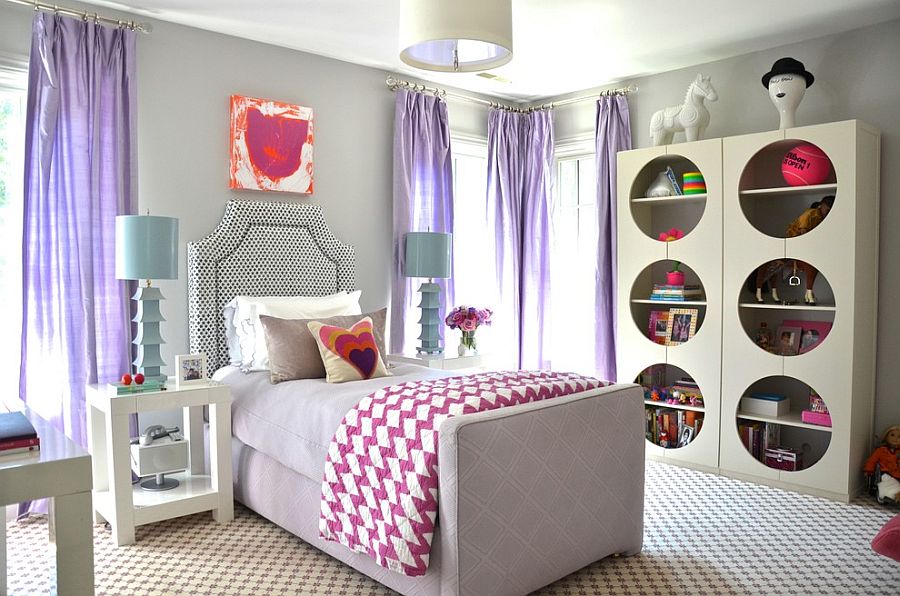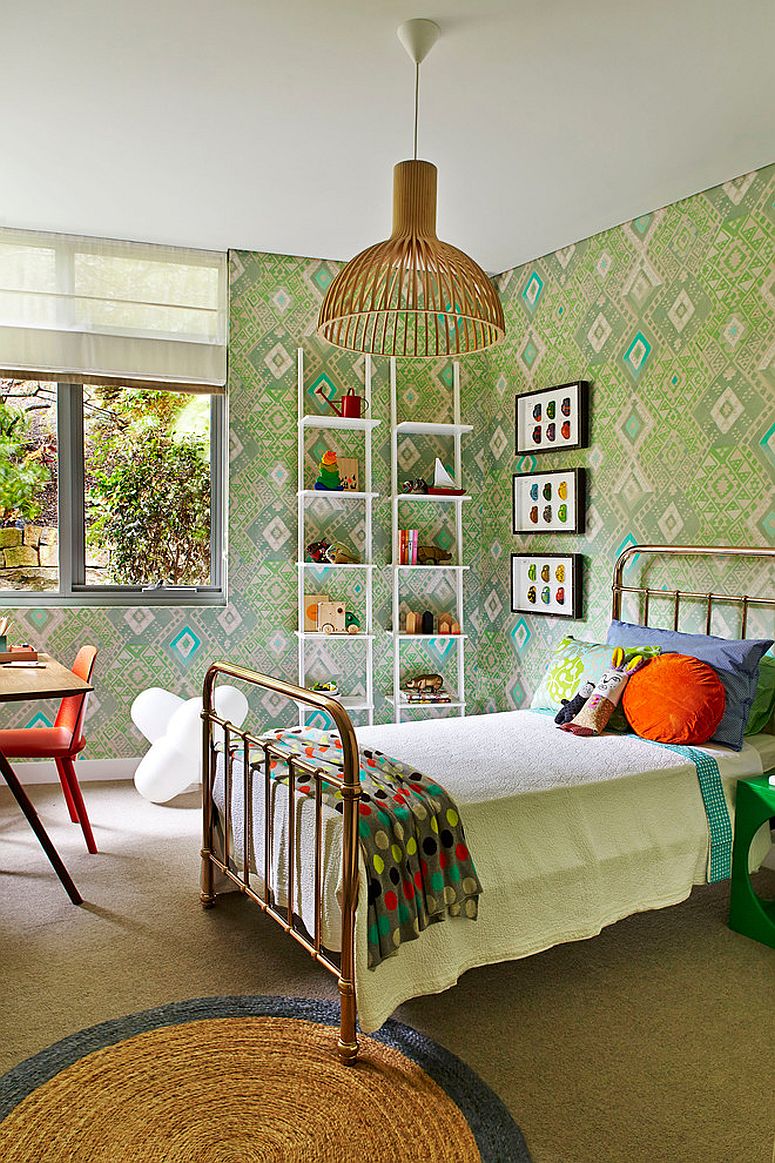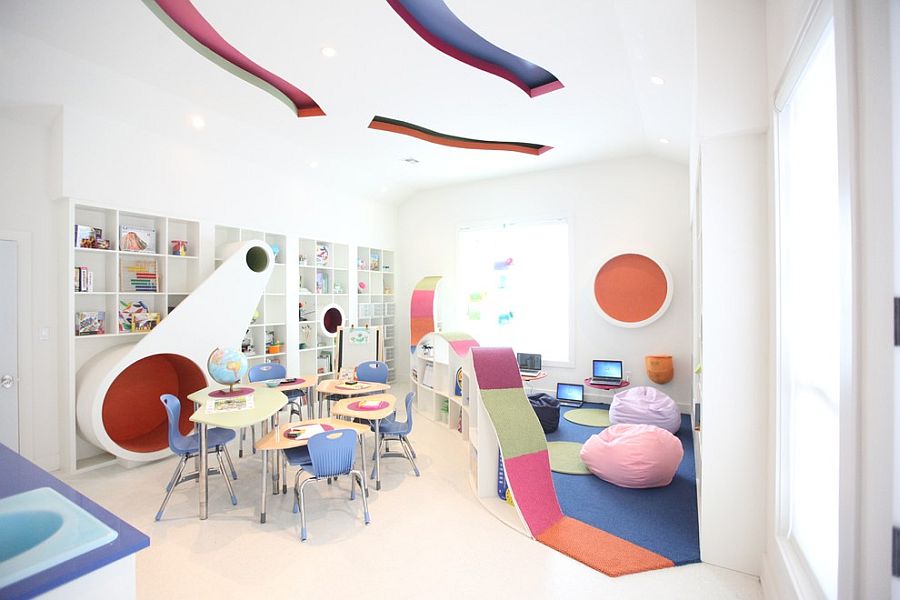 Beyond Straight Lines!
Bored with those simple straight lines in the kids' room? Surely if there is one space in your home that can handle loads of geometric contrast, it is the snazzy room of the little ones! Try out shelves in different geometric shapes that not only add diversity to the room, but also help shape striking focal points. Open, hexagonal shelves are a hot trend, and when clad in bright hues, they make a gorgeous display that steals the spotlight. Large, round shelves are perfect for stashing away giant soft toys, while even the simple box-shaped shelves can be arranged to fashion fun displays.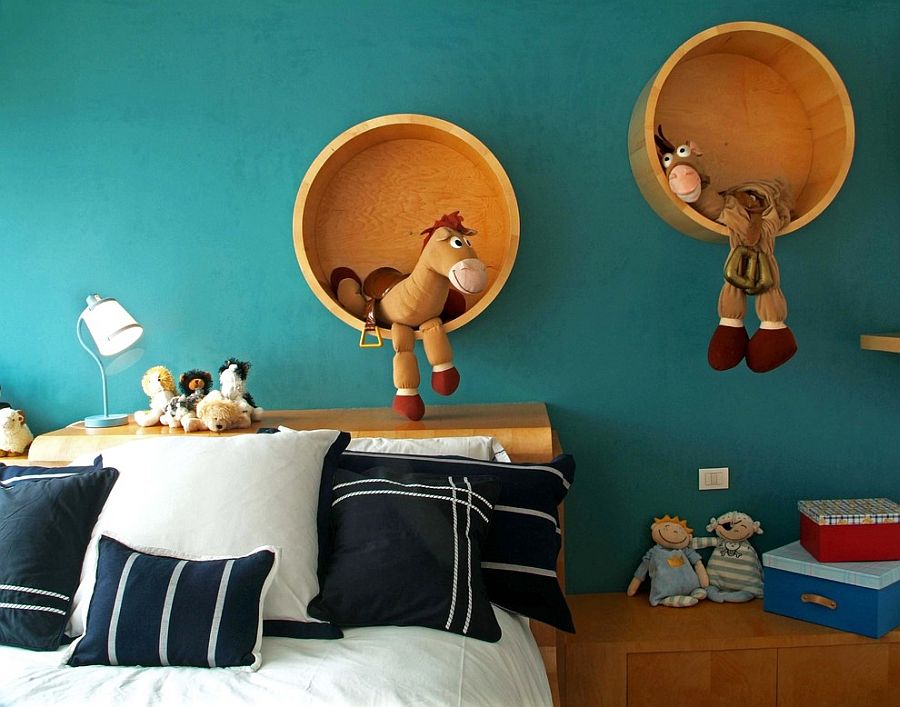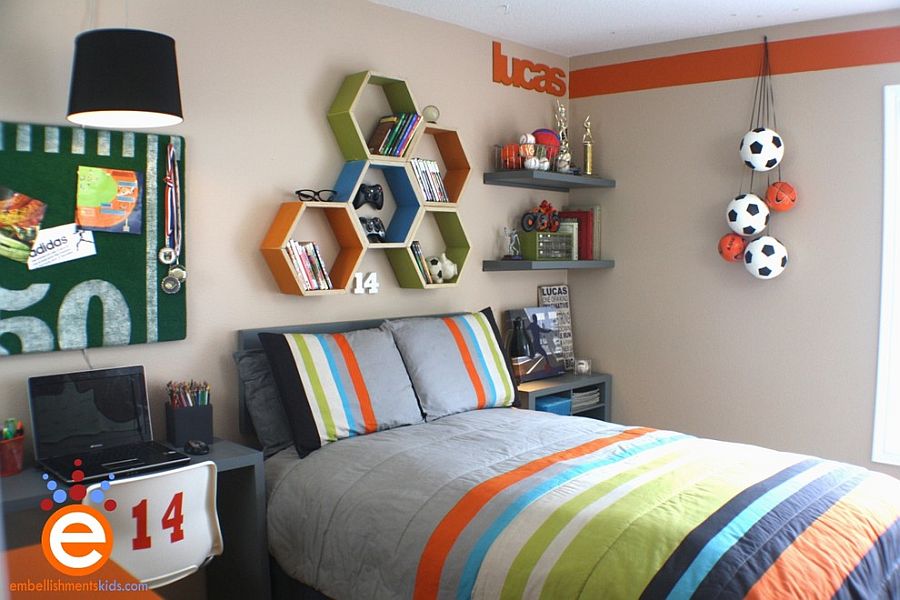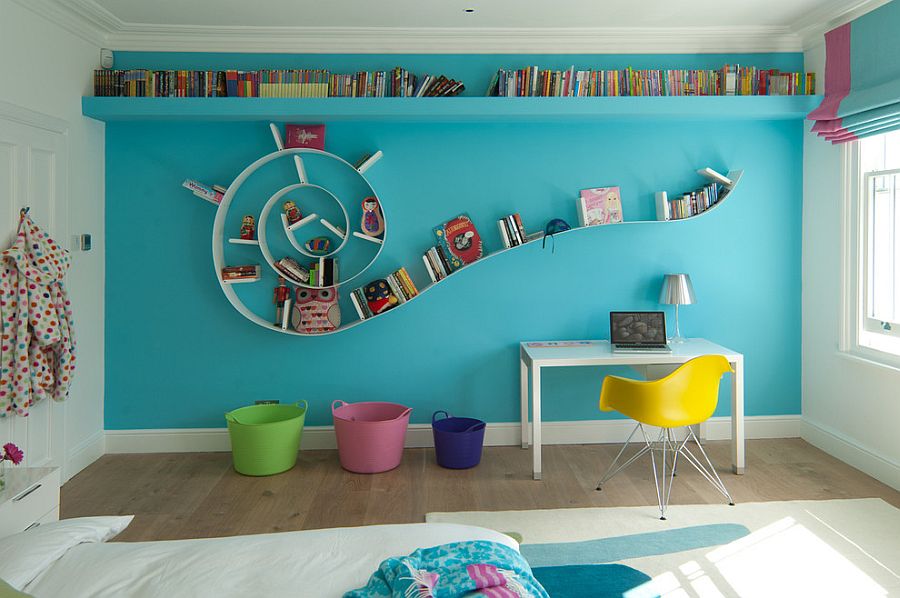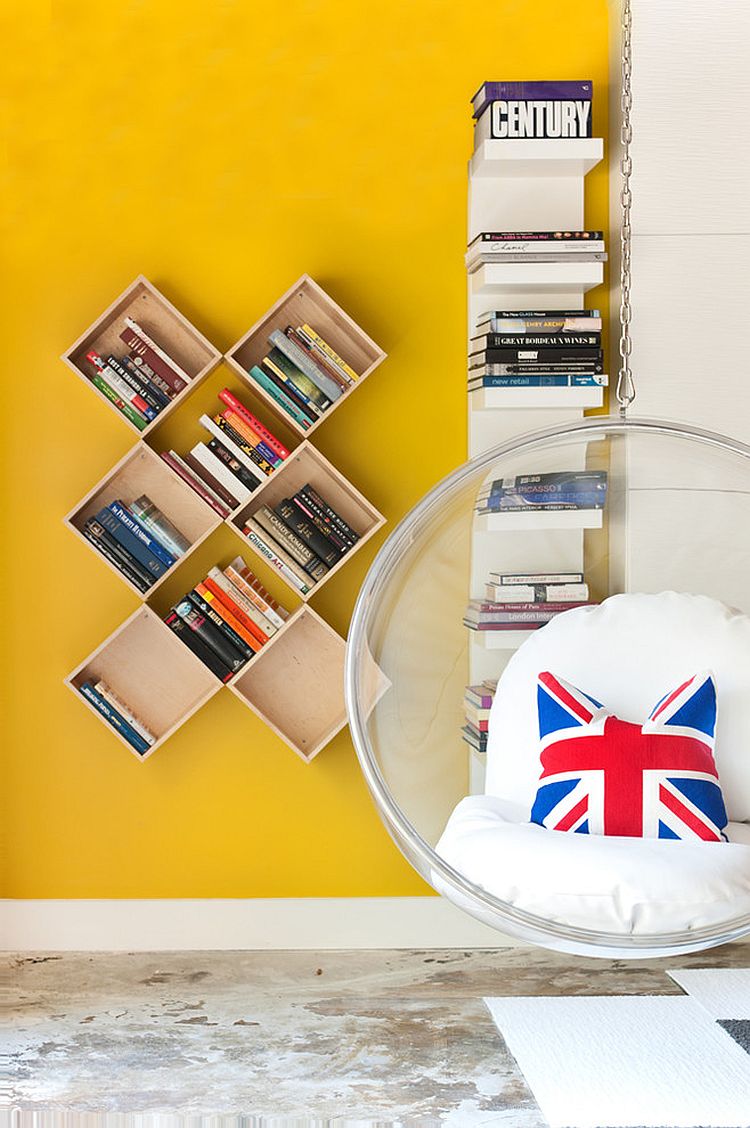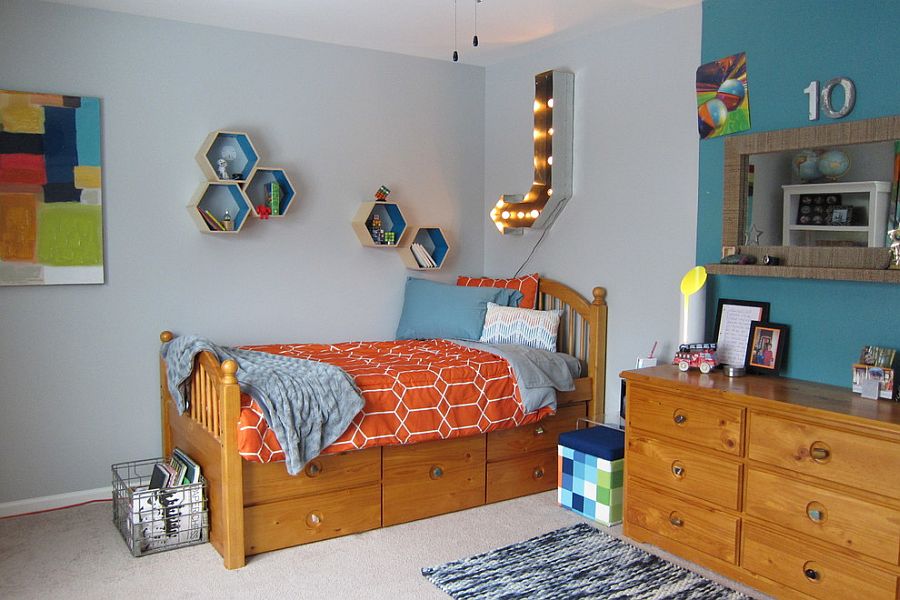 Custom, Homemade Solutions
Even though slim, floating shelves bring a certain unassuming modernity to the room, they can be quite expensive indeed. A smarter way to beat the price tag is to opt for bespoke shelves made by local craftsmen that will bring the same quality while giving you a chance to customize the design to suit the specific theme and color scheme of your kid's room. If this does not work, then delve into the world of DIY projects and showcase your own skills by crafting cool shelves that reflect your child's latest passion. (Like the hip skateboard shelves below)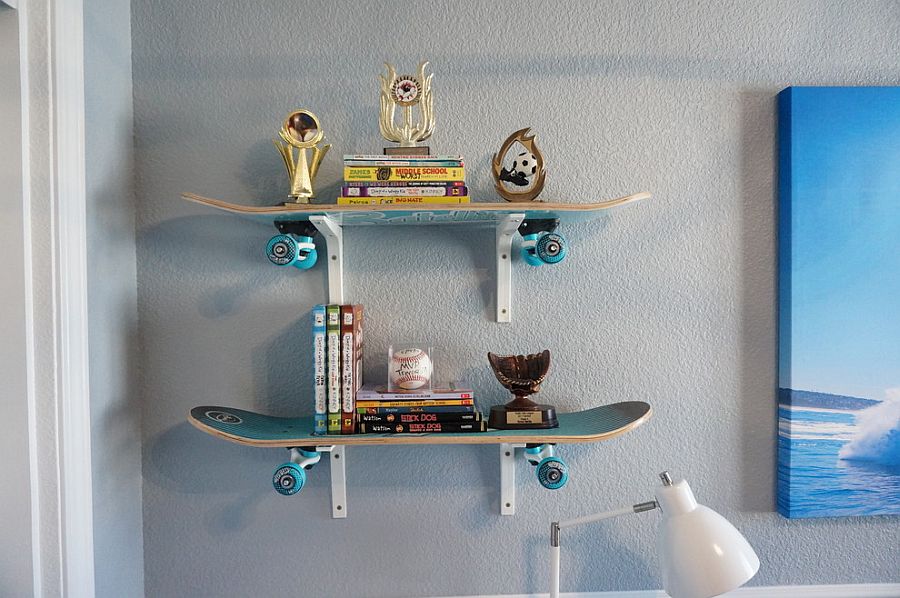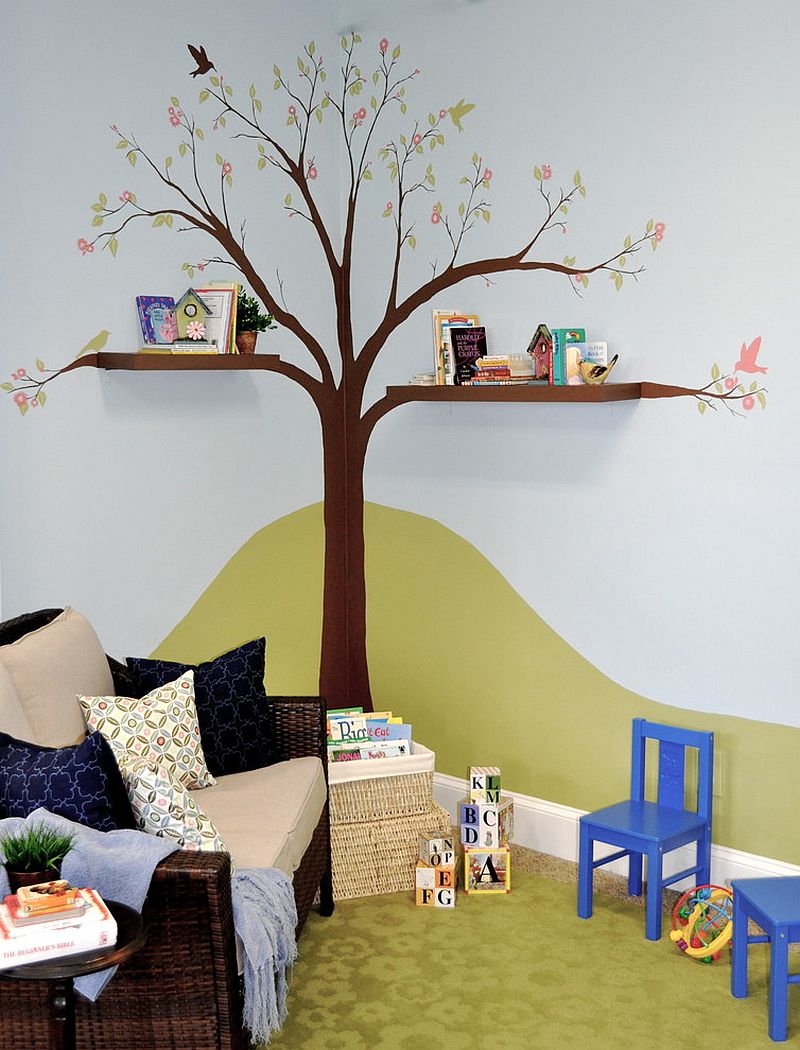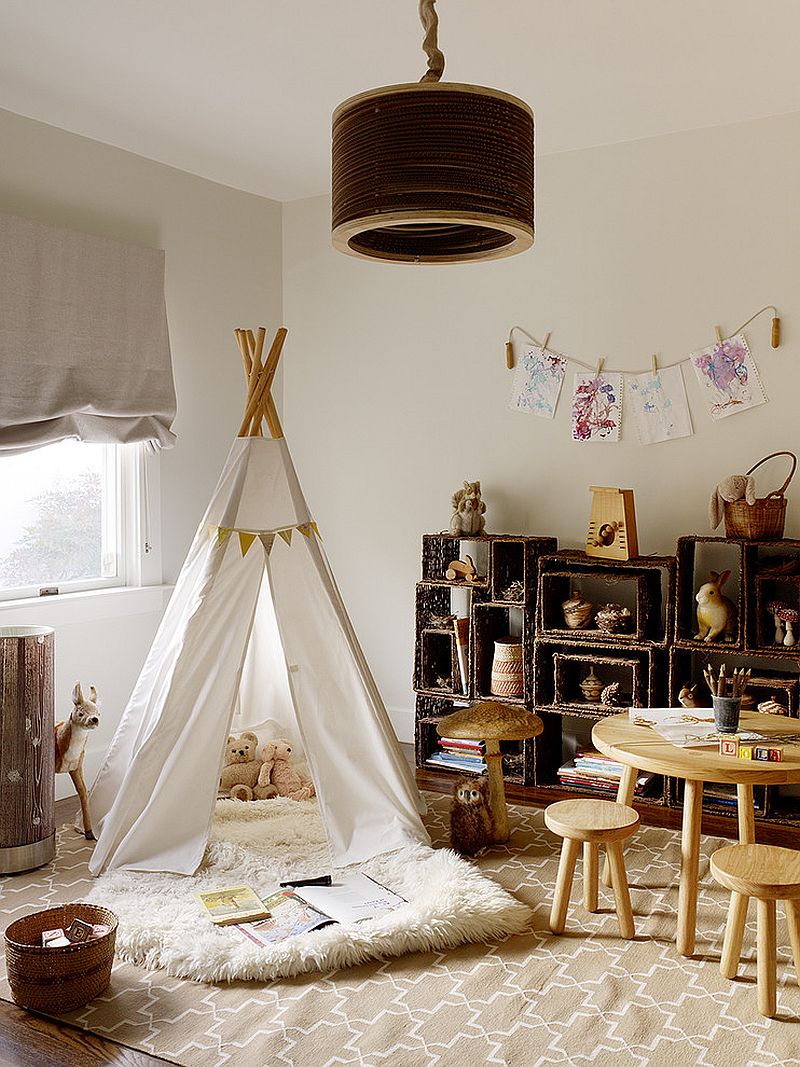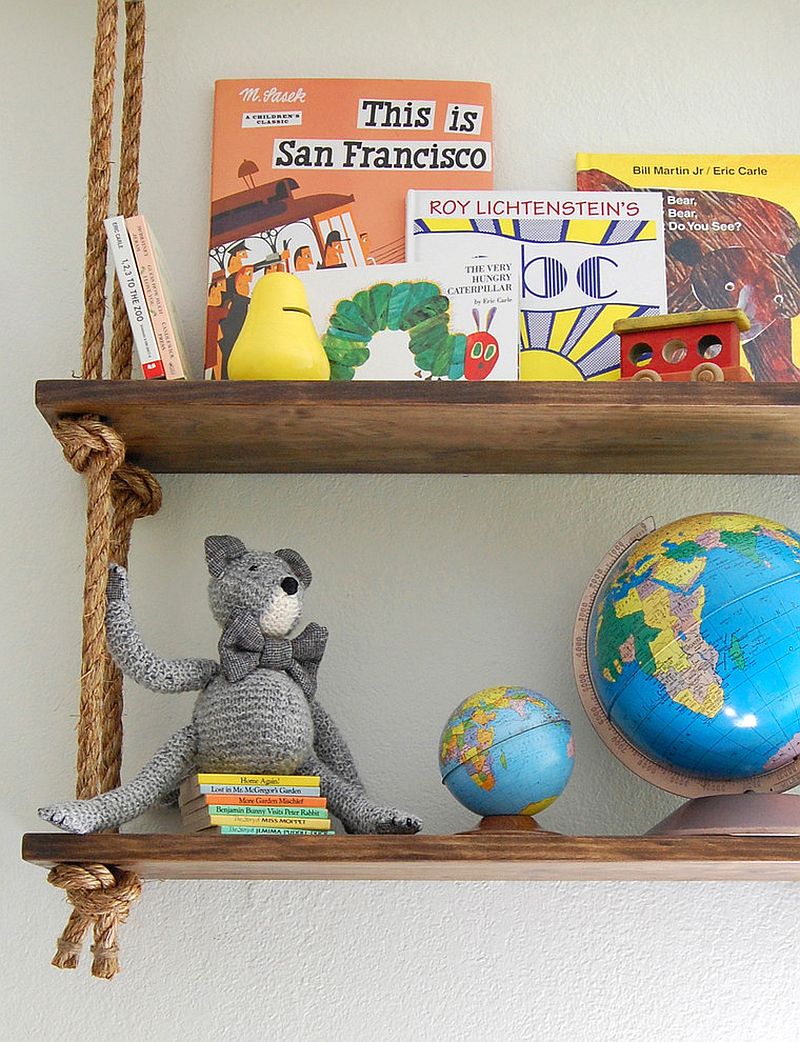 Step Up the Style Quotient!
Beds in kids' rooms have come a long way from those simple, metal-framed loft beds a couple of decades ago, and today, you can get a kids' bed in shapes that range from the classic race car to a majestic castle. If you have a loft or bunk beds, then use the stairs as additional shelving! With the right design, this space-saver can help you tuck away those bundles of toys, even while saving both space and cash splurged on separate, floating shelves in a small kids' bedroom. Sometimes, simplicity is indeed the best way forward!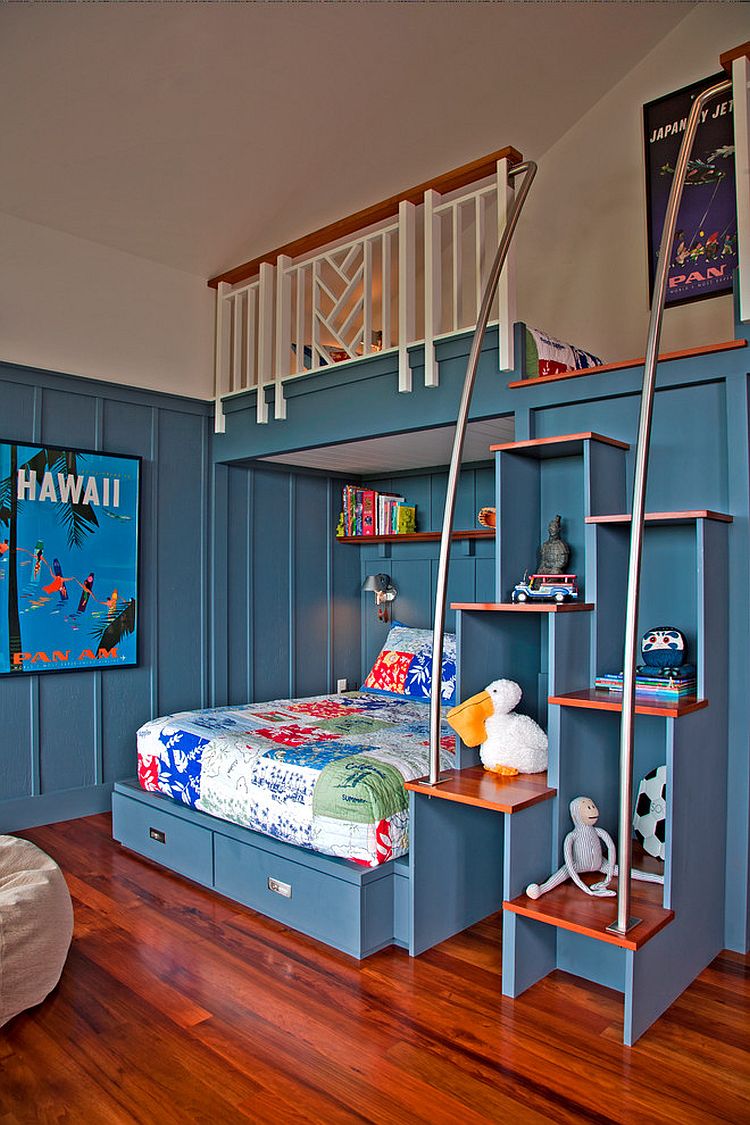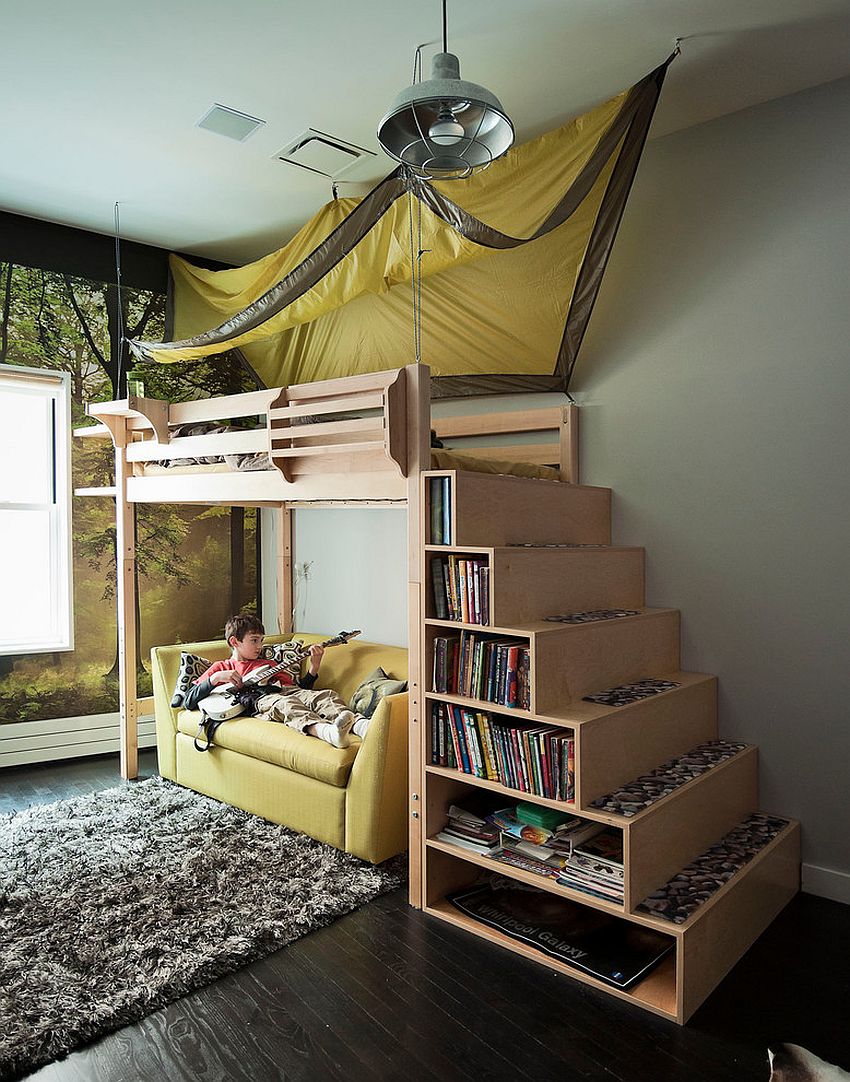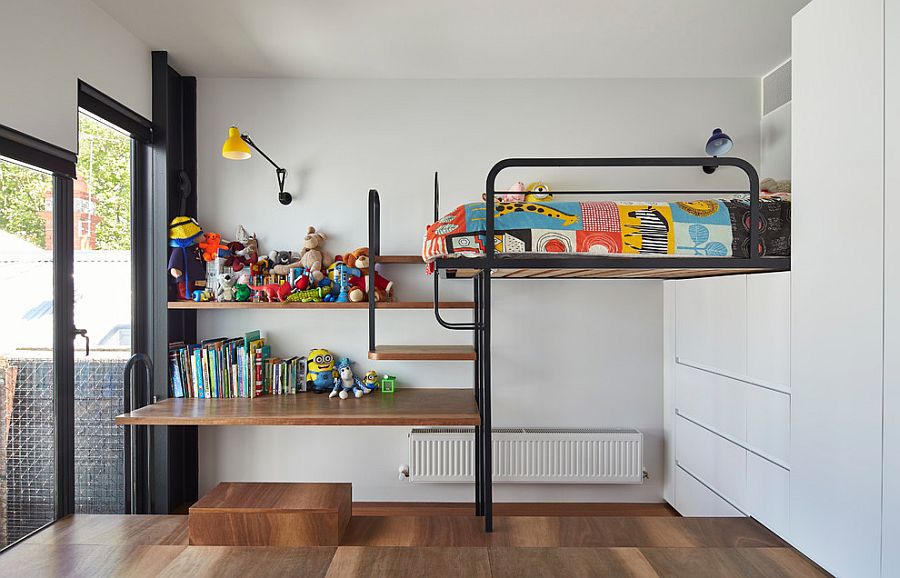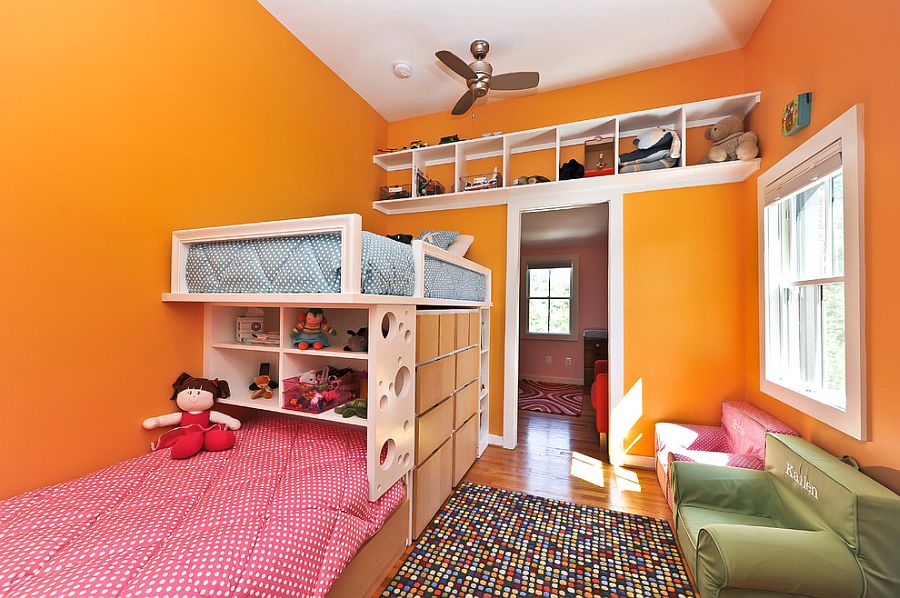 A Dash of Color
Multicolored shelves in the kids' room come in a wide range of shapes and finishes. Choosing the right ones can be a tough and confusing task at the best of times. A safe and sensible option here is to first finish decorating the room fully before you think about those elegant, modern shelves. Once the theme and color scheme of the room is clear, then picking the right shelves becomes a whole lot easier. Also, this will give you a good idea of how much space you can spare for the shelves and the way that they need to interact with the lighting fixtures and other décor in the room.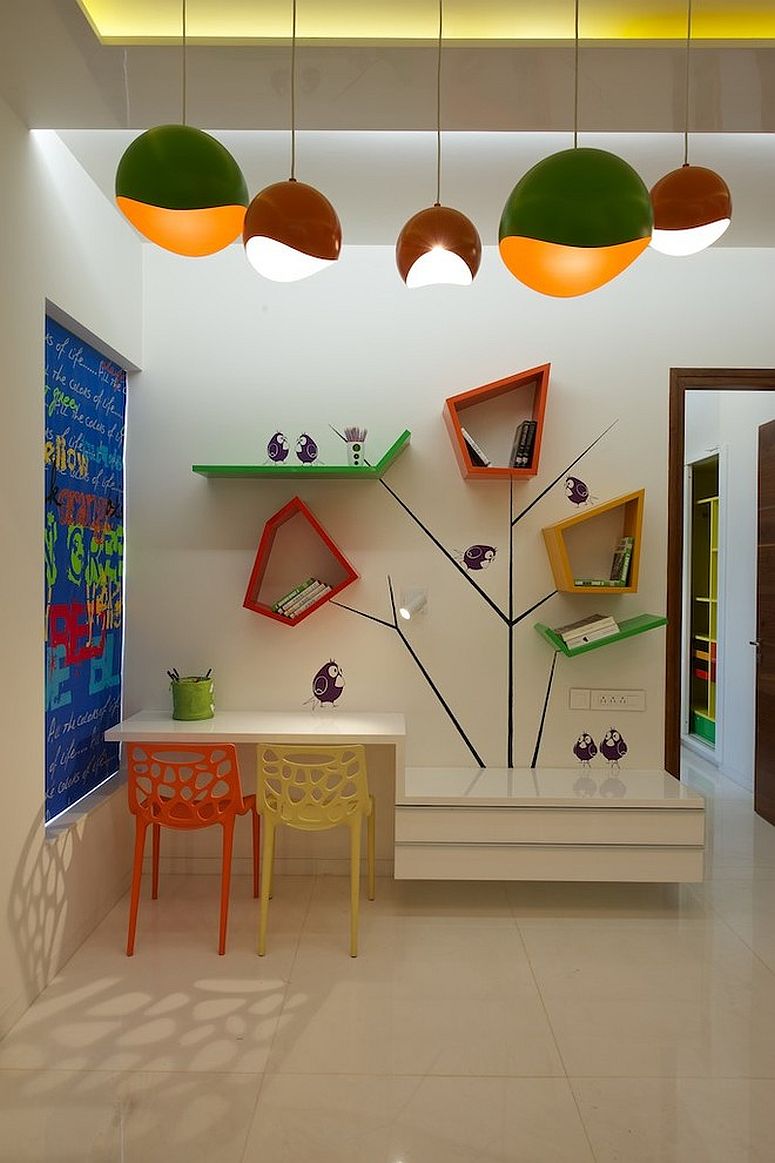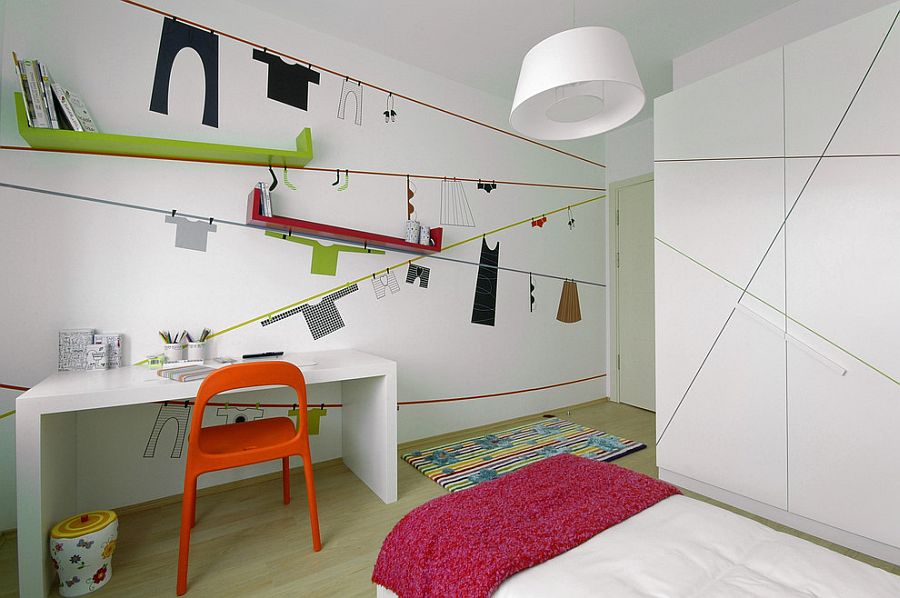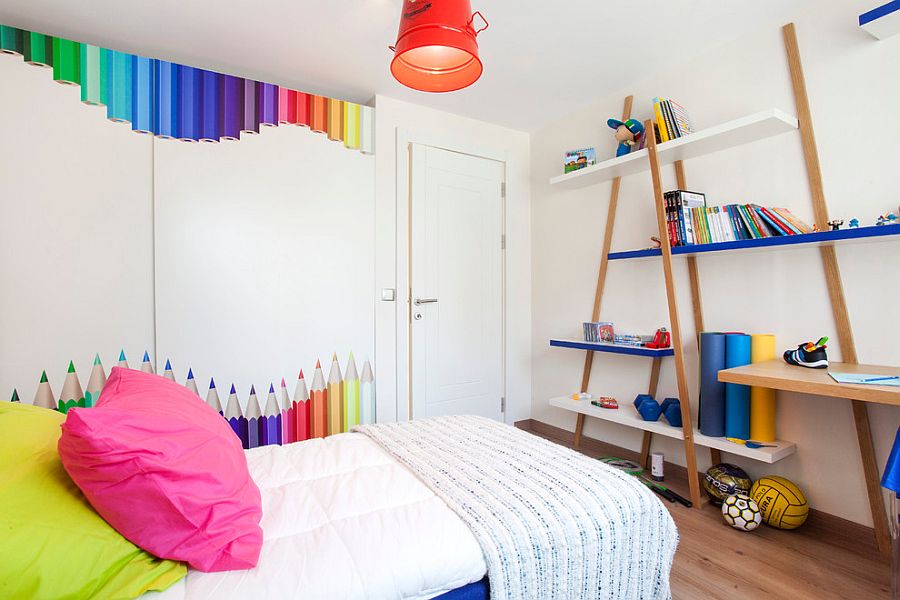 Sours: https://www.decoist.com/creative-shelves-kids-room/
Put your hand up if children's book storage is top of the agenda when designing a kid's room. We didn't think so. But maybe it should be a little higher – they amass so many books before they have even said their first word after all. And while watching your child learn to read is a joy, picking up all the scattered children's books afterwards is not.
Fortunately there are so many options out there to keep your kid's books tidy. Yes, you could pick a regular bookcase, but something a bit more fun that encourages them to grab a book is a winner. As is anything that adds interest to the room or makes a feature of book storage.
So keep your kids' bedrooms tidy by taking advantage of our smart children's book storage ideas.
1. Keep your children's book storage simple with cube shelving
Sometimes the simplest solution is the best one, and nothing beats a cube storage unit for keeping children's books tidy. Plus cubes are stackable so you can add to them as your child's storage needs grow.
We like the Handbridge Storage Cube from A Place for Everything. The handy divider on the top shelf makes keeping books tidy even easier, while the bottom drawer is great for toy storage and crayons.
2. Keep books to hand in a wall book sling
For a children's book storage solution that allows your child to keep their favourite bedtime reads right where they need them, look for a book sling. Hang it on hooks on the wall next to your child's bed and they'll never have an excuse to get up and down to go to the book shelves again.
We like the jolly Stripe Book Sling Storage from Little Pea Studio, which comes with solid oak dowels. Available at Not On The High Street.
3. Combine reading with learning to tell the time
Learning to tell the time can be tricky for some children, and they will benefit from a handy reminder or two. Make their book storage solution do double duty by teaching them to tell the time, too.
We like the very cute Tidy Books Tidy Box from John Lewis, which comes with a play clock on the side.
4. Make books accessible in a low book storage unit that is at child's height
If you want your child to access their books without your help, choose a storage unit that is low enough for them to reach. This means they can get their books (and hopefully put them back) by themselves, encouraging marathon reading sessions.
We like the convenient and simply designed Flisat book display from Ikea.
5. Make the bookcase part of the decor
If you're looking for decorating ideas for a child's bedroom, a colourful, fun bookcase is a great way to introduce colourful storage into kids' bedrooms. There are so many options out there that can be used to match a themed bedroom or just accent the colour scheme.
We can't stop admiring the charming Walter Kids' Crocodile Bookcase.
6. Create a feature display shelf
Children's books do not necessarily have to be stored on their own; storing special books alongside a jar of crayons and picture frames, as in this example from Little Folks Furniture, is a good way to keep them safe. Get them into styling their own shelfies early on, picking whatever they are enjoying reading or playing with at the time.
For similar items, see Etsy and Not On The High Street.
7. Create a room divider with the kids' bookcase
If your living space is open plan, positioning a large bookcase strategically can allow you to create a devoted reading corner for your kids. This is also a great option if you have two children sharing a room and want to give them both their own area.
Here, Elms Interior Design have used a bespoke bookcase as a room divider to create a kids' zone in an open plan room.
8. Make book sorting easy with compartments
Storing all books in the same storage box or bookshelf can make it difficult for your child to find their favourite book quickly. Choose a low storage unit with lots of dividers, so that each book can be stored in its own compartment.
We like the well crafted and cute Baa Baa Book Shelf from Rowen & Wren, available at Not On The High Street.
9. Make bedtime reading easy with a hook-on shelf
Bedtime reading is one of the great joys of childhood (and parenthood!), but finding their favourite bedtime read quickly can be a challenge... Not with a hook-on shelf, where their favourite books will always be to hand at the end of the bed.
We recommend the Fargo Hook-On Hanging Shelf from Little Folks Furniture.
10. Keep all books together in a sling bookcase
We love sling bookcases as children's book storage; they hold everything together, but are easy enough for a child to access the books whenever they want. They also make a colourful addition to kids' bedrooms.
Our pick of the bunch is The KidKraft Sling Bookshelf from Wayfair. Its shelves are made from soft canvas – perfect both for books and for delicate little hands!
Read more:
Sours: https://www.realhomes.com/design/10-childrens-book-storage-ideas
We live in time when your kid may not be reading as much as you were and prefer more sitting in front of the computer and playing games or watching TV. But books are a very important part of the child's upbringing and we all want them to love reading. That's why I think that bookcases are the must-have for your kid's room. There's a plenty of different shelves and stuff that helps organizing child's books from the really funny ones in shapes of different and bright colored animals or trees to the more conventional ones. You can easily find them on the most popular kids stuff' online shops like The Land of Nod, Diapers, Pottery Barn Kids, etc. or even make by yourself. Have a look at the bookcases that we loved.
References: kidsbabydesign, pinterest


book storage, bookcase, cool kids bookshelves, kids bookcases, kids bookshelves, storage for kids booksSours: http://www.kidsomania.com/25-really-cool-kids-bookcases-and-shelves-ideas/
How to Make a Montessori Style Bookcase - MADE by AP (2020)
Take a Look at These Amazing Kid's Bookcase Ideas!
Decorating your child's room should never be a reason for stress. Instead, think of the many happy moments that you and your little one will get to spend in that room and start organizing it so that it feels like a safe and welcoming space.
Books are part of our lives and introducing your little one to the world of fantasy from a young age can do nothing but good. But where are you going to showcase those colorful children books that leave the little ones intrigued about what's between the covers? Let's take a look at some beautiful kid's bookcase ideas, but not before we go over some useful shopping tips.
What to Look For
Sure, we can make up an entire guide on how to buy a bookcase, but the ones that are designed for children's rooms are a little bit different, so let's take a look at some of the mandatory things to look out for:
Not every parent can afford the luxury of setting up a large room for their child, which means they sometimes have to work with limited space. Consequently, they have to pay close attention to the free space that you have available and then check out the product dimensions before purchasing a bookcase that you may want.
Don't limit your search to just bookcases. There are plenty of pieces of furniture that can double as bookcases as long as you have the imagination needed to make it work. You can also look for suspended shelves, toy bins and organizers, different kinds of racks that can hold books in a creative way. Many pieces of furniture can be used to serve the purpose of showcasing child literature.
The accessibility of the items that are on the shelves is also important and this means that you should choose a bookshelf that's appropriate for your kid's age. You can expect a three year old to climb a chair or a ladder to reach a book that's located on the top shelf if it's too high, so you want to keep things at a ground level if you want your child to be able to access the content of the shelves. Otherwise, you can take advantage of the vertical space available and choose some suspended shelves.
What They're Made Of
There are different kinds of materials that can be used to make bookcases that are suitable for a child's room. The most common material is wood or particle board. This helps create furniture that is lightweight, but also easy to put together (the ease of assembly is something that you want to consider beforehand, for the sake of your mental health).
Metal bookcases aren't that uncommon, but not a lot of people choose them for a child's room. That's because metal tends to be quite heavy and it often doesn't fit with the colorful setup of a child's room. You shouldn't rule out metal bookcases yourself, since they can be painted to look quite stylish and metal is a durable material and a good investment.
Some bookcases can also be made with fabric, but they do require rods to give the structure shape. These options are usually cheaper and easier to clean, since removing the "skeleton" of the bookcase will leave you with a bunch of machine-washable fabric.
DIY Bookcase Ideas
If you have the time and the energy to create your very own bookcase for your kid's room, we have some really amazing suggestions in store for you.
This is a project that will once again prove that you're only limited by your imagination when it comes to repurposing stuff that you'd otherwise throw away. Check out how you can use these old pipes to create a vintage-style bookshelf that can hold your child's book in quite a unique fashion.
You can always flip a metal basket to the side and use it to create a cubby where you can store books, but also toys and other items that should eventually stay off the ground. You can also paint the metal wiring to match the existing room decor.
This tutorial will show you how to make a hanging fabric bookshelf without having to sew a thing! It's made from chair covers, metal poles, double-rod brackets, pinking shears, duct tape, some ribbon, the good old glue gun, and some fabric scraps.
We fell in love with the idea of adding that boy-ish touch to a child's room by using skateboards as shelves that serve for book and toy storage/showcasing. They're pretty easy to mount to the wall using the right brackets and they will add a lot of personality to the space, that's for sure.
We couldn't just ignore the brilliant idea of reusing old buckets and turning them into book shelves? Of course, you're going to need to but the buckets and paint them so they don't look old and rusty, but the end result is so modern (and cheap).
Safety Tips
Safety is really important when it comes to just about any bookcase, but when we're talking about something that could potentially fall and hurt your child, then it becomes even more important. Regardless of the type of bookcase (or just about any piece of furniture, really) that you choose for your child's room, here are some things to keep in mind, safety-wise:
Make sure that you secure the bookcase to the wall using special hardware (it can either be safety straps or L-brackets). If the bookcase you're looking to buy doesn't include this hardware, you have to purchase it separately.
Make sure that you place the heaviest items on the shelves that are closest to the floor. That way, there's less danger if lightweight items were to fall from the top shelves.
If the bookcase you're thinking of buying has drawers, consider installing drawer stops if your child is at that exploring stage where they just started to walk and will pull everything they see in front of them.
Choose bookcases that have solid bases or really wide and strong legs. The chances of these tipping over are lower.
Look at These Awesome Kid's Bookcase Ideas
Bookcase-Reading Nook
Coming in at 22.5" H x 40" W x 12" D, this is a piece of furniture that can easily find its way into a child room since it doesn't occupy that much space. It comes with six shelves that are perfect for storing books or toys, and two additional shelves located on the top of the bookcase for placing other items. There is also a seating spot that comes with cushions measuring 12″ W x 13.25″ D, while the seating area measures 17" length. This white bookcase is made from pine manufacturer wood and has a shelf weight capacity of 30 pounds.
Oundle 32.8″ Bookcase
Our next suggestion is a compact bookcase that comes with really cool storage space for toys in the bottom part and two large shelves for books in the upper half. Made from manufactured wood and available at a really good price, this product is perfect for compact spaces, even though it offers a generous amount of storage space itself. The bookcase measures 32.8" H x 41.1" W x 15.5" D overall, with the bin measuring 16.6" H x 19.5" W x 11.9" D. The shelves have a weight capacity of 30 pounds and the bins that you can see in the pictures are included with your purchase.
Smelser Toy Storage 36″ Bookcase
Here is one of our favorite bookcase suggestions. It serves as both a toy bin and a bookcase for a kid's room, but we can totally see it being used in an office as well. It's made from laminated particle board and the espresso finish makes it look elegant and quite easy to pair with multiple room decors. It measures 35.79" H x 48.78" W x 15.51" D overall and has a shelf weight capacity of 20 pounds (the total weight capacity of the entire bookcase is 120 pounds).
Balderrama Kids 24″ Book Display
The Balderramais more than just a bookcase, it's more of a way to display books, kind of like the magazine stands that you see in convenience stores and gas stations. It's made from manufactured wood and railings that help keep the books in a vertical position. While the case is white, the colors on the book covers will be visible, adding a touch of color to the entire ensemble. The sleeves are made from semi-opaque white fabric. The overall dimensions are 24" H x 25" W x 11" D and the entire display has a 15-pound weight capacity.
Calista 8″ Floating Shelf
When you have limited floor space to work with, suspended shelves are a wonderful idea, and this set of three shelves is just what you need to take advantage of the vertical space you have at your disposal. The shelves are available in a navy and a white color, and you get a set of three shelves with a weight capacity of 25 pounds per shelf. Each of the shelves measures 8" H x 28" W x 4" D and has an interior depth of 2.4". It doesn't include the wall mount, which means that you'll have to take care of that matter separately.
Crosby 42" H x 31.5" W Standard Bookcase
The George Oliver Crosby bookcase is another gorgeous example of a product that could find its way into multiple rooms in the house because of the design that makes it super versatile. It measures 42" H x 31.5" W x 9.45" D and has shelves divided into three tiers. The shelves have different sizes so that you can place different kinds of items on them, so you're not limited to storing only books. The mounting hardware is included and the assembly process is pretty easy.
Toy Organizer
The 37.87" H x 16.30" W x 15.28" D toy organizer we're showing you now is perfect for small spaces since it has a narrow construction that can easily fit in most corners. The design makes it so that you can use this as a bookcase as well, even if the lower shelf has a design that's usually specific to toy bins. The angled bottom of the last container can keep small toys in place, being the perfect storage option for Legos. The large opening makes it easy for kids and adults to reach for the stuff that's on the shelves.
Krausgrill Gracie Oaks 50″ H x 21″ W Standard Kids Bookcase
If it's a nice design you're interested in, you're going to love how this Gracie Oaks bookcase looks like. Designed to imitate a dollhouse, this bookcase is available in different color options, which are mostly white variations, with a black and a gray thrown in there. It measures 50" H x 21" W x 10.3" D, so it's unlikely that you'll find it too big for your child's room. The shelves can support 60 or 65 pounds in weight, depending on the color chosen.
Nataly Toy Organizer
This is yet another multifunctional toy organizer that can easily double as a bookcase in your child's room. It is so versatile and has an eco-friendly construction, so let's get straight into the specifications. The entire organizer measures 36.75" H x 36.5" W x 15.75" D and has a three-tier storage section design. The lower side has curved cubbies for storing toys; the middle tier comes with storage bins to replace the drawer section; the upper side has two large cubbies for storing books, large toys, or other items that your child would like to see on display. Made from manufactured wood, this toy organizer has a weight capacity of 100 pounds.
KidKraft Toy Organizer
Let's welcome one more manufactured wood bookcase for your child's room. This one is bigger than the others, since it measures 48.88" H x 37" W x 12.5" D overall. It comes with the wall mount required to keep the bookcase secured in place. The large cubes measure 18.5″ L x 8″ W while the small cubes measure 9.25″ H x 9.25″ W. This is a really versatile bookcase that has plenty of room for storing toys on the bottom shelves and there are plenty of shelves on the top, suitable for books or other items.
Pete 27.75″ Bookcase
Simple, efficient, elegant. These are just three words to describe the Pete bookcase. It is a great addition to a small child's bedroom, but the clean lines make this suitable even for an office or other rooms inside the house. It measures 27.75" H x 33.5" W x 11" D and it's made from manufactured wood. Each of the shelves has a weight capacity of 25 pounds, divided into two tiers. It doesn't come with any drawers or cabinet doors, which means that you can see everything that's placed on the shelves. It can be used for books, but also toys, pictures, craft items, or whatever other things you want to put on display in the kid's room.
Futch RiverRidge Toy Organizer
The last item we wanted to suggest today is a bookcase that fits perfectly in the corner of the room, since it has a specific design for such an area. This 37.31" H x 31.62" W x 22" D bookcase offers plenty of storage space and is divided into three tiers with three shelves each; that's nine compartments for storing toys, books, craft items, pictures, etc. It's made from manufactured wood and comes with wall anchors so that you secure the bookcase in place, for your child's safety. It has a weight capacity of 175 pounds and it does require some assembly.
Bottom Line
When you're thinking about buying a bookcase for your child's room, safety should be your number one priority. That means choosing items that aren't made with toxic materials and securing the bookcase is such a fashion that even the strongest child won't be able to tip it over even if they tried to. The rest is just a matter of how much space you have available, how many books you want to store, and how the bookcase will match the existing room decor.
Sours: https://www.homedit.com/kids-bookcase/
Kids bookcase cool
.
DIY Kid's Floating Bookshelf
.
Now discussing:
.
289
290
291
292
293