A Rare Talbot-Lago T14 America Barquette
Very few examples of the Talbot-Lago T14 America Barquette were built, largely due to the precarious financial situation the company found itself in by the end of the 1950s.
The final, and ultimately unsuccessful, attempt to stay in business would see the French automaker building cars fitted with V8 engines sourced from BMW in the hope of appealing to Americans, who liked V8 power and European sports cars.
Unfortunately the strategy would fail, though not for want of effort or aim, the same strategy worked well for a number of other automakers. The car you see here was built from parts left over after the company was acquired by Simca, it was built in the style of the Talbots that raced at Le Mans in 1956 and thanks to its 2.5 liter V8 and lightweight alloy bodywork it's a quick machine.
Fast Facts – The Talbot-Lago T14 America Barquette
This car was very nearly never built, its chassis and parts were part of a batch bought by former Talbot racing driver Georges Grignard after the firm collapsed in 1959.
Brothers Dominique and Marc Dupont bought some of these parts from Grignard and painstakingly built a handful of cars the same way the 1956 Le Mans cars had been built.
Talbot-Lago had enjoyed a series of race victories including multiple Grand Prix wins and a victory at the 1950 Le Mans.
Though highly respected for their road and race cars the company wouldn't survive into the 1960s.
Talbot-Lago
In the late 1940s and early 1950s Talbot-Lago was a globally recognized builder of Grand Prix winning race cars and luxurious road-going sports cars.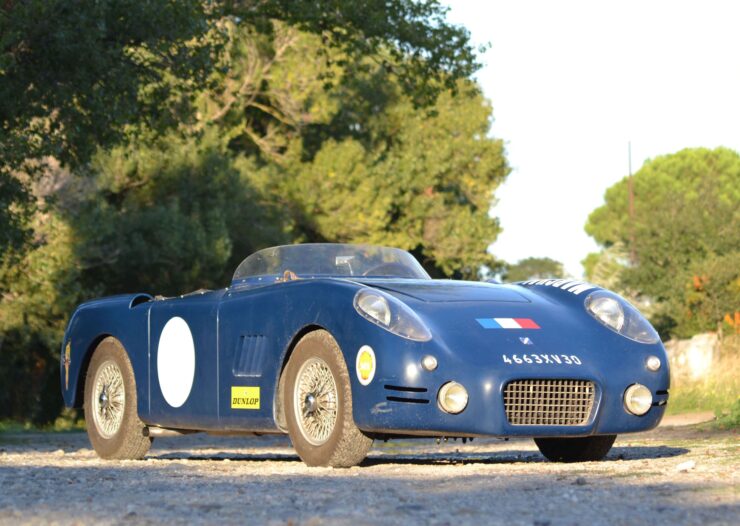 The car was specifically designed to look like the 1956 Le Mans race cars, though it's likely faster thanks to its vintage BMW V8 engine.
The company had originally started out all the way back in 1896 as Automobiles Darracq France, after being bought out the company was renamed Talbot in 1916 (though they still regularly used the Darracq name), and in 1936 Talbot was acquired by Antonio Lago in a a management buy-out – resulting in the name Talbot-Lago.
Some of the most beautiful cars of the 1930s and 1940s were based on Talbot underpinnings, typically with bodies built by leading coachbuilders like Figoni & Falaschi and Saoutchik.
Antonio Lago had a deep appreciation for the importance of racing for any car manufacturer, as much for publicity as for engineering advancement, and so the Talbot name regularly lined up on the grids of many of the era's most important races.
One of the company's most successful cars from this time was the Talbot-Lago T26C, a single-seat race car with a naturally-aspirated 4.5 liter straight-six engine and a four-speed gearbox. The T26C would place second in its first race – the 1948 Monaco Grand Prix, and it would win both the 1949 Belgian Grand Prix and the 1949 French Grand Prix.
A specially modified two-seat version of this car would be entered into the 1950 24 Hours of Le Mans and take outright victory, a major moment for the French brand. The T26C would continue taking wins well into the 1950s, with Doug Whiteford winning the 1952 and 1953 Australian Grand Prix.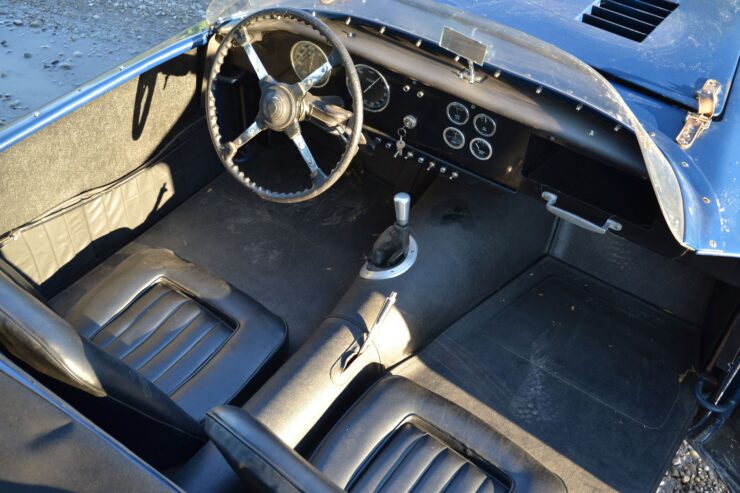 The interior is as spartan as you may expect, with just the essentials. As was normal for a sports/racing roadster in the 1950s the car has no seat belts, no side windows, and no folding top.
In 1954 Talbot-Lago unveiled a new engine called the T14 LS and then a year later in 1955 they unveiled the car that would be powered by it – the beautiful Talbot-Lago 2500 Coupé T14 LS. The engine would be a disaster for the company, it was unreliable and it quickly earned a bad reputation, with little choice in the matter they licensed the new 2.5 liter BMW V8 and renamed the car the "Talbot Lago America."
Only 12 or so examples of this car would be sold before Anthony Lago realized the writing was on the wall, and accepted the offer from Simca to buy Talbot-Lago and all of its assets in 1958. Simca would continue building the car for a short time, though with their own Ford flathead-derived V8s which were notably less powerful.
Talbot-Lago would be shuttered in 1959, leaving a decades long legacy of road and race cars that still create energetic bidding wars at auction on both sides of the Atlantic and no small amount of subterfuge.
The Talbot-Lago T14 America Barquette
The car you see here only exists thanks to French brothers Dominique and Marc Dupont. Both men were dyed-in-the-wool Talbot lovers, in fact Dominique had been the president of the Talbot Club for many years.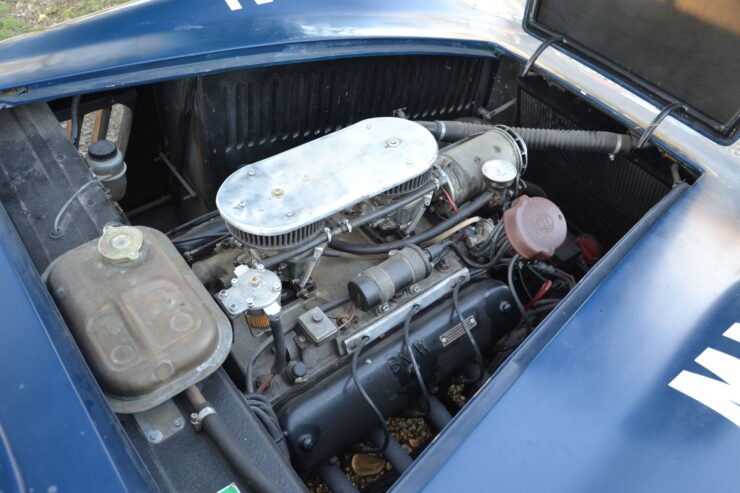 Power is provided by the powerful BMW V8 that was also used in the BMW 507 and the BMW 503.
After Talbot was shuttered the two men were able to buy a stock of original parts from former Talbot racing driver Georges Grignard, and they set about creating what would likely be the last Talbot-Lagos ever made.
The Talbot-Lago T14 America Barquette you see here was constructed by the brothers in the 1970s using a correct chassis, mechanical parts, and BMW V8 engine. They had an alloy body built as it would have been back in the mid-1950s, using the style elements of the 1956 Le Mans Talbot-Lago, that had been driven by Louis Rosier and Jean Behra.
Thanks to the car's very low weight and its relatively powerful 1950s BMW V8 engine it's capable of impressive performance even by modern standards. It was given a major servicing in 2020 and it's now being listed for sale with Artcurial.
The price guide is $92,500 – $127,000 USD and you can click here if you'd like to read more about it or register to bid.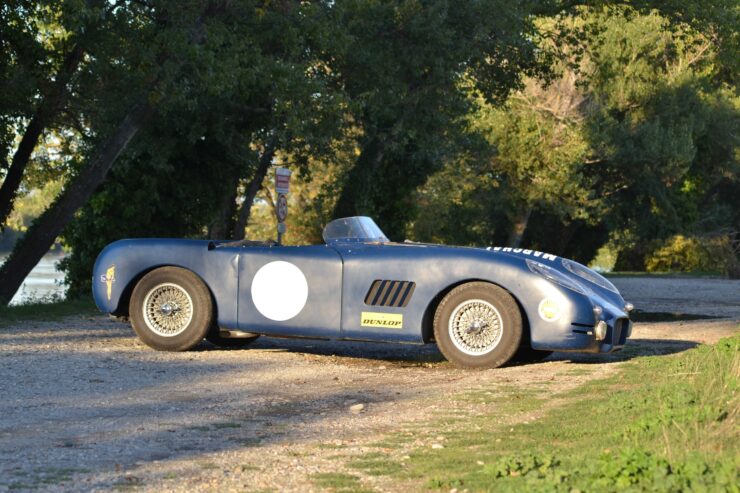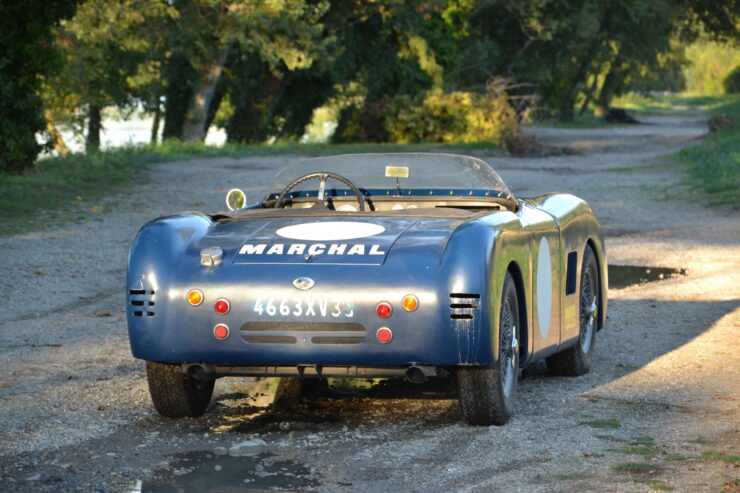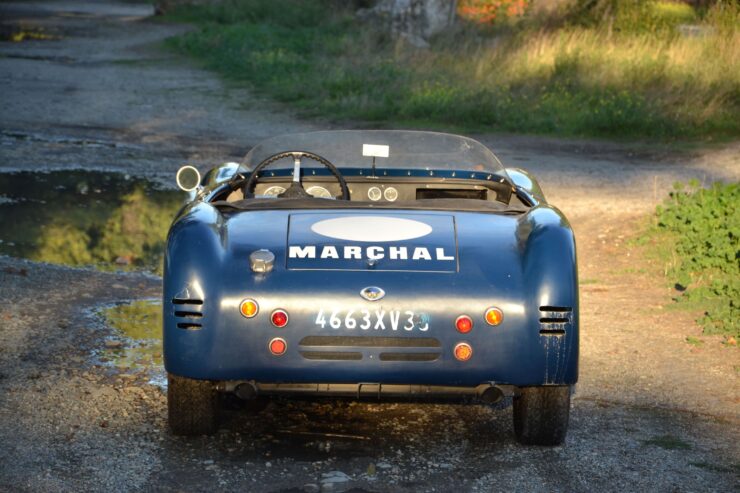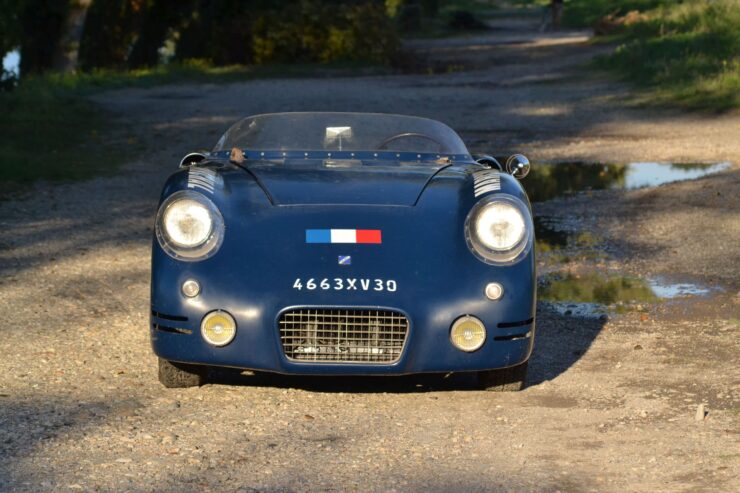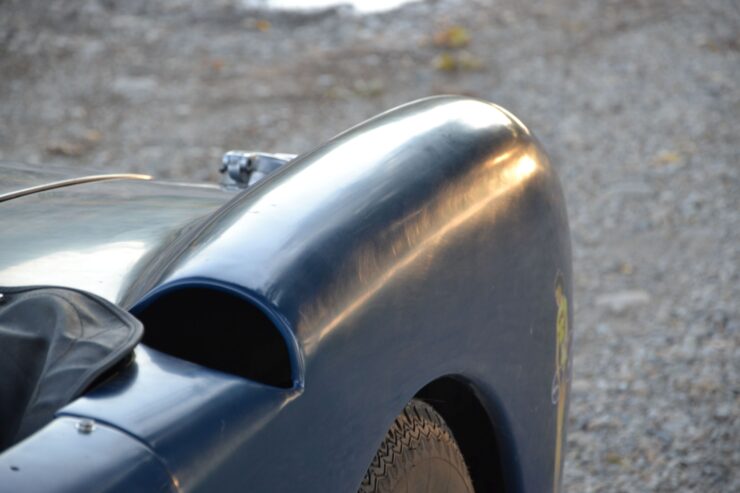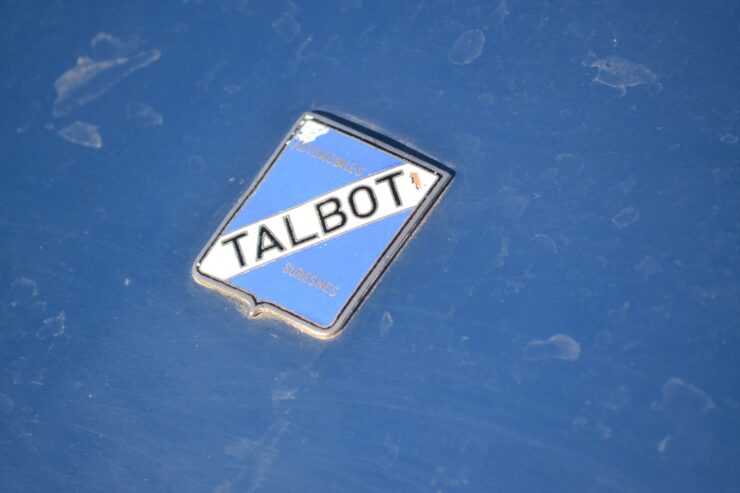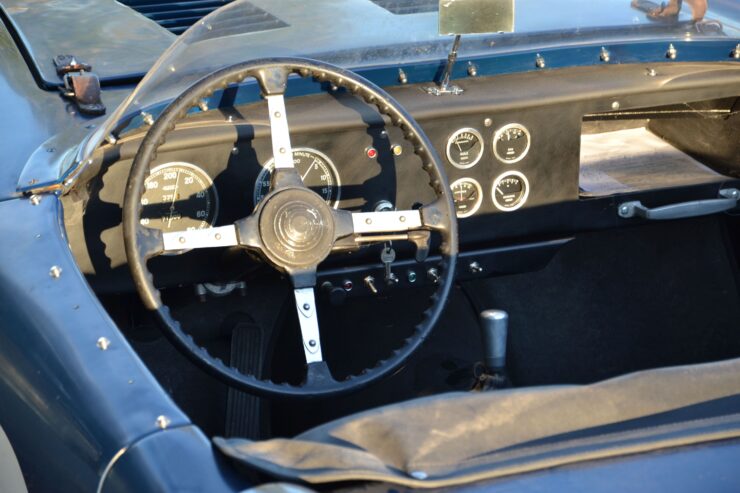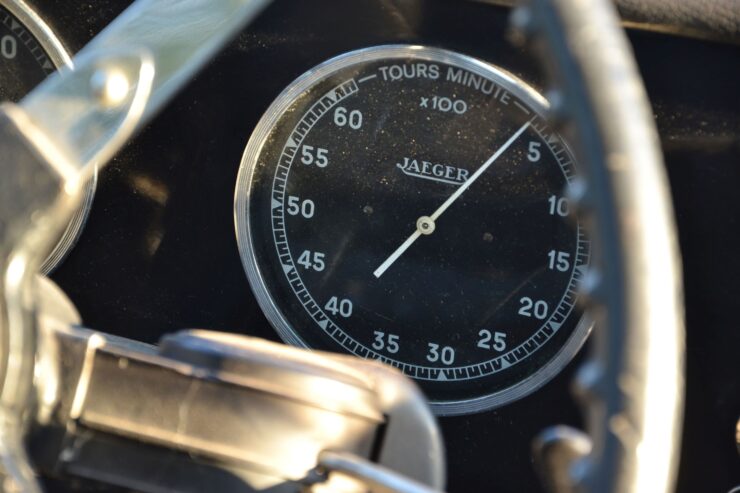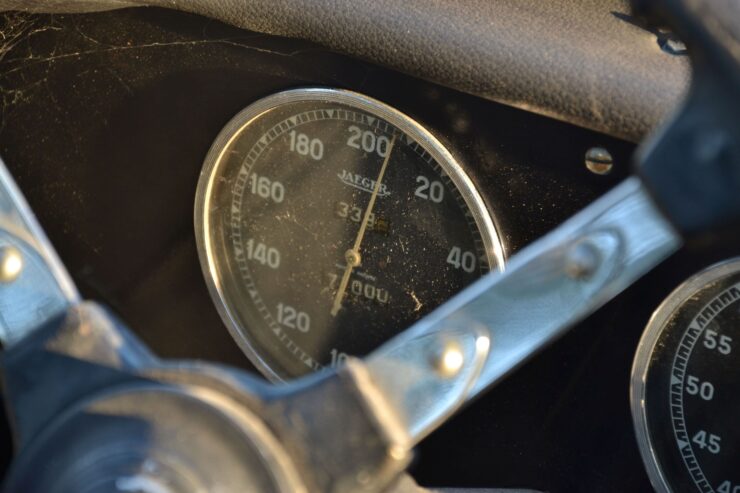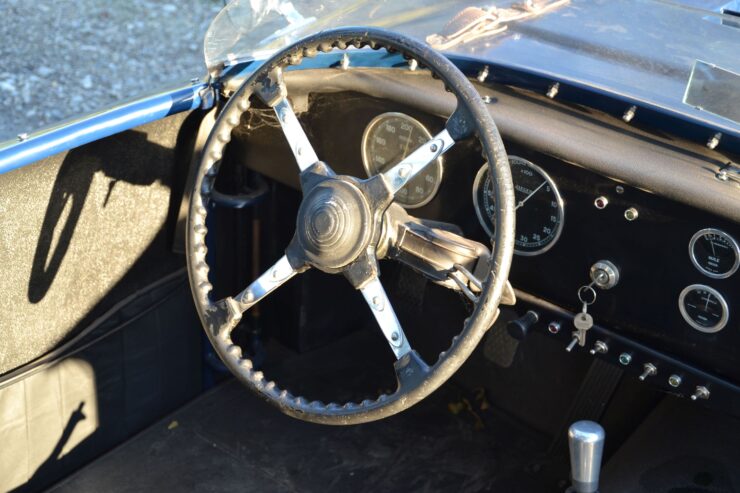 Images courtesy of Artcurial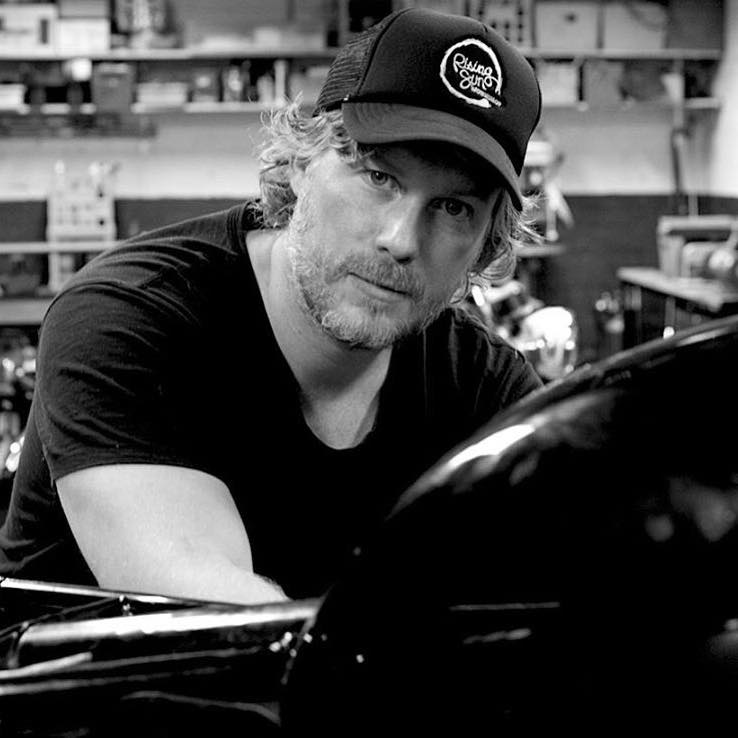 Ben Branch
Ben has had his work featured on CNN, Popular Mechanics, Smithsonian Magazine, Road & Track Magazine, the official Pinterest blog, the official eBay Motors blog, BuzzFeed, and many more.
Silodrome was founded by Ben back in 2010, in the years since the site has grown to become a world leader in the alternative and vintage motoring sector, with millions of readers around the world and many hundreds of thousands of followers on social media.
Sours: https://silodrome.com/talbot-lago-t14-america-barquette/
with 100% quality and %100 service Silicone Key Jacket Holder Case Fits For BMW Mini Cooper Roadster BLACK Fob global distribution
with 100% quality and %100 service Silicone Key Jacket Holder Case Fits For BMW Mini Cooper Roadster BLACK Fob global distribution
the first symptom of a cold is usually a sore throat. this is generally followed by sneezing or a blocked, sore or runny nose. usually, 1 in 3 people with a cold will get a cough and feel unwell.
colds are caused by viruses. antibiotics cannot treat viruses. instead, drink plenty of liquids to replace those lost from sweating and runny noses. get lots of rest and eat healthily. do not ask your gp for antibiotics for a cold.
you will usually feel worse during the first 2 to 3 days before gradually starting to improve. your symptoms will usually last about a week.
cold and flu symptoms are similar but flu tends to be more severe.
cold
appears gradually
affects mainly your nose and throat
makes you feel unwell but you're ok to carry on as normal - for example, go to work
flu
with 100% quality and %100 service Silicone Key Jacket Holder Case Fits For BMW Mini Cooper Roadster BLACK Fob global distribution

appears quickly within a few hours
affects more than just your nose and throat
makes you feel exhausted and too unwell to carry on as normal
cold symptoms can include:
blocked or runny nose
sore throat
headaches
muscle aches
coughs
sneezing
a raised temperature
pressure in your ears and face
loss of taste and smell
the symptoms are the same in adults and children. sometimes, symptoms last longer in children.
causes of colds
colds are caused by viruses. they can easily spread to other people. you're infectious until all your symptoms have gone. this usually takes about a week.
colds are spread by germs from coughs and sneezes which can live on hands and surfaces for 24 hours.
to reduce the risk of spreading a cold you should:
wash your hands often with warm water and soap
cough into your elbow to stop germs getting on to your hands and spreading to other people
use tissues to trap germs when you cough or sneeze
bin used tissues as quickly as possible
how to prevent catching a cold
the best ways to avoid catching a cold are:
washing your hands with warm water and soap, especially before eating
not sharing towels or household items, like cups, with someone who has a cold
not touching your eyes or nose. you can infect your body if you've come into contact with the virus.
staying fit and healthy
Sours: https://dermrxpharmacy.com/index.php?propecia7be/efbdd1249093.htm
Welcome to Brand Breakdown, a series of comprehensive yet easy-to-digest guides to your favorite companies, with insights and information you won't find on the average About page.
BMW automobiles have long set themselves apart in the crowded luxury marketplace by being driver-oriented machines, offering a dynamic experience behind the wheel while maintaining a high degree of refinement. Products from BMW Motorrad are no different, bringing equal amounts of sportiness, capability and luxury to the table. But just as BMW's cars have adapted to changing times, so too have BMW's motorcycles. Constant innovation, with a focus on safety and accessibility, have made their efforts to mint new riders among the most successful in the industry.
Entry-level single-cylinder bikes and scooters seek to bring the joy of riding to urban mobility. Adventure and heritage motorcycles equipped with the brand's signature boxer engine are instantly recognizable, thanks to the horizontally opposed cylinders. And even those Beemers that don't bear such obvious marks can still be clearly identified, as all of them wear the iconic blue-and-white roundel on the gas tank.
BMW Motorrad History
BMW stands for "Bavarian Motor Works" (or Bayerische Motoren Werke, in German) and while the company is best-known for its cars, its motorcycle engine manufacturing predates their first automobile by nine years.
BMW AG was founded in Munich in 1916 and produced airplane engines during World War I; in 1921, it began building motorcycle engines for other manufacturers before building their first bike, the R32, in 1923. (That R32 was the foundation of BMW motorcycles for decades; its shaft drive was in use until 1994.)
Following World War II, the company was given permission to start building motorcycles again in Western Germany in 1947; however, it had to start from scratch, as all its surviving blueprints and plans were at the facility in Eastern Germany under Soviet control. Following a trademark lawsuit in 1952, motorcycles produced at the Eisenach plant in East Germany wore a red-and-white roundel bearing the name EMW (Eisenacher Motoren Werke) to distance them from BMW. (If you think those bikes are highly sought-after collector's items these days, you'd be correct.)
How BMW Names its Motorcycles
As is the case with its cars, BMW Motorrad uses an alphanumeric naming system for their motorcycles. The first part of the name is a letter, which corresponds to an engine type; currently, the BMW Motorrad lineup has engine types varying from scooters names start with a C (parallel twin-cylinder engines attached to a constantly variable clutch) to sport bikes like the departed $78,000 HP4 Race (high-performance four-stroke four-cylinder). Between those extremes, you have bikes starting with the letter S (four-cylinder sport motor), R (opposed twin-cylinder), G (single cylinder), F (parallel twin-cylinder), and K (three or more cylinders).
The second part of the name is comprised of numbers, which represent the size of the engine's displacement in cubic centimeters….except when it's actually just a random series of numbers instead, which does happen.
Lastly comes the letter or letters following the numbers—the part of the name that explains the purpose of the bike: A (for Adventure, sometimes spelled out), S (sometimes Sport or Strasse, the German word for street), G (from the German word Gelande, which means terrain), GT (sport touring), RR (road racing), RT (road touring), L (luxury), T (touring), GTL (luxury sport touring), B (bagger), R (road), X (extreme), and GSA (grand sport adventure, sometimes spelled out) all see use in 2019.
BMW Motorrad Terminology
BMW Motorrad: Pronounced "Moto-rad" (meaning "motorcycle" in German), this has been BMW AG's motorcycle division since 1923.
Beemer/Beamer: Traditionally, "Bimmer" is the nickname for BMW cars, while "Beemer" or "Beamer" applies to the motorcycles. Why? Well, the etymology comes from the post-WWII era. BMW was competing with British bike company BSA, whose bikes were nicknamed "Beesers." The "Beemer" nickname was attached to the BMW bikes in an effort to keep it from seeming like the staunch German brand.
Flat Twin: BMW's iconic engine layout of choice, with two horizontally opposed cylinders mounted across the frame.
Airhead: The flat twin engine with two valves per cylinder produced from 1969 to 1995 that is cooled by air.
Oilhead: Partial oil cooling, which came to the flat twin boxer in 1995, when the cylinders gained two valves for a total of four.
Precision Cooling: A glycol/water coolant mixture is sent to the hottest part of the engine around the combustion chamber. This accounts for 35% of engine cooling; air and oil account for the other 65 percent. Precision water cooling arrived on the GS line of bikes in 2013.
GS: The literal translation of Gelände/Straße is "Off-road/Road," but GS is also used interchangeably to mean Gelände Sport. The first BMW GS produced was the R80/GS in 1980 and continues through today; the line is easily identified by the long travel suspension and upright riding position, and bikes are often optioned with long distance touring accessories.
Shaft Drive: The final drive system of choice for BMW since the R32 arrived in 1923, consisting of a shaft that connects a gear inside the gearbox to another gear inside a hub on the rear wheel.
Urban Mobility (Scooters)
BMW Motorrad's Urban Mobility segment consists of one model: the C400 GT. It's capable of covering long distances easily in addition to being a premium two-wheeled city street slayer, with its single cylinder delivering 34 hp and 26 lb-ft.

Models:
• C400GT – $8,495
LEARN MORE
Adventure
When BMW introduced the R80 G/S in 1980, it kicked off a whole new segment—one that has risen to new heights of popularity in the past few years, as smaller, more approachable adventure bikes have hit the market. So it stands to reason that the company that started it all would be producing the bikes to beat. (Car nerds, you can think of BMW's "GS" motorcycles as the 3 Series of Motorrad.)
They range from the very accessible, fun-to-ride single cylinder G 310 GS up to the iconic R 1250 GS Adventure, which can be found conquering continents with its 136-hp four-stroke flat twin. In between these two ends of the spectrum lie a number of great rides, including the F750 G S with standard stability control and ABS, and the F850 GS Adventure with a new 90-hp parallel twin cylinder engine and a smoother, more easily-operated clutch to reduce fatigue in tricky situations.
Also noteworthy is the S 1000 XR, which combines a 165-hp inline four-cylinder engine and sport bike riding dynamics with GS ergonomics and styling, and the wild-looking new F 900 XR that's as happy on the road as it is off it. And for 2021, several models receive retro-inspired Edition 40 Years GS variants.
Models:
• G 310 GS – $5,945
• G 310 GS Edition 40 Years GS – $6,195
• F 750 GS – $10,995
• F 750 GS Edition 40 Years GS – $11,395
• F 900 XR – $11,695
• F 850 GS – $13,545
• F 850 GS Edition 40 Years GS – $13,945
• F 850 GS Adventure –$14,545
• F 850 GS Adventure Edition 40 Years GS – $14,945
• S 1000 XR – $17,945
• R 1250 GS – $17,995
• R 1250 GS Edition 40 Years GS – $19,745
• R 1250 GS Adventure – $20,345
• R 1250 GS Adventure Edition 40 Years GS – $21,895
LEARN MORE
Heritage
It was only a matter of time before stripped-down retro themed bikes had their moment. When BMW launched the R NineT in 2013, it was that moment. Here was an air-cooled boxer BMW with classic lines, but with optional heated grips and a factory warranty.
Since the launch, the R NineT family has expanded to several models, ranging from the stripped-down, ready-for-customization R NineT Pure to the original R NineT to the new retro-inspired Urban G/S Edition 40 Years GS. All the bikes use the same air/oil cooled twin cylinder boxer engine making 110 hp and 86 lb-ft of torque.
The big news last year, however, was the arrival of the R 18 — BMW's first true cruiser, powered by a new engine of an automotive-like 1.8 liters of displacement. A new R 18 Classic with heritage-inspired design cues joins the line this year.
Models:
• R nineT Pure – $10,995
• R nineT Scrambler – $13,495
• R nineT – $15,945
• R nineT Urban G/S Edition 40 Years GS – $15,995
• R 18 – $17,495
• R 18 Classic – $19,495
LEARN MORE
Roadster
The Roadster segment is comprised of just a few bikes, but they're hardly afterthoughts. These machines represent everything from incredible value propositions to a 165-hp beasts with a standard titanium exhausts.
The G 310 R is the more urban-oriented of the single-cylinder entry-level bikes, has already attracted a wide-ranging audience from new riders to custom builders. With a low center of gravity that's been shifted towards the front wheel by rotating the cylinder head 180 degrees (thus giving the whole cylinder a rearward tilt) and a fully-fueled weight shy of 350 pounds, it offers an engaging riding experience that novices and veterans can both enjoy.
The S 1000 R, on the other hand, is just shy of being a full-blown sport bike. It's an enthralling, stripped-down piece of machinery that somehow remains comfortable enough for commuting. It notably comes standard with Gear Shift Assist Pro, which lets you skip the hassle of engaging the clutch when ratcheting off shifts at full tilt.
Joining them in the lineup for 2020 are the new F 900 R and R 1250 R. The former is a more bare-bones machine with its inline-twin spitting out 99 horses; the latter packs the company's newest Boxer in its frame for rich, torquey power no matter your riding style.
Models:
• G 310 R – $5,045
• F 900 R – $8,995
• S 1000 R – $14,545
• R 1250 R – $14,995
LEARN MORE


Touring
This is the other big segment for BMW, next to their Adventure bikes. BMW touring bikes can be found covering large swaths of land around the globe—and if you swing through notable riding zones like the Tail Of The Dragon, you're guaranteed to spot a few well-to-do folks cruising in comfort on them. It's kind of outrageous that the K 1600 B even exists; after all, when you think of BMW motorcycles, you don't think of baggers. But there it is: six cylinders all in a row, a low-slung silhouette and an incredible amount of road presence.
The R 1250 RT boasts a twin-cylinder boxer making 136 hp and 105 lb-ft, and makes use of a new variable camshaft control system dubbed "BMW ShiftCam" that gives access to more torque across the powerband by using variable valve timing. On a big bike like this, that's exactly what riders are looking for: ease of riding, comfort, and doing the long rides in style. None do it better than especially the K 1600 GTL, which has dual adaptive xenon headlights and an electrically-adjustable windscreen.
Models:
• K 1600 B – $23,195
• K 1600 Grand America – $25,295
• K 1600 GTL – $26,995
• K 1600 GT – $24,045
• R 1250 RT – $19,695
LEARN MORE
Sport
For a brand that's had so much success in racing, oddly enough, sport bikes aren't the first thing that comes to mind when most people think of BMW Motorrad. But make no mistake, BMW builds seriously capable sport bikes.
The most recent S 1000 RR is shaking things up in the sportbike scene by being faster, lighter and nuttier than the old one. The inline four-cylinder engine is now making 205 hp at 13,000 rpm, and redline doesn't arrive until 14,600 rpm. With the optional M Package selected, weight is reduced by an extra 7.7 lbs to bring the bike down to 427 lbs.
There's also the R 1250 RS, which is a sport touring bike that Beemer categorizes closer to the former than the latter; big, stylish and capable, it's a well-rounded bike packing the company's new Boxer. Rounding out the lineup is the new 205-hp M 1000 RR, the first Motorrad product to earn the fabled M badge found on the likes of high-performance Bimmers.
Models:
• S 1000 RR – $16,995
• R 1250 RS – $15,695
• M 1000 RR – $32,495
LEARN MORE
This content is created and maintained by a third party, and imported onto this page to help users provide their email addresses. You may be able to find more information about this and similar content at piano.io
Sours: https://www.gearpatrol.com/cars/a567934/bmw-motorcycle-models/
SPOTLIGHT - XRide Suit
BMW Motorrad Sizing Guide
(A) HEIGHT:
Stand barefoot with your back to a door frame. Place a book on your head and use it to make a mark on the door frame. Measure the height from the floor to this mark.
(B) CHEST:
This is taken over a shirt or light sweater. The tape is passed under the arms and around the widest point of the chest and shoulder blades.
(C) WAIST:
This is taken round the shirt and not the waistband of the pants. Please ensure that your maintain a natural posture. Do not draw in your stomach. Take the measurement as loosely as you want your pants fit to be.
(D) HIPS:
This is taken around the pants at the widest point, measuring all the way around the body.
(E) OUTSEAM:
This is measured from the inside of the leg – from the crotch to the sole of the foot.
(F) INSEAM:
This is measured on the outside of he leg, from the waistband to the sole of the foot.
(G) GLOVE MEASUREMENT:
BMW Gloves are measured in inches, not small, medium, and large. For example, the sizes are 6″-6.5″ through 12-12.5″. To get a proper fit, measure your palm circumference around the knuckle area without the thumb. If the measurement is for example 9.75″ go up to the next size range. For the best fit, visit a BMW Motorrad apparel dealer (like US, BMW Motorcycles of San Francisco).
(H) BOOT SIZING:
BMW Boots for the most part can be sized according to your current shoe size. Use the chart below to order the proper size. For the best fit, visit a BMW Motorrad apparel dealer (like US, BMW Motorcycles of San Francisco).
Sours: https://www.bmwmotorcycle.com/bmw-sizing/
Jacket bmw roadster
PUREBOXER LEATHER JACKET
The classic cut of the PureBoxer leather jacket has an understated design, as was common in the early years of the last century. At the same time, it stands out due to a superb functionality that makes motorcycling comfortable and safe. The exclusive cordovan leather is characterized by its smooth surface, subtle grain and fine sheen. Regular wear lends the jacket a lovely patina. The copper-coloured BMW badge on the sleeve is attached with two screws, as on classic BMW motorcycles, and can be replaced with the other logos supplied.
High-quality, classic jacket made of 1.2-mm thick cordovan leather
Removable thermal lining, 3 outside pockets, 2 inside pockets
NP-Flex protectors on shoulders and elbows (EN 1621-1:2012)
NPL back protector can be retrofitted
Connector zip, 40cm
Additional men's size: Slim fit
CE-certified
Color: Black
Men's sizes: S–3XL
Men's sizes slim fit: XS–M
+ Read more
Find a Retailer
More from this collection
TWINSTRIPES LEATHER JACKET
Collection Ride
ROADCRAFTED JEANS AND DENIM JACKET
Collection Ride
Sours: https://www.bmwmotorcycles.com/en/wear/ride/pureboxer-leather-jacket.html
2019 BMW i8 Roadster First Edition REVIEW POV Test Drive on AUTOBAHN \u0026 ROAD by AutoTopNL
Motorcycle Jacket Roadster Men BMW
PLEASE NOTE: THE ROADSTER JACKET IS VERY LITTLE SIZE WE ADVISE YOU TO TAKE A LARGER SIZE THAN WHAT THE SIZE TABLE ADVISE


The BMW Roadster Men leather motorcycle jacket is the ideal jacket for your BMW roadster. It will allow you to be comfortable in a sporty position as well as in a standing position.

The BMW Roadster jacket has been designed to give you maximum protection with maximum comfort.

Safety level : the cowhide leather is very resistant to abrasion and falls and the jacket has NP2 protections on the back, hips, shoulders and elbows. The removable NP-Pro back reinforcement allows the use of a separate back protector.

In terms of comfort, the 3D-Mesh has been developed to provide excellent ventilation. The use of Kevlar stretch material and a highly elastic Lycra lining will provide comfort thanks to elasticity in the areas that are subject to high stress from movement.

The BMW Roadster Jacket is part of the Roadster Suit Package, so the Roadster Pants are also available as an option.

Please note that trousers and jackets of different sizes can only be combined with the same length of zipper.

Here are the sizes of the jackets and trousers that can be combined:
- 46
- 48/50
- 52/54
- 56/58
- 60
Highlights :
- Type of Jacket : Roadster / Sport
- Sex: Male
- Use: Sporty
- Season: All seasons
- BMW Roadster Jacket 100% cowhide nappa leather 1.3mm suitable for a sporty drive
- Removable NP2 protectors on hips, sewn on shoulders, elbows and elbows.
- 3D-Mesh on the back for good air circulation
- Leather-stretch inserts for shoulder, arm and kidney comfort
- For comfort: highly elastic stretch inserts made of Kevlar and elastic LYCRA lining
- Assembly slide for Roadster pants
- Regular fit
- CE certified - EN 1621
Sours: https://bmw.europe-moto.com/gb/motorcycle-jackets-bmw-motorrad/2123-motorcycle-jacket-roadster-men-bmw-2020.html
Now discussing:
.
271
272
273
274
275