Learn More About TWICE's Nayeon and BTS' Jungkook's Rumor
TWICE's Nayeon is a South Korean singer. She is the lead singer of the South Korean girl group Twice under JYP Entertainment. For two years in a row (2017 and 2018), she was voted the sixth most popular Korean idol in Gallup Korea's annual music poll. On the other hand, BTS' Jungkook is a South Korean singer, songwriter, and record producer. He is the vocalist of the South Korean boy group BTS. In January 2019, Jungkook revealed that he used the fabric softener brand Downy for his laundry. This revelation led to an unexpected spike in the brand's sales and two months worth of the Downy products were sold out.
TWICE's Nayeon and BTS' Jungkook are respectively famous. TWICE and BTS have often promoted at the same time and they often meet at music shows. The two groups' interactions have attracted many fans and sometimes even lead to rumors. In this article, Channel-Korea will provide you with a rundown of everything about TWICE's Nayeon and BTS' Jungkook's dating rumor. So, stay tuned!
Nayeon and Jungkook's Dating Rumors and Evidence
It all began when netizens pointed out that Nayeon has been mentioning BTS' name quite often whether in a radio show or a recording studio.
On December 11th, 2017, TWICE held a special Naver V Live broadcast about their comeback with the repackage album Merry & Happy. Nayeon commented that she spilled blood, sweat, and tears during the recording process for "Heart Shaker." She continued that the song was very high pitch and they had to record multiple times. She had to repeatedly sing the song several times. She thought that the pitch would be leveled down during the recording, but the pitch was still high. In the broadcast, she mentioned "blood, sweat and tears" which is also a title of a BTS song.
On April 11th, 2018, during Ji Suk-jin's 2 O'clock Date, Ji Suk-jin asked Nayeon about her sleeping habit. She responded that she didn't have it anymore. However, other TWICE members answered back that she still had the sleeping habit. TWICE's Nayeon said that she once slept with electric blanket and woke up with sweat. Other members told her that she sang BTS' "Fire" in her sleep. This time she mentioned that she unconsciously sang BTS' song in her sleep.
Because of her past comments related to BTS, some netizens were trying to link her comments as proof that she was dating a BTS member. Moreover, in early 2019, netizens noticed that there were some unusual behaviors around TWICE's Nayeon and one of the members of BTS, Jungkook. According to Koreaboo, here is the list of Jungkook's "unusual behaviors" around Nayeon:
Jungkook Staring at Nayeon
Jungkook and Nayeon were standing in the same line. While Nayeon was looking at the fans, Jungkook "took a peek" at her.
Some fans supported Jungkook and Nayeon becoming a couple. They edited some pictures and videos of Jungkook and Nayeon and made them look like it was real. Here are some of the fan-edited pictures and videos:
Compilation of Jungkook and Nayeon moments
Selca together
Nayeon staring at Jungkook
The rumors were fans' wishes and expectations as there is no information about Jungkook and Nayeon's special relationship from their agencies, respectively.
Their Relationship Now
Nayeon and Jungkook are busy with their scheduled activities respectively. TWICE is busy with their World Tour 2019 TWICELIGHTS' They have just finished their first-ever U.S. Tour on July 23rd, 2019. They are scheduled to perform in Malaysia on August 17th, 2019, and start their Japan tour from October 23rd, 2019, to February 22nd, 2020.
Meanwhile, BTS has just released a trailer for their new film Bring the Soul: The Movie. On August 3rd, 2019, at midnight KST, the group gave another sneak preview of their new concert movie Bring the Soul: The Movie. Following the "Tear" preview last week, this new trailer is titled the "Je t'aime" (I love you) version. The movie is available in theaters worldwide from August 7th, 2019. Here are the trailers:
Latest News
Nayeon is on the cover of the August 2019 issue of the fashion magazine Nylon. During the interview, Nayeon talked about her daily life, saying that she generally wakes up early and thinks of herself as a morning person. She also talked about her long time as a trainee and TWICE member. She doesn't think of it as either long or short, but when she thinks about it, that is the entire of her school years. Each memory is clear for her.
In response to the staff and reporter's compliments, Nayeon commented that there are so many people who are prettier than her, but she likes herself. Before, her insecurities would weigh on her mind all the time, then she learned that even those things were her. "I'm the only one to have this, after all." The rest of her interview is available in the August 2019 issue of Nylon.
On the other hand, Jungkook is strengthening his friendship with his 97-line friends. On July 28th, 2019, Jungkook shared the photo from a hangout with his 97-liner friends Astro's Cha Eun-woo, Seventeen's Mingyu, and GOT7's Yugyeom. Just a few days before, Jungkook sent a coffee truck to the set of Astro's Cha Eun-woo's drama Rookie Historian Goo Hae-ryung.
In June 2019, Jungkook received a snack truck sent by actor Yeo Jin-goo to BTS' fan meeting venue in Busan. In April 2019, Jungkook sent Yeo Jin-goo snack and coffee trucks to the set of his drama Hotel del Luna. Yeo Jin-goo is also part of the 97-line friends. Here are some of Jungkook's tweets related to his 97-line friends:
That was all the information about Nayeon and Jungkook's dating rumors. Please, don't forget to kindly share your thoughts in the comment section below!
Hidayah
Sours: https://channel-korea.com/nayeon-and-jungkook-dating-rumors/
After noticing BTS's Jungkook's "unusual behaviour" around TWICE's Nayeon, fans claimed that the girl-shy maknae couldn't help falling for Nayeon's charms! Here are 7 pieces of "evidence" that sent the 'Nakook' ship sailing!
1. Jungkook watching Nayeon's wrestling match
During ISAC, Jungkook got totally into Nayeon's wrestling match. When she won, he celebrated…then quickly regained his composure! Careful, Jungkook. People are watching you!
When Nayeon lost, Jungkook's reaction directly mirrored that of every TWICE fan in the arena.
2. Jungkook staring at Nayeon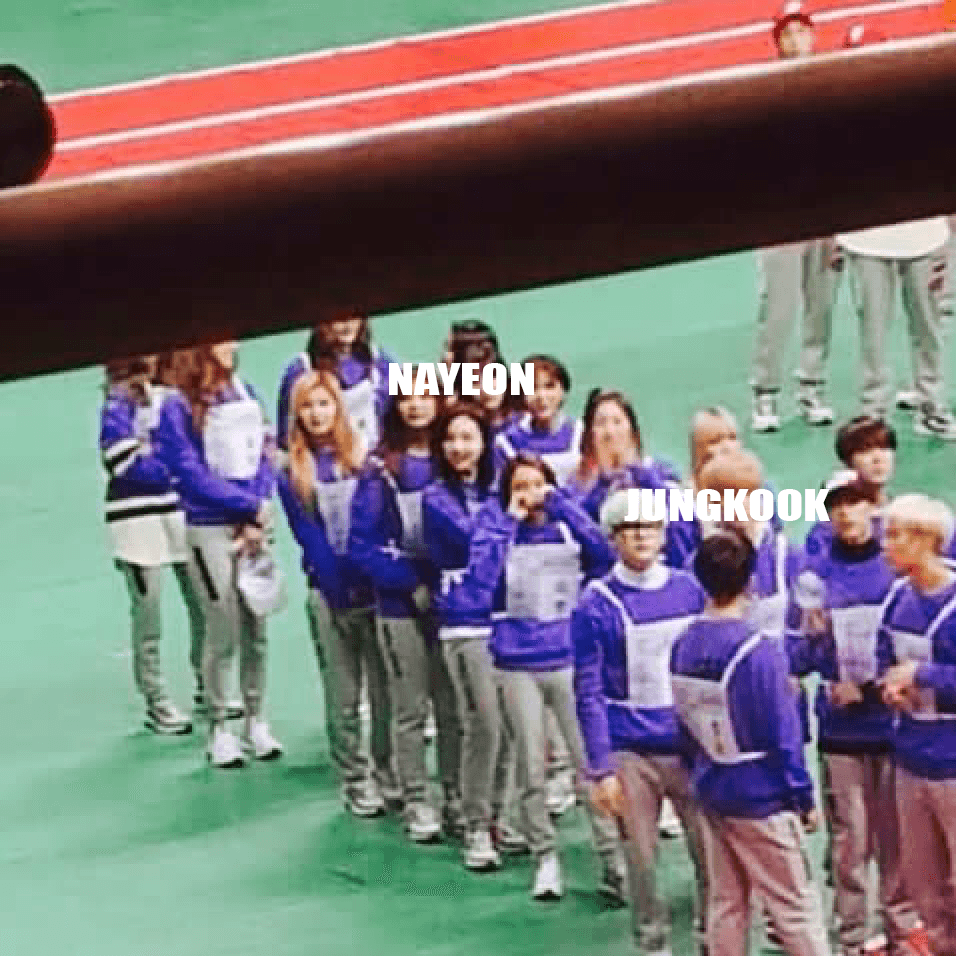 Fans captured this image of Jungkook supposedly sneaking glances at Nayeon.
3. Nayeon staring back at Jungkook
Nayeon can be seen staring off in Jungkook's direction before catching herself.
4. Jungkook gets nervous around Nayeon
Nakook fans claim he got super nervous when Nayeon guest starred on Flower Crew. Jungkook gets nervous around most girls, but that's beside the point!
5. Jungkook's reaction to seeing TWICE
Nakook fans were ecstatic to see Jungkook reacting to TWICE when they goofed around on stage.
6. Jungkook knows TWICE's dances very well
When it comes to girl group dances, Jungkook is a master, but he is especially good at TWICE dance routines! He showed off his fanboy skills by dancing to "Like OOH-AHH" during an episode of After School Club. 
7. He's a big "Shy Shy Shy" fan
Jungkook was also seen doing this signature TWICE dance move. So adorable!
8. Telepathy
Youtube user Blaa blaa pointed out the pair's telepathy in a Nakook compilation video. At ISAC, Nakook touched their noses at the same time!
BONUS: Jungkook's (fake) reaction to Nayeon's aegyo
Youtube user PRDSDEFGURL created this cute Nakook moment by combining footage from separate Weekly Idol episodes. The clip is fake, but after watching it it's hard not to root for this ship!
Share This Post

Facebook
Next Page
Sours: https://www.koreaboo.com/stories/heres-fans-thought-jungkook-love-twice-nayeon/
TWICE Nayeon Relationship — The Truth Behind Her Dating Rumors with BTS Jungkook and BTOB Minhyuk
Nayeon is one of the most popular members of TWICE, and because of that, many wonder about the idol's actual relationship status. Some have even linked her with popular male idols, such as BTS Jungkook and BTOB Minhyuk! So keep on reading to find out about Nayeon relationship status!
(Photo : @heartlipped on Twitter)
TWICE Nayeon and BTS Jungkook's Relationship Rumors Explained
Rumors that TWICE member Nayeon was dating BTS member Jungkook arose in 2015 when both groups were competing in the "Idol School Athletic Championship (ISAC)." Despite the small evidence, many were convinced the two were dating, despite Nayeon being two years older than Jungkook.
The two were allegedly caught staring at one another during the event. Additionally, when Nayeon was competing in the wrestling and won, Jungkook was seen watching her intently. When she secured her victory, the male idol got up and cheered for her, only to sit back down immediately when he realized what he had done.

These rumors have never been confirmed nor denied by the agencies, and neither Jungkook nor Nayeon has commented on their relationship rumors. Therefore, it is safe to assume that the two never dated.
ALSO READ: TWICE Sana Relationship - This is Why People Thought She Dated EXO Suho
The Truth Behind TWICE Nayeon and BTOB Minhyun's Relationship Rumors
TWICE member Nayeon was linked to BTOB member Minhyuk in 2016. Photos of the two were shared online by MBC, and in one photo, the two appeared to be leaning in for a kiss. This shocked the fans from both fandoms, but especially ONCEs; after all, Nayeon was a rookie when the photos were released.
(Photo : MBC)
However, it was later revealed that the photos were stills taken from MBC's "Oh My God! Tip" program. The two were selected as K-pop idols to give tips on a Korean relationship, and the two acted as a couple in the program. However, as far as what can be seen, the two only did what they had to do as co-workers, and the fans ultimately disregarded the rumors.
ALSO READ: TWICE Mina Relationship - Truth about Her Dating Rumor with GOT7 Bambam
Their agencies also did not release a statement on the matter.
(Photo : MBC)
TWICE Nayeon Relationship Status + Ideal Type
As of writing, Nayeon is not publicly dating anyone. However, the idol has never spoken up about her relationship status ever since her debut, so it is safe to say that she is currently single.
(Photo : TWICE Instagram)
Though she is not dating anyone at the moment, the idol has revealed her ideal type in the past.
During a radio broadcast, she claimed that she wants to end up with someone who is reliable though she has no specific preference. She confesses that she is the type to require lots of attention, and she often loses things, and that makes her stressed out, so she needs someone to depend on.
ALSO READ: These Are The Ideal Types of Each TWICE Member
Nayeon also revealed that since she is not very good with machines, she would like to date someone who is good with technology.
(Photo : TWICE Instagram)
Additionally, the idol admitted that she likes buff guys. When asked to select someone that best matches her ideal type, she picked Kim Woo Bin's character in "The Heirs."
Do you match Nayeon's ideal type? Tell us in the comments below!
For more K-Pop news and updates, always keep your tabs open here on KpopStarz.
KpopStarz owns this article.
Written by Alexa Lewis
Sours: https://www.kpopstarz.com/articles/300389/20210730/twice-nayeon-relationship-truth-behind-dating-rumors-bts-jungkook.htm
JUNGKOOK X NAYEON ; FALLING CRAZY IN LOVE
.
Nayeon jungkook and
.
(TWICE) NAYEON and MOMO Reaction to CHARLIE PUTH \u0026 BTS - MGMA 2018
.
Similar news:
.
253
254
255
256
257