36 Mechanical Arm Tattoos With Meanings
Looking for a tattoo design that is popular and unique, something that will really grab the attention of anyone within in a few feet? The mechanical arm tattoos have really grown in popularity in recent years, and tattoo artists are taking things to the extreme by creating what appears to be works of art right on the surface of the skin.
For those not familiar with the mechanical arm tattoos, they appear to resemble the flesh being torn away to reveal robotic parts beneath, something in line with the Terminator movies where a cyborg work human-like skin to hide his mechanical parts.
If you are intrigued, here is what all the excitement is about when it comes to the mechanical arm tattoos:
The Perception of Power
Take one look at the mechanical arm tattoos and they scream power. For a second, the mind's eye is tricked to believing that the skin is being pulled back to reveal actual working robotic parts in the arm. These tattoos are representative of power, commitment, determination, and driving forces.
Robots never sleep, they work non-stop without rest, and this is the perception the tattoo gives off. This person can be called upon to get the job done in any area of live, whether work, family, or relationship related. The mechanical parts below the surface of the skin are working all the time to protect and move forward.
Having What it Takes
Given the choice between giving a menial task to a human or robot, most would choose the robot because they have what it takes to complete the job as instructed.
When you get the mechanical arm tattoos, you tell the world you have what it takes, whether at work, in love, or in life, you have that inner force that will drive and push until the goal is achieved.
Like a robot, this is not about feelings, it is about an unparalleled determination to get to the end result. This tattoo can represent for some a lack of feelings when it comes to dealing with situations in the real world.
Getting the Job Done
Just like in the movies about the Terminator, that robot was not going to ever stop until his final objective was met. Today, the mechanical arm tattoos symbolize passion, dedication, commitment, strength, and determination.
These designs can be as simple as a small patch on the arm revealing some working mechanical parts below, or the entire arm inked up with metal pistons, levers, and controls you would see in a real robot.
Some full-sleeve tattoos can be so impressive you have to look twice to make certain the arm is not in fact robotic. This person will certainly get the job done, regardless how challenging it may appear to mortals.
As you can see here, the mechanical arm tattoos can mean different things to different people. Whether getting an entire sleeve tattoo or just peeling back the skin in certain areas to give the glimpse of the working robotic components below, these are some of the most creative, eye-catching, and memorable tattoo designs that you will see in the coming years.
Other Popular Tattoo Ideas and Designs
Grim Reaper Tattoos – King Crown Tattoos – Japanese Tattoos – Hamsa Tattoos
Sours: https://tattooswin.com/mechanical-arm/
42+ Sleeve Tattoos Robot
- Find the best sleeve tattoo along with advice and tips for choosing incredible ink that you would not regret. Today, getting a sleeve tattoo is a no brainer for many men. After all, some ink can be a seriously cool way to showcase your personality.
So what is popular in the world of sleeve tattoo at the moment? We have seen a huge rise in the number of Geometric Tattoos the last number of years.Review now with the article title 42+ Sleeve Tattoos Robot the following.
Top 80 Best BioMechanical Tattoos for Men Improb . Source : improb.com
50 Mechanic Tattoos For Men Masculine Robotic Overhauls
50 Mechanic Tattoos For Men Masculine Robotic Overhauls The technology behind tattoos has reached godly new heights and mechanical ink is capable of elevating machismo mystique in any guy These steam punk bio mechanical and cyborg masterpieces are the pinnacle of manly body art
Mens Full Arm Sleeve Robot Tattoo Biomechanical Machine . Source : www.mybodiart.com
11 Best Robotic Arm Tattoo images Arm tattoo
Nov 19 2020 Explore cpulicicchio s board Robotic Arm Tattoo followed by 166 people on Pinterest See more ideas about Arm tattoo Biomechanical tattoo and Mechanic tattoo
MECHANICAL ROBOT FULL ARM SLEEVE TEMPORARY TATTOO BODY ART . Source : www.ebay.com
Robot half sleeve tattoo YouTube
10 05 2020 This includes arms legs hands feet and ribs They look really gorgeous when done in full sleeve with the curves not having any negative effect on the overall design If you re in the market for a large tattoo piece you can t go wrong with a mechanical tattoo Here are some of the best mechanical tattoos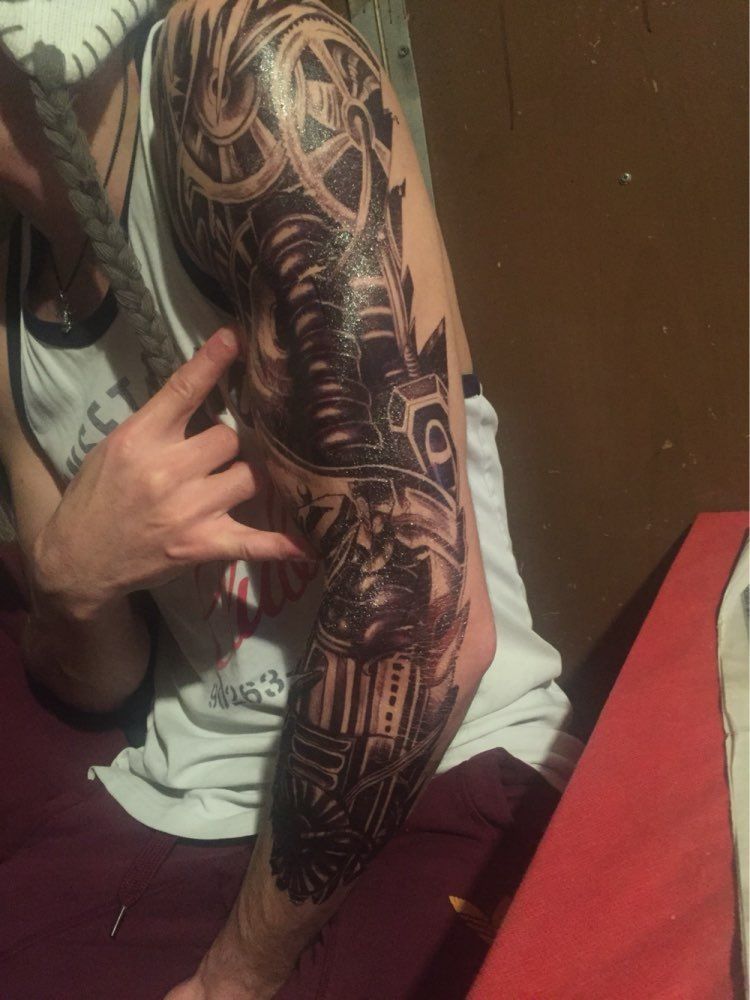 Full Robot Arm Temporary Tattoo Sleeve Stickers Body Art . Source : www.ebay.com
Top 80 Best BioMechanical Tattoos for Men Improb
Bionic Robot Temporary Tattoo Sleeve Tattoo Sleeve Arm Tattoo Arm Sleeve Mens Tattoos Womens Tattoos Biomechanical Tribal Future Design Large Robot Flesh Temporary Tattoo Arm Sleeve Listing is for one sheet of high quality tattoo which lasts
Robot Tattoos Awesome Works of Mechanical Body Art Urbanist . Source : weburbanist.com
The BEST cyborg tattoos 2019 YouTube
We all know that tattoo designs are mainly inspired by our likes and passions which is why bio mechanical tattoo designs have become growingly popular in recent years Bio mechanical tattoos feature many interesting things far outside the most common robot elements Showcased in a wide variety of designs and colors researching these types of tattoos will
7 best Robotic Arm Tattoo images on Pinterest Tattoo . Source : www.pinterest.com
11 Best Robotic Arm Tattoo images Arm tattoo
Biomechanical is a type of tattoo that has a mechanical and robotic design making it look like a part of a person s body Those who fantasized to be a cyborg can make their dreams come true now by getting a biomechanical tattoo design Hopefully you can stand all the
robotic arm by karlinoboy on DeviantArt . Source : karlinoboy.deviantart.com
Best 3D Robotic Tattoos HD YouTube

Tattoo art Cyborg Tattoos photos . Source : 123-tattoos.blogspot.com
TATTOO TIMELAPSE FULL SLEEVE YouTube

robot arm tattoo half sleeve YouTube . Source : www.youtube.com
35 Bio Mechanical Tattoo Designs

60 Terminator Tattoo Designs For Men Manly Mechanical . Source : nextluxury.com
148 Biomechanical Tattoo for Geeks

Robot arm Tattoo by Brian Massey Tattoos Pinterest . Source : www.pinterest.com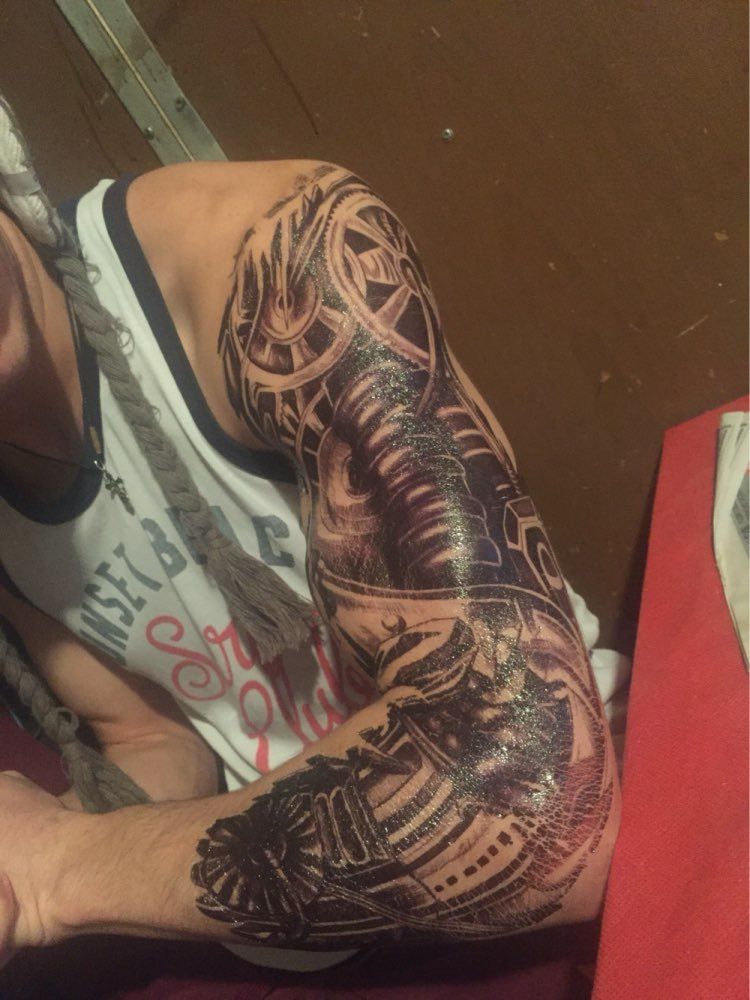 Full Robot Arm Temporary Tattoo Sleeve Stickers Body Art . Source : www.ebay.co.uk
3 Styles New 3D Waterproof Robot arm tattoo stickers . Source : www.ebay.com
Needles and Sins Tattoo Blog Robot Tattoo Orgy . Source : www.needlesandsins.com
50 Mechanic Tattoos For Men Masculine Robotic Overhauls . Source : nextluxury.com
Top 80 Best BioMechanical Tattoos for Men Improb . Source : improb.com
Biomechanical Forearm Tattoo Biomechanical tattoo . Source : www.pinterest.com
Biomechanical hand free tattoo design for men Tattoos . Source : www.pinterest.com
Robot arm tattoo Tattoos Pinterest Robot Arm Arm . Source : www.pinterest.com
50 Mechanic Tattoos For Men Masculine Robotic Overhauls . Source : nextluxury.com
60 Terminator Tattoo Designs For Men Manly Mechanical . Source : nextluxury.com
Tattoo me now design Robot arm tattoo YouTube . Source : www.youtube.com
Top 80 Best BioMechanical Tattoos for Men Improb . Source : improb.com
Amazing robot arm tattoo Incredible tattoos . Source : www.pinterest.com
3D robot arm tattoo Tattoo Pinterest . Source : www.pinterest.com
60 Terminator Tattoo Designs For Men Manly Mechanical . Source : nextluxury.com
Bionic Arm Temporary Tattoo Robot Arm Temporary Tattoo . Source : www.mybodiart.com
Image result for biomechanical robot tattoos Tattoo Luv . Source : www.pinterest.com
Biomechanical Sleeve Tattoos Tattoofanblog . Source : tattoofanblog.wordpress.com
Colourful robot full arm tattoo TattooMagz Tattoo . Source : tattoomagz.com
robotic arm tattoo sleeve and details tattoo Pinterest . Source : www.pinterest.com
Mens Full Arm Sleeve Robot Tattoo Biomechanical Machine . Source : www.mybodiart.com
54 Mechanical Sleeve Tattoos . Source : www.askideas.com
Biomechanical Tattoos Tattoo Designs Tattoo Pictures . Source : www.tattoosboy.com
64 Stylish Full Sleeve Tattoos . Source : www.tattoosbag.com
Related Posts:
Sours: https://tribaltattoideas.blogspot.com/2020/10/42-sleeve-tattoos-robot.html
Top 47 Mechanical Tattoo Ideas [2021 Inspiration Guide]
The technology behind tattoos has reached godly new heights, and mechanical ink is capable of elevating machismo mystique in any guy. These steam-punk, bio mechanical, and cyborg masterpieces are the pinnacle of manly body art!

There are endless old adages that compare men to machines when they are at their best, and these sayings are undoubtedly true.
To show off your industrial pastiche, why not experiment with a ravishing robotic overhaul? The results will be fantastically futuristic and preeminently post-modern.
Mechanic tattoos turn the skin into a phenomenally innovate canvas. There are many clever ways to utilize this space. Some people choose to integrate gears with their biological anatomy; however, others eschew humanity altogether in favor of a cogs-only approach. Bio-mechanical ink is a huge hit right now, especially since the artist can make it look like flesh has been torn away à la The Terminator.
You have infinite customization possibilities depending on what region of your body is destined for a tune-up. Since this stylization revolves around x-ray aesthetics, the startlingly fresh tattoos usually twist our perception of what's underneath the skin.
Ultimately, the faux metallic organs, muscles and bones will unlock any gentleman's sexy inner android! While tattoos have been around for thousands of years, it's safe to say that they have never reached such depths of astonishingly comprehensive artistry before now!
The ink jobs in this field keep getting more realistic. Soon, we will have a hard time discerning between man and machine at all. Check out the insane mechanical tattoos for men included here for proof!
Mechanic Tattoo Ideas
This popular style never fails to shock the ordinary onlooker when the arm reveals, ripped skin with an illusion of metals imbedded into the arm. A cluster of heavy metals with screws, springs and muzzles shaded realistically to match the skin tone of the wearer. The metals are in high definition, contoured to ensure that there will be lowlights and highlights for dimension and depth. The artist worked meticulously with the color palette to perfectly match the tones of the metal so as to make it look believable.
This mechanical gear tattoo has taken over the upper back of this human canvas, altering the organic make-up of his body, replacing it with mechanical parts of this complex machine customized for this wearer. The layering of the mechanical parts, is part of the stunning details worth scrutinizing, then dismantle for a closer look, and just put it back afterwards.
A full sleeve biomechanical tattoo of a cyborg arm. It is like stepping into a different world where robots exist and the humans don't. The artist was able to create a new musculature for the arm and transformed it into a mechanical piece with its organic parts and pieces. The distribution of color is amazing from the shoulder down to elbow, and then into the forearm. Three colors of neutral gray, cool blue and warm red with distinct temperatures to ensure balance. It is multi-dimensional, layers of it, meaning the artist created a three-dimensional arch within a three-dimensional slope which is really tough to execute and do, seamlessly.
This is a minimalist version of two mechanical pieces. The sketch looks promising and has a potential to become a great one. It's at a stage of outlining and will eventually look amazing.
How would you like to be the ultimate timepiece in the entire clock-verse and carry it with you at the side of your body? It is such a cool piece of tattoo wherein the artist created a fantasy world into his body parts and breathe new life into it through his ink and tattoo gun. The placement of the clock at the side of the body is perfect for this design and size. The outline and, Roman numeral by the border of time piece, was shaded darkly for added depth. The clock's parts are in full display, seated on a bed of black as background. The machine parts are layered, customized, and highly texturized. The metal texture of the chain and wheels look very real and feels like the creation will have a metal feel once touched.
This is very impressive in terms of composition, technique and style. This has the scientific-fiction genre with robotic element and alien creature feel like the Transformers like a portion of the body can be replaced by mechanical pieces to enhance it in terms of usage and strength.
A skin modification which you can be proud of because it's one of a kind, customized on your skin and the placement of the tattoo. It is never easy to create a three-dimension arch on a three-dimensional surface, resulting into a complex multi-layered wheel, strapped and interconnected but definitely analogue and unwired.
The arm morphing into its original cyborg self. He was not a human to begin with. The shoulder action looks really dark and creepy but warm and inviting at the same time. Gore is eliminated since there is no blood on the torn flesh, in place is an arm of a robot in metal silver gray casing with metal wires in the insides and some bolts. The application of light on this piece is smart making the tattoo glisten to make it more realistic. The solid, matte black shading on the inside adds depth, giving dimension to the first layer of metal cables.
A biomechanical tattoo is anything man-made with mechanical and industrial feel to it, marrying it with the organic parts of the human. This black and gray piece is totally amazing, creepy and cold, and absolutely one of a kind. The skull on his knee gives it the horror alien on this piece. This is skillfully executed by the artist with regards to the shading, contouring and blending for contrast and depth. The skull details, front and back, provides the layers of dimension needed for a biomechanical perspective.
This shoulder tattoo of an analogue mechanical watch is full on metal all the way, inside and out. Great way to present composition from a totally unexpected perspective from the top going down. This is the trend multi-dimensional pieces, to give its audience a multi-perspective of their art work, too, which is becoming tougher and tougher for the artists to execute. There is so much work that needs to be done, from drawing the patterns on the canvas freehand since it needs to be customized along the contour of the wearer, outlining to the shading, blending of colors to achieve consistency and prevent harsh lines, add definition to make it look believable but enhance it in a way to make the overall aesthetic captivating. Then build the layers in the process. There are several in this place along with the hand details of the clock and the top screw that holds it all together.
This mechanical arm tattoo is in black and gray like a complex mechanical setup of several motorcycles machine parts put together for this arm. This arm looks it's a cyborg arm from the past, not the future. Like in Transformers, wherein the founding fathers look like they need a much-needed upgrade aesthetic wise. The analogue machine still looks very impressive with all the knots and bolt, metal rings and chain links, bearing and cranks, metal bars and tubes. The torn flesh is outlined in black consistent with the black background of the layers of metal as organic and integral parts of this arm.
A mechanical arm for this full sleeve ink featuring a customized design for the wearer which features motorcycle machine parts and pieces. Tattoo artist is successful in creating a machine environment for this set of metals and blend them in organically for this arm. The blue background gives it a cool modern vibe, like a bright car of the 80's. Then the silver gray as the middlegound solidify the metal theme with hints of sheen and a few scratches to make it look realistic. The foreground of top layer metals provides a varying degree of light to the whole piece.
A biomechanical skull in monochromatic shades of brown. This is indeed a different environment, completely erasing the human aspect of this leg. A drastic change of the musculature and human form transporting the viewer to an alternate reality called mechanical-verse. The warm shades of brown soften the metal aesthetic but the skull at the center brings the whole piece into a different level of creepiness.
This is another option for the timepiece arm, completely analogue but definitely striking and looks very powerful. If, time is the only true unit of measure, it gives proof to the existence of matter. Without time, we don't exist in the alternate reality of Time-verse. The background in this piece is the same tone as the wearer, the machine doesn't look imbedded into the arm but more of an armor to the arm. It is still multidimensional and can be appreciated in different perspective yet be entertained with several astonishing details.
This is another cool idea for biomechanical forearm tattoo featuring the overlapping cogs and gears which are the integral organic parts of this powerful arm. It looks very polished and well executed in terms of tattooing style, the outlines are precise and consistent with the spikes of the gears. The monochromatic tones are also layered to produce the desired multidimensional effect that is inherent of these types of tattoo.
A biomechanical skull which looks dark and creepy, but warm and inviting at the same time. It is indeed chilling to look at skull trying to come out of this body part with the mechanical details of cogs and gears inside it. The dark borders and black background shading give it the sinister look it needs to bring out the awe factor for the next layer of objects.
This cyborg leg is a magnificent piece of art. It is dark and powerful, slick and shiny for the metal component, and looks like a leg of a robot from the future. Indeed, this looks like the owner and the artist spent hours and hours of intense work in executing the components. The artist found a way to change the musculature and human form of his client's body part. He/she found a way to design a tattoo then create another world in the process. This piece has a robotic, alien creature and science fiction vibe. The rich, matte black background is highly saturated black ensuring that longevity of this tattoo will not be an issue. It introduces the next layer which holds the big parts together and these look-like coiled metallic wires, chain links and some bolts. The next ones are the long metal tubes, overlapping metal cubes which look like s spine and the metal parts for the feet. The footwork and the amount of details it's showing deserve a standing ovation.
This is another option for the machine and tattoo enthusiasts, who can now enjoy the best of bothworlds: an ink and a machine. A biomechanical piece of black and gray which is actually a smart choice because according to the artists, it lasts longer. A deep saturated black for the background to create depth for layering to produce dimension. The negative space for the owner's skin is balanced and well distributed. I'm glad the artist showed us that he can still give us symmetry even when this is a machine arm that supposedly ripped off its skin, to reveal his machine self.
When the eye is an ongoing trend in surrealist style like this sample. There are several meanings to getting realistic tattoo of an eye. Messi, the modern day greatest soccer player, is well known for his ink. He has a tattoo of his wife's eye on his body as tribute. His is for love and inspiration. Others to memorialize those they lost, and others for protection from the all-knowing and all-powerful eye. A black and gray piece for the eye of Ra which is known to provide sun and masculine energy, explores reason, mathematics, logic, science and language. A symbol of good luck and creative action.
When there are two definitive truths here on earth which are time and life, beginning and end. If you have the two symbolic objects for such powerful occurrences in life tattooed on your skin, this is huge. Then you get lucky and the tattoo turns out to be absolutely stunning. A timepiece drawn on a different perspective to maximize three-dimension effect plus the skull underneath with its gaping holes revealing the mechanical pieces inside.
This biomechanical tattoo of cogs and gears with the clock at its face is transporting us to a metal world where humans are extinct. It can be a tribute or a memorial because of the date and time this piece reveals, whatever it is or not, this ink art is worth a second look. The anatomy of the machine is intricately detailed that even the artist who sourced out the sketch had a hard time figuring out execution. There are layers of mechanical bits and pieces, all screaming to be turned into a multi-dimensional object for aesthetic appeal, and to ensure that they look organically blended with the structure of the new arm.
There are artists who take a more subtle route when it comes to composition and color for their biomechanical pieces. Like in this piece, subtle in color but not in content because it is a bomb. That is explosive, and massive. The colors blend well with the skin tone of the wearer, and the rest of the accent pieces, like the wire in hints of green yellow and blue. It is exceptionally illustrated with more details that the eyes can even think of creating, layers and layers of metal, with black as the background for depth, then the metals are softly shaded, contoured softly, plus there are no visible harsh lines for this piece. There's a long, sweeping repeating organic patterns of gears, pipes and wires, an environment created by the artist altering musculature and human form.
One of those cyborg arms you may choose as your companion arm for the future where humans and humanoids are none existent. It looks like the parts come from a machine shop of irregular and surplus mechanical parts, assembled to create this powerful arm. A science fiction wherein one creates a fantasy world out of people's body parts.
This is the marriage of biomechanical surrealism and hyper surrealism in one unbelievably stunning creation. It is picture perfect. A great choice for a machine arm wherein the details have been lovingly illustrated, shaded and texturized. The monochromatic shades of brown give it a warm appeal that is not present in other machine pieces. It looks vintage with the way it is shaded and blended. The background has texture because of the intricate shading of highlights and lowlights with the added shadow details, because of the light perspective. Now, that's when this piece started breathing. The intricate placement of the shadows on the inside of the gaping hole of the arm, looks like being in a lighted tunnel. Then, slowly the layers reveal themselves from one layer of metal to the other. The top two layers were given textures, too. There are cogs and gears, screws, coiled protective metals and of course, the ripped skin. It is indeed amazing to match the whole piece according to the skin tone of the owner, making it realistic but scary.
This powerful, heavy metal concept looks literally heavy. It is done in gray and black, for a classic and timeless aesthetic.
This is a great tribute piece to the tattoo artist whose arm is a well-oiled machine, grinding everyday for extra-long hours to create pieces he and his client can be proud of. The ink caps serve as ink dispensers when the artist is in his creative zone. The tattoo gun is his most priced possession which is usually personalized and custom made to fit the hand of the artist, style and purpose. It takes so much to be part of an industry where there are already too many greats before you. It takes a good, strong and passionate heart to get up, do the daily grind, then repeat. It takes discipline and clear vision of who you want to become.
If and when in the future, the post nuclear-apocalypse situation becomes a reality the rest of us will look like this guy who offered himself for a permanent skin modification with protruding spines. I am not sure what happened to the imagination of the artist but he definitely wen way overboard and brave, creepy but fascinating at the same time. This is definitely custom made for the owner because it must be extra difficult to stencil a tattoo this big. It is not easy to complete an ink work this big in a few hours. Would probably take 40 to 60 hours of probably 10 sessions. The middlegound of intricately scaled cable look large enough to be a snake coiling under the bones.
This is a biomechanical piece which shows so much promise, once fully executed. It looks like the artist is going for a big machine structure based on what she started working on. However, she can add details later once final touches are done.
Sours: https://nextluxury.com/mens-style-and-fashion/mechanic-tattoos-for-men/
Bio Mechanical Tattoos - Best Bio Mechanical Tattoo Ideas
101 Amazing Robot Arm Tattoo Ideas That Will Blow Your Mind!
Biomechanical tattoo designs are for men and women who love Sci-Fi movies, comics, and galaxy/ robot inspired tattoos. There are a lot of ideas that you can consider before placing this piece of art on your body. People who love a badass style of a tattoo will find amazing machine options down below!
Top 9 Robot Arm Tattoo Designs
1. Robot Arm Tattoo 3d Biomechanical Tattoos
Only some tattoo artists can give you this amazing body design. This robot arm machine tattoo will take over 8 hours to get! Make sure you are patient enough before you stick to this Biomech tattoo.
2. Robot Arm Tattoo Cyborg Tattoo
A biomechanical tattoo can be done on your arm and not in the form of a sleeve. Start out slow and see where it takes you. Arm tattoos can take hours to get, but this forearm robot tattoo will take only 4 hours. Tattooing in black ink is the best since it will look good even once it starts to fade.
3. Biomechanical Tattoos Robot Arm Tattoo
3d mechanical tattoo and similar designs are a piece of body art. Arm tattoos will look better and like they were brought to life if you add a bit of red ink and you add some fake blood and a few flesh elements.
4. Robotic Sleeve Tattoo
This robot tattoo sleeve should be done by an amazing tattoo artist. Robots are hard to achieve and following a certain pattern is a must. Continue adding details until your robot tattoo doesn't come to life.
5. Robot Arm Tattoo Bionic Arm Tattoo
Start your tattoo at the shoulder and go for a sleeve tattoo if you are not afraid of large tattoo designs. Also, make sure your skin can handle this amount of ink before you commit to a robot sleeve.
6. Mechanical Sleeve Tattoos
Get a robot arm tattoo and make sure your tattoo artist has experience with doing robots, galaxy, or mechanical designs. Proper shading will add a lot to your robot arm tattoo and will make it stand out.
7. Mechanical Arm Tattoo
If you want a realistic robot arm tattoo and you are a fan of robotic tattoo machine designs, go for a bit of flesh. The red color will add a lot to your tattoo, and this design will stand out on anyone.
8. Robotic Arm Tattoo
You don't need to tattoo your entire arm if you are going for a robot. This tattoo can look great on your fist, fingers, as well as your palm. Although this placement does hurt, it is a tattoo that stands out and that won't take too much of your time.
9. Mechanic Tattoos Robot Print
If you want, you can tattoo both of your arms. Follow a specific style and stick to designs that truly stand out. You can stick to color and make the design even more bright and vibrant. However, know that colorful ink will take more time, and is a bit pricier to get. If you can spare 8-9 hours, go for this tattoo.
On That Note
A robot arm tattoo does not have a specific meaning. It was designed to give you a Sci-Fi moment and to transform a person into a robot from their favorite show! If you like a certain robot, mechanical tattoos, or unusual biomechanical designs, you will enjoy one of these 9 different robot arm options!
Need More Inspiration
Feature image from Pinterest
Sours: https://outsons.com/amazing-robot-arm-tattoo-ideas/
Tattoo mechanical arm
Just about every robot tattoo out there is as much a work of art as it is a tattoo. There's something very special about these designs, which is why more and more people are interested in getting them as the years go by. You can go in many different directions with these designs, too, so if you are interested in them, there's a great chance that you will end up with a one-of-a-kind tattoo. On this page we are going to take a look at some of the ways people like to get their robot arm tattoos designed and some of the reasons why they happen to be so popular right now.
One of the main reasons why people choose to get their robot arm tattoos is to show that they feel, at least partially, like a machine. That may seem like a negative meaning to attach to a tattoo, but it's usually not. Saying that you are "like a machine" implies that you have "built" yourself a certain way, making life that much easier on you. The fact that the tattoo is on the arm usually has no relevance to the meaning.
Sometimes people will get their robot arm tattoos to show the world that they have a lot of geek inside of them. The steampunk theme seems to be huge in the geek world these days, and the robot arm is one of many ways that you can show you are a fan of that genre.
Since just about all robot arm tattoos are full sleeves, that means that you have a lot of space to fill in with your ideas. You can find some cool ways to add in ripped skin, blood, engravings, and so many other elements into these tattoos. Most people like to customize them to have even more personal meanings so they are something for people to enjoy looking at and they help to define who the owner is as a person.
One of the key ways that artists make robot arm tattoos really work is by making the gears and wires look like they actually could be parts of the person who has the tat. They make sure that each part has nice shadowing and lighting effects on them so they both stand out and look like they are attached to the person who has the tattoo. It takes quite a bit of skill to pull off, but the great ones really do stand out as some of the best tattoos around these days.
When designing robot arm tattoos, artists and tattooists will do their best to make sure the tattoo looks great no matter what position the arm is in. If you are making the design yourself, you will want to keep this in mind since it's very easy to prefer one angle over the other. The best robot arms look amazing up close and from far away at every single angle and regardless of what position the arm is in.
In the majority of cases, people opt to get their robot arm tattoos in black and grey ink. They not only do this to give the tattoo a real mechanical look, but also because these colors seem to look best in these longer, intricate sleeve tattoos. Color can look great in robot arm tats, but they sometimes don't age well and it is really tough to give the tattoo a natural look when it has too much color in it. However, adding a little blood in an otherwise black and grey robot arm can look amazing when done correctly.
One thing that might keep people from getting a robot arm tattoo is the price tag that comes with it, which is totally understandable. Full sleeves that have a ton of detail will be very costly and most people do not want to leave any bit of it unfinished. It's better to wait until you can afford the full sleeve (and the one you really want) before you sit down in the chair for the first time. Also, if you find out that it is outside of your budget, chances are you can find another great design that is just as meaningful to you.
If you do plan on getting a robot arm tattoo, you will want to spend a bit more time designing it than you would on most other tattoo designs. You'll want to make sure that every millimeter of the design is exactly what you will want to look at for the rest of your life. Even if someone else is making it for you, don't hesitate to let them know if you have some tweaks that you want to see in the tat.
It goes without saying that you should find the best tattoo artist that you can to ink your robot arm tattoo for you since it is such a tough job. A good idea is to check out some artists' portfolios and look for sleeve design that they have made in the past. Choose the one that has a style that you like and that you feel will be able to do a great job with your idea.
You might also want to hire an outside artist to draw up some design ideas for your robot arm tat so you have multiple experts working on the project for you. The fact is that you might find that the outside artist has better creative skills and the tattooist has excellent skills with the needle. This is definitely the type of tattoo that might require a team effort.
Hopefully you now have a better understanding of what robot arm tattoos are and why they are so popular these days. They can be extremely attractive tattoos that can give a bit of insight into who the owners are while also showing off how great modern tattooing can be. If you know you want a robot arm tattoo, you should definitely take your time during the design process and hire a pro to make it look great on your skin.
Categories Tattoo IdeasSours: https://www.tattooseo.com/robot-arm-tattoo/
Bio Mechanical Tattoos - Best Bio Mechanical Tattoo Ideas
.
Now discussing:
.
239
240
241
242
243