PLANTOUR – the cross-industry route scheduling
With route planning and route optimization, shipping orders are planned for vehicles and efficiently sequenced so that all restrictions (such as business hours, capacities, breaks, etc.) are observed and so that all applicable transportation costs are minimized as much as possible at the same time. Our cross-industry route planning software PLANTOUR supports you from manual route scheduling to automated, unrestricted optimization.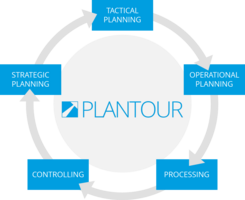 Coverage of all dispositive business processes
With its basic functions, our route planning software covers all dispositive business processes, from strategic, tactical and operational planning to implementation and subsequent controlling. In order to meet your individual requirements, our route planning software can be supplemented by various additional modules, which can be activated via remote maintenance without any major installation effort.
Our route planning with PLANTOUR is so easy and user-friendly.
Update of the new version
Inform yourself about the PLANTOUR release 2021 with many new features, functionalities and revisions.
To the PLANTOUR Release 2021
Determine your cost reduction through optimized route planning
Find out how much money you can save by using our intelligent route planning software PLANTOUR! Our savings calculator shows you your individual cost saving in real time.
Get informed now

Free Route Optimization
The optimization algorithms developed by PASS carry out automated planning of transportation orders for the most diverse requirements.

Score tours
Recurring orders are automatically planned and optimized for predefined routes via score tours.

Planning by drag & drop
Each planning result can be changed by the dispatcher via drag & drop. Our basic approach: The dispatcher is the expert, our system is the tool.

Collection and delivery operations
Our route scheduling supports both inbound and outbound logistics including pick-up & shipment as well as orders with varying loading locations.

Key performance-indicator-based planning
You use your own quality criteria to define when the planning is good. Our route planning software enables modeling of your individual KPIs (Key Performance Indicators).

Customizing
Our route scheduling adjusts itself to your workflow – not the other way around.

Integration
The route planning software can work with any other system. Either by using standard interfaces or through our integration layer.

Usage models
Buying, renting, in your own data center or in the PASS Cloud – the right usage model for every requirement.
Other PLANTOUR features
Automatic set-up and expansion planning
Day/multi-day routes with single/multiple use
Can be integrated into terminal server environments
Blocking of streets directly by the dispatcher
Simulation of various planning variants
Planning on the map, the grid or both at the same time
Detailed authorization management
Multi-user and multi-organization through client server
Individual KPIs for measurement of planning quality
Replaceable maps (possible additional costs)
Support via remote maintenance
Multilingualism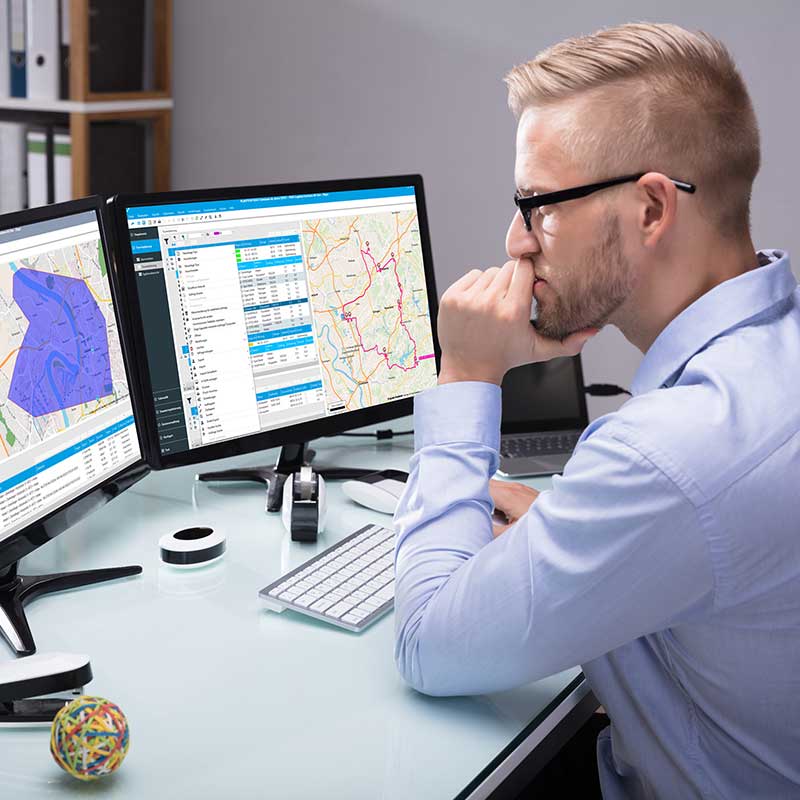 dispatcher
Tour scheduling through tailor-made algorithms
Straightforward detailed scheduling and rescheduling
High flexibility, transparency and efficiency
Automatic consideration of restrictions
Time saving creates space for other activities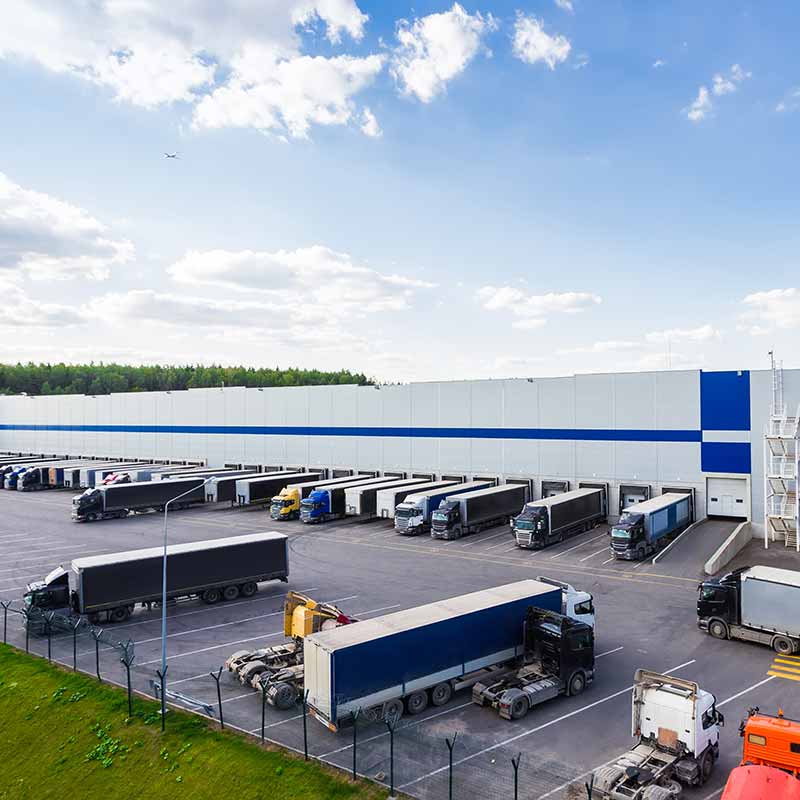 company
Automation in the age of digitalization
Planning reliability and reduction of dependencies
Economization of driving and wear and tear
Consideration of your individual KPIs
Consistent from order picking to controlling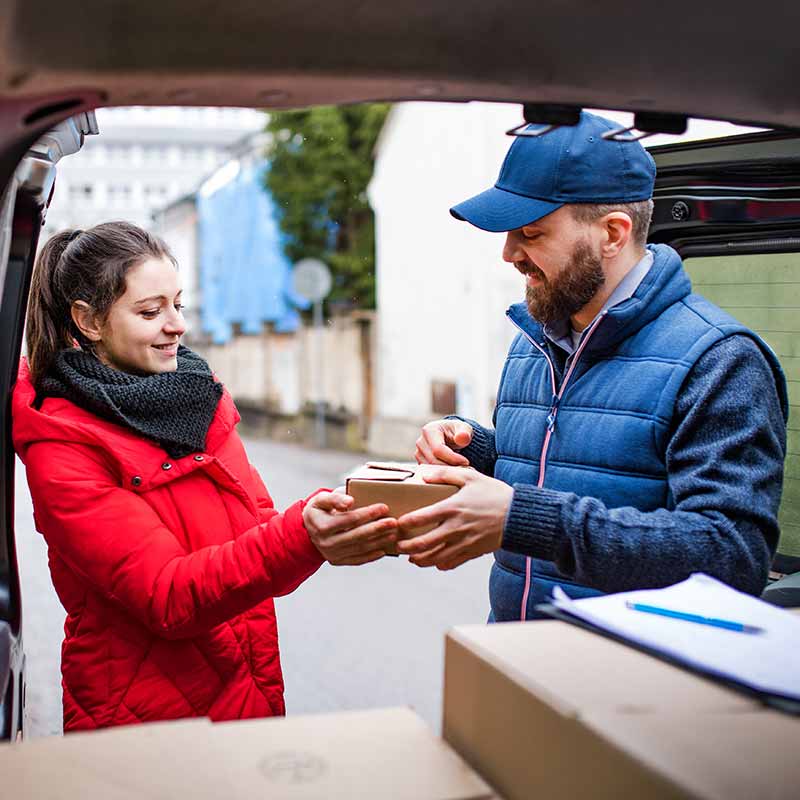 customers
Increase of delivery speed
Adherence to lead times and deadlines
Responsiveness to deadline changes
Confidence through integration into the supply process
Satisfaction through adherence to quality standards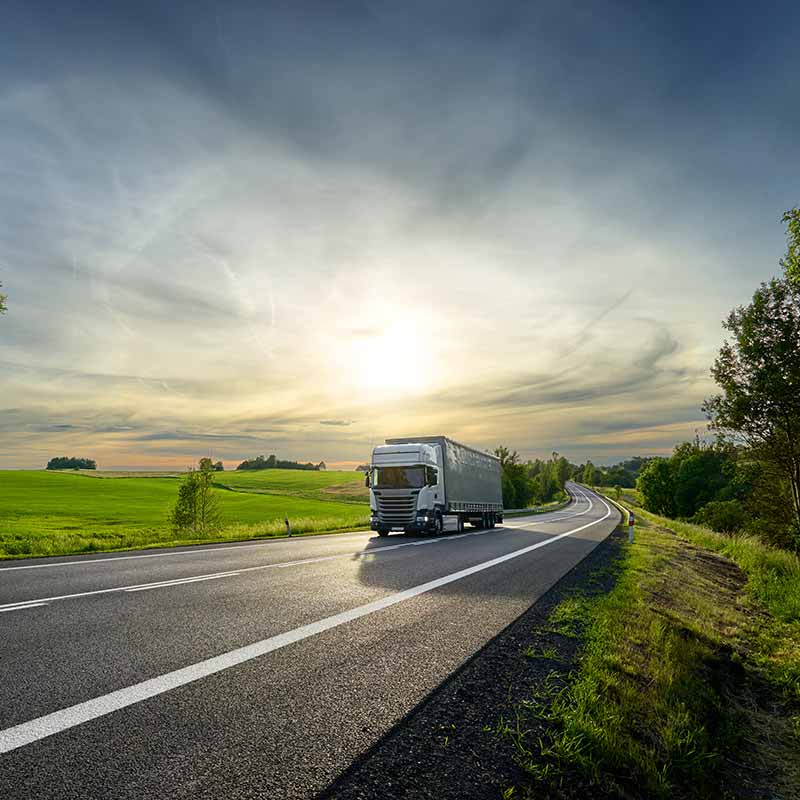 environment
Protection of the environment
Reduction of CO2 emissions
Economical driving thanks to telematics*
Increased road safety *
Relaxed drivers thanks to realistic tour guidelines
* Use of telematics and telemetry add-ons required
Start page
All objects in the route planning software PLANTOUR can be found via the Navigator. Frequently used functions or individual workflows can be saved in the favorites bar. The Navigator as expert view is mostly hidden and operated only via favorites.
One object – three views
Every object can be displayed and edited in three different ways: in a table, in a detailed view or directly on the map. The individual partial views are synchronized and can be grouped into favorites as desired.
Dispatch view
The typical planning view combines tours and unscheduled orders. In addition to the tabular view, these are also displayed in the map. In a work place with multiple screens, the map can also be displayed on the second screen. The tours can be displayed as routes or bee-lines.
Score tour planning
Orders can automatically be merged by the system as completed tours for specified customers or assignments. Depending on the specification, the system takes into account the order sequence, time windows, restriction violations and much more, which should then be resolved by the dispatcher.
Free route optimization
With the unrestricted route optimization, any selection of orders can be entered into the automatic calculation. The algorithm takes into account all parameters such as departure times, maximum duration, breaks, etc. KPIs visualize individual quality criteria by means of numbers or symbols.
KPI-based planning
With PLANTOUR, several planning scenarios can be simulated in parallel. Using relevant KPIs, alternative route plans can be compared - regardless of whether they are generated from score tours, free optimization or manual scheduling.
Long distance traffic
PLANTOUR also supports optimization in long-distance traffic throughout Europe. By combined use of MAPSERVICES from the cloud, the application is also possible for small server systems.
Precise routing with historical data
Create your individual road profile based on historical traffic data, precise down to the road section and at 5-minute intervals.
Geocoding using POIs
Use the names of your customers such as "Presseshop Köln" or "Schwanenapotheke" as POIs for even more precise automatic geocoding.
PreviousNext
We have special expertise in the following sectors
Our route planning software is suitable for all industries. We have selected the following industries as examples, in which we have particularly extensive experience:
Do you only plan sporadically or do you only have a very small fleet, so that a tour planning system is supposedly not worthwhile? Or are you looking for a solution that you can transparently integrate directly into your own ERP or TMS systems? Then find out more about our MAPSERVICES.
MAPSERVICES
more than100 installations
Our added values for your company
Industry know-how

We understand the language and requirements of the industries
Solution for special challenges such as customer opening times or availability of the orders
Reference installation for companies operating nationwide
Algorithm know-how

Algorithms developed by PASS for strategic and operational optimization tasks
Result of several man-years of development, tried and tested in practical applications
Meeting industry-specific requirements by means of targeted algorithms
100 % autonomy

PASS is a true optimizer with no third-party components, no white labeling of basic components such as geocoding or optimization algorithms
TomTom as partner for geodata in raw format for optimal network coverage
Take advantage of additional programs from our logistics portfolio directly in PLANTOUR. The complete integration allows for maximum efficiency when evaluating location issues or for make-or-buy decisions at tour level.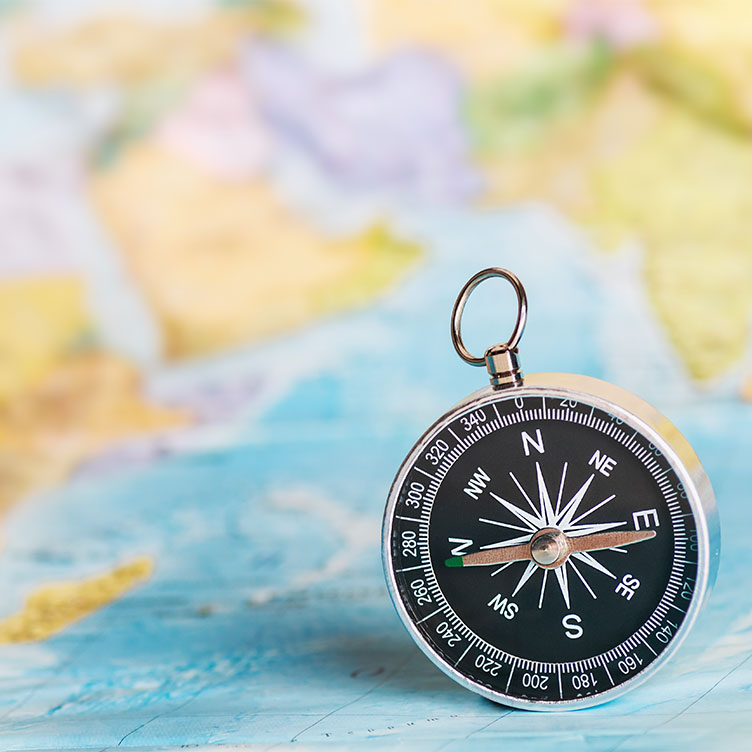 Location planning and optimization
Location matters: strategic location optimization
Evaluate and optimize cost structures on the basis of customer and depot locations by means of a simulation directly on the basis of operative data from route planning and thus improve your supply structures.
Freight calculation
Well-founded decision support for the allocation of tours
Achieve make-or-buy decisions for tours directly during planning. Planned tours are evaluated with the tariff structure of your transport service providers and compared with the costs of your own vehicle fleet.
In addition to the integration of further logistics software, our route planning software can be extended with further components to add functionality.
Packaging materials management

No more lost pallets
Do you want transparency with regard to your loading equipment in circulation? The loss due to lost loading equipment quickly amounts to several thousand euros, even for small businesses.
Forget about the use of paper-pallet notes. With the loading equipment management in PLANTOUR and the connected telematics, you automatically manage the loading equipment account towards your customers during order processing with the mobile terminal. You are now able to evaluate the account balance in the planning center. The module can be used for any type of loading equipment as well as for empties.
Delivery notification

Inform your customers directly from the planning stage
Offer top service and avoid waiting times by using the notification module. After completion of the planning process, the planned arrival time is communicated directly from PLANTOUR via mouse click.
If you use our route planning software together with the telematics solution, planning deviations can be transmitted automatically or automatic reminders can be sent by using geofencing such as: "Your order will be delivered to your location in approximately 60 minutes".
Tour number matrix

Complex score tours without ERP system
You have complex distributed branch deliveries throughout the week, and would like to display these in score tours? Usually, score tours are specified by the ERP system in which the route number for an order has already been specified before the route scheduling.
With the Tour Number Matrix Module, you can also model complex score tours in PLANTOUR without an ERP system by simply specifying the number per weekday with the customer. You work independently from the ERP system and control the scheduling from where it belongs: directly in the route planning software.
PLANTOUR Business Intelligence

Informed at a glance
Our standard route planning software already offers comprehensive reporting options, both with pre-defined standard reports and with the option of integrating individual customer reports.
We have created the PLANTOUR BI interface for those who would like to gain a deeper insight into the data. The module allows you to integrate the PLANTOUR database into your existing business intelligence tool or you can entrust us with the implementation of your individual analysis requirements in a BI tool.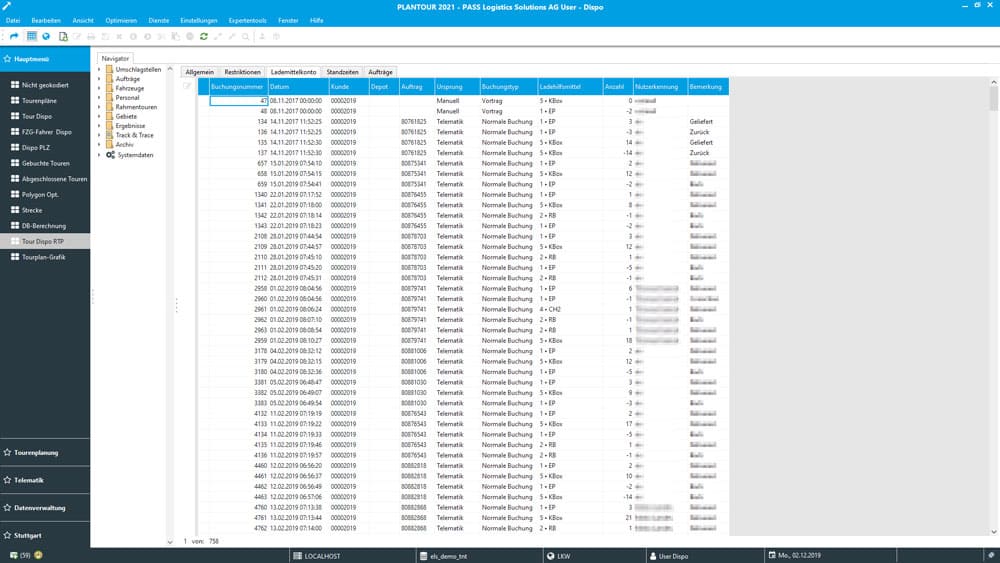 Packaging materials management
The customer's packaging materials account is automatically filled via the mobile device. The account status can of course be adjusted in PLANTOUR with central chargebacks, such as additional balance bookings or cost allocation.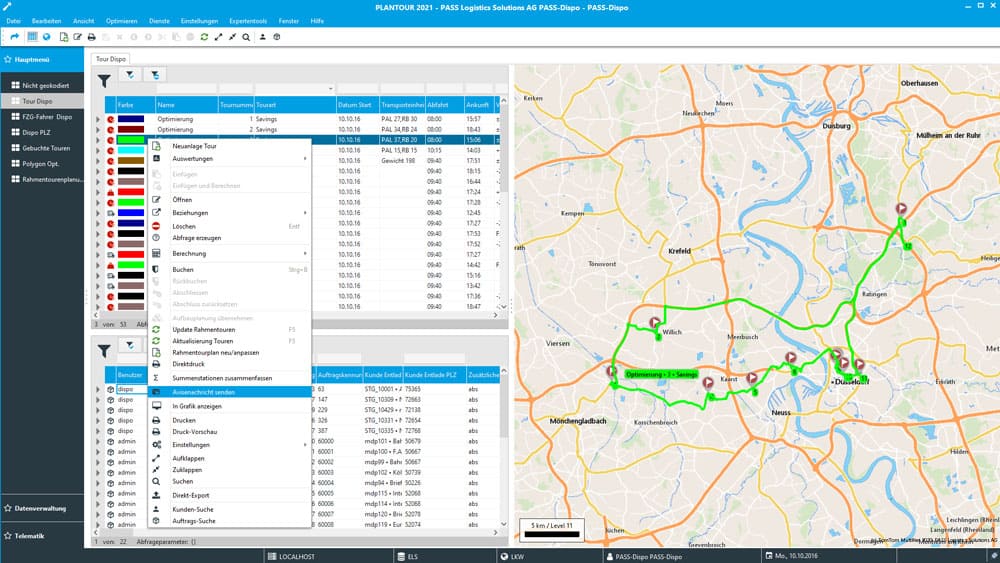 Delivery notification
Once you have completed planning, you can inform customers about the planned time of arrival. Simply control the recipient of the notification via the customer master data. You can do this by e-mail, fax or SMS. *) Depending on the channel, additional costs are incurred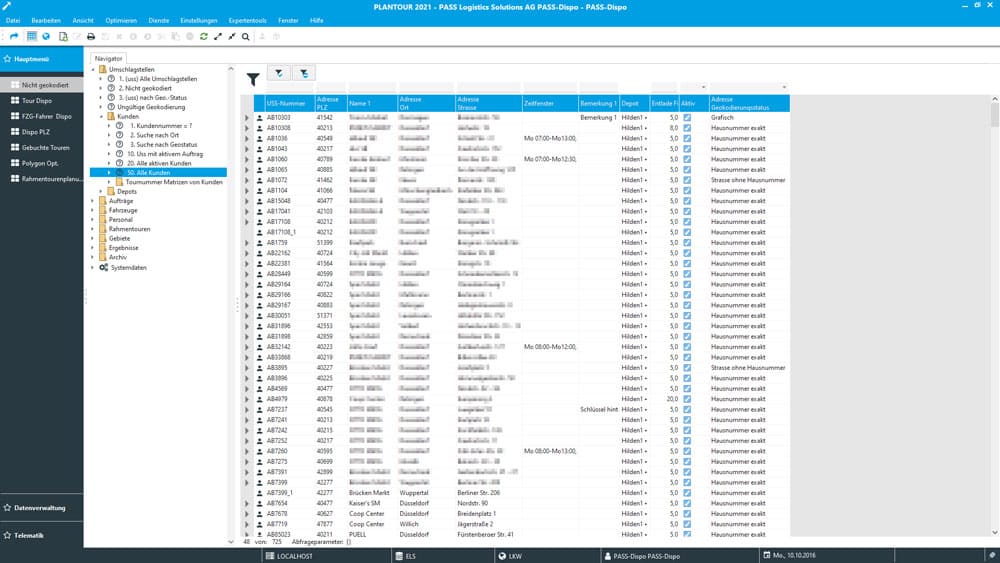 Tour numbers matrix
Using a complex control matrix, you can plan customers in score tours without the need for an ERP.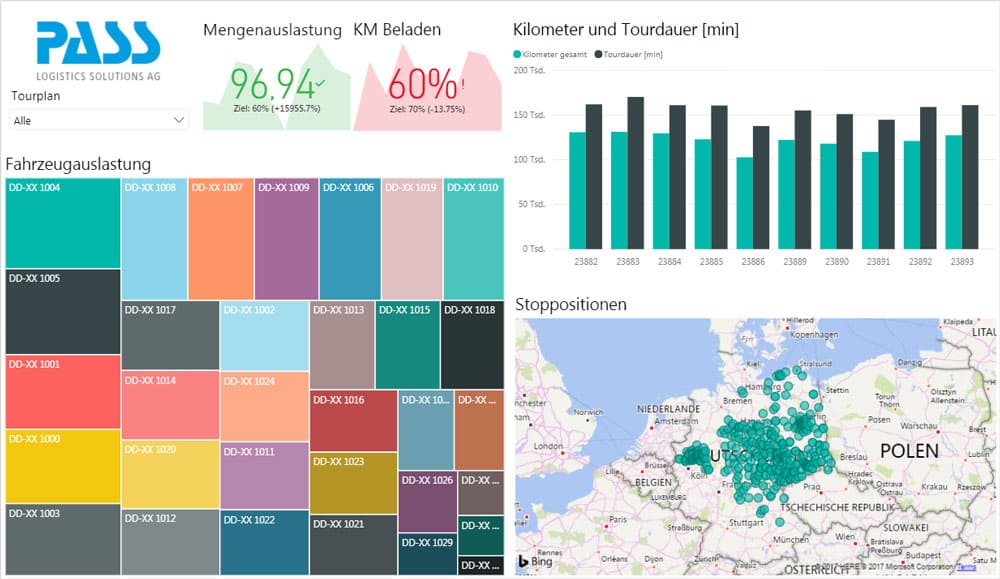 PLANTOUR BI
The PLANTOUR module gives you unrestricted access to the database for individual BI evaluations. The ready-made business model allows for quick implementation of your individual requirements into the dashboard.
PreviousNext
Of course, the actual savings potential always depends on the size of the company or the number of planned tours. As a rule, time savings are realized in both route scheduling and duration. This leads in a cost reduction. This results in a below-the-line cost reduction. In our experience, savings of approximately 15 percent can be achieved in an ideal situation. However, planning should not only be based on the aspect of cost savings, but should also be software-supported with a focus on increasing quality and facilitating work.
Route planning does not always have to be fully automated. Even though algorithmic optimization of supply routes usually produces very good and better results than manual scheduling, there are also situations in which the manual planning approach with software support makes sense. For example, if restrictions such as business hours exist only in the dispatcher's header or if there is insufficient order information. But even then, a software-supported planning tool such as PLANTOUR can help to simplify the daily work of the dispatcher, e. g. by simply visualizing the planning or automatically calculating customer arrival times.
Our route planning software is particularly suitable for small and medium-sized companies, but also works in large corporations with several hundred tours per day. We will be happy to help you find out whether a route planning software is worthwhile for you. Simply contact us for a free initial check. Here we carry out a route optimization on your own data and present the result to you. You can then decide on the basis of facts. Often, the support of our software is worthwhile for as little as three to four trucks.
We only want to recalculate our score tours once a year. For such project requirements we recommend the use of our consulting approach. You provide us with your data, we load it into our route planning software and work out your new tour plans with you. With such one-off analysis, the correct data basis is very important to achieve sustainable good results. Here we help you to create the right data basis for new useful tour plans.
Theoretically you can be up and running within two weeks after initial contact. In practice, the implementation period varies depending on the project scope and testing effort, especially if existing systems are to be connected or if telematics and/or telemetry hardware has to be installed in the trucks. After an initial consultation, we can usually provide you with a good indication.
Our route planning software offers the possibility of a seamless connection to your ERP system, your enterprise resource planning, your AMS or any other order management system via a very flexible integration technology. The route planning software requires at least customer and order data from your system. In principle, however, all data objects such as fleet, drivers, locations, costs, etc. can be loaded or unloaded via the interface to PLANTOUR. Of course, you can also create orders and new customers directly in our route planning software - even if you don't use any other system - and thus plan completely without further systems.
Yes, for new installations we always recommend the telematics solution of our preferred partner, as a ready-made real-time integration exists and can be used immediately. Of course, we can also connect your existing telematics solution to PLANTOUR as part of the implementation project. Whether this enables real-time communication or not, and whether all the functions available withour preferred partner can be used depends on the respective telematics solution. We would be happy to consult with your telematics service provider.
The software can be used both on premise and as Software as a Service (SaaS). It doesn't matter whether the installation is done in-house or in the PASS Cloud - in one of our ISO-certified data centers in Germany. Our pricing model is based on the size of your fleet, as this is the decisive factor for potential savings. In most cases, the introduction of tour planning software pays off in less than a year. Contact us for a detailed analysis of your potentials.
PLANTOUR is a client server system which runs on any commercial Windows server with a Microsoft SQL Server or Oracle database. A Java runtime environment is required for the client. The sizing depends on several parameters such as the number of orders, number of tours, number of planners etc. Please do not hesitate to contact us, we will then determine your hardware setup for you. Of course, you can also use the software from the PASS Cloud, so you only need a powerful Internet connection.
Yes, depending on the internet/intranet connection of the dispatcher to the PLANTOUR server, this can even be useful. Our software supports the usual software solutions such as CITRIX or Microsoft Terminal Server. For exact versions and detailed technical requirements please contact us.
Sours: https://www.pass-consulting.com/
Best Routing Software for Businesses in 2021
By Mitch Paglia
Posted in Product
Are you wasting a ton of time to bad routes? Read on to find out the best route planning software in the market.
In business, time is money. Every minute wasted stuck in traffic means money lost.
Whether meeting with clients, delivering products, or finding new leads, one thing is clear — in this day and age, your time in the field needs to be efficient.
But how can you make your route planning as efficient as possible?
Easy. By using routing software.
Route planning software allows you to generate the most efficient route to meet customers, schedule more meetings, and stay ahead of the competition. An optimized route will save you loads of gas and money. It will also save time that can be used to find new leads or meet with customers.
Here's a list with the 11 best route planning apps for big and small businesses in 2020:
1. Badger Maps
Price: $49/month Business, $95/month Enterprise (Free 7-day trial)
Best for: Outside salespeople and sales teams
Badger Maps is a route planning app designed specifically for field salespeople. It allows sales reps to automatically plan, route, and maximize their time in the field by cutting down driving time by 20%. It's the all-in-one tool for outside sales.
With innovative features such as lead generation, customer data visualization, and Check-ins, Badger frees up 8 hours of administrative work each week. These time savings can be used to meet more prospects and close 22% more deals.
Advanced reporting allows you to keep track of your sales activity and re-assign territories, while keeping closely connected with important accounts. It also integrates with most CRMs, making customer data accessible from the field at all times.
If you're a field salesperson looking to make the most of every day on the road or trying to replace old software like MS Streets and Trips, the best route optimizer is Badger Maps. Sign up for a free trial todayand take your outside sales performance to the next level!
Back to Top ↑
2. Google Maps
Price: Free
Best for: Small businesses. Simple routes
Google Maps is a web mapping software developed by Google. Available both on the web and mobile devices, Google Maps is best for simple routing and getting users from point A to point B in the shortest amount of time.
With Google Maps you can create routes for travel by foot, car, bike, or public transport. Users can add up to 9 destinations to their route and receive live traffic updates while on the road.
Google Maps is free, simple to use, and has some of the most reliable turn-by-turn directions available.
Learn more about the advantages and disadvantages of using the Google route planner and the best alternatives for salespeople.
Back to Top ↑
3. C2Logix
Price: Varies
Best for: Big and small businesses. Municipal, fleets.
With their two route mapping softwares, C2RouteApp and FleetRoute, C2Logix is a leading web-based route optimization solution for a variety of industries including green waste, recycling, snow plowing, street sweeping, and meter reading.
With easy-to-use interfaces, C2Logix allows users to see different optimized routes and choose the best option for their purposes. This can be helpful when routing trucks and planning out overnight trips for fleets.
They also provide a wide array of reporting functions and options, including time management, customer service aides, and cost-vs-revenue analysis.
C2Logix has even joined forces with TomTom for integrated job dispatch, vehicle tracking, and advanced reporting. While traffic is not taken into account, it's a great way to oversee a fleet and ensure they get where they're going taking the most time-efficient and cost-effective route.
Back to Top ↑
4. LogiNext
Price: Starts at $20/month
Best for: Big and small businesses. Delivery routes and dispatch.
LogiNext is a great delivery and dispatch route planning and optimizer software for professionals. Its flagship products include the cloud-based Last Mile Delivery and Route Optimization software, as well as its Field Service and Field Workforce Optimization software. It's a dynamic company with a lot of great routing optimization software options for those who travel on the job.
Featuring a clean and user-friendly interface, all field services such as shipments, carriers and on-field workforces can be tracked and optimizedin real-time upon a detailed map.
Plan and manage dispatch schedules and delivery routes while saving money on travel expenses across the board. With LogiNext's real-time field workforce management, you'll never have to worry about your team's performance in their territories.
Utilizing logistics analytics to help managers anticipate and adapt for all kinds of conditions, LogiNext will ensure that your fleet performs at the highest level.
Back to Top ↑
5. My Route Online
Price: Starts at $29.95
Best for: Small businesses. Logistics, trucking.
MyRoute is one of the most popular tools in professional transportation, with over 5 million routes planned. Designed for truck drivers and delivery people who need mapping software to plug in multiple stops, MyRoute assists with the logistics of selling and delivering on the road.
Map up to 350 stops per route, optimizing routes either by distance or by time. Once a list of addresses is exported to your GPS system or mobile device of choice, you no longer need to worry about juggling multiple stops. MyRoute organizes everything in minutes.
MyRoute is an affordable and dependable resource for truck drivers and delivery people to ensure that they spend less time behind the wheel.
Reliable and simple to use, MyRoute is a great option for truck drivers seeking a simple all-in-one solution for their mapping software needs.
Back to Top ↑
6. RouteSavvy
Price: $300/year for up to 3 users, $100/user/year for additional users (Free 14-day trial)
Best for: Small to mid-sized fleets.
For managers of small to mid-sized delivery, service, or sales fleets, RouteSavvy is an invaluable tool for streamlining and maximizing your team's activity.
RouteSavvy is a web-based service that allows users to input several locations and generate an optimal route between them, saving time and money while boosting productivity.
Built on Bing Maps, RouteSavvy makes planning and coordinating routes easy, allowing managers to plan for their entire fleet. With a starting cost of $300/annually, this handy app is focused on helping service companies plan and execute the work of their field services.
An easy-to-use interface makes for a simple learning curve, meaning your fleet will be on the road benefiting from RouteSavvy's time-saving features in no time.
Integrate RouteSavvy with your team's mobile devices for efficient turn-by-turn navigation, and make the most of their day.
Back to Top ↑
7. Mapstr
Price: Free
Best for: Travelers and tourists.
If you're looking for a more fun and personalized mapping experience, Mapstr is the perfect app for travelers who want to keep track of their favorite destinations all over the globe.
Featuring a clean and colorful interface, Mapstr allows users to tag their top places they've visited around the world, making it easy to find on a map. Like a fun version of vacation scrapbooking, Mapstr is an engaging way to keep track of your favorite vacation destinations and the memories attached to them.
Mapstr is fully integrated with Apple products (even the Apple Watch), so you can take it with you anywhere you go and add new places to your map. You can even share your favorite places with friends.
Download Mapstr for free today and keep a collection of your favorite vacation spots!
Back to Top ↑
8. OptimoRoute
Price: Starts at $17.10 per driver (Free 30 day trial)
Best for: Big and small businesses, mobile workforces.
When running the complicated operations of a mobile workforce, the resources you use can be the difference between success and failure.
With OptimoRoute, it's simpler than ever to plan the day out for your team, coordinating and optimizing their routes for top performance. Import orders and get the most efficient routing for all the drivers in your workforce at once.
Features include easy tracking of service time windows, order load, stop duration, skills needed, service areas, and more. It even has real-time order tracking and route modification, ensuring that you stay up-to-date with order statuses and get them to their destinations as quickly as possible.
OptimoRoute also calculates working hours and driver costs to help manage overtime and reduce costs. Vehicle specifics ensure that orders go out on the right truck without overloading. It makes coordination easier than ever before.
Try OptimoRoute's free 30-day trial and take control of your team's operations.
Back to Top ↑
9. MobileIQ
Price: Starts at $97/month
Best for: Small Businesses. Delivery, fleet management.
MobileIQ has been a leading company in the route planning industry for a while now, and its Headlight Route Planner is tailored specifically for delivery companies and small businesses in need of fleet management.
Import orders, deliveries, and service calls from Excel, and create optimized routes with just a few clicks. It gives managers the power to create and manage a variety of routes, including those of independent sales reps, or service and delivery.
Featuring Quick Start videos designed to make onboarding easy, Headlight is an affordable route planner for professionals that doesn't have a strong learning curve. Your delivery company will have no problem integrating it into your process and benefiting from its optimization features.
If you're looking for an easy way to make the most of your delivery team or fleet's daily operations, consider MobileIQ's Headlight.
Back to Top ↑
10. Automile
Price: Devices start at $;99
Best for: Big and small businesses. GPS tracking and fleet management.
If real-time tracking of assets as well as sales reps is something that could benefit your business, Automile is one of the top options on the market. Using GPS tracking devices, Automile makes it possible to monitor multiple vehicles in the field, with an accompanying app that makes scheduling and dispatching a simple and interactive experience.
A variety of GPS tracking devices can be utilized to have a picture-perfect view of your team's activities on the road via a live-action map. Automatic reports can be sent to your device, including speeding, disconnect, and motion-activated alerts. Your team will stay productive while remaining safe.
Automile's advanced routing and fleet activity management features make managing the team a completely interactive experience. You'll never lose sight of the big picture.
One of the most trusted GPS device companies in the fleet management industry, Automile ensures that no detail falls through the cracks.
Back to Top ↑
11. GeoConcept
Price: Varies
Best for: Small and medium-sized businesses. Transport and logistics.
GeoConcept's route planning app TourSolver makes travel optimization easy. It is specifically designed for professional transportation, improving service quality, cost, timeliness and responsiveness.
GeoConcept helps with the logistical side of route management, resulting in better work conditions for its users as well as better customer service for their customers.
Its routing optimization features are great for small to medium-sized businesses looking to save time on the road that can be better utilized connecting with customers.
It also results in an environmentally responsible approach, doing much to reduce mileage, lower CO2 emissions, and limit fuel consumption. This means not only a healthier planet but significant savings on travel costs.
Create the best routes for yourself and your team. Check out Geoconcept and learn how they can save you time and money on the road.
Back to Top ↑
Conclusion
The best routing software for your company depends on your specific needs.
With the right routing software, you'll increase efficiency and productivity, and grow your business faster.
MORE QUESTIONS ABOUT ROUTING SOFTWARE
What is the best route planning software?
Badger Maps is the best route planning software on the market for field sales. Badger allows users to plan their day within minutes, and create routes with multiple stops.
What is the difference between routing and scheduling?
Routing is about getting you to your scheduled destination efficiently, while scheduling is determining what stops you are going to make, and when you will make them.
How do you optimize a route?
You can optimize your route by using a route optimization tool such as Badger Maps. With Badger, you simply enter all the accounts you want to visit, press optimize, and you'll instantly get an optimized route to all your appointments.
Why is route planning important?
Route planning is important because it allows you to cut down driving time and focus on more productive activities. If you work in sales, you can use this extra time to meet with more customers or generating new leads.
How does route planning software work?
Route planning software works by using an algorithm to determine the optimal order of your stops to guarantee you visit all your stops in the shortest amount of time.
Sours: https://www.badgermapping.com/blog/routing-software-small-business-overview-available-choices/
If your commercial fleet handles complex routes with many stops, routing can be difficult. If you want to also include features that will help conserve fuel, boost productivity, keep your fleet ahead of compliance standards and promote an overall culture of safety, you're going to need to be picky when choosing software.
What is Routing Software?
The basic concept of routing software is that it uses GPS data to help plan out a trip. The most basic versions will simply give you directions to your destination. More advanced versions take into account real-time routing concerns like traffic congestion, road hazards, and adverse conditions.
Standard GPS route optimization is designed for a single trip, point A to point B, but it may not handle trips that include points C, D, E, F, and so on. If you're in need of tour routing software, you have to have a program that will handle a number of scheduled stops in a single route while keeping track of the current road and traffic conditions. Here are a few of our favorite options.
C2Logix
C2Logix is geared toward municipality use, though it's also employed in plenty of private businesses. Their point-to-point routing system was initially developed for use in the waste collection industry, but they now offer solutions for emergency management, snow plow routes, delivery and collection, and even home service businesses.
With C2Logix, you can schedule routes locally, regionally, or nationally. Optimized routes can be created up to 60 days in advance, and you can plan for all sorts of service schedules and visit frequencies. The software even integrates easily with top GPS devices like Garmin, TomTom, and Android devices.
Geopointe
If you're looking for an option designed for the sales and marketing world, Geopointe works with your Salesforce system to map out sales calls. This is a handy option if you want to create a tour visiting several clients in a single geographic area, or for those who simply want integration to seamlessly combine sales info and route optimization.
The Geopointe route planner offers multi-day routes, with up to 100 stops each. The program allows salespeople to see a clear calendar of their upcoming trips, lets them use both mobile and desktop devices, and makes it easy to share route information with managers or coworkers. It's great for managing large sales territories all in one easy view.
Azuga
If you're looking for a top-end tracking software system, it's hard to beat Azuga Fleet for the sheer number of features and optional add ons. This software works via plug-and-play OBD II devices so there's no costly and time-wasting installation. The routing options let you streamline dispatch with all the GPS details you could want. But more than this, Azuga is a company focused on improving road safety for commercial fleets.
Azuga's safety features and options include safety-related telematics that help you know which drivers are exhibiting risky behaviors like speeding or hard braking, and in what scenarios. They then offer training videos customized to each driver's habits with Azuga Coach. There's even a Safe Driver Rewards program to help motivate drivers to improve.
The benefits of Azuga telematics don't stop with safety. Use the data reported by the system to streamline maintenance, increase fuel efficiency, keep ahead of compliance issues, and even save money on insurance premiums.
LogiNext
For organized logistics and field service route optimization, LogiNext is an excellent option. Their delivery logistics automation is streamlined for ease of use, yet offers plenty of analytics and logistics data. The system is designed to be customized, with a number of different solutions, each catering to different types of fleet businesses.
For delivery businesses, LogiNext offers advanced features like capacity planning to ensure that each truck is filled to an optimal level and can be dispatched and operated efficiently. They also offer the ability to track and re-optimize routes in real-time with a detailed map view. 
Route4Me
Route4Me is a software solution designed for those who visit more than 10 destinations per day. The program makes it easy to drop in a list of addresses and come out with an optimized route for each driver in your fleet. Their promise is that you'll never have to spend more than one minute per day on route planning.
The company recommends its solution for field sales, delivery, pick up, home services, fleets, and field marketing businesses, among others. It offers the ability to change routes daily, weekly, or even seasonally depending on your fleet's needs. And there's no hardware to buy — simply install the program on each driver's mobile device and off they go.
If you're looking for tour routing software for your fleet, why not give Azuga a call? We'll be happy to show you all the benefits of our system and how it can work for you.
‍
Posted 
September 17, 2020
 in 
Sours: https://www.azuga.com/blog/best-tour-routing-software-2020
Mapotempo Web: Route optimization and route planning software
Start Planning Tours with Bus Routing Software
In this article, we'll show you how to start planning tours with bus routing software.
We'll cover the basics like:
What is a tour bus route planning
How hard is it to plan optimal bus routes
Why is tour bus routing important
The problem with manually planning bus routes
But also:
The top challenges when planning bus routes
What features you should consider when choosing bus routing software
How much does the route optimization cost
What is the best bus routing software
If you want to know about all of this and more, you've come to the right place.
Let's get started.
The Basics of Planning Bus Routes
Whether you take students on a trip or you organize city bus tours, driving to and from sights requires you to plan bus routes for those trips.
And while we usually cover route planning for delivery, the same principles apply - planning efficient routes with multiple pick-ups and drop-offs.
But there's a lot more to this topic. So, let's explain it.
What is tour bus route planning?
According to the Business Dictionary, route planning is:
Computing the most cost-effective route involving several needs or stopovers by minimizing the distance travelled and/or time taken.
But simply put: route planning is all about creating efficient routes (or driving directions) for multiple stops on the map.
As you can imagine, that takes a lot of time especially if you're still planning manually.
You also need to figure out the best route possible according to the schedule of the tour, but several other factors, as well.
How hard is it to plan optimal bus routes?
Planning an optimal bus route is HARD.
When it comes to basic route planning, many bus route planners rely on a few key factors. Typically, that includes distance to sites and the tour schedule.
By contrast, route optimization involves a lot more factors. These include parameters that can be related to the bus tour:
Length of the tour (hours vs days)
Type of tour (urban vs state or country vs international)
Number of destinations to visit
Wait times at drop-off and pick-up destinations
Wait times at border crossings (for international tours)
Number of breaks on the tour
Number of buses on the tour
Bus types (speed & seat capacity)
Number of drivers per bus
And many more
But also external conditions such as:
Types of roads (urban streets vs motorways)
Traffic patterns & traffic congestion
Number of road crossings per route
Tolls and checkpoints along the route
Roundabouts & road junctions
Crossing the line of traffic
Road conditions (closed roads, road works, etc.)
Weather conditions
And others
You can plan a truly optimal route only if you take all of the above into account (plus distance and the tour schedule).
And in fact, bus route optimization is a more reliable way to plan, manage, and map routes regardless of the type of tour you operate.
Let's take a look at why that matters.
Why is optimized tour bus routing important?
Optimizing tour bus routes is important because it makes routes more efficient. As a result, the bus tours you plan waste a lot less resources and bring in more profit.
In fact, vehicle route optimization software can cut operating costs in some cases up to 30% by reducing:
Fuel consumption
Travel distance
Drive time
Wait & idle times
Vehicle wear & tear
Workload
And if you own and operate a fleet of vehicles, those costs can eat a significant chunk of your annual income.
At the same time, it improves passenger satisfaction on tours. Which means more people will want to ride on your busses instead of your competitors'.
With less time on the road, passengers are more comfortable during the tour. And the less time they spend riding around on the bus, and the more time they spend around the sights, the better their experience.
Likewise, route planning and optimization streamline how drivers interact with passengers.
When drivers know the exact time when they have to collect the group, they always arrive at the meeting point early or on-time.
Also, drivers are under less pressure because they know where they are going, what roads they need to take, and how long they have to drive until they reach their next destination.
That greatly reduces their workload and gives them more time to focus on customer service.
But all of this falls apart if you don't automate the planning process.
The problem with manually planning bus routes
One of the problems with manually planning bus routes and tours is that it takes a lot of time to complete.
A route planner can spend several days researching the factors necessary to find an optimal bus route. And extra time calculating the schedule and routes based on that information.
That's a lot of time the planner spends completing just one task from the entire workload. And not a very effective use of his time.
Moreover, the routes he plans are usually static or fixed. If something happens on the road, the planner can't reroute the bus to prevent delays. And drivers are left to their own devices.
For example, if a driver encounters a bottleneck in the street, he'll have to wait for the traffic to start moving before continuing on his route.
Bus drivers also have to remain in constant contact with dispatch while driving (usually over the phone or radio). Which can impact the safety of everyone on the bus.
But all of this affects your organization, as well.
By relying on one person to plan tour routes, your company exposes itself to a problem if your route planner is out of the office or otherwise unavailable.
Without knowledge of the local geography and road network, and planning skills, drivers will depend on less efficient routes. Which can have an immediate effect on the operating costs of each tour.
Similarly, it's hard to scale operations when you manually plan tour routes. You'll have to hire additional staff every time you expand your fleet or add new tour locations.
Reducing the safety and quality of driving also affects the reputation of your company. Which makes your bus tour company less competitive in an already aggressive market.
The challenges when planning routes for bus tours
There are many challenges when planning routes for bus tours. You'll have to overcome all of them if you want to plan optimal bus routes. And make your operations more efficient.
But before that can happen, let's first take a look at what they are:
Ensuring passenger safety
On bus tours, passenger safety always comes first. Typically, their safety depends on the driver's skill and the factors he encounters on the road like traffic, weather, or road conditions.
At the same time, some streets are more challenging to navigate with a bus. For instance, narrow lanes, sharp turns, or tiny roundabouts all put pressure on the driver and vehicle.
Logically, the safest streets are those with lower speed limits and wider lanes.
Getting passengers to the sights on time
Passengers buy tour packages to travel. For them, the bus ride to a certain destination is just a means to an end.
If drivers don't arrive at the sight on time, it may have a domino effect on the entire tour itinerary.
Not to mention, delays and missed stops frustrate passengers. And that can have a serious impact on their overall experience with the trip.
Walking distance to tourist attractions
Passengers don't like walking on bus tours. The shorter the distance to a tourist attraction, the better the experience for the passengers.
It's vital to plan stops that allow drivers to pull up and empty the bus at the site.
The location has to be close to the entrance to ensure the shortest walking distance. And wide enough to allow the bus driver to easily manoeuvre his vehicle.
Reducing the travel time to destinations
Tour bus routes have to have short travel times to destinations.
Shorter journeys between two locations reduce the time passengers spend riding the bus. Which improves their satisfaction on the trip.
And at the same time, it minimizes fuel consumption and the cost of the tour.
Minimizing the cost of the tour
Most bus tours are prepaid services. Any extra costs gut the profit margins you receive from the trip.
But because operating expenses aren't fixed, optimizing operations and lowering costs can generate more turnaround from each tour.
So on the one hand, an optimal route helps you to put a better price on your tours. (And make you more competitive if you offer cheaper seats on the trip)
On the other hand, you'll reduce fuel consumption or drive time, and spend less money on the bus tour. Which means you get more profit from every ticket or package deal that you sell.
Avoiding traffic congestion
Driving a bus through dense traffic raises the cost of the tour. Traffic jams, gridlocks, tie-ups, and bottlenecks all impact how much time your vehicles spend on the road.
On the one hand, that can raise fuel consumption and increase operating expenses. On the other hand, it can affect the tour schedule and harm passenger satisfaction.
So, if your drivers can avoid traffic congestion, they can save you a lot of resources.
Choosing the right access points
Choosing the right access points makes it easier for drivers to reach every destination on the bus tour.
If the stops on your route lack accessibility, drivers will spend a lot of time parking when dropping off passengers.
Choosing the right pick-up points
The right pick-up location has to have two things:
It has to be close to the drop-off destination, and;
It has to have nearby parking.
If the pick-up point is far away, passengers will have to walk a long distance to reach the bus. And depending on the type of passengers, that can increase the departure time and hinder the tour schedule.
If there's no parking near the point of departure, the bus can block the road while waiting for passengers to return from the site or board the bus. Which can lead to a parking violation and fine.
Tracking the idle time of the vehicle
Waiting time and empty movement between two consecutive trips is called a deadhead or an idle time.
It refers to the amount of time a vehicle is on the road without carrying any passengers.
Tracking how much idle time each vehicle spends can help you reduce waste and reduce the cost per tour.
Quality bus routing software has features that address all of these challenges. But for you, the challenge is finding the solution that matches the needs and requirements of your bus tours and route planning operations.
However, there are essential components of a route optimization solution. And to help you, here's what features you need to consider when choosing it:
Route optimization
Route optimization is an essential function of any route planning or delivery management software.
It relies on complex algorithms to allow you to find optimal routes between multiple stops. (Based on various external and internal parameters)
The route optimization feature should allow you to plan multiple routes (for multiple vehicles), and calculate the best paths between those stops within seconds. While still allowing you to add or remove pick-ups and drop-offs manually.
At the same time, it should have built-in geocoding to generate and update maps in real-time. So, you can easily track drivers as they move on each route.
And you should be able to do all of this using one click. With a user-friendly interface and a drag-and-drop feature that lets you easily make changes to all routes and stops.
Advanced routing information
Tour bus route planners should be able to make changes on the go. That's why the software should provide advanced routing information, and allow you to adjust routes, change stops, or add new items to the tour schedules in real-time.
Real-time bus tracking
Real-time bus tracking uses geocoding and GPS to monitor the location of each one of your vehicles on the road.
It helps you to resolve routing problems on the go and provides tracking information to dispatchers.
The best bus tracking feature should keep track of buses in real-time, and collect other vital data such as mileage and fuel consumption.
Bus driver management
Bus driver management allows you to manage drivers' routes and schedules. But it also ensures a safe and reliable exchange of information between drivers and dispatchers.
Mobile app for bus drivers
With the mobile app, drivers have easy access to the routing program while being on the road
That's why mobile deployment on Android and iPhone is a must.
Passenger information system
A passenger information system allows you to collect, store, access, and use data related to each passenger on your tour.
You can use this system to provide passengers with information, as well. They can see data related to your drivers, vehicles, and tour schedule through visual, voice, or other media.
Automated reporting
Automated reporting helps tour managers and operators to monitor and evaluate performance by gaining direct insight from the field.
Bus tour scheduling
Tour scheduling allows you to easily create itineraries for each bus. Best of all, you import all data via a spreadsheet (.csv) file while the software automatically generates the schedule.
The software can dispatch arrival and departure times with the bus ID and time-stamp from each stop along the tour. And report it back to the central control centre.
Tour management
With tour management, you can automate every element of the tour. You can track all of your tours, buses, and drivers from one central location. And make adjustments to routes and schedules on the go.
How much does bus route optimization software cost?
The average cost of a monthly subscription for bus route optimization software is $182.35 per month. But the price can be higher or lower depending on the provider and their terms.
To find out more, please read our article about the delivery management software cost.
What is the best bus routing app?
There are a lot of different bus routing software solutions available on the market. And eLogii is one of the leading route optimization apps among them.
Our powerful software can provide your business with an end-to-end cloud-based solution for planning, routing, and optimizing all of your tours.
Please visit this page to START YOUR FREE TRIAL and try out all of the 58 features.
We have everything you need to start improving your bus tours.
Here are the nine free guides that will show you exactly what we do to optimize the last mile and dominate delivery logistics.
1. Our free guide on how to choose the Best Route Optimization Software
2. Route Optimization Using Google Maps: Can it be done? And does it work?
3. Internal vs. External Delivery Fleet: Everything You Need to Know
4. Why mapping multiple delivery stops is impossible without software
5. To centralize or not to centralize operations: What's the better approach?
6. A complete and definitive guide to building an agile delivery operation
7. How we crush customer experience with delivery management software
8. How to plan better delivery schedules and speed up operations
9. How Delivery Management Software Cuts Costs and Saves You Money
TweetSours: https://elogii.com/blog/
Routing software tour
The hub for your whole tour
Run your tour from one place—from venues and crew members to your guest list and finances.
Learn More
Master Tour has instant syncing, so you can immediately tell your team about schedule changes, route modifications, and more.
Learn More
Mac or PC? iOS or Android? iCal or TripIt? Whatever you use, Master Tour 3 knows how to use it, so you can work the way you want.
Learn More
Connect with booking agencies, travel companies, venues, hotels, and crew members in Master Tour's massive database, and plan out your tour with time to spare.
Send messages, reminders, and alerts to anyone and everyone on your team. With Master Tour's new instant syncing, they'll see them right away.
Edit your tour, even when you're offline. Your changes will sync as soon as your signal comes back.
Master Tour 3 has privacy permissions and secure data storage, so you can rest assured that your information is safe.
From Beyoncé to Jim Gaffigan, many of the world's top talent and tour managers have been using Master Tour for years.
Trusted Management Partners
Master Tour is an integral part of my touring. I cannot recommend this highly enough to all tour managers.
Stephen Shaw-Buckcherry
On a tour the size of the Black Keys, it's invaluable. I won't tour without it.
Jim Runge
Master Tour is hands down the best way to keep everyone else in the loop and myself organized on tour.
Chris Phillips
Master Tour is an invaluable tool for our tour to stay organized.
Curt Jenkins - Lady Antebellum
I love Master Tour, been touring with it for over 6 years! It's so easy even our bus drivers use it!
Matthew Petroff - Jonas Brothers
Incomparable. Nothing else in the industry holds a candle. So user friendly that anyone can figure it out!
Misty Roberts - Bruno Mars
Eventric Live Access, in partnership with Bon Jovi and AEG, is producing one of the best ticketing experiences.
Master Tour has saved me countless hours both at home and on the road.
Jason Hecht - fun.
No matter what size the tour has been, I've relied on Master Tour to keep my tours organized and rolling.
Christopher Fox - Jillian Michaels
Live Access is efficient, easy to use, and helps me keep my ticket inventory in check.
Jody Bennett - Katy Perry
Sours: https://www.eventric.com/
IRCAM Tutorials / Panoramix : Software Routing (PC)
We all love free software. That's the beauty of the Internet. I personally use a host of freebies every day, but I've also upgraded some of my accounts and pay a small monthly fee in order to access more convenient features.
I've found that free software usually works well in the very beginning when you have rather simple needs—especially as a business owner . As a delivery business just starting up, that might mean using free software to plan and optimize a small number of routes, or doing your delivery route planning and route optimization once or twice a week.
I'm going to say right now that free route planning software with unlimited stops is really hard to find. Most free software doesn't allow you to route with unlimited stops. Period. Having said this, there are a number of free route planning options that can be finessed to work for your business's specific needs.
Below, I'm going to talk about why your route planning software needs to have multiple or unlimited stops, feature some free route planning software, and also provide some workarounds that might be good for your business during its growth stage.
Managing local delivery routes is simple & profitable with Routific
Trusted worldwide. Powering 5 million deliveries a month.
No credit card required.
What is the best free multi stop route planner?
Here are a few route planner apps worth checking out. Note that because they're free, they do come with some limitations:
Google Maps
RouteXL
MapQuest
TruckRouter
Apple Maps
Speedy Route
Circuit
FlightMap
Waze
Maps.me
SalesRabbit

Google Maps
If you're planning routes with 10 stops or less, you can probably get away with using Google Maps to plan your deliveries. Google Maps is free—hooray! But while it can plan your delivery route, it won't necessarily optimize it.
That's because Google Maps is the best solution for finding the shortest path between two stops, but it's not particularly handy for finding the best (ie. optimized) path for a route with multiple addresses.
If you're using Google Maps to plan a route with multiple stops, you'll need to eyeball the map and manually determine an efficient order for your stops. This gets even trickier when you have to factor in constraints like delivery time windows, vehicle load capabilities, and driver breaks.
Of course, one of Google Maps' best features is its accurate turn-by-turn directions right on your mobile device.
Read more: Google Maps and Route Optimization – What's the Difference?

Can Google Maps plan a route with multiple stops?
Although the answer to this question used to be "no," I recently discovered a workaround. I stumbled upon a site that helps route planners piece together multiple routes from Google Maps, in a way allowing you to route with unlimited stops. Check it out here.
Pros:
Leading mapping software
Compatible on all mobile devices
User friendly
Reliable maps
Cons:
Only allows 10 stops or requires use of a workaround
Does not allow for multiple drivers
Cannot optimize routes with constraints like delivery time windows, vehicle load capacities, driver breaks, etc.
RouteXL
RouteXL is a good alternative to the Google Maps route planner, as it allows up to 20 stops, as well as optimizes your route. Once you enter your stops, RouteXL will organize them according to the most efficient order, for the fastest, most optimal route. This is especially useful for delivery drivers or home service technicians who have multiple stops in a day.
Another advantage to RouteXL is that you can easily import all your stops from an Excel spreadsheet so you can share or save routes. The downside to RouteXL is that it is a web-based application and has a bit of a learning curve. You'll need to read up on their tutorial before starting and log into the mobile version of the website on your phone in order to access it on the go.
Pros:
Allows up to 20 stops
Optimizes your route for efficiency
Allows Excel spreadsheet imports
Cons:
No mobile app
Not user-friendly, requires some reading before using
Mapquest
Before there was Google Maps, there was Mapquest. I'm sure we all remember printing off Mapquest directions while road trip planning! Mapquest allows multiple stops in one route (up to 26), can provide the most speedy route according to shortest distance or shortest time, and has a mobile app; however, it doesn't have advanced route management features like allowing for multiple drivers, and its software is not as advanced as other route planning tools I've mentioned in this roundup.
Pros:
Allows up to 26 stops
Compatible with on all mobile devices
Optimizes route according to shortest distance or shortest time
Cons:
Unreliable at times
No turn-by-turn directions
TruckRouter
If you own a trucking fleet or are a truck driver, this one's for you. TruckRouter is a web-based route planning tool designed to optimize truck-specific routes. As trucks have height and weight restrictions and are not able to travel on certain routes, TruckRouter optimizes routes for truck clearance at low bridges and highways. Because long-haul trucks usually make 1-2 stops to deliver or pick up goods, TruckRouter doesn't offer a high number of stops. It makes up for this with its trip cost calculator, which offers a way for business owners or fleet managers to calculate the cost efficiency of their trip for profitability.
Pros:
Optimizes for truck-specific routes
Trip cost calculator
Provide low clearance and route elevation information
Cons:
Allows up to 5 stops
Web-based only
Apple Maps
Designed for everyday trips, Apple Maps is similar to Google Maps, with some key differences. Apple Maps only allows for up to 2 stops, and does not allow pre-planning of routes. Instead, you can add 1 pit stop along your route. Where Apple Maps does excel, however, is in its easy-to-use functionality and sleek map design compared with other free route planners, complete with 3D buildings and the ability to easily sync maps across all your Apple devices.
Pros:
User-friendly
Sleek design with 3D view
Optimizes pit stops along your route
Cons:
Only available on Apple devices
Mapping software sometimes inaccurate
Only allows up to 2 stops
Speedy Route
Speedy Route is an excellent free route planner for those running sales calls or for delivery drivers who need to make multiple stops in a day. Speedy Route has the ability to reorder stops to create the most efficient route, as well as supports timeboxes so you can assign a specific delivery time to a stop and optimize the route around it. The downside is that Speedy Route only allows up to 10 stops, and is a web-based application with an old-fashioned interface.
Pros:
Timeboxes
Optimizes routes for efficiency
No frills interface (although this could be a con for those who enjoy a more sophisticated design)
Cons:
Can only add 10 stops
Web-based software only
Circuit
Circuit offers a free and paid subscription with advanced features for larger businesses, however, their free route planner app does come with certain features useful for small businesses with delivery drivers. Like Speedy Route, Circuit supports timeboxes, but also provides the option to prioritize certain stops first on your route. Then, Circuit will optimize the rest of the route once stops have been customized. Circuit is only available on mobile devices and the free route planner allows up to 10 stops.
Pros:
Timeboxes
Allows you to prioritize important stops first
Available on all mobile devices
Cons:
Allows up to 10 stops
No desktop app
Flightmap
Flightmap is a free route planner designed for delivery professionals and businesses with multiple vehicles and stops required. Flightmap supports 200 stops per month for 2 vehicles, which works out to 9 stops per day, per vehicle. While this may not seem like much, the option to have two vehicles on the go, each with customizable maps is a plus. Flightmap also allows optimizations of maps based on vehicle type according to size and speed—ideal for businesses with different types of vehicles. Flightmap is a web-based software, however, you can export and share trips as well as get turn-by-turn directions on your mobile device.
Pros
Supports multiple vehicles
Optimizes routes according to vehicle type
Ability to export and share maps
Cons
Offers 9 stops per day per vehicle
No mobile app
Waze
Waze was acquired by Google Maps in 2013, so its mapping software is reliable and user-friendly, with a colorful design and entertaining interface. What makes Waze stand out from the competition, however, is that it collects real-time data from other users on traffic, diversions, and even police stops. Its Spotify integration is also a handy feature for long drives. While the community feature is well designed, it's only valuable if you're travelling in high-traffic areas where others are using the app and contributing data. And the downside of Waze is that it does not allow for multiple or unlimited stops—but can be used in conjunction with another free route planning software so you can still reap Waze's benefits.
Pros
Fun, colorful interface
Spotify integration
Real-time, community driven data
Available across all mobile devices
Cons
Doesn't support multiple stops
Community data only available in high traffic areas
Maps.me
If you require route planning in remote areas with limited cell phone coverage, Maps.me shines. Its biggest advantage is the ability to allow offline navigation by downloading an unlimited number of maps to your mobile device. You can add new stops, search for pit stops along the way, and navigate routes—all without using a single byte of data. Although Maps.me only supports up to 5 stops, it's great for long haul truck drivers with fewer stops and deliveries to remote locations.
Pros
Offline navigation
Available across all mobile devices
Cons
Only supports 5 stops
Doesn't offer turn by turn directions
SalesRabbit
SalesRabbit is a lead management tool for businesses, which allows route planning according to selected leads—it's ideal for sales professionals going door to door or who schedule multiple appointments with clients throughout the day. Through the app, you can optimize an efficient route for up to 23 stops and appointments on an interactive map, as well as set appointments and reminders, and get turn-by-turn directions on your way to your destination. To get access to Sales Rabbit's lead management tool and free route planning software, you'll need to sign up for Sales Rabbit Lite, a free, lean version of their sales and team management software.
Pros
Ideal for door knockers, canvassers, and sales people
Supports appointment scheduling and reminders
Offers lead management
Supports up to 23 stops in a day
Cons
No web application
Doesn't supposed multiple vehicles
What are the limitations of free software?
Limited stops per optimization
Many of the free services limit the number of stops you can optimize. For example:
Google Maps: Up to 10 stops
RouteXL: up to 20 stops
SpeedyRoute: up to 20 stops
Mapquest: up to 26 stops
Some software also only allows you to optimize a certain number of routes within a 24-hour period.
One vehicle optimization only
Most of the free services only allow you to optimize routes for one vehicle, except for Flightmap, which allows you to route with two vehicles. Once you have more than one delivery vehicle or delivery route, you'll need to find another solution.
Difficult to use
Good design and ease-of-use aren't that important when you're dealing with a small number of stops. You just need something that gets the job done! But as your volume of orders grows, so does the time it will take to plan your delivery routes. This problem is compounded if the software is clunky, feature-poor, and awkward to use.
How many hours do you or your staff spend planning routes each week? How much does this time cost in salaries or wages? Could this time be better spent on other parts of the business? This is the real cost of "free" route planning apps. As your business grows, the time it takes to plan and manage delivery routes grows exponentially. Meaning your cost-per-delivery starts to sky rocket.
Software that has been thoughtfully designed can shave off hours of route planning each week. And will significantly lower your cost-per-delivery as your business grows. Ask yourself, "How long can we use a free route planning app before it starts costing us too much?"
Delivery time windows
Who hates sitting around waiting for a delivery all day? It's shocking to admit, but most delivery companies — including industry leaders UPS and FedEx — still provide their customers with 9 a.m. to 9 p.m. time windows, forcing people to wait around all day for a delivery. In this new era of delivery, if a customer requests a delivery to be made between 9 a.m. and 10 a.m., delivery companies have access to the tools to accommodate this request. Setting delivery time windows is not available with most free routing software (except Speedy Route and Circuit), but a paid subscription will most certainly have it.
Mobile app for driver
Route planning only gets you halfway there. Your delivery driver now needs to execute on those routes and deliveries. For that, you'll need to equip your driver with the right tools in order to provide the best possible delivery service for your customers.
Easy access to the routes, as well as any delivery instructions and notes are vital for this. Drivers need to also stay accountable to the business and to their customers with some kind of proof of delivery — something you certainly won't get with freemium software.
Customer support and SLAs
Free software means the person who built it isn't constantly updating the software, providing attentive customer service, or any kind of guarantee that the service will always be available.
When you pay for something, most software companies have Service Level Agreements that help to guarantee that the software will always work — and if it doesn't, you'll be sure the team will be in touch to make it right.
Route planner apps with more features than free tools
When your business starts to grow and you find yourself hiring more than one delivery driver or having more than 20 deliveries to make a day, you might want to look for more sophisticated delivery route planning software.
We are the makers of Routific, which you can try out with a free 7-day trial.
While we'd love for you to use Routific, we also want to arm you with knowledge of what else is out there, and let you make up your own mind. So, we've gone and done the research for you, reviewing 8 routing planning apps currently in the market.
Read more: 8 Best Route Planner Apps For Deliveries: 2019 Review
In Conclusion
If you're just starting up your delivery business, and you have just one delivery driver and a handful of stops, you should use the free route planner software we mention at the beginning of the blog.
Just know that when your business starts to grow, you'll need something more robust. That's when you can check out the best route planner apps we feature near the end of the blog.
Sours: https://blog.routific.com/free-route-planning-software-with-unlimited-stops
You will also like:
.
227
228
229
230
231