How to Fix the PS3 Disc Reading Problem
Is your PS3 not reading discs? Do not panic as it is quite a common problem. The following article will give you some solutions on how to fix the problem in question.
PS3 or PlayStation 3 is the successor of PS2, and it is one of the excellent game consoles, which is powered by Sony Computer Entertainment. It offers you some excellent video game console services like online gaming and various multilevel storage mediums. After undergoing numerous modification stages since its launch, it is currently available in three popular models, which are 12 GB Super Slim, GB Super Slim, and GB Super Slim. One of the most commonly faced problems by users is that their PS3 does not read discs.
A few solutions to this problem are given below.
Go to the Manufacturers
As mentioned earlier, you can fix a minor problem yourself.
If, however, your console is under warranty, then go directly to the manufacturers.
You will get your problem solved firsthand by a professional (for free).
Also, if the solution is simple enough, you might be able to understand it and do it yourself the next time, instead of wasting time going to Sony.
If your console is not under warranty, then this is the last solution you should resort to. The reason being, you will be charged a fortune for something that is very simple, and will be made to wait for a long time.
Look for Loose Connections
Check for loose cables. Switch off your machine, and unplug all the cables.
Plug all the cables back to their original places, restart the console, and reinsert the disc.
Check for Faulty Disc
If there are no loose connections, check the disc properly.
Often, even in our laptops and DVD players, the CD itself has a problem. If that is the case, take it out and check for scratches and dust.
If the scratches are minor, use commercial repair liquid and clean it.
For major scratches, replace it.
If there are no scratches, then there might be a problem with that particular disc itself. Try another game, and see if it works.
If it does, then your earlier game was either damaged or the CD was corrupt. It is also possible that the file format is not compatible with your appliance.
If that is not the case, then there is no fault with the CD, and you will have to check some other source of the problem.
Reset the PS3
If the above method fails, you may have to use the resetting mechanism. Try the following steps:
Turn off the device by holding the power button down.
After this, press your finger on the power button again, until you hear 2 beeps one after the other.
You will be instructed to plug in your controller via USB, and then press the button again.
You will see a Recovery menu.
Select the Restore Default Settings option. Go for the Rebuild Database option as well.
Your settings would be reset after this. Now, check if the disc is working.
Replace the Blu-ray Lens
If the reset method fails, your player lens may need replacement.
If you have been using your console for anything other than playing games (playing music or watching movies), your Blu-ray player lens has probably gone bad. For this, you will need to replace the lens.
You can take help from a friend, who is an expert, and also use a repair guide. If you are a technology freak, do it yourself. But remember that the steps here are only an overview, and you need to read the repair guide carefully before making any move.
Buy an authentic replacement lens. Use the Phillips screwdriver as well as the flat blade screwdriver.
Pull out the power plug. Use the flat blade screwdriver to unscrew, and remove the panel.
Remove all the screws from the case. Also, remove the data cable ribbon.
Remove the metal frame of the Blu-ray drive.
Replace the lens very carefully.
Fix the drive back, and fix all the screws as well.
Close the console.
Visit the Repair Shop
If your device does not read discs even after employing the above procedures, the hard drive itself is faulty. Actually, you can detect this problem while following the reset method itself.
In this case, you will need to take it to the nearest repair shop.
Apart from this, other problems like system breakdown, freezing issues, or overheating should also be taken to the repair shop (if your warranty period has expired).
Every electronic equipment has some problem or the other, and the PS3 is no exception. If it is a serious problem, it would be better for you to get it repaired from a professional, as all of us are not experts with the internal working of such appliances. However, sometimes, the problem might be something minor, and we can straighten it out ourselves. If you have used the device for a considerably long period, you can take a new piece itself. So, check the problem well, and then take the appropriate course of action.
Sours: https://techspirited.com/ps3-not-reading-discs-fix
Digital Innovations Clean Dr. Laser Lens Cleaner for PS3
Platform:PLAYSTATION 3
CleanDr for PlayStation 3 Laser Lens Cleaner removes dust, dirt, and debris from the laser lens of your PlayStation 3 gaming system helps maintain the life of the device while improving image and sound playback. The CleanDr for PlayStation 3 Laser Lens Cleaner features our brush Cyclone Clean Process. The brushes are arranged in a spiral pattern on the disc for quick and effective cleaning of the laser lens. The cleaning system also features Zero-Clearance Technology, which utilizes an innovative brush-in-pocket design to accommodate the extremely tight clearances between the disc and the PS3 optics. The CleanDr for PlayStation 3 Laser Lens Cleaner includes instructions in English, French, Spanish and German as well as exclusive Home Theater Image and Sound Calibration Tools. Safe and effective in all PlayStation 3 gaming systems.
Sours: https://www.amazon.com/Digital-InnovationsClean-Cleaner/dp/BZT4I
Problems With a PS3 Disc That Is Not Spinning
A common hardware problem with Sony PlayStation 3 is for the console to accept a disc (DVD, Blu-ray or game disc) but not spin it or otherwise recognize it, leaving you unable to either watch video or play disc-based games. If this happens with more than one disc and you can verify that the discs will play fine on other devices, this indicates a problem with either the PS3 motor or the laser that reads the disc.
Troubleshooting
A PlayStation 3 that accepts discs but does not spin or read them may have a problem with either the motor or the laser. If the issue is with the motor, you may hear the motor attempt to engage the disc once it has been inserted or you may not hear anything at all. This may be caused by either a motor failure or by a foreign object blocking the motor. If the issue is with the laser, the disc may load but the laser does not detect a disc and then does not spin the motor. This may be caused by an excessively dirty laser lens or a laser that has otherwise burned out.
Warranty
Sony offers a one-year, limited warranty on new PlayStation 3 consoles, and some electronics stores may also offer an extended warranty, available at time of purchase. If your PlayStation 3 is less than a year old, or your console is more than a year old but covered under the extended store warranty, contact the store where you purchased your console. You may be able to get a replacement console under warranty.
Professional Repair
Sony offers a repair service through its website for consoles that are still covered under warranty, as well as consoles that are no longer covered. At date of publication, the cost is $50 for shipping and the initial diagnostic; once the problem is diagnosed, there is an additional fee for parts and labor. Repair costs can vary greatly.
Self-Repair
You may also choose to fix your PlayStation 3 console yourself, though this will void the manufacturer's warranty and should only be attempted if your console is no longer covered under warranty and you are comfortable working with specialized electronic hardware. There are various PlayStation 3 repair forums and YouTube videos available to help you troubleshoot and replace any parts that may be causing the non-spinning disc issue.
Considerations
Before replacing your PlayStation 3 under warranty or attempting a repair, back up your saved data on your PlayStation 3 by either exporting your data to a USB drive or uploading your data to the PlayStation Network cloud server. If you do not save your backup data, you will lose all of your saved games and profile settings.
References
Writer Bio
Michelle Mista has loved technology since her earliest days. She began her career as an IT professional in the Silicon Valley. Mista combines her love of technology and writing to write about technology for the non-techies.
Related Articles
Sours: https://ourpastimes.com/problems-with-a-ps3-disc-that-is-not-spinninghtml
Repair - CECHE001 PS3 Not Reading Discs
If you're a gamer then you have probably found the best deals on games are there when you buy digital copies. Along with that, services like Xbox Live Gold and PlayStation Plus guarantee you a couple of free games you can download each month. But with current generation games clocking in at 50GB or more, the GB hard drive in your Xbox One or PlayStation 4 starts to fill up really quickly.
You're a little better off with a PlayStation 3 or an Xbox , where games will usually be under the 10GB mark, but the hard drives on those consoles were also smaller, so it's still a problem. Since you can keep music and movies on the consoles as well, they fill up really quickly.
Luckily, gamers can just plug an external HDD into the console's USB port and use that make room on the internal drive. One thing you need to remember is that the hard drive needs to be formatted to use - this means that every single thing on the drive will be deleted before you can use it.
If there is any important data on the drive, make sure you save it before going ahead with any of the steps below. Formatting a drive is an irreversible step and it can take hours, depending on the size of the drive, so make any backups as needed, and then start the process only when you know you have the time.
Xbox
The Xbox will work with external storage of up to 32GB, in the FAT32 file system. For this reason, we would recommend using a USB thumb drive, instead of an external hard drive with your Xbox While 32GB does not sound like much, this will allow you to save at least three full games, along with their save data, on one pen drive. If you're a fan of indie games, then you will probably be able to fit a lot more in there.
The one thing you'll need to do is make sure the thumb drive you're using is on the FAT 32 file system - some guides suggest that you can go directly to Step 7 and the Xbox will format the drive for you, but we tried this with a couple of different thumb drives and that was not always the case. So, you could try step 7 first, but if your thumb drive is not detected, then start with Step 1.
1. Connect the thumb drive to your Windows PC, and go to My Computer.
2. Right click on the drive's icon, and click on Properties. Under the name of the drive, it should state the file type. If it's FAT32, then you can jump to step 7. Otherwise, you need to format the drive. This will delete everything on the drive, so back up any data you need to keep.
3. The fastest way to convert it to FAT32 is to use the command prompt. First, press the Windows Key + R to show the run dialogue box.

4. Type cmd, and click on OK.
5. In the window that pops up, type in the following text, leaving out the quote marks: "format /FS:FAT32 X:". You'll need to change X: to the name of the drive.
You can see the name of the drive in the My Computer window - do not accidentally type in the wrong letter because once you confirm this command, the process is not reversible.
6. You're given a prompt to press enter when you run the program. Just to be safe, double check the name of the drive you entered in the command before pressing the enter Key. This finishes the process, and you can check the filesytem of the drive as described in Step 2 to confirm.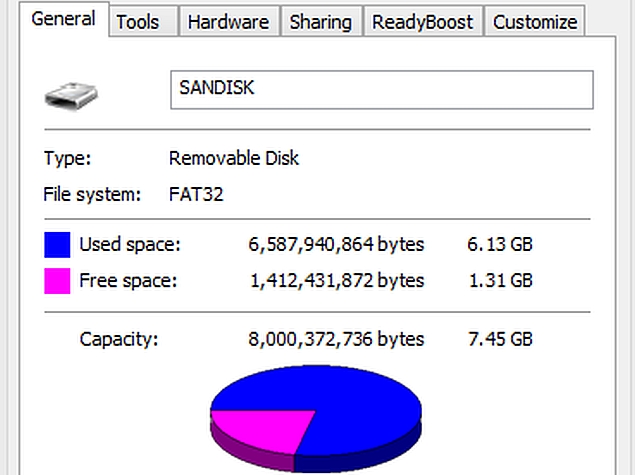 7. To use the thumb drive, you can now eject it from your computer, and connect it to the Xbox
8. Go to System settings > Memory > USB Storage > Configure Now. This process took a minute, and after that, we could store games, demos, save games to this drive.
You can also follow steps to format an external HDD to FAT32, which can then be used with your Xbox You can save movies and music to the HDD and play them from your Xbox automatically, so this is useful if you are using the console as a music player. However, you won't be able to use more than 32GB for saving games.
PlayStation 3
Unlike the Xbox , you can't save PS3 games to the external drive, so here, we'd suggest using an external HDD to keep all the music, movies and TV shows you want to watch while the games stay on the internal HDD on your console.
The PS3 also only recognises FAT32 drives, so you'll need to follow steps described above first. After that, you'll have to do one more thing to use it with your console.
1. After you've converted the drive to FAT32, go back to My Computer and open the drive.
2. Create the following folders: MUSIC, PHOTO, GAME and VIDEO. You can now fill up all the folders (except GAME) with the media content you want to access on your PS3.
While you can't play games from the external HDD, you can back up your downloaded games to the HDD; this means that if you delete a game, you don't have to waste data to redownload it. To back up a game:
1. After you've connected the HDD to the PS3, go to Settings > System Settings > Backup Utility > Backup.
2. Select Confirm and then select USB Drive, and your entire PS3 will be backed up on to the HDD. This process will take some time. Once this is done, you still can't play games from the external HDD, but if you need to make space, you can delete old games from the PS3, and transfer them back on later.
3. To recover games from the backup, start the PS3, then go to Game > Saved Data Utility
4. Select the external HDD. Scroll through the list to find the game you want to import. Press the triangle button on your controller, and then select Copy. This will copy the backup to the PS3 and you can use it again.
Xbox One
The newer consoles are a lot more like computers, and using an external hard drive is also relatively simpler. With the Xbox One, there is only one caveat - the HDD has to support USB , and has to be at least GB in size. If you're just looking at the external HDD to store your media and not your games, then there isn't a minimum storage limit or a requirement for USB either.
1. To use it, just connect the HDD to your Xbox One. You will be asked if you want to format the HDD.
2. You have to choose Yes to use the HDD. This process is automatic and will take a little time. That's it - once you do this, it'll automatically be used to save games and other content.
PlayStation 4
The PS4 does not allow you to save games to the external HDD. You can simply plug an external HDD into the PS4, and use it to store all your movies and TV shows. You can copy videos from the PS4 to the HDD, so you can save all your gameplay footage without worrying about filling up the console's storage. However, you can't save games to the external drive with the PS4. Since the PS4 supports USB , if you use an external HDD with USB then you'll obviously get much faster data transfer speeds - but it is compatible with older HDDs as well.
We hope this guide helped you with a space crunch on your console. If you have any console tips and tricks to share with our other readers, let us know via the comments.
For the latest tech news and reviews, follow Gadgets on Twitter, Facebook, and Google News. For the latest videos on gadgets and tech, subscribe to our YouTube channel.
Further reading: Consoles, Gaming, How to, PS3, PS4, PlayStation, Xbox , Xbox One
Related Stories
Sours: https://gadgets.ndtv.com/games/features/how-to-add-an-external-hdd-to-your-game-console
Wont disc ps3 recognize
Why wont my PS3 read discs?
I got PSU blown up PS3 by heat (was forgotten running in closed glass tv platform). And disc drive jammed by that.
PSU had blown buck convertor(?) i replaced it but didnt work yet so give up trying to get PSU working.
So i ended up using ATX W PSU. Motherboard had couple thermal fuses too which i replaced.
Disc Drive was jammed and inside drive entry there was that plastic stick up which prevents inserting extra discs in so disc drive needed resetting mechanically
After reset it didnt still load any discs (DVD movie or PS3 (bluray)games) but it shouldn't have both read lasers broken at once..
I had reset PS3 system too.
I noted then it didn't even start spinning disc properly so disc didn't go in place yet properly.
Some Youtube videos shows "fixes" to tilt machine little bit or more while ejecting disc in.. it did help so..
I opened PS3 and heard that disc when inserted wasn't balanced (i forgot put that what comes top of disc drive that freely spinning magnetic disc ops)
it started finally spinning discs and works still this day.
Hope this gives ideas to go through symptons and find out what is wrong in your case. Not just blindly say what is chosen option over here. It's horrible wrong to not know what really is problem.. lazy people not able diagnose problems!
Was this answer helpful?
YesNo
Voted Undo
Score1
Cancel
Sours: https://www.ifixit.com/Answers/View//Why+won't+my+PS3+read+discs
FIX PS3 Won't Read Disc: Fix Your PS3 Laser - Step-by-Step Instructions
Supported disc formats
Insert the disc, and then select the content from the content area. Your PS4™ system must enable the disc playback feature over the Internet, one time only, before you can play any BDs or DVDs. After this feature is enabled, your PS4™ system doesn't have to connect to the Internet to play BDs or DVDs.
Blu-ray Disc

BD-ROM*1
BD-R/RE (BDAV, BDMV)

DVD

DVD-ROM
DVD-R/RW*2 (video mode, VR mode*3)
DVD+R/RW*2
*1

Hybrid discs are supported.

*2

AVCHD is supported.

*3

CPRM is supported.
Playback of these types of discs is not supported.

CD
BD-RE ver
BD-R/RE XL
DVDs that have not been finalized

Do not use these discs. Doing this may damage your system.

8 cm discs
Non-circular discs, such as discs in the shape of a card, star, or heart
Discs that are cracked or deformed, or discs that have been repaired

A DualDisc features one side that conforms to the DVD standard, and the other side with audio only. The audio-only side cannot be played on your PS4™ system.
For continuous playback of copyright-protected BDs, the encryption key for AACS (Advanced Access Content System) might need to be renewed. The encryption key is automatically renewed when your PS4™ system is connected to the Internet.
Some discs may not be playable due to scratches, dust, the quality of recording, or the characteristics of the recording device.
In rare instances, DVDs, BDs and other media may not play properly on your PS4™ system. This is primarily due to variations in the manufacturing process or encoding of the software.
Related topics
Sours: https://manuals.playstation.net/document/en/ps4/videos/videodisc.html
You will also be interested:
.
190
191
192
193
194