After the long wait, Toyota's fifth-generation Supra is heading to race tracks, dynamometers and homes in North America. Like any legendary nameplate, the Supra was heavily scrutinized before anyone outside of Toyota and its co-developer BMW even climbed behind the wheel to try it out. As it turns out, the new Supra is a blast to drive and will likely cut its own path to a lasting fan base.
But the question still stands: How did we get to five generations of Supra? Well, it starts here:
1. 1979-1981 Toyota Celica Supra
Toyota didn't launch the Supra nameplate as a stand-alone. Instead, Toyota added a Supra badge to the Toyota Celica after extensively reworking the four-cylinder Celica to accept an inline-six engine. Celica Supra coupes slated for export were powered by a 2.6-liter I6 making 110 hp. Toyota offered a five-speed manual transmission or a four-speed automatic.
Before the first-generation Supra ran its course, the team at Toyota increased the six-cylinder's displacement to 2.8 liters, hinting at a powerful future. The bigger engine debuted for the 1980 model year, and the extra grunt afforded drivers an extra 7 hp.
2. 1982-1985 Toyota Celica Supra
Still under the Celica banner and built upon the Celica's platform, the second-generation Toyota Supra started to drift further away from the standard Celica. Toyota split the Celica Supra into two different packages: a Celica Supra P-type, geared toward performance, or an L-type angled more toward the luxury side of things. While both of these different types of Supras were largely the same mechanically, it did affect options and packages.
The engine became the 5M-GE DOHC 2.8-liter I6 for the second-gen models. The lowest output models sent 145 hp through a five-speed manual or four-speed automatic transmission, with the highest output models doing the same with 178 hp. That's quite the hike over the first generation's peak of 117 hp.
3. 1986-1992 Toyota Supra
Following the 1970s and '80s spinoff trend, Toyota finally spun the Supra off into its own standalone nameplate for the third generation. Without the Celica badge preceding it, the new-for-'86.5 Supra also introduced a 3.0-liter inline-six -- not that legendary 3.0-liter I6, that's still a generation away, but the three-liter displacement did come in this generation.
The 1987 models introduced the turbocharged Supra to the masses. The increased displacement and sharper focus on performance saw another sharp rise in the Supra's horsepower. Naturally aspirated Supras sent 203 hp through the five-speed manual or four-speed automatic transmissions, with the turbocharged models dishing out an impressive-for-the-time 232 hp. There was another more potent engine available in Japan that butted up against the 276 hp gentleman's agreement, but that didn't make its way to the States.
The third-gen Supra is also the last of the hidden-headlight models, exemplifying the 1980's design trend. Despite sharing the same styling trends as its predecessor, the third-gen Supra is the sleekest (but also the heaviest) of the earlier models.
4. 1993-1998 Toyota Supra
What was thought to be the final chapter in Toyota's Supra adventure, the fourth-generation Supra is arguably the most popular of the bunch. Flying under the chassis designation A80, the fourth-gen Supra introduced a host of new features, namely the now-legendary 2JZ engine (to the U.S., anyway). Designed with durability and performance in mind, the twin-turbocharged 2JZ-GTE produced 321 hp before meeting its untimely end in the States in 1998. While 321 hp was great for the era, its robust design became a favorite platform among drag racers. There was a naturally aspirated version, the GE, that made a respectable 220 hp.
The fourth-gen Supra also found everlasting fame as the hero car in the first installment of the Fast and the Furious franchise.
Even though Toyota stopped importing the Supra in '98, the Supra pushed on until 2002 in other markets.
5. 2020 Toyota Supra
After a long lull in Supra production, Toyota announced it would be reviving the Supra nameplate. It took longer than many would have liked, but the Supra finally got its fifth generation in 2019 as a 2020 model year. Toyota is sharing the bones of the Supra with BMW, but external styling is distinctly Toyota.
Powered by a 3.0-liter turbocharged engine, the Supra hits the high notes of nostalgia for former Supra owners. There's no manual transmission yet, but the eight-speed automatic at least has paddle shifters. Nor did the fifth-generation Supra didn't get the generational spike in power that we've seen across the Supra timeline, but it does send an honest 335 hp to the rear wheels.
This content is created and maintained by a third party, and imported onto this page to help users provide their email addresses. You may be able to find more information about this and similar content at piano.io
Sours: https://www.autoweek.com/car-life/a2143151/toyota-supra-look-across-generational-lines/
The *OFFICIAL* MK2 Celica Supra parts for sale/trade/wanted
Hey all, I just wanted to remind everyone that all "for sale" posts need to have a legitimate price listed and also that this is strictly a FS/FT/WTB page, and not a discussion page. Please take discussions over to Toyota CelicaSupra MKII 1982-1986 so that we can keep this page on topic.
15
2 Comments
What should we do about a seller we paid that sent us the wrong mirrors that we sent back and the regulator he sent was broken. He won't refund us and I didn't know what the rules are here for something like that.
Sours: https://www.facebook.com/groups/mk2suprapartsfstw/
Toyota Supra
Sports car and grand tourer manufactured by Toyota Motor Corporation
Motor vehicle
The Toyota Supra (Japanese: トヨタ・スープラ, Hepburn: Toyota Sūpura) is a sports car and grand tourer manufactured by Toyota Motor Corporation beginning in 1978. The name "supra" is derived from the Latin prefix, meaning "above", "to surpass" or "go beyond".[3]
The initial four generations of the Supra were produced from 1978 to 2002. The fifth generation has been produced since March 2019 and went on sale in May 2019.[4] The styling of the original Supra was derived from the Toyota Celica, but it was both longer and wider.[5] Starting in mid-1986, the A70 Supra became a separate model from the Celica. In turn, Toyota also stopped using the prefix Celica and named the car Supra.[6] Owing to the similarity and past of the Celica's name, it is frequently mistaken for the Supra, and vice versa. The first, second and third generations of the Supra were assembled at the Tahara plant in Tahara, Aichi, while the fourth generation was assembled at the Motomachi plant in Toyota City. The fifth generation of the Supra is assembled alongside the G29 BMW Z4 in Graz, Austria by Magna Steyr.
The Supra also traces much of its roots back to the 2000GT owing to an inline-6 layout. The first three generations were offered with a direct descendant to the Crown's and 2000GT's M engine. Interior aspects were also similar, as was the chassis code "A".
Along with this name, Toyota also included its own logo for the Supra. It was derived from the original Celica logo, being blue instead of orange. This logo was used until January 1986, when the A70 Supra was introduced. The new logo was similar in size, with orange writing on a red background, but without the dragon design. That logo, in turn, was on Supras until 1991 when Toyota switched to its current oval company logo. (The dragon logo was a Celica logo regardless of what colour it was. It appeared on the first two generations of the Supra because they were officially Toyota Celicas. The dragon logo was used for the Celica line until it too was discontinued.)[citation needed]
In 1998, Toyota ceased sales of the fourth generation of the Supra in the United States.[6] Production of the fourth generation of the Supra ended in 2002.
In January 2019, the fifth generation of the Supra, which was co-developed with the G29 Z4, was introduced.[7]
First generation (A40/A50; 1978)[edit]
Motor vehicle
First generation (A40/A50)

Toyota Celica Supra (MA47)

Also called

Toyota Celica XX (Japan)
Toyota Celica Supra

Production
April 1978 – June 1981[1]
Model years
1979-1981
Assembly
Japan: Tahara, Aichi (Tahara plant)[8]
Related
Engine
Transmission
Wheelbase
2,630 mm (103.5 in)
Length
4,600–4,615 mm (181.1–181.7 in)
Width
1,650 mm (65.0 in)
Height
1,290–1,310 mm (50.8–51.6 in)
Curb weight
1,150–1,270 kg (2,535–2,800 lb)
The first generation of the Supra was based largely upon the Toyota Celica liftback, but was longer by 129.5 mm (5.10 in). The doors and rear section were shared with the Celica but the front panels were elongated to accommodate the Inline-6 instead of the Celica's 4-cylinder engine. Toyota's original plan for the Supra at this time was to make it a competitor to the very popular Datsun (now Nissan) Z-car.
1978[edit]
In April 1978, Toyota began production of the Supra in Japan, as the Celica XX, and sold it alongside the Celica at Japanese dealership sales channels called Toyota Corolla Store.
The Supra was offered with a 125 PS (92 kW; 123 hp) 2.0 L 12-valve SOHC inline-six engine (M-EU, chassis code MA45) or the 82 kW (110 hp; 111 PS) 2.6-liter 12-valve SOHC inline-six engine (4M-E, chassis code MA46). The Japanese model was equipped with the smaller 2.0 L engine so that buyers would not incur an additional tax under vehicle size and engine displacement regulations. Both engines were equipped with electronic fuel injection.[6][9] The installation of the larger engine did obligate Japanese buyers to pay a higher annual road tax, making owning the car more expensive than the smaller Celica.
The Supra was first exported outside Japan in January 1979.[10] The federalized model was originally equipped with a 110 hp (82 kW; 112 PS) 2.6-liter 12-valve SOHC inline-6 engine.
Transmission options for the model were either a 5-speed manual (W50) or an optional 4-speed automatic transmission (A40D). Both transmissions featured an overdrive gear. The top gear in the 5-speed was its overdrive gear whereas the automatic transmission featured an overdrive gear that would engage at speeds over 56 km/h (35 mph). The drivetrain for the Supra retained the T series solid rear axle configuration of the Celica in the Japanese MA45 version and a larger F series (and optional Limited Slip Differential) in the MA46 and MA47. The car also came standard with 4-wheel disc brakes and featured a four-link rear suspension with coil springs, lateral track bar, and stabilizer bar. The front suspension consisted of MacPherson struts and a stabilizer bar.
The interior of the Supra had optional power windows and power locks as part of the convenience package. The convenience package also included cruise control and special door trim with door pull straps with an optional sunroof. As for standard features, in the centre console there was an extendable map light and a flip-top armrest, which provided storage. Some other features were the tilt steering wheel, deep zippered pockets on the backs of the front seats, and a tonneau cover under the liftback. The dashboard also contained a state of the art AM/FM/MPX 4-speaker stereo radio, analog clock, and tachometer as part of the instrument panel.
1979[edit]
The mid-1979 changes for the 1980 model year US model were mostly cosmetic. The interior received a redesigned center console and a digital quartz clock. On the exterior were redesigned side view mirrors and 14x51⁄2 inch aluminum wheels were standard (the previous year had steel wheels with plastic wheel covers as standard and the aluminum wheels were optional). In addition, body molded mudflaps became available. On cars finished in copper metallic and white, the mudflaps were painted the body colour while the mudflaps were left black on all other colours. On the rear of the mudflaps, the word "Celica" was painted in white lettering.[11]
The official Supra site[6] also notes that there was an addition of optional leather-trimmed seating and automatic climate-control.
1980[edit]
1981 Supra with Sports Performance Package (MA47, US)
In August 1980 (for the 1981 model year), the Supra received an upgrade in displacement with the 2.8-liter 5M-E engine. It was still a 12-valve SOHC engine, but had a power output of 116 hp (87 kW; 118 PS) and 145 lb⋅ft (197 N⋅m) of torque. The car's automatic transmission was changed to the revised Toyota A43D and it gained a revised final drive gearing. Because of the change in engine and transmission a new chassis code of MA47 was given to the 1981 model. Performance figures for this model include a 0–60 mph (97 km/h) acceleration time of 10.24 seconds and a 1/4-mile time of 17.5 seconds at a speed of 77.7 mph (125 km/h).[12]
Also in 1980 (for the 1981 model year), a new Sports Performance Package became an option, which included sport suspension, raised white letter tyres, and front and rear spoilers. This also marked the last year that an 8-track tape player was offered in any Supra.[6][11]
Powertrain[edit]
Code
Year
Engine
Power
Torque
Transmission
Market
MA45
Apr 1978 – Aug 1980
1,988 cc (2.0 L; 121.3 cu in) M-EUI6
125 PS (92 kW; 123 hp)
136 lb⋅ft (184 N⋅m)
5-speed W50 manual
4-speed A40D automatic
Japan
MA55
Aug 1980 – Jul 1981
Japan
MA46
Apr 1978 – Aug 1980
2,563 cc (2.6 L; 156.4 cu in) 4M-E I6
140 PS (103 kW; 138 hp)
110 hp (82 kW; 112 PS)
136 lb⋅ft (184 N⋅m)
Japan
Jan 1979 – Aug 1980
North America
MA47
Aug 1980 – Jul 1981
2,759 cc (2.8 L; 168.4 cu in) 5M-E I6
116 hp (87 kW; 118 PS)
145 lb⋅ft (197 N⋅m)
5-speed W50 manual
4-speed A43D automatic
world
MA56
Japan
Celica XX[edit]
1979 Toyota Celica XX 2000G (MA45)
The Celica XX (pronounced "double X"[13]) is the Japanese market name of the first generation of the Celica Supra. It was offered in Japan during the years 1978–1981, and was redesigned in 1981. Toyota obtained engineering assistance from Lotus Cars, and supplied some components for use in the Lotus Excel. The Supra was sold as the Celica XX only in Japan at Japanese dealership sales channels called Toyota Corolla Store. In worldwide markets, it was sold as the Celica Supra.
In 1981, the Celica XX introduced the world's first navigation computer.[14]
Second generation (A60; 1981)[edit]
Motor vehicle
In mid 1981, Toyota completely redesigned the Celica Supra as well as the entire Celica lineup for the 1982 model year. In Japan, they were known as the Celica XX, but the Celica Supra name was used for the world market. Still based on the Celica platform, there were several key differences, most notably the design of the front end and fully retractable pop-up headlights. Other differences were the inline-six rather than four-cylinder engine, as well as an increase in length and wheelbase to accommodate the larger engine. Cars installed with the 5M engine were slightly wider, while other models remained compliant with Japanese dimension regulations.
In 1981, Japanese buyers were offered an alternative to the Celica XX liftback bodystyle, called the Soarer coupé, which was offered at a different Japanese Toyota dealership network called the Toyota Store, as the Celica XX was sold at the Toyota Corolla Store. The four-door performance saloon called the Celica Camry was realigned with the Japanese market Chaser, while in North America the Cressida took on that role.
L-type and P-type[edit]
In the North American market, the Celica Supra was available in two distinct models. There was the "Performance Type" (P-type) and the "Luxury Type" (L-type). While being mechanically identical, they were differentiated by the available options; tire size, wheel size, and body trim. The P-type had fiberglass fender flares over the wheel wells, while the L-type did not. The P-type was also standard with the more sporty eight-way adjustable seats. The P-type did not get the option of a leather interior until 1983. Initially, the Luxury type meant Automatic transmission, and Performance Type stood for Manual. All editions of the P-type had the same 14x7-inch aluminum alloy wheels and throughout the years the L-type had 14x5.5-inch wheels until 1985 when they were changed to a P-type styled 15x6. The L-type also had the option of a digital instrument cluster with a trip computer; some Canadian models (both L-types and P-types) had this option as well as a few rare instances of American models. The L-type cluster was easily distinguished from the P-type cluster, by the 'ECT' function written on the dial plate. The digital cluster featured a digital tachometer, digital speedometer, and electronic fuel level and coolant level gauges. The trip computer could calculate and display various things such as fuel economy in miles-per-gallon, estimated time of arrival (ETA), and distance remaining to destination. Supras with trip computers also came with cruise control. Excluding the 1982 model, all P-types were available with headlight washers as an option, but the L-types were never given such an option. Although gear ratios changed throughout the years, all P-types came standard with a limited slip differential.[citation needed]
1982[edit]
1982 Toyota Supra 2.8i L-Type (MA61)
For 1982, in the North American market, the Celica Supra's engine was the 2.8-liter 12-valve (two valves per cylinder) DOHC5M-GE. Power output was 145 hp (108 kW; 147 PS) SAE net and 155 lb⋅ft (210 N⋅m) of torque. The engine used an 8.8:1 compression ratio to achieve the power and featured a vacuum advanced distributor. When the car debuted, it had a drag coefficient of Cd=0.348, a 0–60 mph (0–97 km/h) acceleration time of 9.8 seconds and a 1⁄4 mile (400 m) time of 17.2-seconds at 80 mph (129 km/h).[16]
The standard transmission for this year was the W58 5-speed manual with the A43DL 4-speed automatic transmission being an option for L-types. Both transmissions featured an overdrive gear and the automatic featured a locking torque converter. The top gear in the 5-speed was its overdrive whereas the automatic transmission featured an overdrive gear that would engage at speeds over 56 km/h (35 mph). The 1982 model's rear differential featured a 3.72:1 ratio. The Celica Supra's four-wheel independent suspension was specially tuned and designed by Lotus and featured variable assisted power rack-and-pinion steering and MacPherson struts up front. At the rear, it had semi-trailing arm suspension with coil springs and a stabilizer bar. Braking on the Celica Supra was handled by four-wheel disc brakes.
On the interior, this generation had standard power windows, power door locks, and power mirrors as well as a tilt steering wheel. The power door lock was located in the center console next to the power mirror control. The analog dash of this model only showed a top speed of 88 mph (142 km/h) in North America. The optional automatic climate control was renovated and was now seen as a standard feature on the A60. Cruise control and a retractable map light was standard in this generation. Some options included the addition of a sunroof, two-tone paint schemes, and a five-speaker AM/FM/MPX tuner with a cassette player (Fujitsu Ten Limited). The optional cassette stereo had a 105-watt power amplifier and a seven-band graphic equalizer. The standard stereo was a five-channel AM/FM/MPX tuner. Leather interior was an option on the L-type model, but the P-type models limited to standard striped cloth interior.
The AM/FM antenna was integrated into the front windshield rather than a typical external mast antenna. There was a key lock on the gas tank door (in lieu of a remote release) and the hatch and rear bumper were black regardless of exterior colour on the rest of the car. The P-type was available with an optional rear window visor above the hatch glass. The tail lights had a reverse light in the centre and the door handles opened the doors by pulling sideways. The front nose badge and B-pillar only read "Supra" for the first several months of production, but were changed to read "Celica Supra" midway through the model year. The L-type had front and rear mudflaps but P-type of this year did not.
1983[edit]
There were not many changes for the 1983 model year, but there was an increase in power output to 150 hp (112 kW; 152 PS) and 159 lb⋅ft (216 N⋅m) of torque from the same 5M-GE engine. The only real change in the engine area was the switch from a vacuum advanced to an electronic advanced distributor, yet that did not increase the power output. Toyota switched to a 4.10:1 rear gear ratio for the P-type and a 3.73:1 for the L-type. As for the optional automatic transmission, they replaced the A43DL 4-speed with a newly designed A43DE 4-speed. It had an electronic controller that would adjust its shift pattern for a balance between performance and economy. It was the first in the industry to provide an electronically controlled transmission (ECT). This allowed the driver to choose either the "power" driving mode or "normal" driving mode at the touch of the button. The power mode provided the quickest acceleration and the normal mode provided the best all-around performance.
The interior virtually had no changes, but changes to the exterior included a switch to a power mast antenna, mudflaps on all models, and the addition of headlight washers on the P-type. All B-pillar and nose badges for cars sold in North America read "Celica Supra" and only the P-type was available in two-tone colour schemes.
1984[edit]
1984 Toyota Supra 2.8 P-Type (MA67)
Changes for the 1984 model year were significant. Power output was increased on the 5-speed models to 160 hp (119 kW; 162 PS) and 163 lb⋅ft (221 N⋅m) of torque. The increase was achieved by a mixture of a redesigned intake manifold with "D"-shaped intake runners and an increase in compression ratio to: 9.2:1.[5] Another notable change in the 5-speed models was the switch to a 4.30:1 gear ratio in the rear differential. All automatic models retained the previous years power statistics, but the rear gear ratio was changed to 4.10:1.
The most notable exterior changes included the switch to wraparound front turn signals, the option of either a rear wing spoiler mounted high up on the rear hatch, or rear window and quarter window louvers. Also, the tail-lights were redesigned and the hatch received a billboard "Supra" sticker instead of the smaller sticker, which was previously positioned on the right. The rear hatch and bumper was changed and received the same colour as the rest of the car (instead of the black of previous years). The door handles were also switched, opening by pulling up instead of sideways. Two-tone paint schemes also became available on both the P-type and L-type models.
Some interior controls such as the steering wheel, cruise control, and door lock switch were redesigned. Toyota included a 130 mph (209 km/h) speedometer in North American models instead of the traditional 85 mph (140 km/h) speedometer and the automatic climate control display was also changed. The previous year's cassette and equalizer stereo option was now made a standard feature.
1985–1986[edit]
1986 Toyota Supra 2.8 with the third brake light (MA67)
The Supra was redesigned again in 1985. Power output was marginally increased to 161 hp (120 kW; 163 PS) and torque was up to 169 lb⋅ft (229 N⋅m). All models of this year had the same amount of power (both automatic models and 5-speed models). The engine received a redesigned throttle position sensor (TPS) as well as a new EGR system and knock sensor. With the slight increase in power the Supra was able to propel itself from 0–60 mph (97 km/h) in 8.4 seconds and netted a 16.1 second quarter-mile at 85 mph (137 km/h).[17]
Other changes would be a redesigned, more integrated sunshade and spoiler on the rear hatch. The rear spoiler was changed from a one-piece to a two-piece. The option of a leather interior remained exclusive now for the P-Type. Toyota added a standard factory theft deterrent system and the outside mirrors were equipped with a defogger that activated with the rear defroster. All Supras this year received automatic-off lights that also encompassed an automatic illuminated entry and fade-out system.
While 1985 was to be the last year of production of the second generation model, delays in production of the third generation model led to a surplus of second generation models. During the first half of 1986 the 1985 P-type was still offered for sale, with only minor cosmetic changes as well as the addition of a now mandatory rear-mounted third brake light on the hatch. These were all labelled officially as 1986 models. The P-type were the only model available for the 1986 model year. Production for the A60 Supra ended in December 1985 in order to make way for the upcoming A70 Supra.
Markets[edit]
1982-1983 Toyota Celica XX 2800GT (MA61)
1983–1986 Toyota Celica XX 2000GT Twin Cam 24 (GA61)
The second generation of the Supra came in a variety of options around the world as well as only being offered during select years.
Japan[edit]
From August 1982 to 1983, the Celica XX, as it was named in Japan, had fender mirrors and came in four models depending on the engine:[18]
2800GT Twin Cam: 2,759 cc (2.759 L; 168.4 cu in) DOHC 5M-GEU 160 PS (118 kW; 158 hp) and 150 lb⋅ft (203 N⋅m) of torque.
2000GT Twin Cam 24: 1,988 cc (1.988 L; 121.3 cu in) DOHC 1G-GEU 160 PS (118 kW; 158 hp) and 134 lb⋅ft (182 N⋅m) of torque.
2000 Turbo: 1,988 cc (1.988 L; 121.3 cu in) DOHC turbocharged M-TEU 145 PS (107 kW; 143 hp) and 21.5 kg⋅m (211 N⋅m; 156 lb⋅ft) of torque.
2000: 1,988 cc (1.988 L; 121.3 cu in) SOHC 1G-EU 125 PS (92 kW; 123 hp) and 17.5 kg⋅m (172 N⋅m; 127 lb⋅ft) of torque.
From August 1983 to 1986, the Celica XX had door-mounted mirrors and the same four engines options but with performances improvements. The 5M-GEU engine compression ratio was increased to achieve 175 PS (129 kW; 173 hp) and 177 lb⋅ft (240 N⋅m) of torque and the M-TEU engine upgraded with an air-to-liquid intercooler to 160 PS (118 kW; 158 hp) and 23.5 kg⋅m (230 N⋅m; 170 lb⋅ft) of torque.[19]
Most of Europe[edit]
Sold from August 1982 to 1986.[15]

82–83: 2,759 cc (2.759 L; 168.4 cu in) DOHC 5M-GE 130 kW (174 hp; 177 PS) and 207 lb⋅ft (281 N⋅m) of torque. Analog instrument cluster, no fender flares.
84–86: 2,759 cc (2.759 L; 168.4 cu in) DOHC 5M-GE 170 PS (125 kW; 168 hp) and 212 lb⋅ft (287 N⋅m) of torque. Digital dash, P-Type fender flares.
Great Britain[edit]
Sold from 1982 to 1986.

82–83: 2,759 cc (2.759 L; 168.4 cu in) DOHC 5M-GE 178 hp (133 kW; 180 PS) and 212 lb⋅ft (287 N⋅m) of torque. Analog dash, no fender flares.
84–86: 2,759 cc (2.759 L; 168.4 cu in) DOHC 5M-GE 178 hp (133 kW; 180 PS) and 212 lb⋅ft (287 N⋅m) of torque. Digital dash, P-Type fender flares.
Australia, Sweden, and Switzerland[edit]
Sold from 1984 to 1986 - these had a version of the earlier single-cam engine as it was not worth the expense of making the twin cam engine meet the particular emissions regulations shared by these three countries. This particular engine was also used in the Cressida and the Crown in the Swiss market.

2,759 cc (2.759 L; 168.4 cu in) SOHC 5M-E 140 PS (103 kW; 138 hp) and 167 lb⋅ft (226 N⋅m) of torque.
The Supra in Australia was sold from 1983 to 1986 had a digital instrument cluster, fender flares, 14x7-inch wheels, 84 style lights, single piece spoiler, LSD and optional sunroof. This was the only variant and no L Type model was offered.

In Australia, the Supra (manufactured between 1982 and 1990), was assessed in the Used Car Safety Ratings in 2006 as providing "worse than average" protection for its occupants in the event of a crash.
New Zealand[edit]
Sold from 1984 to 1985

2,759 cc (2.759 L; 168.4 cu in) DOHC 5M-GE 133 kW (178 hp; 181 PS) and 212 lb⋅ft (287 N⋅m) of torque. Digital dash, P-Type fender flares.
Powertrain[edit]
Code
Year
Engine
Power
Torque
Transmission
Market
MA61
1982–1983
2,759 cc (2.8 L; 168.4 cu in) 5M-GEI6
170 PS (125 kW; 168 hp)
207 lb⋅ft (281 N⋅m)
5-speed W57manual
4-Speed A43DLautomatic (1982)
4-Speed A43DE automatic (1983)
Europe and United Kingdom
2,759 cc (2.8 L; 168.4 cu in) 5M-GEU I6
24.0 kg⋅m (235 N⋅m; 174 lb⋅ft)
5-speed W58manual
Japan[20]
1984–1985
2,759 cc (2.8 L; 168.4 cu in) 5M-E I6
104 kW (139 hp; 141 PS)
167 lb⋅ft (226 N⋅m)
5-speed W57 or W58 manual
4-Speed A43DE automatic
Australia, Switzerland and Sweden
2,759 cc (2.8 L; 168.4 cu in) 5M-GE I6
180 PS (132 kW; 178 hp)
170 lb⋅ft (230 N⋅m)
Europe, United Kingdom and New Zealand
2,759 cc (2.8 L; 168.4 cu in) 5M-GEU I6
175 PS (129 kW; 173 hp)
177 lb⋅ft (240 N⋅m)
5-speed W58 manual
Japan
MA63
1982
1,988 cc (2.0 L; 121.3 cu in) M-TEUturbocharged I6
145 PS (107 kW; 143 hp)
156 lb⋅ft (212 N⋅m)
4-Speed A43D Automatic
Japan
1983–1985
1,988 cc (2.0 L; 121.3 cu in) M-TEU turbocharged I6
160 PS (118 kW; 158 hp)
170 lb⋅ft (230 N⋅m)
MA67
1982
2,759 cc (2.8 L; 168.4 cu in) 5M-GE I6
145 hp (108 kW; 147 PS)
155 lb⋅ft (210 N⋅m)
5-speed W58 manual
4-Speed A43DL automatic
Canada and United States
1983
2,759 cc (2.8 L; 168.4 cu in) 5M-GE I6
150 hp (112 kW; 152 PS)
159 lb⋅ft (216 N⋅m)
5-speed W58 manual
4-Speed A43DE automatic
1984
2,759 cc (2.8 L; 168.4 cu in) 5M-GE I6
160 hp (119 kW; 162 PS)
163 lb⋅ft (221 N⋅m)
5-speed W58 manual
2,759 cc (2.8 L; 168.4 cu in) 5M-GE I6
150 hp (112 kW; 152 PS)
159 lb⋅ft (216 N⋅m)
4-Speed A43DE automatic
1985-1986
2,759 cc (2.8 L; 168.4 cu in) 5M-GE I6
161 hp (120 kW; 163 PS)
169 lb⋅ft (229 N⋅m)
5-speed W58 manual
4-Speed A43DE automatic
GA61
1982–1985
1,988 cc (2.0 L; 121.3 cu in) 1G-EU I6
125 PS (92 kW; 123 hp)[20]
24.0 kg⋅m (235 N⋅m; 174 lb⋅ft)
5-speed W55 manual
4-Speed A43DL automatic
Japan
1982–1985
1,988 cc (2.0 L; 121.3 cu in) 1G-GEU I6
160 PS (118 kW; 158 hp)
134 lb⋅ft (182 N⋅m)
5-speed W55 manual
Third generation (A70; 1986)[edit]
Motor vehicle
Third generation (A70)

1986 Toyota Supra 2.0GT Twin Turbo (GA70)

Production
February 1986[15] – May 1993
Model years
1986-1992
Assembly
Japan: Tahara, Aichi (Tahara plant; February 1986 – December 1992)[8]
Related
Toyota Soarer (Z20)
Engine
Transmission

5-speed W58 manual
5-speed R154 manual
4-speed A340E automatic

Wheelbase
2,596 mm (102.2 in)
Length
4,620 mm (181.9 in)
Width

1,690 mm (66.5 in)
1,760 mm (69.3 in) (3.0 L)

Height

1,310 mm (51.6 in) (1986–1988)
1,300 mm (51.2 in) (1989–1993)

Curb weight

1,460–1,640 kg (3,219–3,616 lb) (manual)
1,580–1,720 kg (3,483–3,792 lb) (automatic)
In February 1986, the bonds between the Celica and the Supra were cut; they were now two completely different models. The Celica changed to a front-wheel drive layout, using the Toyota "T" platform associated with the Corona, while the Supra kept its rear-wheel-drive layout. The engine was updated to a more powerful 2,954 cc (3.0 L) inline-six engine rated at 149 kW (200 hp; 203 PS). Although initially only available with naturally aspirated engines, a turbocharged version was added in the 1987 model year. The Supra was now mechanically related to the Soarer.
All Japanese market models with the various versions of the 2.0 L engine were slightly narrower overall so as to be in compliance with Japanese Government dimension regulations so that Japanese buyers weren't liable for yearly taxes for driving a larger car.
1986 Supra (MA70; rear view)
The new engine used in the A70 Supra, the Toyota 7M-GE, was the flagship engine of Toyota's arsenal. Both versions of the engine contained 4 valves per cylinder and dual overhead cams. The turbocharged7M-GTE engine was Toyota's first distributor-less engine offered in the US which used coil packs sitting on the cam covers and a cam position sensor driven by the exhaust camshaft.[21] It was equipped with a CT26 turbocharger and was rated at 172 kW (231 hp; 234 PS) at 5,600 rpm while the naturally aspirated 7M-GE engine was rated at 149 kW (200 hp; 203 PS) at 6,000 rpm. Further refinement on the turbo model increased power to 173 kW (232 hp; 235 PS) at 5,600 rpm and 254 lb⋅ft (344 N⋅m) of torque at 3,200 rpm in 1989. This was mostly due to a redesign of the wastegate. All models used the same tyre size of 225/50R16 on 16x7 inch wheels. Spare tyres were full-sized but on steel wheels.
The naturally aspirated model came standard with the W58 manual transmission. The turbocharged models included the R154 manual transmission. Both were available with the optional 4-speed A340E automatic transmission.
The third-generation of the Supra represented an arsenal of new technology. In 1986, options available for the Supra included a 3-channel ABS and TEMS which gave the driver two settings which affected the damper rates; a third was automatically activated at wide open throttle, hard braking and high speed maneuvering.
ACIS (Acoustic Control Induction System), a method of controlling air compression pulses inside the intake piping to increase power, was also a part of the 7M-GE's technological arsenal. All models were fitted with double wishbone suspension front and rear. A targa top was offered in all model years along with a metal power sliding sunroof (added in 1991).
Production numbers of the GA70/MA70/JZA70 Supra was estimated at 241,471 units.
Timeline[edit]
1986 1/2[edit]
The third generation of the Supra was introduced in February 1986 as a stand-alone model, officially being separate from the Celica. Whereas the Celica became a front-wheel-drive sport coupé, the Supra retained its image as a rear-wheel-drive sports/GT car. The new Supra would continue to move upscale and become a showcase for Toyota's technology. The Supra was powered by a 3.0-litre DOHC inline six-cylinder engine rated at 149 kW (200 hp; 203 PS). Notable features included an electronically controlled independent suspension (called the Toyota Electronic Modulated Suspension – TEMS), and some came with a removable Sport-Roof panel (Targa top).
1987[edit]
The A70 Supra Turbo was introduced in 1987. The inter-cooled, turbocharged version of the 3.0-litre inline 6-cylinder engine boosted power to 172 kW (231 hp; 234 PS) and 240 lb⋅ft (325 N⋅m) of torque. The engine, designated as 7M-GTE, was one of the first distributor-less mass production engines in the United States. This was accomplished with 3 coils being shared using the wasted spark system. The Turbo model also included an engine oil cooler and an integrated rear spoiler. The sports package, which was standard on the Turbo and optional on the base model, included a limited slip differential (LSD), TEMS, and headlamp washers. A new 4-channel Anti-Lock Braking System (ABS) was optional on both models. In 1987, a new beige/tan colour combination was implemented, and only 1,000 cars were produced with this scheme. Toyota installed its variable induction technology into the DOHC twin-turbocharged 1G-GTE engine called T-VIS and also included it into the 7M-GTE engine as well.
1988[edit]
Changes for the 1988 model year were nominal with the exception of the discontinuation of two-toned brown exterior paint. The spoiler mounted brake light changed from a square to a trapezoid shape. Seat pattern was changed from squares to lines, and "foil" on climate control and switch gear changed from light to dark gray. Japanese buyers could select from six different trim packages starting with the top level 3.0 GT Turbo Limited with the 7M-GTEU engine, followed by the 3.0 GT Turbo, GT Twin Turbo with the 1G-GTEU DOHC 2.0 L engine, the GT with the 2.0 L DOHC 1G-GEU engine, the G with the 1G-EU engine and the S with the 1G-EU engine as the base model. All Japanese models came with either a 5-speed manual transmission or the 4-speed automatic transmission with ECT-s except the G and the S on which the ECT-s wasn't available. In Japan, the 3.0 GT Turbo Limited, the 3.0 GT Turbo and the GT Twin Turbo were installed standard with a digital instrument panel, the 3.0 L models came with an AM/FM Cassette stereo with an integrated CD player and cruise control. Climate control was also standard on all turbocharged models, and leather interior was only available on the GT Turbo Limited.
1989[edit]
Changes for the 1989 model year include modifications to the wastegate actuator, feed location and engine management increased power output by 1.5 kW (2 hp; 2 PS) on the turbo model. The engine mount and brace were also revised in late 1989. The changes made to the cross member and mounts made to accommodate the (1JZ engine) for Japanese models. The protective body molding was also changed by taking away the steel reinforcement. This made the molding lighter and prevented the rusting problem found on the previous year models. The "white package" was introduced as well, featuring white body molding and white "saw blade" wheels. Interior choices were limited to blue and burgundy only. Other than pure cosmetics changes, there was nothing different from other models. All models received rear 3-point seat belts to replace the previous years' two-point lap belts. New tail lights, front bumper with integrated lower grille (as opposed to the previous years' detachable grille), side mirrors, turn signals, upper grilles, foglights, steering wheel, door panels, climate control, window switches and bezels, and stereo. Addition of coat hooks on B-pillar and removal of rear seat pockets round out interior changes. Turbo models received three piece spoiler with an integrated LED brake light. 1989 also marked the end of headlight washers in the US and SuperMonitor; an advanced system offered by Toyota able to calculate miles able to be traveled on current tank, ability to check vehicle codes from inside the cabin, among other features.
1990[edit]
1990 Toyota Supra 3.0i turbo (MA70)
For the 1990 model year, changes included larger protective laminate in front of rear wheels, lower redline (owing to the heavier crank with cylinders 2 & 5 counterbalanced), redesigned steering wheel with cruise control relocated to a stalk on the right side. In addition to an airbag and airbag indicator light on dashboard, the left side of the switch panel was also redesigned, which replaced one of the coin slots with the dimmer. The lower dashboard panel became a two piece design, which was also much heavier than the previous one piece panel owing to a change in material. Finally, the memory lever on the steering column was removed. In short, a plethora of the changes for the 1989 and 1990 were from the interior.
1991[edit]
1991–1992 Toyota Supra 3.0i (MA70)
For the 1991 model year, the wheel design was changed to 5-spoke wheels. Both models had 16x7 aluminum alloy wheels that were fitted with 225/50/16 tyres and full-sized spares on steel wheels. Body molding changed in colour to better match the exterior. The front "Supra" emblem was also changed to the current corporate oval Toyota symbol was used from this model year onwards. The speedometer was also revised, and included more lines that were removed in 1989, but still did not have as many (one line per mph) as 1986.5 to 1988 models. New interior colours, namely shadow gray and deep red, were introduced, which marked the end of medium gray, tan and burgundy. Blue interior became only available on white packages, and those with blue paint. Burgundy was replaced with white package-only deep red. Every other body colour received a shadow gray interior, with leather interiors retaining medium gray seats and interior inserts. Front speakers were changed from 3.5 inch to 6.5 inches and the speaker cover was also enlarged to accommodate them. Beginning in 1991, Toyota began to offer a factory spoiler-style panel sunroof. These sunroofs are now highly sought after and rare since they were introduced in the ending production years of the A70 Supra.
1992[edit]
1992 Toyota Supra with sunroof (MA70)
For the 1992 model year, the leather shadow gray interiors received black seats and inserts. Non-turbo models lost the option of a targa top, and a new optional subwoofer was available. Subwoofer-equipped Supras did without the rear bins and wooden "floorboard". Instead, rear carpet was molded to the spare tire, and there was a cut-out for the woofer housing.
JZA70 and GA70[edit]
The Japanese models of the Supra were given the chassis codes JZA70 and GA70 respectively. The JZA70 has a 2.5-litre 206 kW (276 hp; 280 PS) parallel twin-turbocharged 1JZ-GTE engine, and the GA70 has a 2.0-litre 154 kW (207 hp; 209 PS) twin-turbocharged 1G-GTE and a naturally aspirated 1G-GEU engines respectively.
JZA70-R[edit]
In addition to the introduction of the JZA70 in 1990, Toyota introduced a special version of the JZA70 with the 1JZ-GTE engine known as the 2.5 Twin Turbo R model (JZA70-R). It boasted additional upgrades, including lighter sway bars, a larger intercooler, Torsen differential, Interbred TEIN/Bilstein sports suspension, Shadow/Dark grey interior trim, MOMO steering wheel and gear knob and Recaro seats and door trim. The wheels were painted charcoal grey, and the front bumper lip featured channeled air ducts for the front brakes. The Twin Turbo R introduced a new and exclusive colour option in 1992 for JZA70-R models known as Jade Mica Green. The JZA70-R model is the lightest and fastest model of third generation of the Supra.
Turbo A[edit]
The Turbo-A was Toyota's evolution model for the Group A Japanese Touring Car Championship (JTCC) all over the world that required a minimum homologation run of 500 units. The Turbo-A was manufactured for 2 months during the period of September and October 1988 and was available strictly in Japan. Thus the term 88 Spec A. Some notable differences between the standard MA70 Supra 3.0 GT and the Turbo-A model are both cosmetic and mechanical. The standard CT-26 turbo had a slightly larger inducer and can be identified by a stamped "E" on the raised casting on the compressor housing. The Turbo-A had a 65 mm (2.6 in) wide throttle body and accompanied a larger diameter "blank" crossover pipe, instead of the standard 7M-GTE 60 mm (2.4 in) throttle body and original "3000" cast pipe. The Turbo-A also benefited from a larger volume steel air cleaner instead of the factory plastic unit, as well as thicker roll bars and ventilated brake discs all-round.
The fuel management used a MAP system, instead of the standard Karmen Vortex AFM. The front nose features an additional "Turbo A duct" to add airflow to the top area of the intercooler. Also unique was the side decal and rear badging ("3.0GT Turbo A") and a black paint job (paint code 202). All cars came standard with grey leather interior featuring a MOMO-sourced steering wheel and shift knob. It is powered by a 204 kW (274 hp; 277 PS) Toyota 7M-GTEU engine. It is important to note that the 7M-GTEU was standard in all Japanese MA70 models and is not unique to the Turbo-A. The "U" designation meant the engine came equipped with a catalytic converter as per Japan emission laws.
Toyota Supra MA70 Group-A in 1991 at Bathurst
The Group-A MA70 Supra had varying degrees of success in various fields such as Rally and 24HR, but is most known for its participation in the Japanese Touring Car Championship (JTCC). In the JTCC, the Supra did not win as many races as intended, which is primarily judged on the fact it was underdeveloped and its placement in a higher tier division under regulations because of the 3.0-litre engine displacement, imposing the Toyota with the performance inhibition of running with a higher curb weight and less power compared to the rest of its class.[citation needed] Both the TOM'S and SARD teams fared well in results in the (JTCC) with the TOM'S team winning on its debut in 1987, before abruptly ending their (JTCC) career with the MA70 Group-A in 1989. Upon its initial Australian Touring Car Championship (ATCC) debut in 1989, the Group-A Supra failed to finish its first race. With DNF's becoming a regular upset owing to the lack of power and heavy weight of the Supra, it began to strike doubt in the car's capability of success in the (ATCC) which suffered increasingly due to constant rules and regulation changes issuing a red-faced outcome against its main rivals like the Ford Sierra Cosworth RS500, Nissan Skyline HR31 GTS-R and the BMW M3 (E30) which were lighter, more powerful, and had smaller displacement engines. Hopes would further diminish for Toyota in the top division by the introduction of the domineering Nissan Skyline GT-R (R32) in the (JTCC) in 1989 and the Australian Touring Car Championship (ATCC) in 1990. Toyota in 1991 would switch to racing the Corolla Levin instead in the lower tier divisions, while many privateer teams soldiered on with the Supra until the Group A racing's final demise in 1993. Only eleven MA70 Group-A cars were built by TRD Japan for homologation racing. A few out of many special developed parts that were fitted to the various Group-A race cars happen to include a cast magnesium nine litre oil pan with matching high flow oil pump, 288 camshafts with 10.88mm lift, Hollinger close proportion 5-speed gear-set in the R154 case, Harrop 4 piston brake calipers with 15.5 ″ (393 mm) rotors, and TRD-sourced torque-vectoring mechanical limited-slip differential with 50:50 left:right lockup on full throttle. TRD was also responsible for the thick rear-anti squat tram-rods which were integral to the multi-link rear suspension setup to control rear squat under hard acceleration and launching.
Powertrain[edit]
Code
Year
Engine
Power
Torque
Transmission
Market
MA70
February 1986 – May 1993
2,954 cc (3.0 L; 180.3 cu in) Toyota 7M-GEI6
149 kW (200 hp; 203 PS)
196 lb⋅ft (266 N⋅m)
5-speed W58 manual
4-speed A340E automatic
Canada, Europe, United States and Australia
2,954 cc (3.0 L; 180.3 cu in) 7M-GTEturbo I6
173 kW (232 hp; 235 PS)
254 lb⋅ft (344 N⋅m)[22]
5-speed R154 manual
4-speed A340E automatic
Canada, Europe, Japan, United States and Australia
GA70
February 1986 – 1992
1,988 cc (2.0 L; 121.3 cu in) 1G-GEU I6
118 kW (158 hp; 160 PS)
130 lb⋅ft (176 N⋅m)
5-speed W58 manual
4-speed A340E automatic
Japan
1,988 cc (2.0 L; 121.3 cu in) 1G-GTEtwin-turbocharged I6
154 kW (207 hp; 210 PS)
180 lb⋅ft (244 N⋅m)
5-speed W58 manual
4-speed A340E automatic
Japan
JZA70
1990–1993
2,491 cc (2.5 L; 152.0 cu in) 1JZ-GTE twin-turbocharged I6
206 kW (276 hp; 280 PS)
268 lb⋅ft (363 N⋅m)
5-speed R154 manual
4-speed A340E automatic
Japan
Fourth generation (A80; 1993)[edit]
Motor vehicle
Fourth generation (A80)

Pre-facelift Toyota Supra A80

Production
April 1993[23] – August 2002[24][inconsistent]
Model years
1993–1998
Assembly
Designer
Isao Tsuzuki (1990)[28]
Related
Engine
Transmission

5-speed W58 manual
6-speed V16x (Getrag 233) manual
4-speed A340E automatic

Wheelbase
2,550 mm (100.4 in)[30][31]
Length
4,515–4,520 mm (177.8–178.0 in)[30][31]
Width
1,810 mm (71.3 in)[30][31]
Height
1,275 mm (50.2 in)[30][31]
Curb weight

1,410–1,510 kg (3,109–3,329 lb) (naturally aspirated)
1,490–1,570 kg (3,285–3,461 lb) (turbo)
The A80 program began in February 1989 under various teams for design, product planning, and engineering led by Isao Tsuzuki. By the middle of 1990, a final A80 design concept from Toyota Technical Centre Aichi was approved and frozen for production in late 1990. The first test mules were hand-built in A70 bodies during late 1990, followed by the first A80 prototypes being hand-assembled in 1991. Again using subframe, suspension, and drivetrain assemblies from the Z30 Soarer (Lexus SC300/400), pre-production of the test models started in December 1992 with 20 units made,[23] and official mass production began in April 1993.[23][inconsistent] The fourth generation of the Supra again shared its platform with the upscale Soarer coupé, sold in the U.S. as the Lexus SC. Although the two cars looked similar dimension-wise, the new Supra was more than 13 inches (340 mm) shorter than its luxurious cousin.[32]
This redesign saw Toyota placing great emphasis on a more serious high-performance car. The A80 featured two new engines: a naturally aspiratedToyota 2JZ-GE having a power output of 164 kW (220 hp; 223 PS) at 5,800 rpm and 210 lb⋅ft (285 N⋅m) at 4,800 rpm of torque and a twin turbochargedToyota 2JZ-GTE having a power output of 206 kW (276 hp; 280 PS) and 318 lb⋅ft (431 N⋅m) of torque for the Japanese model. For the export model (American/European markets) Toyota upgraded the Supra turbo's engine (by installing smaller, steel wheeled turbochargers and bigger fuel injectors, etc.). This increased the power output to 239 kW (321 hp; 325 PS)at 5,600 rpm and 315 lb⋅ft (427 N⋅m) of torque at 4,000 rpm (243 kW (326 hp; 330 PS) and 325 lb⋅ft (441 N⋅m) for European markets) Upon its launch in 1993, it was the first Toyota-badged vehicle to include a passenger airbag as standard (US-market only).[23]
The turbocharged variant could accelerate 0–97 km/h (0–60 mph) in as low as 4.6 seconds and cover 402 m (1⁄4 mile) in 13.1 seconds at 175 km/h (109 mph).[33]Car and Driver magazine includes a rollout in their 4.6 seconds test (typically about 0.3 second) that they subtract from the acceleration figures.[34] The turbo version has a tested top speed of 257 km/h (160 mph),[35] but the cars are restricted to just 180 km/h (112 mph) in Japan and 250 km/h (155 mph) in worldwide markets. European versions of the car also had an air intake or scoop on the hood. It has a drag coefficient of Cd=0.31 for the naturally aspirated models and 0.32 for the turbo models but unknown with the rear spoiler.
The twin turbochargers operated in sequential mode instead of parallel. Initially, all of the exhaust gases are routed to the first turbine for reduced lag. This resulted in boost and enhanced torque as early as 1,800 rpm, where it already produced 300 lb⋅ft (407 N⋅m) of torque. At 3,500 rpm, some of the exhaust gases are routed to the second turbine for a "pre-boost" mode, although none of the compressor output is used by the engine at this point. At 4,000 rpm, the second turbo's output is used to augment the first turbo's output. Compared to the parallel mode, sequential mode turbo chargers provide quicker low RPM response and increased high RPM boost. This high RPM boost was also aided with technology originally present in the 7M-GE in the form of the Acoustic Control Induction System (ACIS) which is a way of managing the air compression pulses within the intake piping as to increase power.
For this generation, the Supra received a new six-speed Getrag/Toyota V160 gearbox on the turbo models while the naturally aspirated models were equipped with a five-speed manual W58 transmission, revised from the previous model. Each model was offered with a four-speed automatic with manual shifting mode. All vehicles were equipped with five-spoke aluminum alloy wheels, the naturally aspirated models had 16-inch wheels and the turbo models had 17-inch wheels. The difference in wheel size was to accommodate the larger brakes equipped as standard on the turbo model, but in Japan were optional extras. Both models had a space saver spare tyre on a steel rim to save both space and weight.
Rear view (pre-facelift)
European specification taillights
Interior (pre-facelift)
Interior (facelift)
Toyota took measures to reduce the weight of this new model. Aluminium was used for the hood, targa top (when fitted), front crossmember, oil and transmission pans, and forged upper suspension A-arms. Other measures included hollow carpet fibers, magnesium-alloy steering wheel, plastic gas tank and lid, dished out head bolts, gas injected rear spoiler, and a single pipe exhaust. Despite having more features such as dual airbags, traction control, larger brakes, wheels, tires, and an additional turbocharger, the car was at least 91 kg (200 lb) lighter than its predecessor. The base model with a manual transmission had a curb weight of 1,456 kg (3,210 lb). The targa top added 18 kg (40 lb) of weight while the automatic transmission added 25 kg (55 lb). The fourth generation model had a 51:49 (front:rear) weight distribution. The turbo model weighed 1,565 kg (3,450 lb) with a manual transmission while the automatic added another 4.5 kg (10 lb) to the overall weight. Weight distribution was 53% front and 47% rear. The Supra was heavier than the Mazda RX-7 and all aluminium bodied Acura/Honda NSX, but was lighter than the Mitsubishi 3000GT VR-4.[36]
In 1994, Toyota Racing Development displayed a replica of the 1994 JGTC BLITZ Racing Team Supra GT500 race car, known as the TRD3000GT. The differences with the standard Supra was mainly with the body kits, aiming for better aerodynamics. The new body kit made the car 60 mm wider at the front and 50 mm wider at the rear. This allowed wider wheels to be fitted, which in turn improved the car's lateral grip. The engine and suspension also got small modifications. Only 35 examples of these were ever produced, each of which came with its own specially numbered VIN plate that officially re-classified the car as a TRD3000GT rather than a Toyota Supra.[37]
For the 1996 model year in the US, the turbo model was only available with the automatic transmission owing to OBD-II certification requirements. The targa roof was also made standard on all turbo models. For 1997, manual transmission returned for the optional engine along with a redesign of the tail lights, headlights, front fascia, polished wheels, and other minor changes such as the radio and steering wheel designs. All 1997 models included badges indicating "Limited Edition 15th Anniversary". All turbo models came standard with the rear spoiler. For 1998, updates were a 3-spoke steering wheel, a redesigned radio, and VVT-i on the naturally aspirated engine. In Japan, the turbo engines were installed with VVT-i. The SZ-R model was also updated with the introduction of a six-speed Getrag V161 transmission, the same used for the twin-turbo RZ models.
The standard A80 Supra chassis has also proven an effective platform for roadracing, with several top 20 and top 10 One Lap of America finishes in the SSGT1 class. In 1994, the A80 managed remarkable skidpad ratings of 0.95 lateral g's (200 ft) and 0.98 lateral g's (300 ft)[38] The Supra also featured a four-sensor four-channel track tuned ABS system with yaw control whereby each caliper is sensored and the brakes are controlled individually according to the speed, angle, and pitch of the approaching corner. This unique Formula One-inspired braking system allowed the Supra Turbo to record a 113 km/h (70 mph) -0 braking distance of 149 ft (45 m),[39] the best braking performance of any production car tested in 1997 by Car and Driver magazine. This record was finally broken in 2004 by a Porsche Carrera GT, which did it in 145 ft (44 m).
By the late 1990s, sales of all sport coupés were declining in North America. Furthermore, a stronger yen pushed prices up in markets outside Japan.[40] The Supra was withdrawn from the Canadian market in 1996 and the US in 1998. The Turbo was not available in 1998 in California Air Resources Board (CARB) states. Production continued in Japan until August 2002, ceasing owing to restrictive emission standards.
At the March 2002 Geneva Motor Show, a Japanese coach builder company called Ohno Car Craft displayed their 1960s style grand tourer based on the Supra, known as the Naomi III.[41][42] Two variants were available, the naturally aspirated 3000GT-SZ with the same 165 kW (225 PS; 222 hp) as the naturally aspirated JDM Supra SZ and a tuned turbocharged 3000GT-RZ with 309 kW (420 PS; 414 hp).[29]
Powertrain[edit]
Code
Year
Engine
Power
Torque
Transmission
Market
JZA80
April 1993 – August 2002
2,997 cc (3.0 L; 182.9 cu in) Toyota 2JZ-GEI6
165 kW (225 PS; 222 hp)
164 kW (223 PS; 220 hp)
284 N⋅m (209 lb⋅ft)
5-speed W58 manual
4-speed A340E automatic
Japan
Canada and United States (up to 1998)
April 1993 – 1998
2,997 cc (3.0 L; 182.9 cu in) Toyota 2JZ-GTEtwin-turbochargedI6
206 kW (280 PS; 276 hp)
431 N⋅m (318 lb⋅ft)
6-speed V160 manual
4-speed A340E automatic
Japan
2,997 cc (3.0 L; 182.9 cu in) Toyota 2JZ-GTE twin-turbocharged I6
239 kW (324 PS; 320 hp)
427 N⋅m (315 lb⋅ft)
6-speed V160 manual
4-speed A340E automatic
Canada and United States
2,997 cc (3.0 L; 182.9 cu in) Toyota 2JZ-GTE twin-turbocharged I6
243 kW (330 PS; 325 hp)
441 N⋅m (325 lb⋅ft)
6-speed V160 manual
4-speed A340E automatic
Europe
September 1997 – August 2002
2,997 cc (3.0 L; 182.9 cu in) Toyota 2JZ-GTE VVT-i twin-turbocharged I6
206 kW (280 PS; 276 hp)
451 N⋅m (333 lb⋅ft)
6-speed V161 manual
4-speed A340E automatic
Japan
Fifth generation (J29/DB; 2019)[edit]
Main article: Toyota Supra (J29/DB)
Motor vehicle
Fifth generation (J29/DB)
Also called
Toyota GR Supra
Production
March 2019[2] – present
Model years
2020–present
Assembly
Austria: Graz, Styria (Magna Steyr)[43]
Designer
Platform
Toyota-BMW joint sports car architecture[46][47][48]
Related
BMW Z4 (G29)
Engine
Power output

145–190 kW (194–255 hp; 197–258 PS) (B48)
250–285 kW (335–382 hp; 340–387 PS) (B58)

Transmission
8-speed ZF 8HP automatic
Wheelbase
2,470 mm (97.2 in)
Length
4,380 mm (172.4 in)
Width
1,865 mm (73.4 in)
Height
1,290–1,295 mm (50.8–51.0 in)
Curb weight
1,410–1,520 kg (3,109–3,351 lb)
Development[edit]
2007 Toyota FT-HS
2014 Toyota FT-1
Camouflaged fifth generation Supra prototype at the 2018 Toyota Gazoo Racing Festival at Fuji Speedway
Motor Trend had reported that a possible Supra successor could be based on the FT-HS (Future Toyota Hybrid Sport),[49] which debuted at the 2007 North American International Auto Show. The publication also reported that the fifth generation of the Supra could be powered by a 3.5-litre V6 hybrid system rated at over 298 kW (400 hp; 405 PS). Toyota quoted that it was not rushing for the Supra successor but instead was waiting to see how the sales of the GT86/FR-S went.[50]
In 2010, Toyota applied for a trademark for the Supra name. The trademark had to be used within three years for it to be valid.[51] In December 2011, Autoguide reported a possible Supra replacement would be positioned above the GT86.[52] Tetsuya Tada, the chief engineer of the Toyota 86/Scion FR-S told reporters in Germany in 2012 "the president (Akio Toyoda) has asked me to make a successor to the Supra as soon as possible."[53]
In late 2013, AutoBlog reported a concept for a proposed successor to the Supra would be making its debut the January 2014 North American International Auto Show.[54] On 13 January, Toyota unveiled its new FT-1 concept car. Little technical detail was disclosed about this new concept car; other than that it has a front engine and rear wheel drive layout. Toyota also stated that their new concept car draws inspiration from Toyota's past sports cars like the 2000GT, Supra, MR-2 and 2007 FT-HS concept car. Toyota did not state whether the FT-1 would use the Supra name, or if it was even bound for production.[55]
On 10 February 2014, Toyota submitted an application to the United States Patent and Trademark Office to renew the Supra trademark.[56]
In June 2016, a trademark application for the Supra nameplate was filed with the European Union Intellectual Property Office.[57] According to Autocar, the new Supra was set to debut in 2018.[58] The publication reported that the car would likely feature rear wheel drive; four-cylinder engines were expected to be available, and it had been confirmed that the car would offer a turbocharged inline-6 engine.[59] It was believed that these engines would be supplied by BMW.[60]Kleine Zeitung reported that the new jointly developed Supra will be produced at a Magna Steyr facility near Graz, Austria, alongside the BMW Z4 (G29).[61] Although the sports car's name was yet to be officially confirmed, Toyota global chief engineer Tetsuya Tada said that it will likely carry the nameplate Supra, due to its name recognition and historical significance.
On 5 July 2018, Toyota Gazoo Racing announced that the Supra to race in the 2019 NASCAR Xfinity Series.[62] The new Supra made its NASCAR debut in February 2019.[63]
On 12 July 2018, a camouflaged pre-production version of the Supra was unveiled at the Goodwood Festival of Speed.[64]
Launch[edit]
Toyota Supra logo for the fifth generation model
The fifth generation of the Supra was unveiled at the January 2019 North American International Auto Show.[65][66][67] The car is a collaboration between Toyota and BMW and is based on the Z4. The first production model was auctioned at a price of US$2.1 million at a Barrett-Jackson auction to Craig Jackson (chairman and CEO of the Barrett-Jackson auction house) in January 2019, with 100% of the money going to the American Heart Association and the Bob Woodruff Foundation.[68][69] The auction car has a matte grey exterior colour, as well as a red interior, metallic black 5-bolt wheels and red wing mirrors – a unique colour combination that is not found on any other production model. A signature from Toyota CEO Akio Toyoda on the dashboard and VIN 20201.[70]
The Supra went on sale in Japan on 17 May 2019. In the United States, sales began on 22 July 2019.[71] In Australia, sales began on 2 September 2019.[72]
Toyota GR Supra A90 Edition
Specifications[edit]
The Supra is powered by two BMW-sourced engine options: a turbocharged 2.0-litre inline-four or a turbocharged 3.0-litre inline-six engine.[73] The North American market did not receive the 2.0-litre engine option until mid-2020, for the 2021 model year.[74] The 2.0-litre engine has variable power outputs of 145–190 kW (194–255 hp; 197–258 PS) from 4,500 to 6,500 rpm or 5,000 to 6,500 rpm and 320–400 N⋅m (236–295 lbf⋅ft) of torque from 1,450 to 4,200 rpm or 1,550 to 4,400 rpm, while the 3.0-litre engine has a power output of 250–285 kW (335–382 hp; 340–387 PS) from 5,000 to 6,500 rpm or 5,800 to 6,500 rpm and 495–500 N⋅m (365–369 lbf⋅ft) from 1,600 to 4,500 rpm or 1,800 to 5,000 rpm, with power sent to the rear wheels through a ZF8HP 8-speed automatic transmission.[75] A manual transmission option is currently not offered. The 2.0 L model can accelerate from 0–97 km/h (0–60 mph) in 5.2 to 6.5 seconds, while the 3.0 L model can accelerate from 0–97 km/h (0–60 mph) in 3.9–4.1 seconds, 0.7–0.5 seconds quicker than the turbocharged variant of the A80 Supra and has an electronically limited top speed of 249 km/h (155 mph).[76]The Supra gets a fairly-sized 290-liter trunk that's made practical with its liftback hatch.
The test conducted by Car and Driver in May 2019 recorded the acceleration of the 3.0 L model from 0–97 km/h (0–60 mph) in 3.8 seconds with a 30 cm (1-foot) rollout, which is 0.3 seconds faster than the factory claimed. The 402 m (1⁄4 mile) time is also recorded in 12.3 seconds at 182 km/h (113 mph).[77]
Despite being a BMW-sourced engine, the B58 is an engine that was developed during this collaboration in response to the N55 not meeting Toyota's standards for reliability, and, the final product's engine is a jointly-developed version that was thoroughly reworked by Toyota. Such as adding clips on valves to prevent valve float, enhancing its cylinder heads, moved its timing chain, and was entirely stress-tested by Toyota to a closed-deck design, adding a mechanical water pump, and breaking down full motors with many parts sent back to their headquarters in Japan to ensure it meets Toyota's execution and standards.[78]
BMW B48B20 engine in the Japanese market Supra SZ-R and international market Supra since 2020

BMW B58B30 engine in the Japanese market Supra RZ and international market Supra since 2019
It is also the first non-BMW car to be built on the BMW CLAR platform.
Markets[edit]
Japan[edit]
The Supra is offered in three trim levels, which are the SZ, SZ-R and RZ. The SZ model is powered by the 145 kW (194 hp; 197 PS) 2.0-litre engine and is equipped with 17-inch single tone wheels, manual seats, black fabric upholstery, dark silver trim and a 4-speaker sound system. The SZ-R model is powered by the 190 kW (255 hp; 258 PS) variation of the 2.0-litre engine and is equipped with 18-inch two tone wheels, eight-way powered seats, Alcantara/black leather upholstery, carbon fiber trim, 8.8-inch touchscreen multimedia system with 12-speaker JBL stereo sound system and a head-up display. The RZ model is powered by the 3.0-litre engine and is equipped with 19-inch two tone wheels. It also has the same interior equipments as the SZ-R model, with the difference being the use of Alcantara/red leather upholstery (black leather is available as an option) and sports pedals. A "Sport" mode and dual-zone climate control system is standard on all three variants, as is the Toyota Supra Connect infotainment system. All variants are also equipped with Toyota Supra Safety suite, which includes autonomous emergency braking, lane departure alert, blind spot monitor, adaptive cruise control and rear-cross traffic alert. GR Parts is also available, including the Toyota Gazoo Racing Recorder, which allows drivers to log their driving data to an SD card. This can be supplemented by an optional dashcam, which synchronises the video with the recorded information.[79]

Australia[edit]
The Supra is sold in Australia with two variants, including the GT and GTS.[80]
Indonesia[edit]
The Indonesian market Supra was introduced at the 27th Gaikindo Indonesia International Auto Show in July 2019 and went on sale in October 2019.[81]
Malaysia[edit]
The Malaysian market Supra was launched on 20 September 2019.[82]
Mexico[edit]
The Supra was introduced to the Mexican market on 22 August 2019 for the 2020 model year, offered only with the 6-cylinder 3.0-litre engine in only one version, GR. Seven exterior colours, white, silver, blue, black metallic, and iron were offered, with the yellow and matte grey colours having a slightly higher cost. Only 80 units were sold upon its launch.[83] In 2020, for the 2021 model year, the red and black exterior colours were added. A special edition was also added, based on the North American A91 special edition, with an electric blue exterior colour, matte black 19-inch aluminium wheels and an interior with leather and Alcantara in black with blue stitching.[84]
Philippines[edit]
The Philippine market Supra was launched on 9 July 2019.[85]
South Africa[edit]
The Supra is offered in standard and base Track variants.[86]
Taiwan[edit]
The Taiwanese market Supra is offered in 2.0T, 2.0T Premium and 3.0T Premium trim levels.[87]
Thailand[edit]
The Thai market Supra was introduced at the Bangkok International Motor Show in March 2019[88] and went on sale in November 2019.[citation needed]
United States[edit]
The GR Supra is offered in the US in two variants, excluding the Launch Edition variant, which are the 3.0 and 3.0 Premium. The 3.0 variant has a 6.5-inch center touchscreen multimedia system with Bluetooth and standard Alcantara trimmed seats, while the 3.0 Premium has a larger touchscreen multimedia system (8.8-inches), standard navigation, wireless Apple CarPlay, 12-speaker JBL stereo sound system, wireless phone charging, colour head-up display and heated leather seats. All variants have collision warning, automatic high beams, automatic emergency braking with pedestrian detection, lane departure warning and a feature that recognizes road signs as standard.[89]
The first 1,500 cars sold are the special Launch Edition variants which are based on the 3.0 Premium variant and offered in three colours: Absolute Zero White, Nocturnal Black and Renaissance Red 2.0.[90] Cars that have the white or black exterior colour have the same red interior as the auction car, which is only offered in the Launch Edition, while the red cars have a black interior. All Launch Edition cars have a red coloured wing mirrors and a replica of Akio Toyoda's signature on a carbon fiber plaque fixed to the dashboard, mirroring the auction car.[89]
In 2020, for the 2021 model year, two new models, the A91 Edition and the 2.0, were launched. For the 3.0, 3.0 Premium, and A91 Edition, the output of the 3.0-litre engine increased to 285 kW (382 hp) and 499 N⋅m (368 lb⋅ft) of torque. The compression ratio was lowered from 11:1 to 10.2:1 to allow for more boost. The exhaust headers were changed from two to six ports. The suspension was also revised and now has new bump stops to reduce snap oversteer. The 2.0 model featured the same 2.0-litre engine used in the SZ and SZ-R models sold in Japan, and is rated at 190 kW (255 hp) and 400 N⋅m (295 lb⋅ft) of torque. The 8.8-inch infotainment screen was made available on all models replacing the 6.5-inch screen. A front strut tower bracing was added to the 6-cylinder models. The 8-speed automatic transmission was retained. The 6-cylinder had "Supra" printed on the front 6-piston calipers with the same font as its rear label. The 6-cylinder has larger exhaust tips with a brushed finish while the 4-cylinder makes do with smaller exhaust tips that are polished. The steering rack was carried over mechanically but was retuned electronically. The 4-cylinder was 100 kg (220 lb) lighter, had 18-inch wheels with a different spoke design from the 19-inch forged wheels, no adaptive dampers, single piston brakes at the front and rear, and has no power seats. Both engines use 6.5-litres of oil. The nitro yellow exterior colour was added to the range at an additional cost. The A91 edition only comes in two colours, Nocturnal Black and Refraction Blue. The latter colour was exclusive to the A91 edition.[91]
Recalls[edit]
On 12 September 2019, the US National Highway Traffic Safety Administration announced a safety recall issued by BMW on the Supra for the seat belt guide loop mounts, which were welded improperly. Only seven units are affected by this recall notice. Of the seven, only one was in the hands of an owner.[92][93]
On 27 September 2019, the US National Highway Traffic Safety Administration also announced safety recalls towards several BMW models for their faulty backup cameras. Owners were able to glitch the cameras into not working when backing up. A software patch fixed the issue. The Supra was listed in the recall, as well as direct BMW and Rolls Royce models such as the X3, X5, 3 Series, 7 Series, 8 Series, Phantom, Cullinan and more.[94][95][96]
Model codes[edit]
While Toyota used "A90" and "A91" as codes for promotional and marketing materials for the fifth generation Supra, a reference to the A40–A80 model and chassis codes used for previous generation Supras, the fifth generation Supra uses BMW naming conventions. The fifth generation Supra actually uses a J29 series code with DB model codes.[97][98]
Models[edit]
Series
Model
Production
Driver Position
Engine
Power
Torque
Transmission
Primary Market
J29
DB81
2019–present
Left
1,998 cc (1.998 L; 121.9 cu in) BMW B48B20I4

Toyota Designation: B48L

145 kW (194 hp; 197 PS)
320 N⋅m (236 lb⋅ft)
8-speed ZF 8HP automatic
Europe
DB82
Right
Europe and Japan
DB21
Left
1,998 cc (1.998 L; 121.9 cu in) BMW B48B20I4

Toyota Designation: B48H

190 kW (255 hp; 258 PS)
400 N⋅m (295 lb⋅ft)
Europe and Taiwan
DB22
Right
Europe and Japan
DB23
Left
1,998 cc (1.998 L; 121.9 cu in) BMW B48B20I4

Toyota Designation: B48H

USA (Beginning 2020) and other countries requiring SULEV
DB41
2,998 cc (2.998 L; 182.9 cu in) BMW B58B30I6

Toyota Designation: B58

250 kW (335 hp; 340 PS)
500 N⋅m (369 lb⋅ft)
Europe, Middle East, Mexico, Philippines and Taiwan
DB42
Right
Japan (until 2020), Europe, South Africa, Australia and Southeast Asia
DB43
2019–2020
Left
495 N⋅m (365 lb⋅ft)
USA and Canada
DB02
2020–present
Right
2,998 cc (2.998 L; 182.9 cu in) BMW B58B30O1I6

Toyota Designation: B58H

285 kW (382 hp; 387 PS)
500 N⋅m (369 lb⋅ft)
Japan, Thailand (With Horizone Blue: Special Edition) and Australia
DB03
Left
USA and Canada
Racing/Concepts[edit]
GR Supra Racing Concept[edit]
The GR Supra Racing Concept is a concept racing car that previews the racing version of the fifth generation Supra.[99] It debuted at the March 2018 Geneva Motor Show.[100] The design was inspired from the 2014 FT-1 concept. It features a lowered suspension with Toyota OEM parts, BBS center-lock racing wheels, Brembo racing calipers, a full roll cage and fire extinguisher system, a stripped out interior, Michelin track tires and a center exit racing exhaust.[101] It also features carbon fiber for the hood, splitter, diffuser, mirror caps, side skirts, wing and bumpers.[102] It is unknown what engine powered the concept.
GR Supra GT4[edit]
The GR Supra GT4 Concept is a concept racing car that is built for participating the European GT4 racing series. It was first shown at the March 2019 Geneva Motor Show.[103] Upgrades include reduced weight, upgraded brakes and suspension and the addition of a rear wing and roll cage.[104]
Toyota later unveiled a production model in October 2019, with an engine rated at 320 kW (429 hp; 435 PS).[105] It has a seven-speed automatic, as opposed to the eight-speed unit on standard road going models, and has an Akrapovič exhaust system which enables the increase in power. Inside, an FIA-standard racing seat is present featuring a six-point harness, along with a carbon fiber instrument cluster. Motorsport ABS, a data logger and a fire extinguisher are standard, while an illuminated car number is optional. The GT4 is equipped with six-piston front and four-piston rear brake calipers. Pirelli P Zero racing tires and OZ wheels are fitted, supported by KW dampers. The roll cage and rear wing are also carried over from the concept. Sales are expected to begin Europe in March 2020, followed by North America in August 2020 and Japan/Southeast Asia in October 2020.[106]
GR Supra GT300[edit]
Motorsport[edit]
Main article: Toyota Supra in motorsport
A Toyota Celica Supra competition car
The Supra has been used in many levels of motorsport, with some prominent examples being in Group A (international)[107] and JGTC (Japan).[108]
Awards[edit]
Production timeline[edit]
1979 – Celica Supra A40 introduced with 2,563 cc (2.563 L; 156.4 cu in) SOHC 4M-E I6 engine.
1981 – A40 engine displacement increased to 2,759 cc (2.759 L; 168.4 cu in) with the introduction of the SOHC 5M-E I6 engine.
1982 – A60 Celica Supra introduced with a 2,759 cc (2.759 L; 168.4 cu in) DOHC 5M-GE I6 engine.
1986–1986.5 – A70 Supra introduced on its own platform with 2,954 cc (2.954 L; 180.3 cu in) DOHC 7M-GE I6 engine.
1987 – Option of turbocharger available for the 2,954 cc (2.954 L; 180.3 cu in) DOHC 7M-GTE engine having a power output of 172 kW (231 hp; 234 PS) 245 lb⋅ft (332 N⋅m).
1989 – Redesign implemented. Turbo model's power output increased to 173 kW (232 hp; 235 PS) & 250 lb⋅ft (339 N⋅m).
1993 A80 Supra introduced with 2,997 cc (2.997 L; 182.9 cu in) Turbo (2JZ-GTE) or naturally aspirated (2JZ-GE) DOHC engine.
1996 – Turbo model only available with automatic transmission owing to OBD2 certification requirements. Targa roof standard on all turbo models.
1997 – Manual transmission available on all turbo models. Restyled front bumper and grey (instead of black) taillight surrounds. Restyled headlights, now black on the inside with chrome rings (all chrome previously) and a clearer lens. All 1997 models labeled as 15th Anniversary model. New grey dash panels to replace the previous black. Japanese production stopped in September.
1998 – Slight restyling of interior. 3-spoke steering wheel introduced. Slightly updated seat design (headrest is no longer separate) VVT-i on non-turbo models which increased power. Turbo variants discontinued in the US that require California emissions.
1999 – Export of Supra ended in the US, production continued in Japan.
2002 – Production of A80 Supra ended in Japan.
2019 – The fifth generation Supra was introduced at the January 2019 North American International Auto Show.
Sales[edit]
Sours: https://en.wikipedia.org/wiki/Toyota_Supra
Overview
The Toyota Supra has always been a car of its time. Over the decades it has variously taken the form of a long-nosed personal luxury coupe, a juggernaut grand tourer, and a shared-platform sports car. The Supra badge always adorns the pinnacle of Toyota coupes, but it can mean different things.
Still, over five generations, the Supra has offered plenty for enthusiasts to be excited about. And to argue over, especially with the current generation's BMW roots.
It would be all too easy to anoint the powerful fourth-generation Supra as the best of breed and tell Vin Diesel to break out a celebratory bucket of Coronas, but there's an argument to be made for every generation. Here's a look over how each generation of this car defined the meaning of the word Supra.
Toyota Celica Supra MkI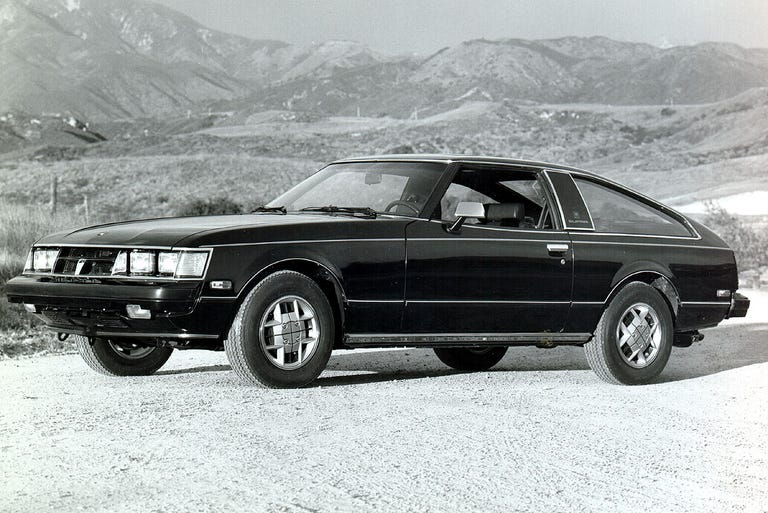 1979-1981
• Called the Celica XX in Japan, the Celica Supra elsewhere
• Conceived as an inline-six competitor to the Datsun 280ZX.
• smooth and comfortable, scant performance
View Photos
Toyota Celica Supra MkII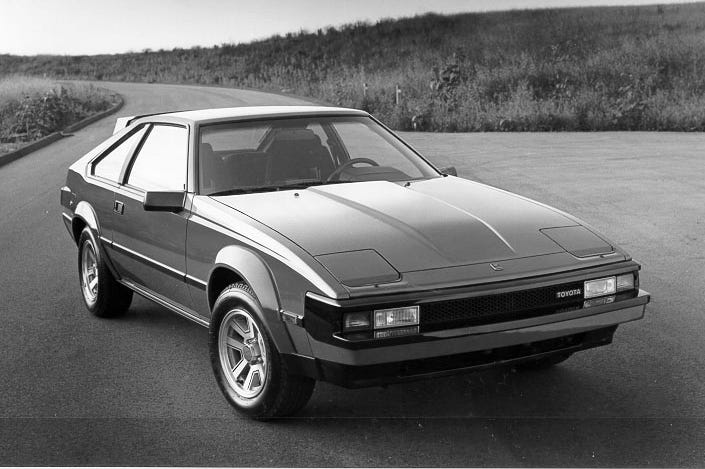 1982-1986
• Still Celica-based, but hugely improved
• Fully independent suspension and more power (145 hp).
• Performance (P-type) models received fender flares and wider wheels and tires
View Photos
Toyota Supra MkIII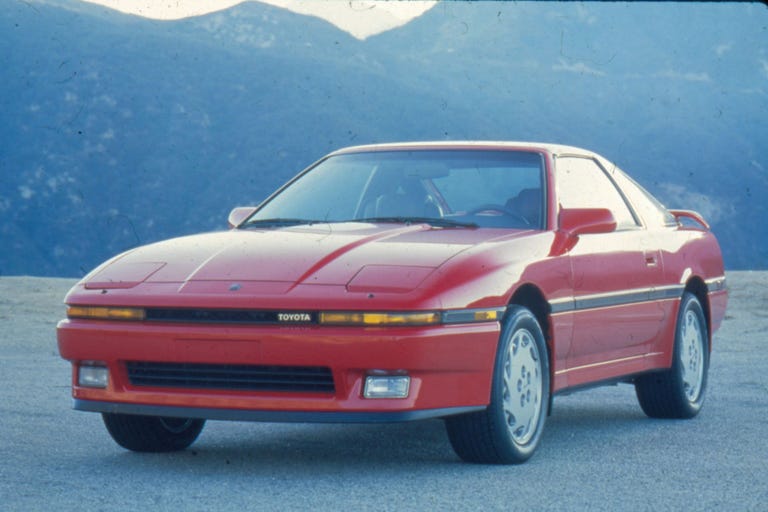 1986-1993
• Stand-alone chassis, no more Celica roots
• Turbocharging arrives in 1987
• The fastest Japanese car of its day
View Photos
Toyota Supra MkIV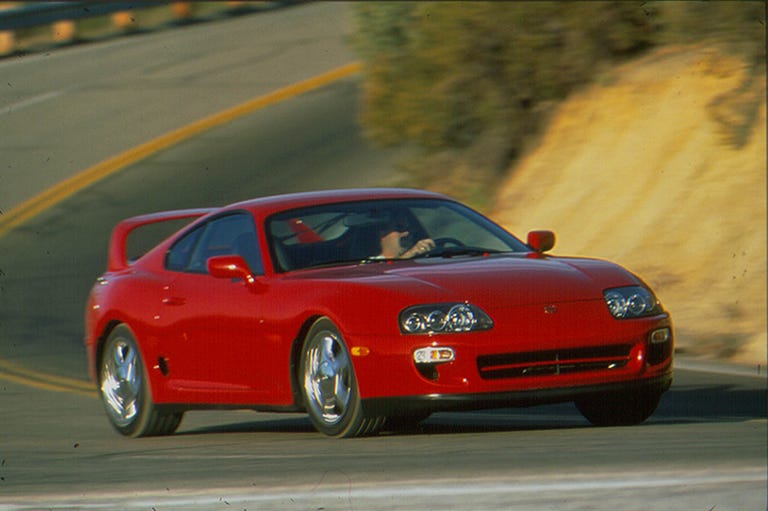 1993-2002
• Lighter, faster, and twin-turbocharged
• Values for turbo models are climbing
•Often considered peak Supra
View Photos
Toyota Supra MkV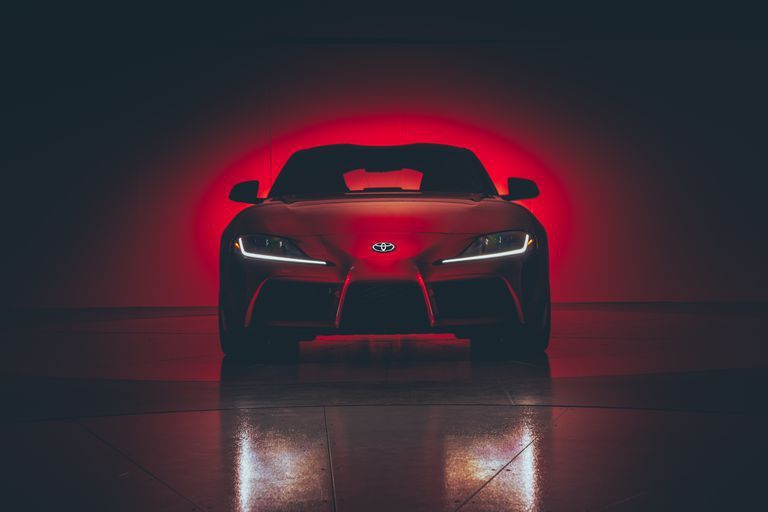 2019-
• Shares its chassis with the BMW Z4
• Benchmarked against Porsche's Cayman
• More sports car than grand tourer
View Photos
---
First Gen Mk1 (A40/A50)

Introduced into the U.S. market in 1979, the first generation of Supra is as slightly embarrassing as the polyester clothes of the period. Toyota had not built a proper six-cylinder sports car since the 2000GT, which was hardly affordable to the everyman. Toyota executives must have been fuming, having left the door open for the Datsun 240Z to lead the segment.
However, by the late Seventies, the once-sprightly 240Z had morphed into the much softer 280ZX. Think crushed velour suit, not tracksuit. Toyota responded by lengthening the nose of its Celica liftback to accommodate the 2.6-liter single-overhead-cam inline-six out of the Cressida sedan.
Fitted with Bosch fuel injection, the six made a ho-hum 110 hp. It was, however, as smooth as a Barry White vocal track, and provided decent highway cruising performance. Further, the Supra was fitted with more equipment than the Celica, everything from rear disc brakes to an available eight-track player. Our review at the time summed things up: "the basic layout is Celica, but with schmaltz."
From a dynamic standpoint, the review descends into something of a bloodbath. "One of the most insecure-feeling beasts I've driven on a twisty road." "It feels like Toyota has removed all road feel in deference to the car's luxury image." "Most modern automobiles understeer, but the Supra does it with a vengeance." "It's nothing but a boulevard GT."
Overall, the Celica Supra was a first, obviously unconvincing effort. Happily, Toyota kept at it.
• The Supra is 5.1 inches longer than the Celica. Lots of Celica replacement parts should work, just not up front.
• Being somewhat unloved makes it rarer. Few owners kept their cars up, making this generation one of the rarest Supras to see on the road.
• The optional Sport Package in later models added raised-white-letter tires, mudflaps, and spoilers. At least it looks fast.
Of Note:
1978 – In order to work around Japanese displacement taxes, the home-market Supra came with a 2.0-liter engine. Whereas the JDM versions of other Japanese cars often got more powerful variants than those sold overseas, the Supra was often more potent in the U.S. market, with a few exceptions.
1979 – The Supra may have had no business being on a race track, but it did appear on one once, when it was the pace car for the 1979 U.S. Grand Prix. Basically, you might win a prize at Radwood with a Sport Package 1981 model, but you won't win anything else.
---
Second Gen Mk2 (A60)
Benefiting from a redesign of the Celica, the Supra found itself lifted from the worst automotive trends of the Seventies and propelled into the squared-off futurism of the Eighties. With its chunky flares, pop-up headlights, and integrated hatch spoiler, the MkII Supra is pure Duran Duran.
Not only has this generation of Supra aged well in terms of design, but it also came with solid performance chops. Models equipped with the five-speed manual transmission initially produced 145 hp from their twin-cam, 2.8L straight-six, later bumped to 160hp for the 1984 model year.
The Supra won critical acclaim, with Car and Driver's David E. Davis declaring, "The new Supra is a nearly perfect car. The Porsche people must look at the Supra, then look at their own 924, and wonder if they're in the right business." Apart from some complaints about the complexity of the stereo, with its seven equalizer sliders, Toyota had a hit on its hands.
• Rust is more of a concern than mechanical issues. Watch around the hatch and rear shock towers.
• The 5M-GE inline-six is known to be robust, as is the five-speed manual. Oil pressure regulators are one weak point on early models, but parts availability isn't bad.
• Trim parts are hard to come by. Interior and exterior bits aren't available from Toyota these days, so you'll have to scour junkyards and eBay.
• 1984 and later models are the most desirable. The power bump wasn't huge, but it's worth tracking one down.
Of Note:
1983 – MkII Supras began racing as a Division Three touring car, competing against the likes of BMW's 635CSi. They were considered a little underpowered, but did eke out a few wins.
1985 – Turbocharged racing rivals largely outperformed the Supra, but crowds came to see driver Barry Sheene, a world champion motorcycle racer.
1985 – Because of delays with the third-generation Supra, production of the MkII was held over for a year. 1986 model-year Supras are all the most desirable Performance types.
---
Third Gen Mk3 (A70)
Arriving near the peak of Japan's golden age of automobile manufacturing, the third-generation Supra offered a huge amount of technology and performance. It would be arguably more impressive if it wasn't slightly overshadowed by the MkIV that followed it.
First available in naturally-aspirated form as a 1986.5 model, the Supra really improved when turbocharging showed up the following year. The boosted 3.0-liter straight-six now made 232 hp and 252 lb-ft of torque, and offered a claimed 0-60 mph time of 6.1 seconds.
A relatively heavy car because of all the technology it carries, a MkIII Supra is nonetheless capable of being tuned to be fairly quick. Double wishbones at all four corners and an optional limited-slip differential help make back roads fun, and even if the naturally aspirated versions aren't particularly fast, they're still charming.
• Check your head (gaskets). Probably the biggest Achilles' heel on the third-gen Supra is a tendency for blown head gaskets. The initial factory torque settings were too low, so ensure that they're torqued to spec.
• Rust can be an issue in wet climates. As the Supra is a hatchback, leaks can be common in the rear. Check the low points in the trunk, including the spare tire well.
• Engine swaps are not uncommon. Done right, the Japanese-market 1JZ 2.5-liter turbocharged inline-six provides 280 hp in stock form, and can easily be modified for more.
• Turbocharged models got a stronger manual transmission. If you're going to be raising boost, ensure that you've got the tougher R154 gearbox, rather than the light-duty W58.
Of note:
1987 – The Supra has some genuine rally pedigree, being entered in the Safari Rally first in both naturally aspirated and turbocharged form. Being a little bulky for the task, rallying duties were soon returned to the Celica.
1987 – The Supra was also initially competitive in Japanese Group A racing, winning its class and often out qualifying rivals from Nissan. However, rule changes, and the car's weight soon saw it overshadowed by the likes of the Nissan Skyline GT-R.
1988 – Homologated for Group A racing, the Supra Turbo-A was a limited-run model available only in Japan. It came with a host of tweaks to its turbocharged 3.0L inline-six, good for about 276 hp.
1990 – Last of breed Supras in Japan came with twin-turbo 2.5-liter engines that were a harbinger of greatness to come. The best of these is the 2.5 Twin Turbo R model, which came with lighter swaybars, a bigger intercooler, interior upgrades from Recaro and Momo, and an improved suspension. It's as light and quick as a production MkIII Supra ever got.
---
Fourth Generation Mk4 (A80)
Towards the beginning of the Nineties, Japan's automakers were producing some of the most exciting cars ever made. The Acura NSX offered mid-engined dynamics and all-aluminum weight savings. The twin-turbo Mazda RX-7 was razor-edged and unforgiving. The Mitsubishi 3000GT was crammed with technology. And the MkIV Supra? That was Toyota's mic drop moment.
Introduced in 1993, the MkIV Supra Turbo came with a 320 hp twin-turbo straight-six, an available Getrag six-speed gearbox, and was roughly 200 lb lighter than the third-generation car. In testing, it pulled nearly 1g on the skidpad, ran through the slalom at 66 mph, and could sprint to 60 mph in five seconds or less.
At the heart of this beast was the 2JZ-GTE powerplant, which featured double overhead cams in an aluminum head and a cast-iron block. This time, Toyota's engineers didn't leave any weak points, overengineering the motor to the point that nearly doubling the output is merely a case of adding more fuel and boost.
The Supra was still more a grand tourer than an outright sports car, but all the performance you could want was there. However, the top of range Turbo models were also quite expensive, which made them rare when new, and consequently, pricey now. The "more than you can afford, pal" shoe is now on the other foot.
The naturally aspirated MkIV Supra isn't quite the juggernaut that a Turbo is, but they're still quite desirable. Power is a reliable 220 hp.
• U.S.-market models are more powerful. With bigger turbochargers and larger stock injectors, Supras sold outside of Japan have roughly forty more horsepower than the JDM versions. Of course, there's plenty of power left on the table for both.
• The Supra left the U.S. market early. The Supra was sold in Japan until 2002, but the last U.S. Supras were 1998 model-years. If you're Canadian, Supras were only sold there until 1996, and are very hard to find. Sorry.
• Almost everything is over-engineered but watch for warning signs. The six-speed Getrag transmission and rear differential on the Turbo models are particularly strong, so should be holding up well. There's often a clunk shifting from reverse into first, which is normal. Watch for whining under power.
• Modifications are common. Overboosted Supras are the rule, rather than the exception, and not every wrench has been turned by a professional. Watch out for corners being cut.
Of note:
1995 – In Japanese Grand Touring Racing specification, a Supra was fielded at the 24 Hours of Le Mans, finishing 14th. Weirdly, it wasn't equipped with its original inline-six but with a 2.1-liter four-cylinder engine boosted to 650 hp.
1996 – In the US, all Turbo models came with an automatic transmission as standard, as well as a Targa roof. The manual transmission returned the next year.
1997 – When tested by Car and Driver, a Supra Turbo managed a 70-0 mph stopping distance of 149 ft. This remained the shortest stopping distance recorded by the magazine for seven years, until a Porsche Carrera GT bested it in 2004 by just 4 ft.
1998 – In the last year of U.S. sales, the Supra Turbo wasn't available in states with CARB emissions standards.
2001 – The original The Fast and the Furious Supra was actually the real deal. Belonging to the film's technical director, Craig Lieberman, it had a single T-66 turbo upgrade, 650cc injectors, and made roughly 550hp.
2007 – Probably the wildest street Supra of all time is the golden Top Secret Supra created by Kazuhiko "Smoky" Nagata. Improbably, it has the V-12 engine out of the Toyota Century limousine installed, as well as a pair of turbos, for an output of more than 1000 hp.
---
Fifth Generation Mk5 (A90)
The fifth-generation Supra arrived with a completely different mission to its predecessors. While previous Supras had blended performance and luxury, this new car, co-developed with BMW, would be primarily a sports car.
The move didn't please every Supra fan, nor did the lack of a manual transmission. Still, turbocharged straight-six performance—courtesy of BMW's B58 3.0-liter—was still on the table, and the new Supra was lighter on its feet than its ancestors. It also produced acceleration numbers a second quicker to 60 mph and through the quarter-mile than the mighty MkIV Turbo.
But numbers aren't everything. At Road & Track's 2020 Performance Car of The Year shootout, the Supra was among the first cars cut.
"The Toyota somehow manages to be joyless," editor-at-large Sam Smith said, after his first session. "There's no reward for focus, no incentive to be a hooligan… It doesn't feel like any fast Toyota I've driven. None of the confidence or unflappability of a second- or third-generation Supra."
With a new turbocharged 2.0-liter four-cylinder for 2021 and more power for the inline-six, the Supra is still something of a conundrum. Our editors agree that the four-cylinder handles a little more sweetly, but both versions of the Supra continue to split opinions.
Having said that, there's no denying how quick the current car is, and Toyota isn't quite finished with it yet. A low-spec track-focused version of the 3.0-liter car is rumored to be in the offering.
As for the big question—reliability—the new Supra doesn't just share parts with the Z4, it's built in the same Austrian factory. Expect maintenance and parts pricing to reflect the BMW roundels found under the hood, rather than the Toyota badge on the nose.
• The six-cylinder 2021 model makes more power, but essentially the same torque. Horsepower jumped from 335 hp in the 2020 version to 382. Torque came up a who-cares 3 lb-ft.
• You can't lower the windows, but there's a fix. At speed, dropping the Supra's windows results in considerable buffeting. Happily, the aftermarket has stepped in with a couple of options in the form of small, stick-on deflectors that can be attached near the base of the side mirrors.
Of Note:
The Supra GT4 is the racing version, intended to take the fight directly to Porsche and other GT4-class cars. Power is up to 430 hp, curb weight is below 3000 lbs, and the price is a projected $194,000.
---
Collectability:
A manual transmission MkIV Supra Turbo is the one every Supra fan dreams of owning, whether they enjoyed the original Fast and the Furious movie or not. Unfortunately, many Supras did not survive the tuning boom that followed the popularity of Dom and Brian.
A commonly quoted figure for U.S. MkIV Supra sales is slightly above 11,000, with a little over a third of those fitted with a six-speed manual and twin-turbocharging. Stock, low-mileage examples have been fetching eye-watering prices at auction, as collector market interest in Japanese vehicles increases.
Prices are high and level—there are few deals to be had. Japanese-market models from 1995 and earlier are much less expensive and more plentiful. Another option is to take a modified Supra and return it to a more stock form, protecting your investment.
The Ones to Get
As they're all the most-appealing Performance models, searching for the 1986 model year will net you the MkII you're looking for. Subject to condition, of course.
Today, a homologation-special Supra Turbo-A will fetch near-MkIV Turbo pricing, as Toyota only built 500 of them. Consider it the Buick GNX of the Supra world: all-black, and highly collectible. Never sold in the U.S., they're currently importable from Japan.
Also an excellent grey-market import option is a MkIII Supra Twin Turbo R. As fast as the third-generation Supra ever got, these have desirable upgrades throughout and comes with the robust 1JZ twin-turbo engine. Prices remain quite reasonable.
Any good condition, six-speed-manual, U.S.-market MkIV Supra Turbo is going to fetch strong money. Differences among the years are granular, and up for debate, but a 1993-1995 hardtop with the Torsen LSD is probably the enthusiast's pick.
Notable Issues / Problems
Rusting can be an issue for second-generation Supras, even in drier climates.
Headgasket issues have likely already been addressed in surviving MkIII Supra Turbos, but check carefully to make sure lasting damage hasn't occurred.
The MkIV Turbo is overall very robust but can present minor annoyance like leaking valve seals and leaky Targa tops as they age.

---
Specs
Specifications
1979 Toyota Celica Supra (Mk1):
Horsepower: 110 hp
Torque: 136 lb-ft
MPG: 20 overall
Weight: 2895 lb
0-60 MPH: 10.2
Top Speed: 112 mph
Engine: 2.6-liter inline-six

1982 Toyota Celica Supra (Mk2):
Horsepower: 145
Torque: 155 lb-ft
MPG: 18 overall
Weight: 3045 lb
0-60 MPH: 9.2 seconds
Top Speed: 125 mph
Engine: 2.8-liter inline-six
1989 Toyota Supra Turbo (Mk3):
Horsepower: 232
Torque: 254 lb-ft
MPG: 17 city/22 highway
Weight: 3620 lb
0-60 MPH: 6.6 seconds
Top Speed: 140 mph
Engine: 3.0-liter turbocharged inline-six

1993 Toyota Supra Turbo (Mk4):
Horsepower: 320
Torque: 315 lb-ft
MPG: 18/23
Weight: 3450 lb
0-60 MPH: 5.0 seconds
Top Speed: 155 MPH
Engine: 3.0-liter twin-turbocharged inline-six
2021 Toyota Supra 3.0 (Mk5):
Horsepower: 381
Torque: 368 lb-ft
MPG: 25 combined/22 city/30 highway
Weight: 3347 lb
Top Speed: 160 MPH
Engine: 3.0-liter turbocharged inline-six
ExpandCollapse
---
Critical Reception
"The Supra is an enigma. Its European-like styling is pleasing to the eye. It's smooth, quiet, luxurious and well equipped. And the quality of construction and materials says Toyota through and through. But with a base price of $9578, the Supra is anything but a bargain. It's about $1500 more expensive than the RX-7 GS and costs about $1800 less than a comparably equipped 280ZX, cars with truly sporty handling and performance. Yet the Supra has little of the sporting character found in these other two sports/GTs."
-Road & Track, August 1979
"It has become increasingly apparent that the Japanese automakers have caught and in many cases surpassed the best of the U.S. and European manufacturers in whatused to be considered the sacrosanct area of sports/GT cars. With the 1982 Supra, Toyota has muscled right into the front line of GT cars."
-Road & Track, February 1982
"The 1989 Supra Turbo is the perfect car for the moderately heeled enthusiast buyer who wants to try everything on the menu: performance, comfort, roominess, stylishness, durability and reliability."
-Road & Track, Feburary 1989
"But then why get on and off the throttle when you can keep it pressed down and thunder to 60 mph in 5.0 seconds? Nice round number, five sec­onds. And bettered in our Road Test Summary by only the Dodge Viper, Ferrari's 512TR and F40, the Lam­borghini Diablo, Shelby's 427 Cobra and the Vector W8 TwinTurbo."
-Road & Track, March 1993
"[T]here's not much Supra here—none of the name's legendary solidity and brawn—or even much Toyota. The chassis and driveline are shared with the BMW Z4; the badge on the hood has a BMW part number. The interior smells like a BMW. And despite the Toyota-specific suspension and driveline tune, the car suffers from the same maladies that plague most modern BMWs."
-Road & Track, November/December 2019
Sours: https://www.roadandtrack.com/car-culture/a34921295/toyota-supra-buyers-guide/
Supra mk2
.
.
Similar news:
.
15
16
17
18
19