Top 5 Minecraft house ideas for beginners
Minecraft can be a game about casual relaxation and exploration, as much as it can be about hardcore survival. Survival mode is hugely popular, and sees players taking Minecraft more seriously than ever before. One important aspect of Survival mode, is having a good home base.
Creating a house in Minecraft can be a daunting task, especially for beginners. Thankfully, there are plenty of ideas and videos available to help beginner Minecraft players. These starter houses are simple, stylish, and effective.
---
5 Minecraft house ideas for beginners
#5 – Large Stone and Wood House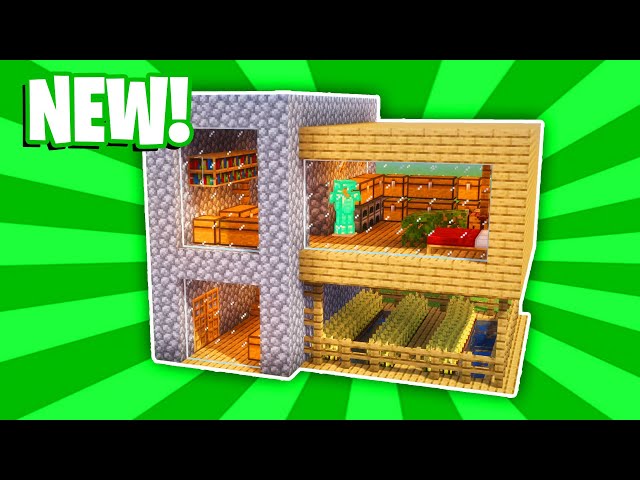 This Minecraft house may look a bit excessive for a beginner, but the tutorial shows that it is quite easy. The home is pretty intricate, but looks amazing. It has two stories with multiple rooms. It even has a garden area underneath. The glass panes make for large windows. Overall, this Minecraft house has a wonderful modern look for beginner players looking to take things up a notch.
---
#4 – Simple Design and Simple Interior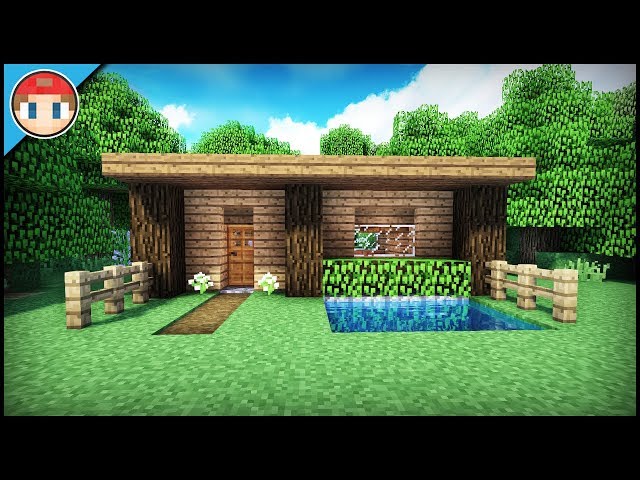 This starter house for beginner Minecraft players is extremely simple. It's smaller, but very effective. The tutorial video showcases how to create the home, how to decorate it to make it a bit more extravagant, and how to form the interior. While the interior is small, it has enough space to house a bed, chests, and a furnace area. There is even a small pool in front of one of the windows. It really is simple, and the finished home is just plain cool.
---
#3 – Beautiful Home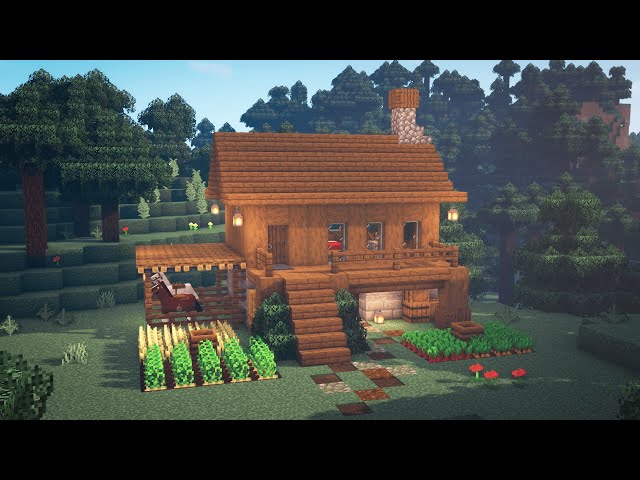 This one goes a little above and beyond in terms of Minecraft starter homes. Regardless, the tutorial makes it easy and shows how to build this beautiful home. Complete with stables for horses, a garden, a deck, and even a chimney, this Minecraft house is spectacular. The interior is spacious with room for just about everything a Minecraft player will need. The wooden exterior sees it blend in well with the forest environment it was built in as well.
---
#2 – Spacious Three Story House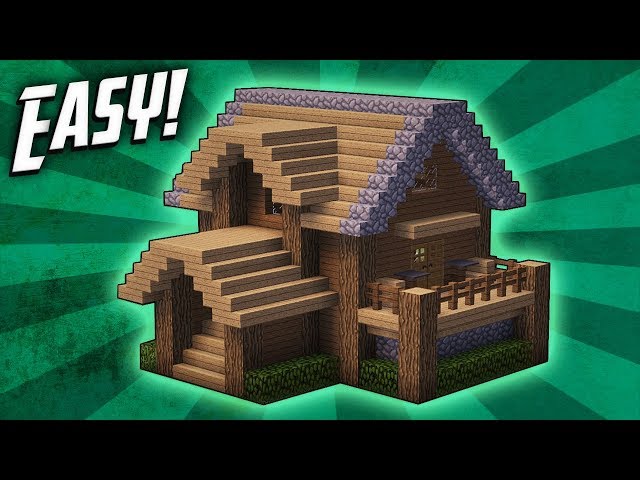 This Minecraft home lacks the extravagance of the other homes on the list, but that is why it is higher up in the number two spot. The home comes with a really unique roof on each level. There are two decks - one on either side of the home. The tutorial shows how to create this spacious house, and how to add some flair on the outside with planters and bushes for decoration. It's a cool way to show that a simple house can be the best option.
---
#1 – Stylish and Compact
Also Read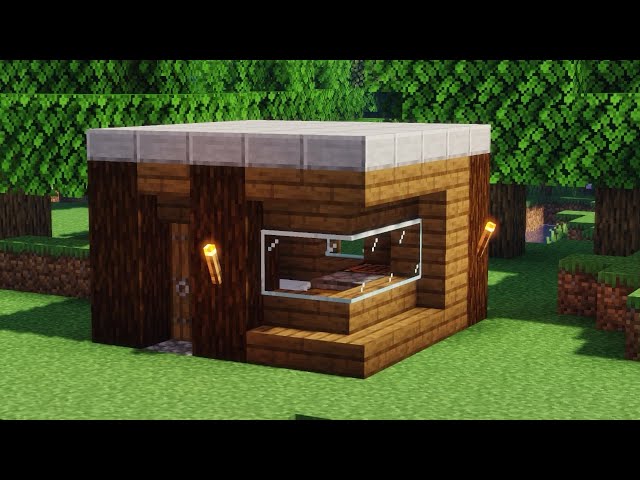 This house is considered extravagant by the tutorial maker, but all in all, it is very sleek and very simple. It is smaller, taking less time than the other Minecraft houses, but has the same purpose. It may even serve that purpose better. It is one storied with a nice wide window to look out of. It leaves room for a furnace, chests, and a bed. This beginner Minecraft house is easy to build, looks great, and keeps the player safe. What more could you ask for.
Sours: https://www.sportskeeda.com/esports/top-5-minecraft-house-ideas-beginners
Minecraft house ideas: modern houses, treehouses, and more
On the hunt for some great Minecraft house ideas? From modern houses to underground bases, from treehouses to farmhouses, we've got a fantastic selection of Minecraft homes for you to check out below, each of which make the most of every type of Minecraft block that its architects chose to use. No matter what kind of home you're looking to create, you'll find inspiration with these houses! Check them out below.
---
Minecraft house ideas and designs:
Note: if you're after other architectural projects besides houses, be sure to check out our list of things to build in Minecraft!
---
Wooden Minecraft house
These primarily wooden Minecraft houses are perfect examples of how you can create a beautiful home without spending days upon days gathering exotic materials like Netherite and Copper!
The first Minecraft house on our list comes from YouTuber WiederDude, who shows us how to make a quaint and attractive early-game home almost entirely out of wooden materials and glass.
If your tastes are inclined a little more to the robust and symmetrical, then check out this wooden Minecraft house by Greg Builds, who gives a step-by-step and block-by-block rundown on creating his surprisingly spacious Minecraft home. Just plant your Minecraft Banner of choice outside to make it your own!
---
Minecraft farmhouse
If you're looking to build a self-sufficient Minecraft farmhouse, these lovely Minecraft houses will provide everything you need to grow as much food as you like.
This beautifully designed farmhouse by JUNS MAB Architecture is a cut above most other Minecraft farmhouses, thanks in no small part to the wonderful modular raised design of its little square farms. There's also plenty of room inside the foundations for later expansion if you so wish!
A simpler but perhaps more functional Minecraft farmhouse by YouTuber Cubey, the real strength of this cosy and unassuming home is the ability to expand it by adding more farms as you please.
---
Underground Minecraft house
Whoever said underground bases in Minecraft have to be ugly? These sunken houses are striking, functional, and fairly easy to build as long as you follow the below tutorials. They also provide excellent protection against Minecraft mobs - as long as you light up your home properly!
Folli brings us our first Underground Minecraft house, which you can enter and exit from all four cardinal directions. The soft Glowstone and understated decorations also give this underground base a warm and comforting vibe which looks particularly great with the best Minecraft shaders enabled.
If you're looking for a slightly roomier underground home that can fit everything from enchanting rooms to potion-making laboratories, check out the underground Minecraft house that YouTuber ItsMarloe puts together in the above video. The circular modular design not only looks great, but also gives you plenty of space for all your needs.
---
Modern Minecraft house
If you crave a more modern aesthetic for your new Minecraft house, check out the below builds for inspiration.
Rizzial's video above shows you exactly how to build his clean and angular modern Minecraft house, complete with fully-furnished interior.
Another build by JUNS MAB Architecture, this striking Minecraft house will certainly stand out against the crowd, with the right-angled spine running throughout giving it both a distinctive look and the possibility of expansion later on!
---
Minecraft treehouse
Now let's look at some excellent examples of early-game Minecraft treehouses. Again, they're predominantly wooden, so you can build them pretty early on! Just be ready to fight the Bees for rights to live in your tree of choice!
An intricately crafted treehouse by YouTube Shock Frost is made excellent by the Glowstone dangling from the tree branches, and the curling roots that give the entire tree a suitably grand appearance.
Grian actually walks us through three different Minecraft treehouse designs in the above video, each of which are simple to build and utilise easily obtainable resources, so you don't have to resort to using Minecraft commands or powerful mods like WorldEdit.
---
Japanese Minecraft house
If you're like me, you'll love the look of these compact and characterful Minecraft houses inspired by traditional Japanese architecture.
Our first Japanese-inspired Minecraft house comes from TheBlackBeltPanda, and it's both easy to build and housed inside a single chunk of 16x16 blocks! Check out that sliding door, too. Good job, Panda.
The Nether Brick-infused roof and Quartz-infused walls give Cortezerino's Japanese Minecraft house a striking and characterful look that'll make sure your house stands out on any Minecraft server.
---
And that pretty much wraps up this Minecraft house ideas guide! Hopefully you've gained a few morsels of inspiration from the above builds. If you're looking for more colours and looks to choose from when creating your house, check out our list of the best Minecraft texture packs. It's also important to build your house in the best possible location, so be sure to consult our guides on the best Minecraft seeds, and how to make a Minecraft map.
Sours: https://www.rockpapershotgun.com/minecraft-house-ideas-modern-houses-treehouses-and-more
#pinterestkeywords #blueprints #minecraft #mansions #medieval #cottages #survival #edition #houses #pocket #modern #ideas #water #layer #build Minecraft houses layer by layer minecraft houses blueprints, minecraft houses how to build, minecraMinecraft houses layer by layer minecraft houses blueprints, minecraft houses how to build, minecraft houses easy, minecraft houses on water, minecraft houses modern, minecraft houses survival, minecraft houses cottages, minecraft houses ideas, minecr...
Sours: https://www.pinterest.com/jillianwyattw/easy-minecraft-houses/
Minecraft: How to Build a Wooden House - Easy Survival House Tutorial #123
Minecraft: 10 Easy House Design Ideas For Beginner Builders
The first house most players build in Minecraftis little more than a wooden box built in a panic as the sun sets for the first time. Everyone has to start somewhere, however, people will quickly look for a lot more beyond the basics as they seek to build something visually interesting in Minecraft.
RELATED: Minecraft: Removed Features That Need To Return
There are plenty of beautiful designs out there, but many are extremely complex and would be difficult for beginners to get to grips with, even with a tutorial. These players need a middle-ground, a set of smaller and easier house designs that have their own little techniques and intricacies to teach them how to build the massive stuff and come up with cool ideas.
10 House With Storage Space
Uploaded by Zaypixel.
The main section of the house doesn't do much to improve on the box with a roof design that most players will have already built. However, the extra features around this house are what make it much nicer to look at.
Raising the main section of the house makes it nicer to look at and safer from Creepers, not to mention it gives lots of space underneath. This space below can be used to keep animals, store lots of items, or as a bedroom for a 2nd player. It allows the space around the house to be extended for other purposes, as shown in the image, which has attached a stable and a couple of farms.
9 Remodeled Village House
Uploaded by Rizzial.
Villages are a brilliant place for new players to hunker down. They already have pre-built houses and beds aplenty; they're a safe place to spend the first few nights. However, the houses aren't the most interesting to look at, no matter what wood they're built with. Thankfully, they can be improved with a few simple additions.
Changing the ratio of wood to stone gives a lot less grey in the building, and adding in more logs and trapdoors gives the design plenty of variation. The roof gets spiced up, too, with sections protruding for windows, making the house prettier on the outside and brighter on the inside.
8 Roundhouse By The River
Uploaded by Jeyger.
What's the easiest way to ensure players avoid the box design? Build a circle! As expected in a game all about cubes, building circular structures takes a bit of finesse. Thankfully, there are plenty of tools online that can give players blueprints to work from.
RELATED: Minecraft: Things To Do If You're Bored
This building has a smaller circle on top of a bigger one to add some layers and variation to the interior design. The open feel this design gives the interior is perfect for people who like everything they need in one centralized location. If more space is needed, it would be effortless to build another layer underground or make the existing layers bigger and go further upwards.
Uploaded by Architecture Style.
For the players who didn't build a wooden box on their first night, it's likely because they dug into the side of a mountain instead. Hollowing out a few rooms in a mountain is a fairly easy task, and the interior can be designed pretty much any way the player likes. However, the exterior can be so much more than a door on a mountainside.
This design extends the room's overall feel out onto the side of the mountain and made the whole thing open with a window. Not only does this look nice on the outside, but it means that players no longer have to rely solely on artificial lighting for the inside. Everything can have a nice sunny feel.
6 Multiplayer Bunkhouse
Uploaded by One Team.
Minecraft is lots of fun to play with friends, especially if everyone is experiencing the game for the first time. However, it means that whatever house someone builds (unless built separately) will need to have enough room for both players, which is where this design shines.
A satisfyingly symmetrical design, this raised house gives each player their own space, complete with a living area and bedroom. The open walkway is positioned to be safe from monsters and providing fresh air, while a neat little farm is tucked underneath. Players could also use the bottom layer to make more interior space, like a communal area, for example.
5 Over The Sea
Uploaded by Shock Frost.
Want to be safe from monsters at night? The sea is the place to be! As long as players aren't foolish enough to build near an ocean monument, living a short distance from the shore in Minecraft will be a rather peaceful existence.
This design can be quite a modular one, as whenever players need more space, they can build off what they've already created. In the image, there is the main house, a smithing area, and a farm, but so much more could be built on top of that. It could be layered outwards and upwards infinitely, creating a towering raft with lots of intricacies.
4 Roomy House With A Basement
Uploaded by Greg Builds.
There are no fancy building techniques on this house. However, it still manages to look fairly interesting, which is mostly thanks to its shape. It's rectangular, but the way it dips inwards and outwards gives the impression of several rectangles stuck together, making for a great house when combined with the solid roof design.
RELATED: Minecraft: Things You Didn't Know About The Nether
The basement layer is well done too. The small amounts of stone poking out through the leaves add some color variation without overwhelming it with grey, and the windows make it visually interesting both inside and outside.
3 Tiered Farmhouse
Uploaded by JUNS MAB Architecture Tutorial.
Players will need a farm fairly quickly in their world, and they'll eventually need quite a big one, so why not build it into the house? This tiered design makes it pretty to look at and practical for whatever crops need to be grown. Players could even trade some of the crop space for animal pens if they wanted.
The house itself is long and thin, but there's nothing to say that can't be altered easily. For example, in the image, the section underneath everything is left hollow, which would look weird from the back, but players could easily build the house downwards into the ample space available there.
2 Modern House On Stilts
Uploaded by Greg Builds.
Modern Houses are often quite easy to build in Minecraft as they have square designs. Compared to medieval houses, which have a lot of complexity, modern houses just have weaved rectangles. This is an example with a few less complicated weaving to get players familiar with the style.
The way each section slowly fans outwards and backward gives a feeling that is simultaneously sharp and rounded while still leaving plenty of interior space and working in windows for lots of light. If that isn't enough, there are a couple of skylights too that make the roof more visually interesting and light up the interior.
1 Easy Castle Living
Uploaded by A1MostAddicted Minecraft.
A castle is a very common desire for Minecraft players. However, those who have seen the ridiculously complicated and massive ones may think there's no way they'll ever achieve that dream. That's not the case, though, as nothing says a castle has to be massive or complicated.
While it's not quite the same as living in a complicated weave of rooms and corridors, there are plenty of ways for simple buildings to still feel like a castle. This design has the essential turrets, which give way to a big entranceway to an open middle room. If this feels too simple for players, then it's simple to add more turrets or extend the gaps between the existing ones for a more interesting shape.
NEXT: Minecraft: Education Edition Features That Should Be In The Full Game
ShareTweetEmail
Bioshock Infinite Problems That Bioshock 4 Must Avoid
Bioshock 4 developer Cloud Chamber Studios must learn from the mistakes of its predecessor if the studio wishes to create a proper sequel.
Read Next
About The Author
Ryan Woodrow (70 Articles Published)
Ryan Woodrow is a writer based in London, England. A graduate in Game Studies at Staffordshire University, he's currently a list writer for Game Rant. In his spare time he plays video games & board games, as well as watching pro-wrestling.
More From Ryan Woodrow
Sours: https://gamerant.com/minecraft-house-designs-beginner-builds/
Houses easy minecraft
Top 5 easiest Minecraft house tutorials for easy builds
For players new to Minecraft, or for those who are not building experts, finding ways to make easy but nice looking houses can be hard.
Building a house, or some sort of base, in Minecraft is vitally important, especially in the early stages of the game, as it will protect players from dangerous mobs, as well as provide a place to store all items safely.
Because building might not come naturally to some players, watching house building tutorials is the best way to find easy yet beautiful house builds. Listed below are the top 5 easiest Minecraft house tutorials, all of which are decently small, compact and easy to build.
---
Easy Minecraft House Building Tutorials
#5 - Minecraft Tutorial: How To Make The Easiest Wooden House Ever Made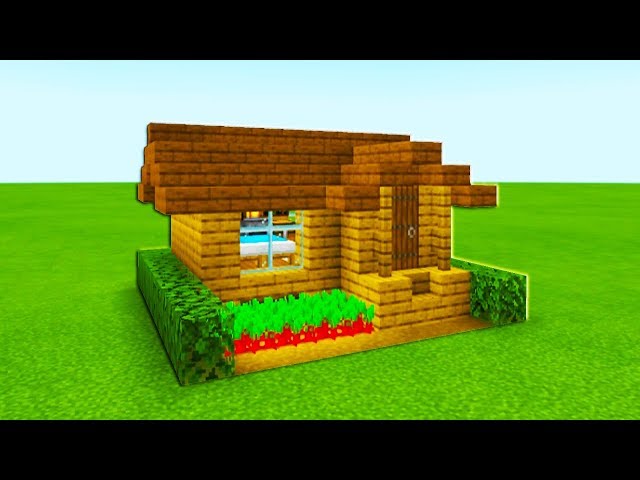 In this tutorial, TSMC makes what he claims to be the "easiest wooden house ever made ever", and it definitely looks like it would be easy to build. The build includes mostly wood planks, stairs and fences, along with glass, doors, leaves and a few seeds for farming.
The build is rather small, although it fits everything a player needs to properly survive, and then some.
#4 - Minecraft: How To Build A Small Survival Starter House Tutorial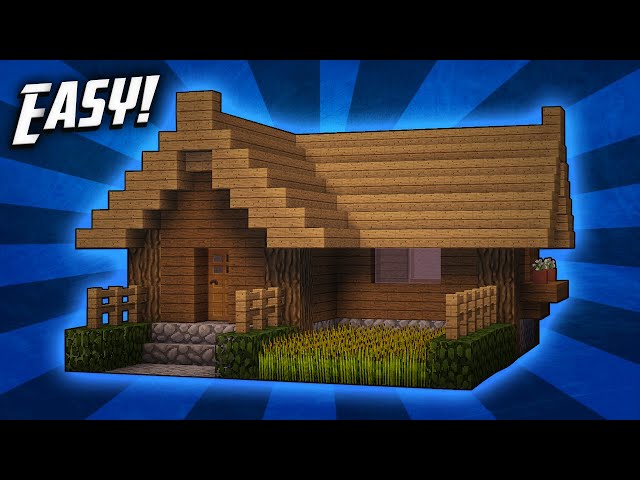 Rizzail showcases a somewhat compact wooden house build that is perfect for building a couple of days into a Minecraft game. Not only does it use little to no variety, as it is mostly wood, but it also gives players the ability to build a nice farm immediately outside of their house, which is perfect for those who do not want to travel far to get food materials.
#3 - Stylish and Compact - A Minecraft Starter House Build Guide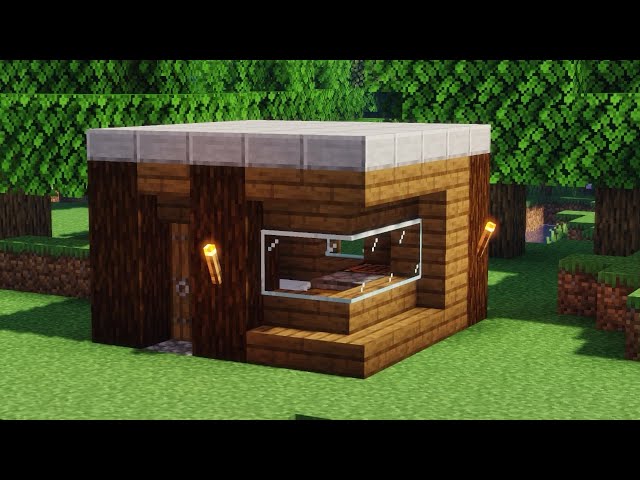 In this tutorial, csx42 builds the perfect starter house in Minecraft. It is small, compact, and yet it has everything players will need in order to survive in Minecraft.
This tutorial is unlike the others, because csx42 demonstrates how easy it is to build by loading up a new Minecraft survival server and building it in real time, while in survival, showcasing that it is perfect for off the bat building.
#2 - Minecraft: How To Build A Small Survival House Tutorial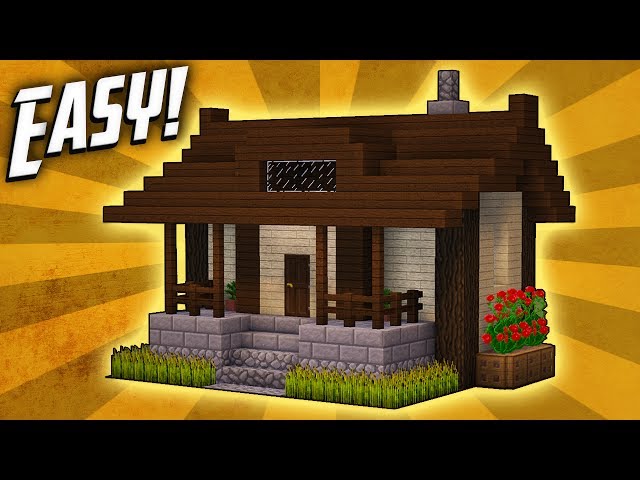 In this tutorial, Rizzial shows players how to build a somewhat compact house design that mainly uses wood and cobblestone. He states that it should be doable within a player's first few days in Minecraft, meaning it will be perfect for beginners, or for those looking for an easy build.
While it is an easy build, it is still a very pretty one.
#1 - How to make a Minecraft 1.14 Starter Base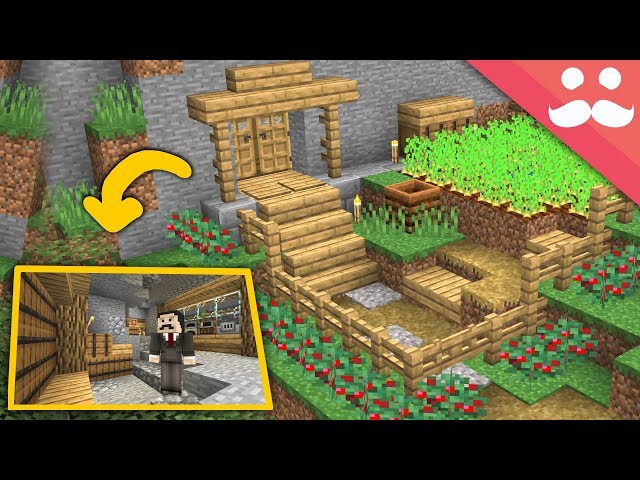 Also Read
This tutorial is by Mumbo Jumbo and provides information on how to create an ideal starter base in Minecraft 1.14. Although it was for 1.14 specifically, it can still be applied to the newer versions of Minecraft.
This tutorial is unlike the others, as Mumbo Jumbo decides to make the base on the side of a mountain, rather than building a house.
Edited by Sijo Samuel Paul
Sours: https://www.sportskeeda.com/minecraft/top-5-easiest-minecraft-house-tutorials-easy-builds
Minecraft : How To Build a Small Modern House Tutorial (#41)
.
Now discussing:
.
100
101
102
103
104